After the Round – The Meat Board

A good butcher shop can be hard to find these days. Largely disposed of by large corporate grocery chains and membership-only big-box stores, the days of walking up to a small, independently owned meat counter and selecting your cut has largely fallen by the wayside. But if you are on Fort Worth's west side, you're in luck, as that down-home, Norman Rockwell painting meat market feel has been reinvented with a modern twist. 
The Meat Board off Camp Bowie opened on December 31, 2019, and despite being thrown in the grips of a global pandemic just a few months after its doors opened, business has been thriving. 
The Meat Board has a simple philosophy of carrying high-quality cuts, from high-quality suppliers, with some dynamite lunch options sprinkled on top. For starters, the store is immaculate. It's a far cry from your perception of the butcher's counter with the unsavory fellow in a hairnet and blood-soaked apron wielding a meat cleaver. The store is well lit, clean and well organized. One of the first things you will notice when you walk in is the window behind the counter, where you can watch your custom meats cut right before your eyes. There is something religious about seeing the meat you plan to consume butchered while you wait. Of course, there are plenty of options already prepared in the glass display case, as well. Prime beef can be tough to find, but The Meat Board has you covered, whether you crave ribeye, strip or a center-cut filet, you can find it here. 
Other options include skirt steaks, tri-tip and, of course, the king of Texas barbecue, the coveted brisket. If beef isn't your thing, they also feature plenty of other products, including a multitude of poultry options, including a pre-spatchcocked chicken. Believe me, if you have never tried a chicken this way and don't feel like breaking down the bird on your own, this is a fantastic option for your next indoor dinner gathering or backyard cookout. If you enjoy a taste of the sea, you can also find lobster tails, tuna and salmon in the coolers, as well. It's truly like an amusement park for the barbecue connoisseur.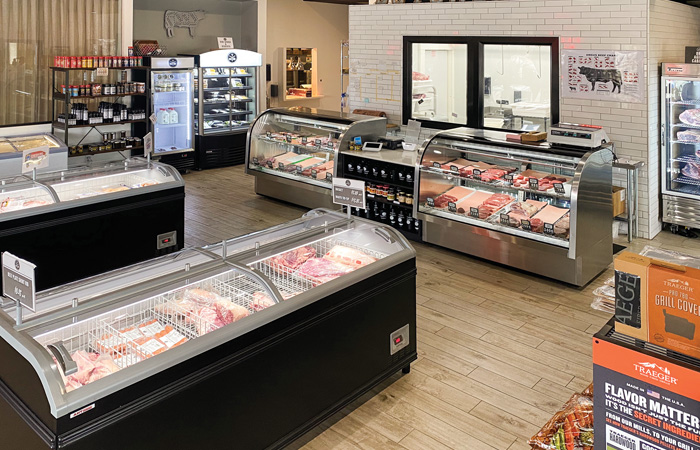 One of the most unique things about The Meat Board is its very own dry-aging locker. Planning to feed a large party and want the absolute best steaks for the occasion? Then shell out for a whole strip loin and have them dry age it for you. Sure, it's not the cheapest thing in the world, but you won't have a better steak. You can even stop in and check on the progress throughout the aging process. The only thing better than the customer service will be the finished product. 
In addition, The Meat Board carries plenty of rubs, including its own steak-seasoning blend, as well as artisan cheeses, a selection of wines and some difficult-to-find condiments. They also carry their own line of olive oil.  If you need something unique for your next cooking endeavor, you will likely find it at The Meat Board. And if for some reason they aren't carrying the cut you desire, they have contacts that can get you just about any meat you could ever want. Bison, goat … you name it. 
If you are just learning about meats, The Meat Board offers classes on how to get started. They feature brisket workshops, a class called Steak 101 and even a class on the fine art of making your own charcuterie board. So, if you want to impress your guests at your next get-together, these classes will give you all the tools to do just that. 
If you are in the market for multiple steaks at a time, TMB has steak boxes available for their customers, including a "Filet for Four" box which comes with four center-cut tenderloin filets, some of their signature steak seasoning and olive oil. This box runs just $180 and will no doubt leave your dinner guests speechless. 
If you follow AG's After the Round feature, then you know we usually spotlight local restaurants. Well, not only does The Meat Board have everything a carnivorous appetite might desire, but it also serves as a fantastic spot for a quick and delicious lunch. Although they only serve Tuesday through Saturday from 11 a.m.-2 p.m., trust me, you don't want to miss this spot if you are looking for a delectable sandwich. The dining area is small, so when there is a crowd you may find yourself waiting a minute or two if you want to dine inside, although there is a patio as well which has some additional seating. Julia Rauschuber, who is the Marketing Director for TMB, says that during the week they may serve anywhere from 50-75 customers, but on a Friday or Saturday, that number can jump into the 100-150 range. So plan accordingly, especially if you want to go during the lunch rush. 
Although the menu isn't expansive, The Meat Board executes each offering to perfection. Some of the standard items include The Yard Bird, which is a grilled chicken breast topped with white cheddar, lettuce, tomato, mayo and mustard on a sweet kolache bun. 
Another best seller is the Klein Smokehouse BLT, which boasts Klein Smokehouse bacon, egg, lettuce, tomato and mayo. This sandwich is served between two slices of whole molasses wheat bread. It's a lighter option, but one that is scrumptious, nevertheless. It's easy to see how it is one of their top sellers. 
If you are one of those people who just loves a good hotdog, then The Meat Board is a must-try. Their Doggone Good Hotdog is simple and incredible. A house-made frank is smothered in chili, cheese and served on a sweet roll, much like those that you see used for lobster rolls in the Northeast. 
I know I have tabbed this as a meat-eaters haven, but of course, if you are wanting something a little lighter, then they also have a great house salad which features a spring mix, toasted pecans, dried cranberries with feta cheese crumbles and a delicious house-made vinaigrette. You can add chicken or steak to make it a little more substantial, but the salad is delightful on its own, especially during these skin-searing summer months. 
If you have followed AG over the last several years, then you understand I am a meat eater. I enjoy my barbecue, and I enjoy preparing my own meats via Traeger, Blackstone or sous vide. I cook often and when I do, there is almost always a protein. So, when I got the nod to check out The Meat Board, I was pumped. Now that you know that, I would be remiss if I didn't give you my three favorites on their menu. 
The Double Standard Burger stands out as one of the highlights on the menu. Two chuck and tenderloin blend patties (yes, they put tenderloin in a burger) sit on a sweet kolache roll with white cheddar, lettuce, tomato with mayo and Mickey's Mustard. The patties literally melt in your mouth as the combination of the chuck and the tenderloin marry in spectacular fashion. The bun adds a touch of sweetness, along with the Mickey's, which is more akin to a honey mustard than your standard yellow. The blanket of melty cheese oozes over the patties, making this a true multi-napkin eat, but trust me, you will savor every bite. It is one of the best burgers that has crossed my lips in a long while.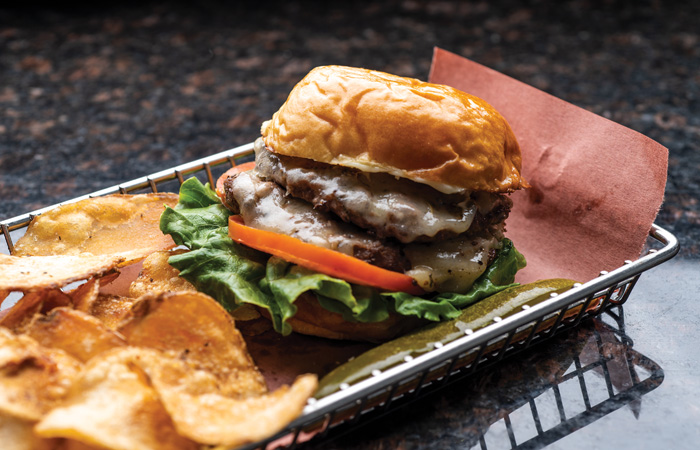 The Brisket Cheese Melt is another must-try. House-smoked brisket is diced and then smothered in a melty four-cheese blend and served on warm Texas toast. To be honest, I am a sucker for just about anything served on Texas toast, so this one really spoke to me. The brisket was moist and well-seasoned, and the four-cheese blend, which has the consistency of a gourmet grilled cheese, was simply sublime. And the Texas toast really holds up to the amount of filling inside the sandwich. One bite and I promise you will be hooked. As a golfer, I might recommend this particular sandwich for a post-round meal, as it is one that will leave you wanting a couch and a pillow not soon after you finish it. It is comfort food in hand-held form and, my goodness, is it magnificent.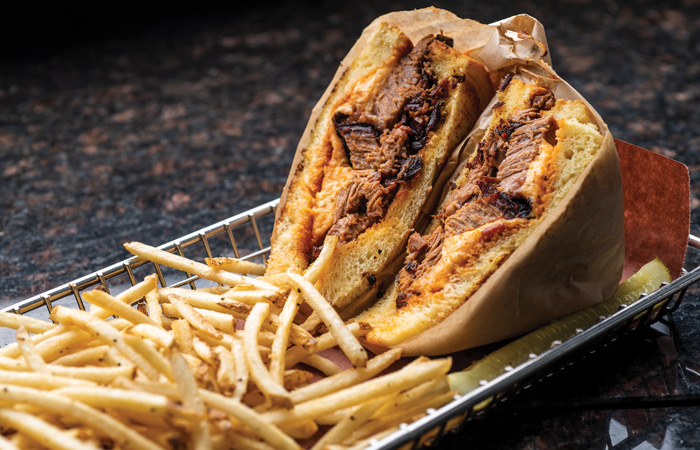 I must say, I have sampled a ton of sandwiches over my years here at AG, and I can honestly say, no hyperbole here, The Meat Board's Signature Grilled Steak Sandwich is the best one I have ever had. When butcher shops break down a beef tenderloin (for filet mignons), there are usually only three or four center cuts that can be sold as filets, so they must repurpose the end pieces in other ways. Well, the steak sandwich is the result of that. At The Meat Board, they take the trimmings, simply season them with salt and pepper as to not take away from the delicious flavor of the meat and grill them off. They are then layered on one of those sweet rolls and topped with house blue cheese crumbles, some Bibb lettuce and topped with their special sauce. As I was sampling the sandwich, I was standing at a little countertop they have near the meat counter for patrons who are dining in, and I am being completely honest when I say I took one bite, and my knees almost buckled. It's that obscenely good. The steak is tender, the blue cheese adds a little bite, and I have no clue what's in that sauce, but I might have to try to sweat someone down over there to get the recipe. It belongs on the Mount Rushmore of sandwiches. It is so simple, but so very well executed.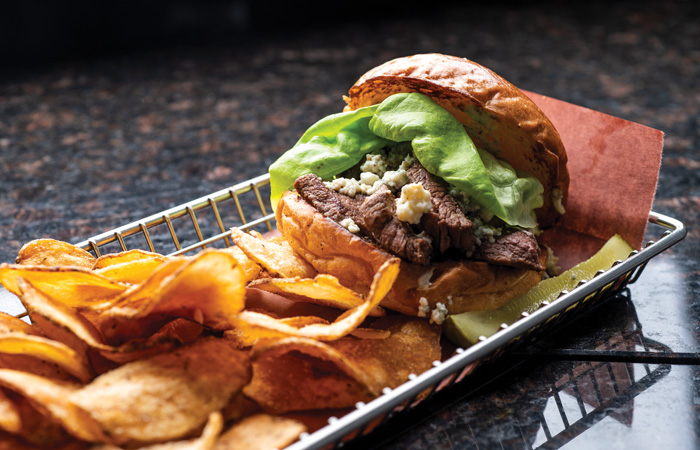 All the sandwiches at The Meat Board are served with house-made potato chips, which are fresh and delightful, but if you want to up the ante, request some fries with your order. They are thinly cut and crispy, just the way a French fry should be. 
Craft beers, wine by the glass and all the usual sodas and teas are offered on the beverage front if you need to cool down after your round. TMB also has seasonal and specialty sandwiches pop up from time to time. For example, a Father's Day special sandwich known as the "Big Daddy" made an appearance last month. This was smoked brisket and jalapeño cheddar sausage topped with mac 'n cheese. They have also thrown a patty melt out there, which I will absolutely be making the trip to try next time that hits the menu. TMB social media will let you know when one of its new creations is hitting the menu, so be sure to keep up so you don't miss out.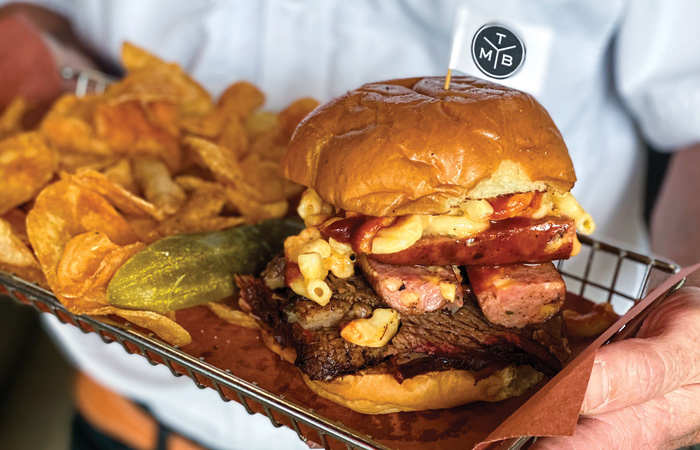 I must say, of all the surprises I have come across handling these features over the last several years, this one ranks up there. I wasn't sure what to expect when I made my way over to Fort Worth to check this place out, but I was beyond impressed. The butcher shop alone is worth the trip (I took home a Wagyu tri-tip), but throw in these simple, but stunning sandwiches and you have no excuse not to make your way to The Meat Board. 

The Meat Board
6314 Camp Bowie Blvd.  Fort Worth, TX 76116
844-693-6328  www.themeatboard.com
Hours: Tuesday – Saturday 10 a.m. – 6 p.m. 
(lunch from 11-2 ONLY) Sunday – Monday: Closed