After the Round – Tre Mogli Cucina Italiana

If you have been a regular reader of AVIDGOLFER, then you are likely familiar with the name Stefon Rishel. We have featured several of his restaurants in the publication over the years, including Wishbone and Flynt, which has been one of Fort Worth's most talked about restaurants since it opened in January 2020. Now, Rishel and his investors, the Trident Restaurant Group, have a new venture, combining upscale Italian cuisine with a warm and welcoming atmosphere and located just around the corner from Wishbone. Tre Mogli translates to "three wives" in Italian, serving as a nod to the three wives of the three partners of Trident. 
The first thing you notice when you walk through the doors at Tre Mogli is the rich wood and perfect lighting. You are immediately welcomed and comfortable before you even find your table. The bar to the right of the entrance has all the spirits for your impending meal, or if you just want to unwind with a glass of wine or a cocktail after work, they have you covered on that front, as well. There is another bar near the large upstairs dining area, as well, if you want to have a drink closer to your second-floor table. Décor is classic and classy. Place settings are beautiful and organized on every table. It's a great place to take a date for the immediate wow factor as you open the doors.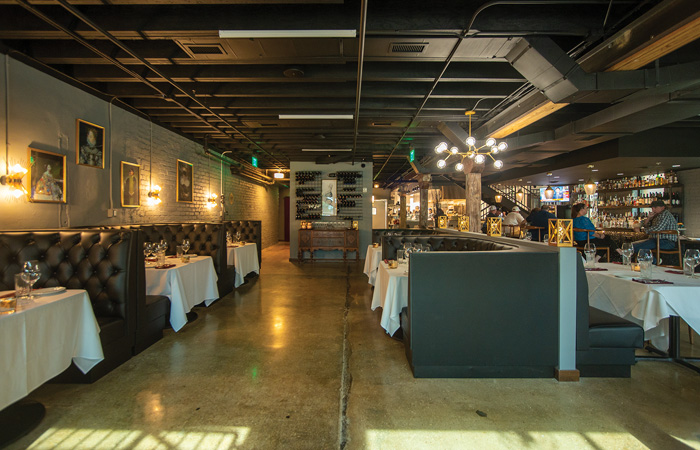 Speaking of wine, Tre Mogli has a wonderful selection of not only commonly known wines, but also a large selection of Italian wines that will dazzle even the most refined palate. It's a perfect place for an afternoon meetup for a couple of great appetizers and a glass or two of the vino. 
The appetizer menu is solid, with nice portions that are large enough to split. The house focaccia is a nice way to start any meal. Served with truffled ricotta cheese, Calabrian honey and some flake salt, it is simple, but delicious, which you will see, is a very common theme at Tre Mogli. The meatballs are another great option if you're looking for something a little more substantial. These melt-in-your-mouth version of mom's classic are a sophisticated combination of both pork and veal and come served with the restaurant's house-made sauce and some shaved Pecorino Romano cheese. They are meatballs elevated to fine-dining heights without being overly pretentious. 
If you're a seafood fan, then the calamari, mussels or shrimp scampi are all great options from the briny deep. I especially liked the scampi, as the shrimp were perfectly prepared and the sauce was perfect, with that scampi kiss of butter richness paired with the brightness of the lemon juice we relish with a well-prepared scampi dish. This was absolutely one of the hits of our visit. 
We were also treated to a fabulous beef carpaccio, which is thinly sliced eye of round beef, served with fried capers, and a tuna aioli. This was one of the more creative dishes we saw, and it was unique and bursting with flavor. The beef was tender and so thinly sliced that is melts away in your mouth, as you get some of the saltiness from the caper with a little bit of the rich creamy aioli. It is truly a symphony of flavors and textures.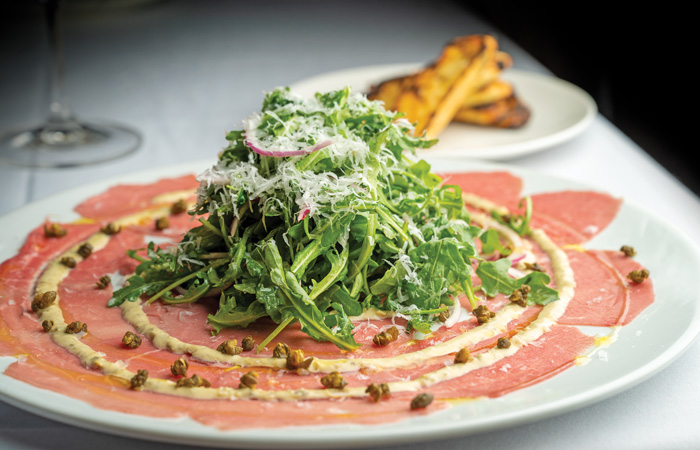 There are a trio of salad options if you are opting for a light lunch or want to split something before your entrée arrives. The house caprese isn't really a "salad," as you might think of one, it's a combination of heirloom tomato, mozzarella, and basil topped with red wine vinaigrette. The heirloom tomatoes are just bursting with freshness and the mozzarella is silky and fresh. It's a perfect lunch or appetizer option. A beautiful Caesar is available, as well as an antipasto, which features romaine, radicchio, escarole, fontina, provolone and genoa salami. It's an explosion of flavors and textures if you want to go that route. 
When you think of Italian, if you're like most, your mind immediately heads toward pasta. Tre Mogli has some of the best pasta dishes you will find anywhere in DFW. For starters, we sampled the Cacio e Pepe, which literally means "cheese and pepper." This version is bucatini pasta, butter, Pecorino Romano cheese and some fresh cracked black pepper. The pasta was perfectly al-dente, with just a little bite, which really holds up next to the richness of the creamy sauce. It is an extremely simple dish, but in this case, it couldn't be more well executed.  It's a must-try if you make it to Tre Mogli.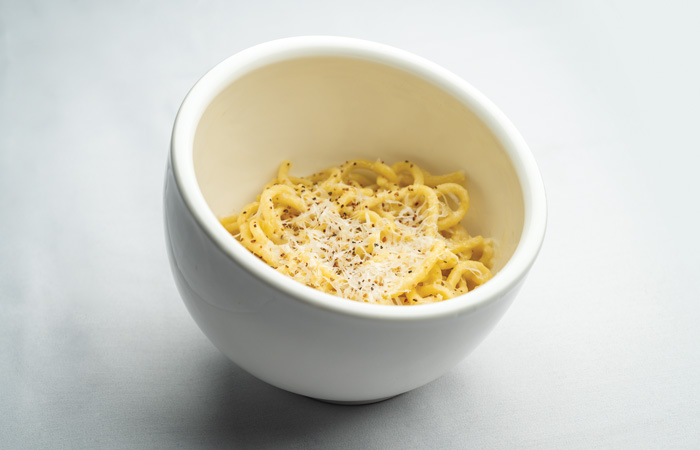 If you're interested in a more carnivorous pasta option, the Bolognese is always a good choice. This dish comes with fusilli pasta topped with a beef, pork and veal sauce that will stick to your ribs and leave you ready for a nightcap and some couch time. It's delicious and perfect for those looking for a dish with plenty of meaty goodness. 
A pesto, pomodoro and a rigatoni alla vodka are all on the menu if you care for one of those selections. We saw all three come out of the kitchen while we were on site, and each looked as delicious as the last. 
Entrées include a chicken parm, a veal scallopini, or your choice of chicken breast served with piccata, marsala or saltimbocca style. Any of the aforementioned dishes would impress even Tony Soprano himself. However, the one entrée we cannot recommend highly enough is the pork chop Milanese. This is a 14-ounce Niman pork chop pounded out flat Milanese style, and then breaded and prepared to crispy perfection. Often times, especially when you try to fry a thinner cut of meat, you run the risk of the meat becoming overcooked before the breading is fully crunchy. This chop checks all the boxes for both moist, tender meat, and a perfect, crispy breading, without being oily or greasy at all. It is then topped with a salad of arugula, red onion, San Marzano tomatoes and a red wine vinaigrette. A charred lemon is served alongside the chop to be squeezed before serving, to add one last fragrant, fresh bite to the dish. It's perfect pork harmony from first bite to last. If I had to choose one dish to try again and again at Tre Mogli, this would undoubtedly be it.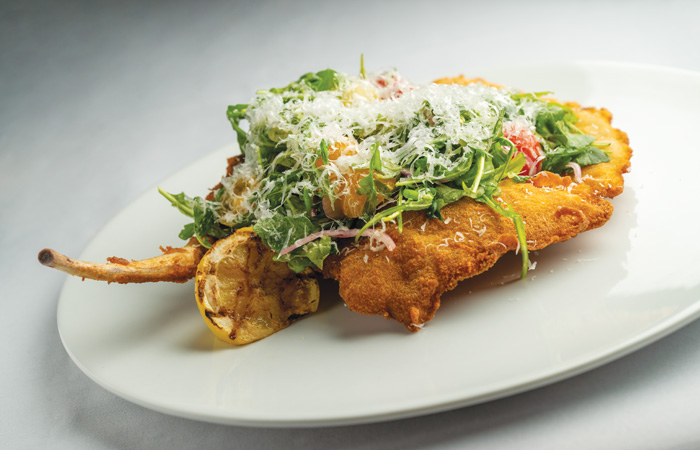 For those looking to impress a first date, client, or spouse on an anniversary dinner, one other entrée is available, and that's the Bisteca Fiorentina. This 32 oz. prime porterhouse is served with broccolini, marble potatoes and Calabrian chili. Although this entrée will set you back some serious coin, you will make an impression with whoever you bring along for this one-of-a-kind meal. 
Tre Mogli is undoubtedly going to be another great success for Rishel and company, as the beautiful dining room, coupled with simple elevated Italian food, will likely lure Panther City residents in time and time again. Everything on the menu is stunning, with well-balanced flavor profiles you will find yourself craving again just hours after you make your visit to Tre Mogli.