After the Round – Walk On's Bistreaux & Bar

A piece of Louisiana is making its way into the Metroplex as Walk-On's is now open for business in Irving. Originally Walk-On's opened their first location in 2003 in Baton Rouge in the shadows of LSU's Tiger Stadium. Walk-On's founders Brandon Landry and Jack Warner became good friends when they were teammates on the LSU basketball team. While playing for LSU they were both walk-ons (un-recruited and unsigned players) and thus affectionately named their establishment "Walk-On's". Walk-On's has been such a success in their home state that Drew Brees is now a Co-Owner and Partner of the restaurants. Since their opening in 2003 Walk-On's has flourished and currently is located in four states with plans to expand even more, including a location that is set to open soon in south Arlington.
The first thing you notice when you walk into Walk-On's is that this is not like your average sports bar and restaurant, this is more like your favorite sports bar on steroids. With over 40 beers on tap including a plethora of local brews and a TV or two never out of your line of sight, this is a sports lover's dream bar. There are even a few tables that have their own tap system so the server can just pour your drinks at the table and you pay by the ounce at the end of your visit.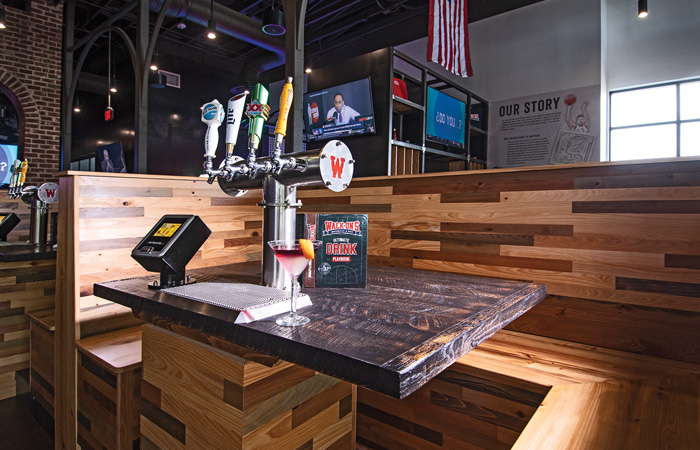 The menu features a wide array of options that will appease anyone's taste buds. The menu ranges from salads and wraps, to Cajun classics such as gumbo, po'boy's and seafood. They also have classic food items such as burgers, sandwiches, pasta, steak and chicken.
The first item I received was from their specialty drink menu was the Bandita. A smooth chilled drink that is made up of tequila, mango liqueur, citrus sour, lime sour, simple syrup and is topped off with a red blend and orange twist. This is one of those drinks that would perfect on any day while relaxing watching your favorite team play. The spirit used is exceptional and doesn't leave you with that often strong after taste of tequila.
The first food item that was brought to the table was the Zydeco salad and let me tell you, this is one of the best salads I have ever eaten. I actually enjoy eating salads as meals and found this particular salad to go above and beyond my expectations. The Zydeco salad consists of mixed greens, tortilla strips, candied pecans, with a maple cane vinaigrette, but the best part of this salad is the sweet chili glazed fried shrimp. The shrimp is glazed to a perfection and the salad is the perfect portion for a full meal that will not leave you hungry for more.
The next menu item that I had was the Hickory Burger, a ½ pound burger covered in barbecue sauce, cheddar, bacon, dressed (no red onions) and stacked high with onion rings. This is truly a mouthwatering burger that is sure to please any burger lover. A kicker with this burger is the sourdough bun which actually brings a little sweetness to each bite along with the sweet bbq sauce. This behemoth of a burger is a lot to put down, so make sure you come in hungry if you're going to order the Hickory. The burger also comes with a side of waffle fries that are covered in a special seasoning that make them equally unique and Cajun.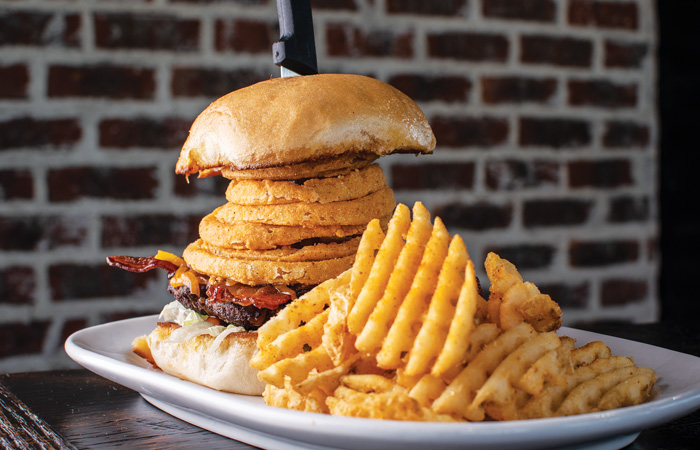 The final item I was served from the menu was the Voodoo Shrimp. This Cajun inspired item features char-grilled jumbo shrimp that are stuffed with cream cheese, pickled jalapeños and wrapped in bacon served on a dish of corn grits and a side of garlic bread. As great as this dish is as a stand-alone entree, the dish is made even better when you pour the sweet chili glaze over the grits and shrimp. By adding this sauce which is served on the side it creates an explosion of flavor that puts a modern twist on a classic Cajun dish. This combination is highly recommended by not only myself, but it is also a signature item on the menu at Walk-On's.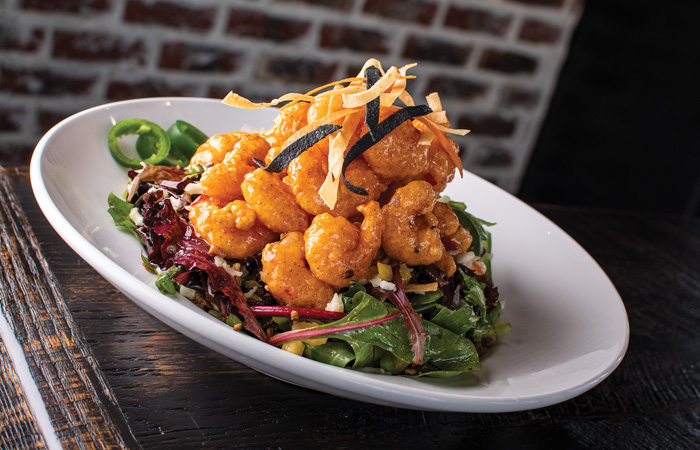 Whether you are going out for a big game, just want to have a beer and food after the round or take the family out to eat, Walk-On's is the perfect location to do all of these things. The service is first-class, and the food and beverages are even better. Be sure to check out Walk-On's next time you are wanting to have good food and good times with great people.