After the Round – Yard House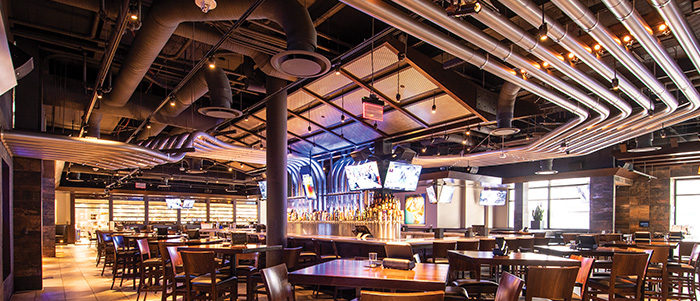 With the Toyota Music Factory consistently bringing some of music and comedy's biggest acts to town, Irving has developed into one of the Metroplex's premier entertainment destinations.
So, whether you're heading for a bite and to catch a show following your round, or just want to sit down and enjoy a game with some food and drink, the entertainment hub's array of options will surely have something to suite your taste buds.
But perhaps no establishment in Las Colinas, or anywhere, boasts the variety of American fare (more than 100 items made from scratch daily grace the menu) and beverage possibilities inside a single building — one flush with big screen televisions adorned above and around a huge wrap-around bar — that Yard House brings to the table.
Care for a frosty beer while perusing the extensive menu at Yard House?
Well enjoy the more than 130 beers on tap, each of which are chilled to the perfect temperature in a robust keg room. But don't fear being overwhelmed by the enormity of options. Yard House's beer menu conveniently breaks down drafts and bottles in a variety of categories (i.e. wheat, sour, malty, light, IPA) making the selection of your brew — or brews — an entertaining endeavor in itself.
For those seeking something a bit stiffer, Yard House's drink menu seems every bit as expansive as its food and beer choices.
The Hawaiian features pineapple vodka is a nice twist on a classic Moscow Mule (available alongside four other mules), while the color-changing Magic Margarita, featuring Don Julio Blanco tequila soaked in bitters with a butterfly pea flower and served with a side of house-made citrus agave, is a favorite among patrons.
Mojitos, Sangria, Martinis and a variety of gin, vodka and bourbon concoctions are also ready for the making by Yard House's mixologists.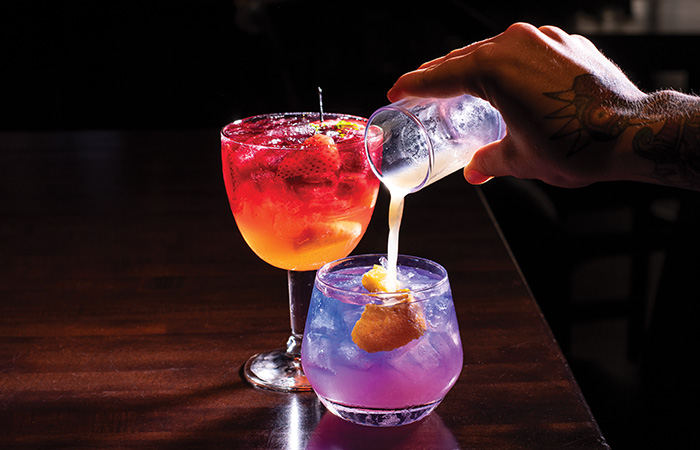 Speaking of variety, in addition an appetizer portion of the menu, Yard House offers smaller snacks, including Guacamole and Chips, Hummus, Edamame (chilled or hot and spicy), truffle and sweet potato fries, crispy brussels sprouts and deviled eggs. Even Street Tacos A La Carte are available, but with options such as grilled Korean beef short rib, baja or blackened shrimp, al pastor, tropical chicken and the famous vampire, good luck sticking to just one.
For apps, Yard House's Onion Ring Tower pairs well with one of the many beers available, and stacks nearly as high as the half-yard glass said drafts can be served in.
Tuna is also a highly-desired ingredient on the Yard House menu, and can be indulged as sashimi, in a roll or in the form of nachos.
The Lobster, Crab & Artichoke dip is tasty and comes with both tortilla chips and pita bread for dipping, while Fried Calamari is served with spicy tomato sauce.
Many patrons are fine with a simple bowl of soup, but the Tomato Bisque also makes for the perfect dipping sauce for a plate of famous Fried Mac + Cheese.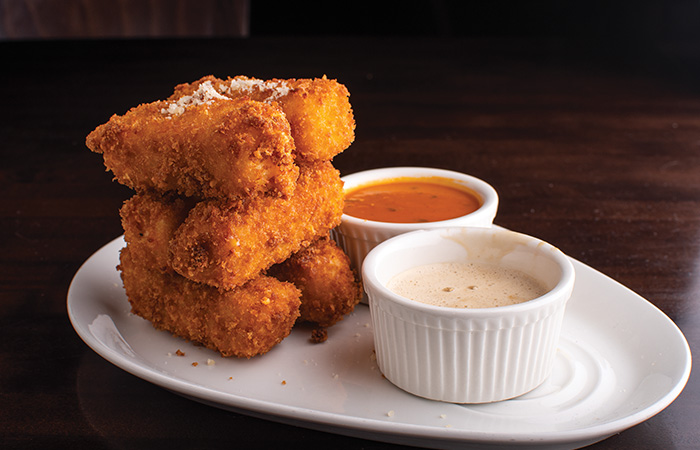 Traditional appetizer staples such as egg rolls (the Filipino version of Pork Lumpia or Moo Shu) and wings (traditional or boneless) find their way on the menu as well.
Lighter dining options are also plentiful (note, Yard House's menu lists calorie counts for all items) with the Shrimp Kale Caesar among the most popular.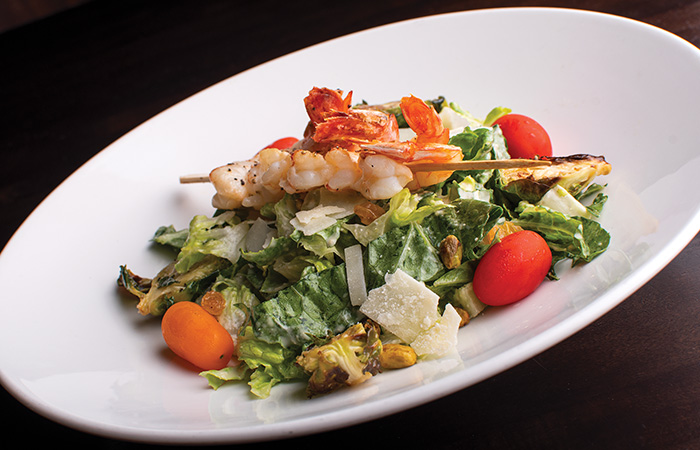 When discussing entrees, a good place to begin is to return to the Chicken of the Sea, and Yard House's Seared Ahi Steak Sandwich is cooked rare, placed on rye and topped with arugula, swiss cheese, tomato, caramelized onions and peppercorn aioli.
A more traditional steak sandwich, the Filet & White Cheddar Melt, also hits the mark and is loaded with crispy onion strings, while the Cuban Roast Pork Dip has a slightly different twist with its red mojo dip. Other sandwiches include Roast Beef Dip, Roasted Turkey Club and Nashville Hot Chicken.
For burgers, the BBQ Bacon Cheddar is a best-seller, but if you want to mix things up a bit, opt for the Black Truffle Cheeseburger, or really get crazy a devour a Lamb (with whipped feta, arugula and jalapeno shallot relish) or Kurobuta Pork (spicy candied bacon, white American cheese, arugula and blueberry ketchup) Burger.
Lastly, and if variety is your specialty, pizza must be available. But Yard House's pies are simply there to check another box, there every bit as yummy as one you'd find at a traditional Italian spot.
Of course, no meal is complete without dessert.
Mini Cheesecake Brulee certainly caught my eye, as did the S'Mores Brownie and Mini Chocolate Souffle Cake. Peach Cobbler (mini or large), Fresh Baked Brownie and Bread Pudding with Crème Anglaise and are also sure to satisfy your sugar fix. But if that's not enough, or you're having trouble sizing down to one choice, the Mini Trio Sample brings the best of all worlds.
With so many options of both food and drink, Yard House (which also has a location in Addison) is the perfect destination to satisfy everyone from large group functions, golf foursomes, or even someone just looking for a fun, casual lunch.