Cody Gribble – The PGA Tour's Next Lone Star

In the excitement whirlwind that is DFW's Golfing Golden Child Jordan Spieth, it may be easy to forget that there is a growing contingent of hungry, talented young golfers from the Lone Star state that are making their own mark on the world of amateur and professional golf.
At the amateur level, University of Texas standout Scottie Scheffler earned low amateur honors at this year's U.S. Open. More recently, Wake Forest senior Will Zalatoris (a Trinity Christian grad), played deep into the U.S. Amateur.
And then, professionally, you have former SMU Mustang Bryson DeChambeau earning his first career victory at the John Deere Classic in July. And while DeChambeau may not have been born in Texas, we will certainly claim him as one of the next great golfers from our state.
But if you look back a little further, you'll find the young man who started this most recent flurry of Texas dominance – former Texas Longhorn Cody Gribble. Gribble, who found his way into the winner's circle for the first time on the PGA Tour at last fall's Sanderson Farms Championship, has shown to have all the ingredients of golf's next budding star. The immense talent, the Texas-sized swagger and confidence, even the love for on-course money games.
"Ever since he was 6 years old," said longtime coach Randy Smith at Royal Oaks Country Club.
Now, Gribble is poised to take his PGA Tour victory tour and his load of confidence and talent into the multi-tournament Texas PGA Tour swing next spring, playing for millions in front of thousands of home state fans vs. local players he's just as happy to play for hundreds any day of the week.
"This has been a huge goal of mine for years. I can't wait to play at home in the Texas events," he said.
Gribble, 26, made all the required local stops along the way to local pro golf greatness. Stops included junior golf throughout the country, the best local teachers, courses and most importantly, of up-close examples on how to rule the PGA golfing world from North Texas.
"I watched Jordan (Spieth) from an early age in competition and knew that's what I wanted to do," Gribble said. "It's obtainable, what he did. I've been paying attention to see how he goes about his game, how he talks to the caddy, how he goes about his practice round and how he talks to the media and fans."
But Gribble wasn't the only one paying attention to his Longhorn teammate. Spieth has also been keeping an eye on Gribble, whom he hopes to duel next spring in the PGA Tour Waltz Across Texas.
"I mean, going back to junior golf, I remember having my first couple lessons with Cameron (McCormick) and looking over the bunker at Brook Hollow, and there is Cody grinding on his short game," Spieth said. "And I was like, 'Oohh, that's Cody Gribble, wow,' and you just sit there and watch. I was 12, 13 years old, and Cody was one of the best juniors in the country, and he then he was one of the best amateurs and college players."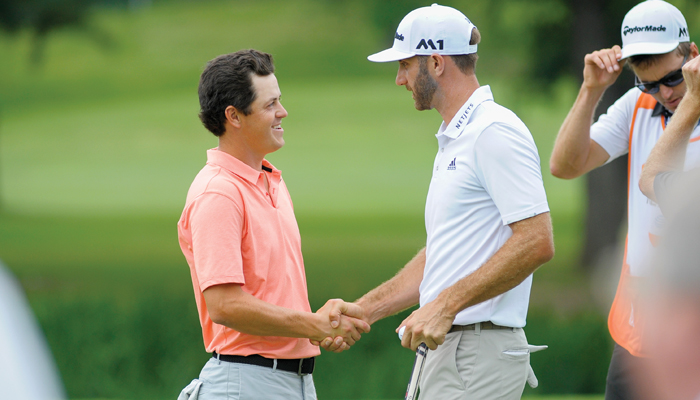 Gribble, who attended Highland Park High School, where he won back-to-back Texas 4A state titles as a junior and senior, had built himself an impressive resume as an amateur golfer at all levels before graduating high school, including a win at the 2007 Western Junior Amateur. He then entered the final step of his amateur career, playing for Coach John Fields at the University of Texas (and paving the way, maybe, for another DFW golfer a few years younger?).
Before he arrived in Austin, Gribble had already fueled his competitiveness and competitive swagger on the golfing fields of Dallas-Fort Worth.
"The biggest thing I ever saw from Gribble was his competitive nature more than almost anybody I've ever seen," Smith said. "Almost to a fault. He was one of those guys when he was 6-7-8 years old and he would see the older guys playing, he was always knocking down walls until he could join. He always believes he can do it no matter what."
Gribble played at Texas from 2009-2013, and at times he roomed with Spieth on the road and helped the Longhorns win the 2012 National Championship golf title. As a freshman, Gribble was a Third Team PING All-American and a Second Team Golfweek All American, and was named the Big 12 Newcomer of the Year. In the National Championship, as a junior, Gribble was a team best 3-0 in match play.
Upon graduating in 2013, he turned professional and began the long quest to earn his PGA Tour card. While the road can be brutal, three full years on the Web.com Tour did little to limit his eagerness to dominate on golf's biggest stages. He qualified for the 2014 U.S. Open at Pinehurst and his performance on the Web.com Tour in 2016 allowed him to earn his PGA Tour exempt status for the start of the 2016-2017 wraparound Tour.
While winning two of golf's majors and seven times around the world in 2015, Spieth had been paying attention to his buddy's progress and knew the best was soon to come.
"He played really well at Pinehurst in his first attempt, and I think in his only attempt at a major championship," Spieth said. "Cody has never had a problem stepping up to the plate. I don't remember offering any kind of advice at the time other than, I mean, we just kind of would talk about where things are, where we're at, what our plan is, what our schedule is. But I don't remember ever giving any advice. I didn't really necessarily think he wanted it. I mean, we kind of go about things our own way, and I could not be happier for him."
After a T8 in his first official PGA Tour event as a rookie last fall, Gribble arrived at the Sanderson Farms tournament in Jackson, Miss., full of his usual confidence and ability, but still looking for his first victory in almost seven years.
He struggled in the first round with a 73, which left him far down the leaderboard, but rebounded in round two with a 63 which brought him back near the top. He still trailed going to the final day at the Country Club of Jackson, but a bogey-free 65 on the final day boosted him to a four-shot victory over Greg Owen, Chris Kirk and Luke List.
"To win in Jackson was such a great thrill. There were a lot of great people there and after I won there were a lot of people who wanted to talk with me," Gribble said. "The last time I won a tournament was the state championship in high school, so it was a big thrill for it to finally happen again. It certainly helped me pick up my goals a little bit and gave me a little piece of the golf pie. I want more, but that's something else I've learned from Jordan. You can never be satisfied. You have to manage expectations, but it's still a game you have to work on all the time."
His first pro win was worth $756,000, allowing him to engage in a few of his favorite non-job activities, such as hunting and fishing with his family. Plus, golfing money games and trash talking with his local pro golf friends like Kelly Kraft, Charlie Holland, John Peterson and Spieth, something he says has helped his game.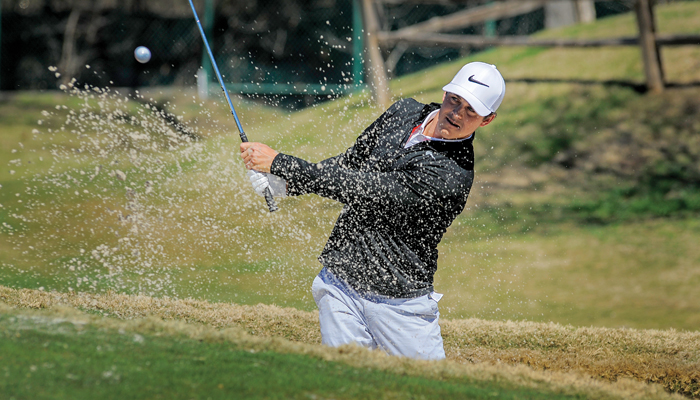 "I love to play with other Texas pros. I think money games can help your game. When you know you have $100 on the line with a five-footer on the last hole it definitely makes you concentrate more. You can put down I've taken a few dollars off of Jordan, but it doesn't happen very often," he said with a laugh. "[Some of those guys] love to max bet, but I don't do that as much as they do."
Of course, trash talking among friends is allowed as well.
"I won in my second PGA Tour event (as a rookie), Jordan won on his 15th, but he's won a few more majors so I guess you can say he's still got me."
Gribble still lives with his parents, Bill and Diane, in Dallas. "I've gone home shopping and it's unbelievable how expensive everything is."
He plays most of his golf at Trinity Forest, where he is considered an ambassador, and Lakewood CC, where he is an honorary member. He also plays local money games, which can break out, at any one of a number of places, including his high school home tract at Brook Hollow CC. He mainly works with Smith at Royal Oaks CC and does short game drills with Pat O'Brien at Lakewood. Gribble said he realizes his game is still a work in progress, missing six 36-hole cuts in eight weeks after his first victory, but it hasn't dented his confidence.
"Patience is the hardest thing to teach a young golfer," Smith said.
Gribble's one lavish purchase after his first professional win was a used pickup truck for his family's hunting lease where he loves to spend time hunting and fishing with his dad and others. This spring, Gribble expects to spend plenty of time hunting for Texas-sized PGA trophies with his friends and others before thousands of fans in San Antonio, Dallas and Fort Worth. Realizing a dream he's had since he was a 6-year-old knocking down golf balls in North Texas.
"I always wanted to play in Texas PGA Tour tournaments, which is where I watched my heroes like Justin (Leonard) and Harrison (Frazar) when I was growing up.
While his game still has plenty of room to grow, Gribble arrives as his home state Tour event as a professional golf champion, full of confidence, swagger, money ($1.1 million already this year), fame, comfort and familiarity.
Texas golf's ever-lasting professional golf product line has stamped out another one with Gribble and the Lone State's latest star can't wait to get started on his new time to shine on golf's biggest and most familiar pro golf stage.