Course Review – Golf Club of Fossil Creek

When Arnold Palmer passed away in September 2016, the world lost one of the all time great golfers and ambassadors of the game. Luckily, for those of us who still play regularly, Arnie left behind a legacy of golf course architecture that includes spectacular designs like Bay Hill's Championship course, and Texas staples such as Palmilla Beach in Port Aransas and The Palmer Course at La Cantera in San Antonio. Luckily, for DFW residents, there's a Palmer design right her in the Metroplex that's easily accessible, affordable, and downright fun to play.
When Fossil Creek opened in 1988, it was met with rave reviews, even being named one of the best new resort courses in America. In the 30 years since, Fossil has developed a reputation as a fun, affordable course, that can be a challenge to even the most seasoned players.
The first hole at Fossil gets your blood pumping right away. Playing at 402 yards from the Palmer tees, the pond to the left of the fairway is in play if you choose to hit driver, and if you bail out right, fairway bunkers collect anything missing the short stuff. A three metal, hybrid, or even a long iron will leave a manageable second and take the trouble out of play, but if you're feeling confident, you can be aggressive, get a wedge in your hand and possibly start your day with a tweeter.
No. 2 is a short par 3 and plays as the No. 17 handicap on the course. At just 157 yards, this hole presents a fine chance at a birdie to keep some momentum. The third hole is a downhill tee shot, which, from the back tees, plays over water. The tee ball is certainly more intimidating from the tips, but the water isn't a factor from one-in. In fact, this is the most gettable par-5 on the course. A good drive will leave the bombers with anything from 6 to 4-iron remaining. If you don't catch all your tee shot, don't panic, it's a simple layup with a short iron if you want to get yourself within scoring range.
After the par 4 fourth, and the par 3 fifth comes the intriguing par 4 sixth. Named "Big Fossil", hitting the fairway is a must if you expect to get on the green in regulation. The reason being, there is a sheer rock face just on the other side of a creek at the end of the fairway. The green is elevated on the other side, and you have to be able to get something in the air to have a chance. Even when finding the fairway, this shot is no bargain, as the rocks don't allow players to see the putting surface. A narrow front-to-back green ups the ante even more, making it tough to hold even wedge shots that take some spin.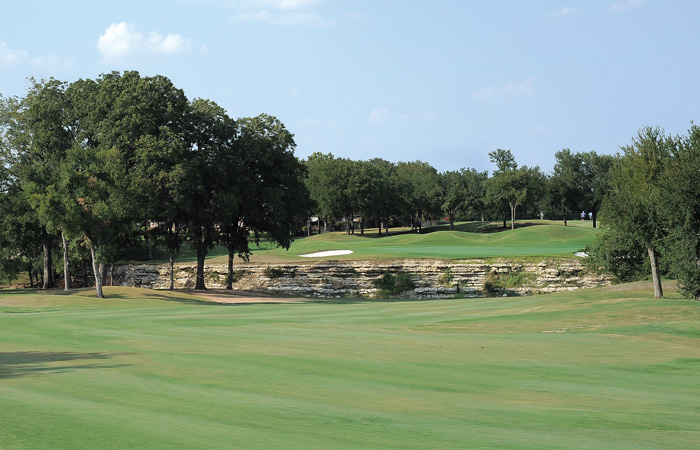 The long par 4 seventh plays as the hardest hole on Arnie's design. At 430 yards from the back tees, this one doglegs to the right, and you need to bang a driver to carry the corner. However, if your predominant play is a cut, this hole sets up to your preferred flight. Hitting the fairway makes the uphill approach over a creek much simpler and takes the big number out of play.
No. 8 is the second par five on the front nine at Fossil Creek, this one has one of the most interesting natural features on the course. A good tee ball down the right side should cover the fairway bunker. When conditions are dry, a good kick off the downslope gives players a decision to make. Laying up is an option, but if you advance the ball too far, you have a shot that is almost blind, not because of any elevation change, but due to the reeds that are growing out of the water feature down the left side of the fairway and across the front of the green. They're so tall, it makes this shot visually intimidating. It's impossible to fly anything in low to skip-check it next to the flag. It's an interesting dynamic and a natural feature that is unique to this particular hole.
Another sub-400 yard par 4 awaits at no. 9. Again, as with many of the holes on the front at Fossil Creek, you can choose how aggressive you want to be, as the fairway narrows and there is water left for those wanting to hit a driver. Laying back with an iron is an option as well, and if you hit the fairway, you can hit something in the 7, 8, 9-iron range.
The par 3 tenth is, in my mind, one of the signature holes at Fossil. The downhill, over water tee shot can play as long as 208 from the back box, and if you miss long, there is significant mounding that almost guarantees an awkward stance.
I must admit, if there is one hole on the property I don't particularly care for, it's the par 5 11th. This one winds its way across a pair of landing zones. The mega-long can try to cut the initial dogleg and carry the first of two water features. However, the average length player is just long enough to keep driver in the bag. A three-metal or hybrid off the tee on a par five isn't my favorite thing in the world, and it guarantees a layup for the second. After the forced layup, players need to carry another creek short of the green.
No's 12 and 13 are two of the most difficult holes on the course. The 12th is a par 4 with water all down the right. The slicer in your foursome may get flustered and double cross one left into the fairway bunker or worse. Bunkers guard the right and left of the approach. No. 13 is a peninsula green where short, right, and long are all finding a watery grave. Although the tee shot plays downhill, so you get a nice visual of what you're up against.
No. 14 is a straightforward par 4 that only plays 387. Called "Serpent", and if you miss right you can see where the name came from. A wave of mounding flows all down the right side. It's dealer's choice here, as you can opt to lay back with an iron, or step on a driver to get a scoring club in-hand. The fifteenth hole climbs up a hill on the tee shot, and then back downhill over a ravine on the approach. Visually, it's an interesting golf hole, and one you should remember from your round.
If you're wanting to test your iron game, the final trio of holes at Fossil Creek will give you some fantastic feedback. If trying to hit a golf ball into a trashcan from 140 yards is your thing, then you'll adore this finish. The 16th is another hole where driver isn't necessary, and you'll likely be standing in the fairway with a short iron, but you must be pinpoint with the approach, as there is almost no green.
No. 17 plays as the second hardest hole on the course. The uphill tee shot requires a power-fade, but beware, a large fairway bunker collects shots that over-cut. Another compact green awaits, with bunkers on both sides.
The closing hole at Fossil Creek is another par five that features a significant dogleg. No. 11 works its way right, this hole bends back to the left. Again, the longer hitters may need to keep driver in the bag, as a downhill draw may run all the way into a meandering creek. However, playing at just 555, bombers can hit three-wood off the tee, and still be able to give the green a run in two. If you lay up, expect to have a short iron of wedge for your third. Arnie gives players one final opportunity at a birdie to hopefully keep you coming back for more.
Fossil Creek is a wonderful design and a great value for those that may not quite be on the country club level but still enjoy nice conditions and a challenging layout. The abundant water features and small greens will definitely test every facet of your game. It may not be a course specifically designed for the bomb and gouge generation, but Mr. Palmer knew what he was doing. There is a tremendous attention to detail, and a wonderful use of the natural terrain. If you seek a course that's great for all skill levels that won't put a huge dent in your pocket book, Fossil Creek is right up your alley. And it's never a bad thing to see what Arnie left for the hacks to enjoy.
Fossil Creek Golf Club
Address: 3401 Club Gate Dr.
Fort Worth, Texas 76137
Phone: (817) 847-1900
Website: www.thegolfclubatfossilcreek.com
Designers: Arnold Palmer, Ed Seay, Wadsworth Golf Construction
Year Opened: 1987
Par/Yardage: 72/6,865 (Palmer tees), 6,457 (tournament tees), 6,006 (club tees), 5,066 (forward tees)
Fairways: TifEagle Bermuda
Greens: TifEagle Bermuda
Rates: Monday – Thursday $49, Friday $59, Saturday, Sunday, Holidays $75
Toughest Hole: No.11, 547 yard par 5 – One thing I'm not a huge fan of is taking driver out of a players hands on a par 5. This hole winds its way right and then back left, with a pair of water features separating landing zones. Only the mega-long can consider trying to hit a big power fade to carry the first bit of water. The average Joe can hit a three wood or hybrid, making it an automatic lay-up for the second. The third has another creek to contend with, and two large greenside bunkers mean you need to be precise. It's a challenging hole.
Favorite Hole: I'm going to break prescient and go with a pair of holes. No. 12 and no. 13. Both bring a lake into play. 12 is a long carry over the water, and a fairway bunker collects any ball that is bailed out too far left. The 13th plays back over the same lake, and is a fun downhill tee shot to a peninsula green. Both are fun holes if you can keep your ball dry. If not, they can send your round into a shame spiral in short order.
Most Intriguing Hole: I really enjoy No. 15 at Fossil Creek. Named "Mesa" this one features an uphill, almost blind tee shot. A large bunker on the left-hand side protects players from bailing left to avoid the OB right. A fade around the corner leaves a downhill, over a ravine shot into a small green. Finding the fairway is critical, if you're in the rough or the fairway bunker, you run the risk of catching the approach heavy and sending it into the abyss.