Cover Story – Danielle Kang

From taekwondo to putts for dough, Danielle Kang is already a superstar on the LPGA. With a major championship, five total wins, three Solheim Cup appearances, an Olympic appearance, a Vare Trophy, and almost $7 million in earnings, this Korean American sensation has accomplished a career's worth of success despite having yet to reach her prime. In addition to her on-course accolades, Kang has endorsement deals with Adidas, MGM Resorts, Cisco, Citi, Grant Thornton, BMW, Omega and Titleist. Kang is young, beautiful, talented, and very marketable. 
A California native, Kang was a martial artist growing up and didn't pick up golf until she was 12 years old. Admittedly, she wasn't even familiar with much of the history of golf even after she began working on her game and seeing almost immediate success. After qualifying for the U.S. Women's Open at 14, she began to embrace the sport she was beginning to master. She learned as much as she could about the LPGA, including molding her talent and persona after the great Annika Sorenstam. 
During her two years at Pepperdine University, Kang won the U.S. Women's Amateur in 2010 and competed in all four majors as an amateur in 2011. She made the cut in three of the majors, including the LPGA Championship. Kang was then the low amateur at the Women's British Open, and then repeated at the U.S. Women's Amateur in 2011 to become the first player in 15 years to win consecutive U.S. Women's Amateur titles.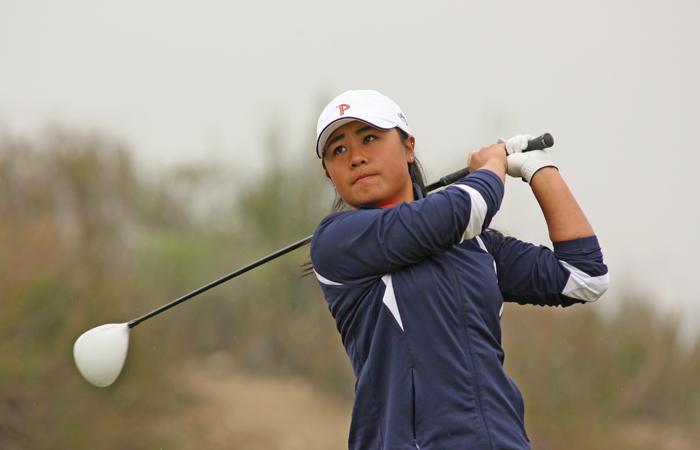 After turning pro in 2011, Kang went to the LPGA Q-School, where she earned conditional status for the 2012 season. During her 2012 campaign, she finished 52nd on the money list, earning full status for the 2013 season. 
In 2017, after four years with full status on the LPGA, Kang finally broke through, and that first victory just happened to be at the KPMG Women's PGA, a major championship. Kang held off defending champ Brooke Henderson at Olympia Fields with a final round 68 to capture her first win on tour and her first major. 
With a supportive family, a world class game, and a lifetime of experience packed into her 16 years navigating courses and tournaments, it seems many more wins are on the horizon. Only question is, how many more? 
AVIDGOLFER had a chance to chat with Kang about her ascension to the LPGA, her brother's influence and what she is doing to help grow the game. 
AVIDGOLFER: Tell us a little about your upbringing?
Danielle Kang: I traveled a lot. I went back and forth from the United States to Korea quite a bit with my brother. My parents taught us how to travel starting at three or four years old. My brother and I would get on a plane and meet my grandparents in Korea.
AG: How did you get started playing golf?
DK: I started playing because my brother started playing. We went to Korea every summer and one of the summers my father had one of his assistants take us to the driving range because he didn't want us running around his office, so we went and my brother hit balls, and he got a lot of attention. So, I started hitting balls too.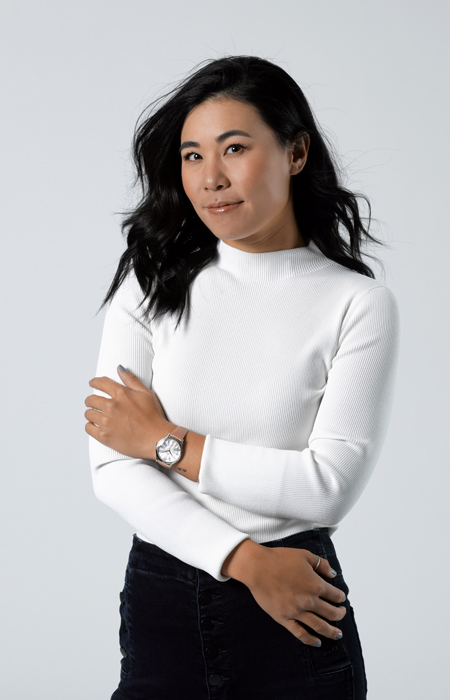 AG: Who were some of your golf influences growing up?
DK: To be perfectly honest, I wasn't raised on golf. My family didn't play golf. I wasn't educated with the history of the game, but I picked it up when my brother started playing. I wanted to hang out with him, so I picked it up that way. 
AG: So, your brother was the main one responsible for your love of the game?
DK: I didn't sign myself up for tournaments, my brother did. He signed me up for a U.S. Open qualifier at 14-years-old and I made it. I played locals and sectionals without really even knowing what the U.S. Open was. I had never heard the term major championship. As a kid, I was training in martial arts. I wanted to go to the Olympics for taekwondo, so golf was a different world, and some of the terminology and history wasn't introduced to me until later in life. Once I started getting educated in the game, I became inspired by Annika Sorenstam.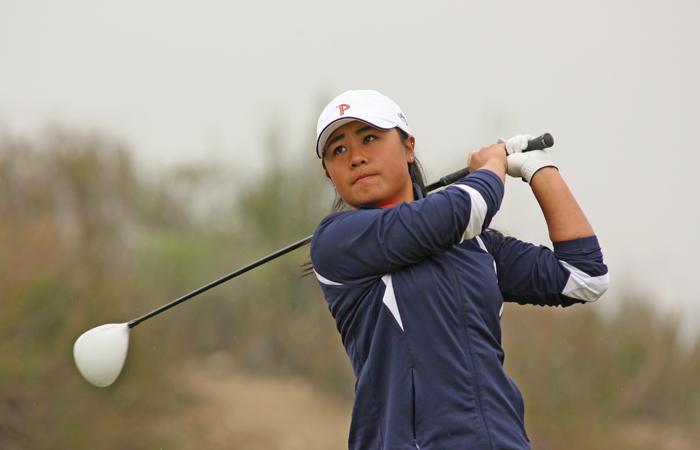 AG: What about Annika inspired you?
DK: I loved the way she carried herself, I loved her game, I loved her attitude. She retired not too long after I started playing, but every time they showed LPGA Tour highlights, I would watch her. I would watch her interviews and the way she carried herself. And I know she started playing the game later in life, so I was very inspired by her. 
AG: You mentioned that you had trained in martial arts. Do you think that helped with the discipline side of golf?
DK: I believe martial arts helped shape who I am today. I still relate back to how individual a sport it is. You are out there, and you see your opponent and you are all you've got. Golf is a little different now because you have your caddy and your team, so there is someone there going through it with you, but martial arts definitely helped teach me hard work, discipline and resilience. When you lose a fight, you always have another fight coming up. Golf is the same way.
AG: You mentioned your brother helped get you into the game. How does it feel to know you have another high-level player in the family to help bounce things off and give you advice when it comes to your game?
DK: Most definitely. My brother is my rock when it comes to golf. My brother is the one I go to for advice, he's the one I complain to, he's the one I get excited with.  Ever since I started, he's been invested in everything I do. He wants me to play the best I can and have as much success as possible. He's the one I trust with my game.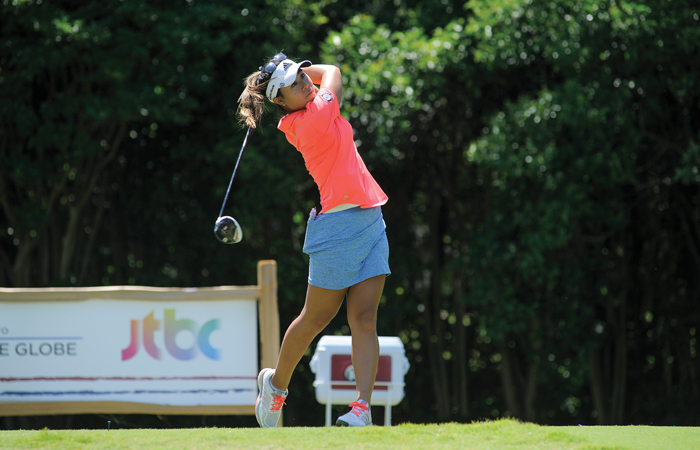 AG: Any specific examples of him helping your game?
DK: At the KPMG, which was my first major, I arrived at the course and didn't know what to do. The course was so intimidating, and rather than sit down with my caddy, I called my brother and even sent him photos of the course to see what he thought I should do as far as a game plan. I followed his advice and ended up winning. 
AG: Having as much success as you have early in your career, do feel like that helped with some of the stress and pressure of being a professional player?
DK: The pressure is always there. But I can't really speak on having a long career without winning a major because I won one early on. I can tell you that pressure can come from the outside world or within yourself. For me what matters the most is figuring out why you are playing and who you are playing for. Sometimes when I am playing well and don't win, I feel like I disappoint quite a few people, whether it be fans or others. But in the end, I try to see the bigger picture and ask myself what my expectations are. 
AG: You played in the Solheim Cup. What is that experience like? 
DK: Solheim Cup is by far one of my favorite tournaments ever. There is simply nothing like it, and there is nothing that makes you feel like that feels. When you're on the tee and you have 100,000 people there and you know what you have to do. It's not so much the nervousness, it's the fact that you're playing for something bigger than you. There are 11 other girls with me that are out there with the same goal, and it's something that you don't get to experience playing golf very often. I really treasure the Solheim Cup and it was wonderful to have so many people come out to support us and to support women's golf. I think it showed where our game is going.   
AG: Let's talk social media for a second. Social media can be so negative sometimes, how hard can it be to stay positive when people have a vehicle for people to say nasty things to you on the internet?
DK: I think it's a natural human response to intake a negative more than a positive. We are our biggest critics. I know there are a lot of stigmas to social media, and a lot of people don't want to have social media, but with the negative there is a lot of positive that comes with it. As much as there are negative fans, there are just as many positive ones. When people come at me with negativity, just know that it's real. The feelings I get from those comments are real. But I know that I am not out there trying to play poorly. If I know I am giving 100% and I am being honest with myself, then that's all that matters.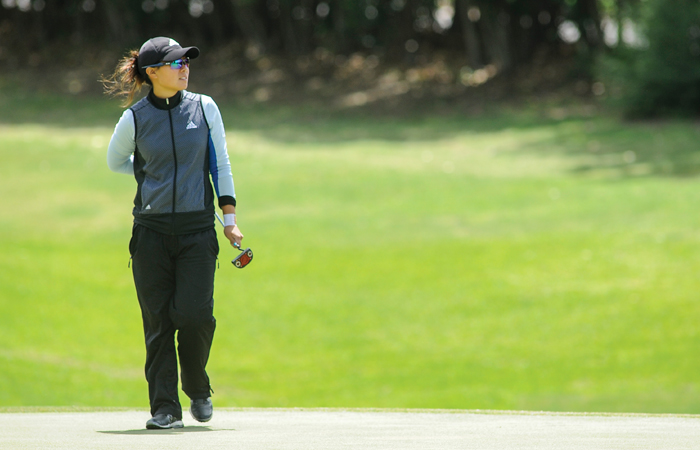 AG: On occasion, you will repost some of the negative comments. Is there a reason you do that?
DK: When I do repost some of those comments, it is to show that if anyone else is getting that negativity, they are not alone. I don't want those people to feel alone, whoever they may be. No matter what you do in life, there will always be criticism, and we can't run away from that. The only way to embrace it is to understand that there are lots of other people that are rooting for you. I try to remind myself of that. It doesn't mean it's not annoying, but it's just part of life. 
AG: What are some of the things you do when you aren't playing golf? 
DK: To be honest, I don't have a lot of hobbies. Golf is a lifestyle. I don't really have a lot of free time. It's never ending. You get up, you eat, you work out, you stretch, you play and you practice. So, even though it sounds cliché, when I do have free time, I enjoy spending time with my family and friends. I have friends that come over and bring food, and when I'm at home, I go over to my mom's house and eat breakfast every day. I love home cooked meals and I love when she cooks, so that's what I enjoy doing.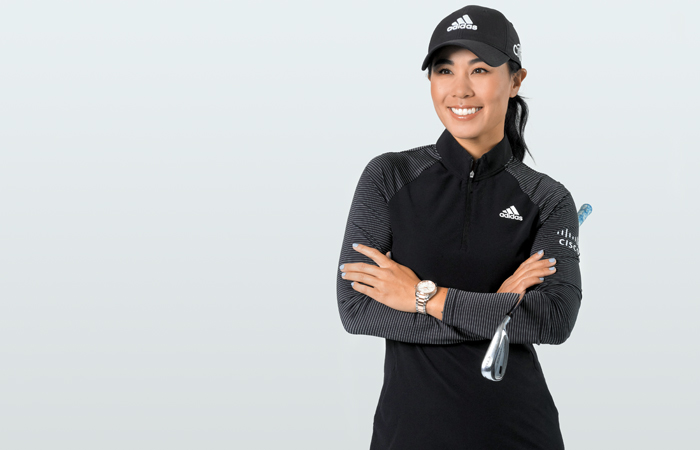 AG: If you were not a professional golfer, what would Danielle Kang be doing? 
DK: I could give you multiple answers. It changes, you know. When I was younger, I wanted to be an actress. But when I got a little older, I wanted to be a criminal justice attorney, which is part of the reason I chose Pepperdine. Pepperdine has one of the best law schools in the country. Then I went pro, and golf is priority now. Golf is something I am really good at. 
AG: You mentioned wanting to be an actress. Is TV something you have considered down the line?
DK: Not going to lie, I don't think about anything but golf right now. If the camera is pointed at me, I want it to be because I am playing well, I am making cuts and I am in contention. 
AG: What are some of the things that you are doing and that you see fellow LPGA players doing to help grow the game of golf, especially for young ladies? And what advice might you give them?
DK: I would tell them that they must love the game, but it takes a lot of hard work. It's a lifestyle. Even if you do everything right, the game doesn't owe you anything. You have to love it and when you have those breakthroughs, then you realize that work is paying off. As far as what I am doing to help grow the game is to be myself and to play the best that I can. I feel like it's good golf that helps keep growing the game. The overall level of play is what motivates the younger girls to be better. I feel like if I work hard then I can motivate people, especially younger players to work even harder.