Cover Story – DOT COM TOM

When Tom Cox got into the golf business in the 1990s, little did he know that his journey would take him from country club general manager to entrepreneur to husband and now to father. Cox, like many in the 90s, began to soak up knowledge about the internet and how it might benefit not only himself, but the golf industry. As he began to spitball ideas, he saw a vehicle for golf, which would turn into one heck of a ride.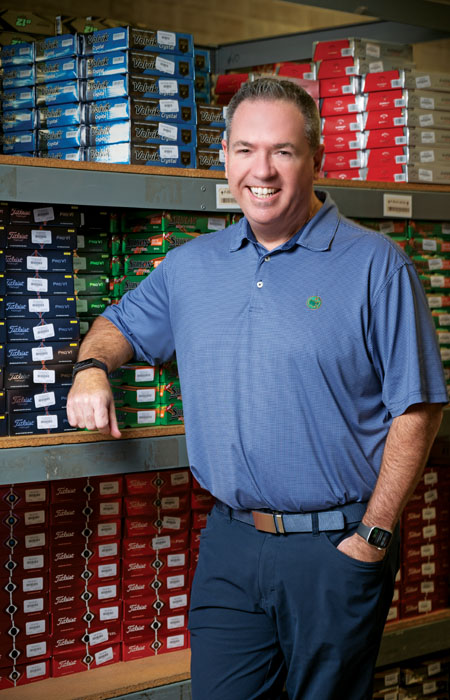 Over the past quarter century, Cox has grown Golfballs.com from a startup that sold refurbished balls plucked from the bottom of ponds, to a world leader in the online sale of customized golf products and balls. His company now exceeds approximately $40 million in annual sales, with around 80 percent of his products leaving the warehouse customized in some way. The company, which is based out of Lafayette, Louisiana, has been named by Inc. Magazine to the Inc. 5000 list of the fastest growing companies in America eight times in its history.
Cox, who started his business in a 100-square-foot room and now has almost 75,000 square feet of space, pulled back the curtain for AVIDGOLFER and discussed how his idea took flight, how he continues to evolve and even how he met his wife along the way.
AVIDGOLFER: How did you end up in Lafayette?
TOM COX: Well, my father was an FBI agent. As the agents get older, they are assigned to a field office, so we ended up in New Orleans and then later in Lafayette, which is where I'm at now. Although I was born in D.C., I consider Louisiana to be my home.
AG: What got you started in the golf industry?
TC: To be honest, I am a pretty mediocre golfer. My mom's father played almost every day. But I got to go out with him quite a bit in Florida. But as far as getting into the industry, I kind of just fell backwards into it. I was in college, and a buddy was working at a country club. They needed someone to help in the office for the summer, and I was looking for something to do. So, I ended up working there and that went from a part-time job to a full-time job, to assistant general manager and then club manager.
AG: You say you're mediocre? How often do you play?
TC: I get to play in a lot of events because of the business, so I would guess I play about 30 times a year.
AG: What kind experiences did you have there?
TC: You know, I really like the business side of the game of golf. I play a lot, but I like the business of things more. The cool thing about being around a nice country club is a lot of the members are entrepreneurs, and I think that inspired me and exposed me to a lot of successful businessmen. I think that inspired me to want to learn about starting a business and wanting to be in business.
AG: How did you get from club manager to starting a website?
TC: Golf was my business, but computers were my hobby. When I was a club manager, I was also into the technology of computers. The internet came along, and I knew I needed to learn everything there was to learn about it. I also did some computer consulting on the side. I just had this feeling I needed to know as much as I could about the internet.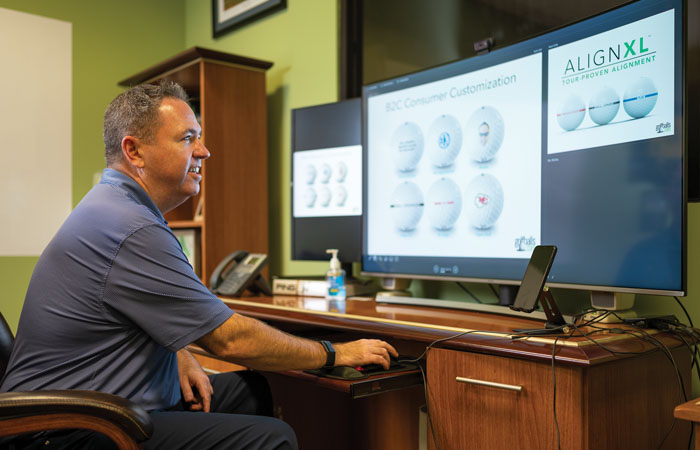 AG: What was the initial idea you came up with?
TC: I met with some web developers about building a website for the club, and that same week we met with the divers who dive in the lakes to pull golf balls out of the ponds. One evening, I thought that maybe we could work with those guys and make something work. Maybe there is a way to put the two together. Maybe we can use the e-commerce as the marketing engine and the guys to get the balls out of the ponds to do the fulfillment. We quickly realized that we needed to see about bringing that in-house instead of letting those guys do the fulfillment. They were great at getting the balls out of the ponds, but they weren't great at getting orders turned around.
AG: How did you acquire the domain name GolfBalls.com
TC: If you go back to 1995, nobody really knew if domains would be worth anything, but eventually we realized that to be successful in the marketplace, you needed a great domain name. Before 1998 we had used a couple other domains, as the name of the company was Golf Ball Warehouse. There was an individual in Canada who owned GolfBalls.com, and we ended up buying it from him. We actually ended up buying GolfBall.com, as well, a few years later.
AG: How important is that URL to your success?
TC: It's very important. It's easily recognizable. Although we sell more than golf balls, the name also leads people back to us when they buy because it's easy to remember.
AG: How big is the operation?
TC: We have four spaces. All are in close proximity here in Lafayette. We have three 20,000-square-foot buildings, and we have the third floor of an office building in downtown where the software developers work. We also have the retail storefront, which serves as a way to brand ourselves locally.
AG: How many employees do you have now?
TC: About 120.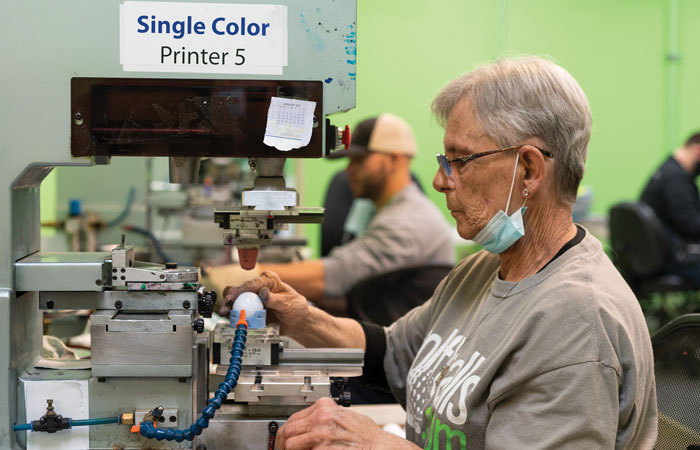 AG: You're no longer in the used ball business, correct?
TC: When eBay became more prominent, we noticed that a lot of our ball suppliers were taking their best products directly to eBay and selling them on there. So, in about 2000, we decided we wanted to pivot and start transitioning to exclusively customized products. It was a reaction to the marketplace, and we felt like if we executed the plan, we would always have a differentiated product that customers would always want. And we do more than just custom balls. We sell just about every other golf product, as well.
AG: Tell me about the personalization of golf balls. 
TC: We saw mass customization coming. Even as early as the late 90s, before we even had printing capabilities, customers were asking for us to print things on golf balls. They wanted company logos and that sort of thing. After a while, we began to see it transition to the consumer sales, as well. We began to see that could be a real way to separate ourselves from other companies. We have taken a 'blue ocean strategy" approach as we have evolved the business to try to produce things the customer can't find elsewhere. You can go anywhere and buy golf balls. You can go to Amazon to buy golf balls, but you can't buy them customized. There's a limited number of places where you can buy them customized, and we launched a lot of different new product lines that you literally can't get anywhere else. So, part of our strategy is to produce and sell things that customers love, but they can't buy anywhere else.
AG: What kinds of different personalization do you do?
TC: We can personalize it, monogram it, add a photo, or we can even integrate your initials or text into the line used for alignment. We call it the AlignXL, and it's one of the most unique things we do.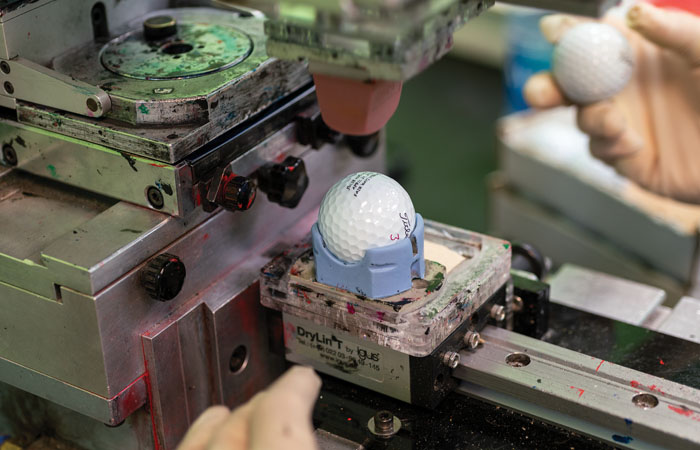 AG: You mentioned Amazon. What kind of steps have you taken to make sure you're not succumbing to that juggernaut?
TC: You have to differentiate, or they will eat you. Online retailers ate retail stores and now Amazon is eating online retailers. If you don't have a market position … if you're in the business of selling a regular product that isn't customized, Amazon is going to eat you.
AG: How much of your business is based on customized product?
TC: Eighty percent of what we sell is customized in some way. People want things customized. Our brand positioning statement is "The World Leader in Golf Customization." All of our advertising reinforces that message and, internally, we focus on efforts to live up to that and to make sure the customer is always satisfied. Having worked as a club manager, customer service has been ingrained in my DNA. We established a 100 percent satisfaction guarantee from the beginning. We always make it right for the customer, no matter what.
AG: 100 percent?
TC: If you sell online, you have to have a 100 percent satisfaction, or your reviews and ratings are going to get bombed. It doesn't matter who is right or wrong. You just have to fix it, eat it and build it into the cost of doing business. And as I said, when you work at a club as I used to, you just find a way to make it right. We will always make it right, no matter what.
AG: How has the last year been? How has the pandemic impacted your offices?
TC: Kind of a weird time. We used to have a lot more people in the office. Accounting team, marketing team and most of our corporate sales are all working remotely.
AG: How about sales?
TC: Our growth has been pretty steady over the years. It has been anywhere from about 10 to 20 percent a year until 2020. This last year we were up well over 20 percent.
AG: What is the most important aspect of your business?
TC: People. People are the most important part of your business. Not the idea. There are great ideas all the time and they fizzle out. That's a mistake that entrepreneurs make all the time. People are the most important part of your business. I wish 53-year-old Tom had told 27-year-old Tom to spend more time adding the right people to the team. When you're young, you want to work on the technology, the marketing and the e-commerce. Hiring was secondary. I learned quickly that you must have great people on your team.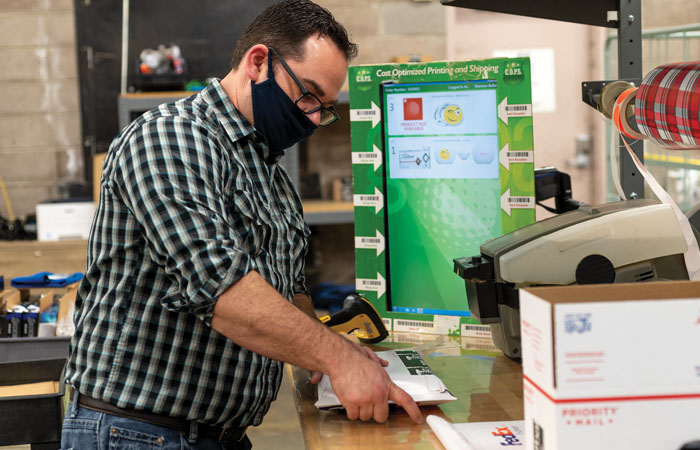 AG: I understand you met your wife in this business?
TC: My wife's business is LogoJET. They manufacture digital inkjet printers. They are sold all around the world. There are dozens of golf businesses that use them to print golf balls. They have had an exhibit at the PGA Merchandise show for about 20 years. When I first saw it, I knew it was perfect for us. That's how we originally met. But we had our first date about 12 years ago, and we're coming up on our 10th anniversary and we have a three-year-old. I am a late bloomer; I had my first child at the age of 50.
AG: What do you see in the future for you and the business?
TC: E-commerce and customization are at the core of our business. I could see us expanding to other promotional products. Our software and equipment don't care what the product is. A lot of the same people who buy logoed golf balls are interested in other custom products, as well. So, I think there is some growth opportunity there.
AG: What advice would you have for anyone looking to start their own business?
TC: I have a couple things. The first thing is take a lot of time researching the marketplace. Make sure there aren't a bunch of others with the same idea. The second thing is spend 10 times the amount of time you think you should spend on hiring the right people for your business. Not twice the amount. Not three times the amount. Ten times the amount. If you have a good business idea, getting the right people on board will almost guarantee you will be successful.