Joe Trahan, Texas born and bred (with stops in South Carolina and Louisiana), replaced a true Texas TV legend when he took over from retiring WFAA-Channel 8 Sports Director Dale Hansen as the lead Sports Anchor in September 2021.
Hansen spent 37 years as the leading sports voice in the Dallas-Fort Worth area, before retiring to golf, poker and pool and turning over his role to the mild-mannered, friendly and engaging Trahan. Trahan started at the station in 2003 as the weekend Sports Anchor and enjoys plenty of golf himself, with healthy doses of family, which includes his wife and two high school-aged daughters.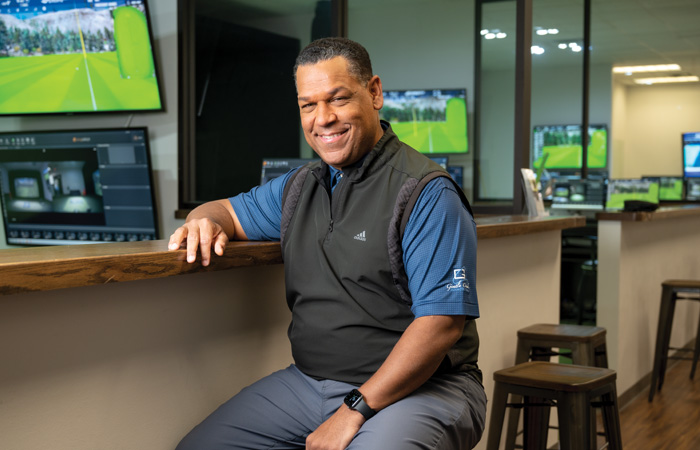 He was born in Houston and grew up in the Bayou City during a magical time for Houston sports, with Earl Campbell, Bum Philips and La Ya Blue, along with the Astros' Jose Cruz and the Rockets before their "Clutch City" NBA era.
Trahan grew up in the Houston Worthing neighborhood, home of former Baylor legendary linebacker Mike Singletary, and attended a private Catholic prep school, majoring in what he called the big three—football, basketball and baseball. After high school, he moved to Louisiana, where he attended Loyola University, studying radio-TV after his brief pre-med plans stalled out.
Trahan's love for golf began to ramp up during his senior year at Loyola and he hit full peak with his first full-time job at WCBD-TV in Charleston, South Carolina where he arrived just before the epic Ryder Cup "War by the Shore," at Kiawah Island.
Afterward, he returned to New Orleans for a nine-year stint at WVUE-TV, where he made his first hole in one, at Eastover Country Club, and stayed around long enough to cover the colorful tenures of Mike Ditka, former University of Texas running back Ricky Williams and the Saints' first-ever playoff win.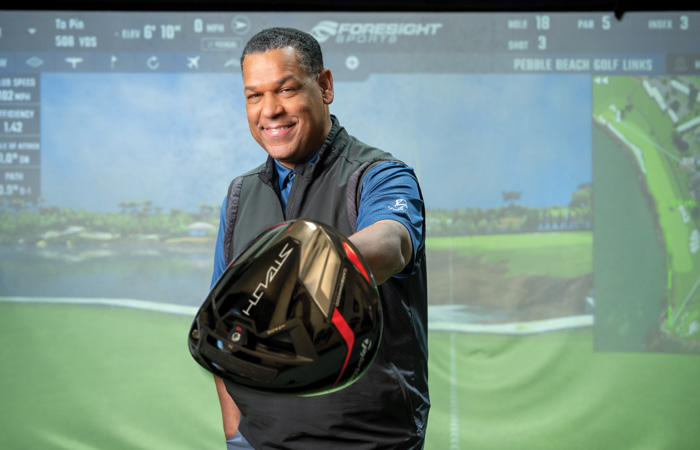 Since arriving in Dallas in 2003, nothing has quelled his love for golf and his love for DFW sports, including the first NBA title for the Mavericks, a near miss by the Rangers, and the continuing ups and downs (mainly downs) for the Cowboys.
But Trahan's love for North Texas golf remains undefeated. He lives in Frisco within walking distance to the new PGA of America facility and close enough to rent out some parking space or maybe a spare bedroom for a PGA Championship or even an upcoming Ryder Cup.
During a recent lunchtime visit, Trahan took time to talk with AVIDGOLFER Senior Writer Art Stricklin about DFW sports, DFW golf and his ideas for his new job and his ongoing links passion.
AVIDGOLFER: You're following a true North Texas TV sports legend, so what has that been like for you in the first few months as the lead sports anchor at the channel?
JOE TRAHAN: Everyone knew Dale. Growing up in Texas, I knew who he was. But I've been doing this business long enough to know, people don't want me to be Dale. They don't tune in to see me mimic Dale. They want me to be me. Don't try to be somebody else. I'm smart enough to know that.
AG: One thing you and Dale both have in common is you both love golf. I've played with Dale once and he went over his schedule, which seemingly included golf every day. Did you play golf with him? Do have some good matches?
JT: We didn't play a lot, but Dale took me out to Dallas National a couple of times where he was a member. Dallas National has 14 fairways (not including the par-3s). In two  matches, Dale hit 26 of 28 fairways and wore me out.
AG: Then he let you know about it?
JT: Well, that's Dale.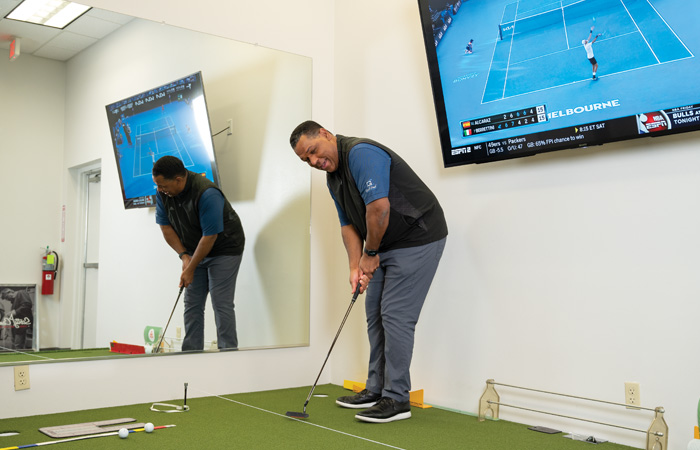 AG: Being the lead sports anchor in a top 5 market is a great gig, but hardly anybody starts at the top. How did you get started with TV?
JT: Well, after my pre-med career quickly flamed out, Loyola University actually owned the TV station WWL-TV in New Orleans. I took a class from the journalism department chairman and liked it, and he said maybe I'd like to try out working in TV news.
AG: So no sports and no working in front of the camera, just working TV news.
JT: Sure, that's how I started. My senior year, I was a news writer for the morning show, which meant I was in the newsroom working from 11 p.m., to 5 a.m. every night. Sometimes I would be the only person in the station at 3 a.m., I would take police reports and shooting investigations, then go back to writing for the morning program.
AG: Sounds really glamorous.
JT: Yep, New Orleans can be a pretty interesting place, for sure. I think my senior year I worked three months straight without a day off. Going to work at night, work all night long, go to school during the day and come back and do it all over again. Near the end of my college career, they had let me work some sports on the weekend, as well.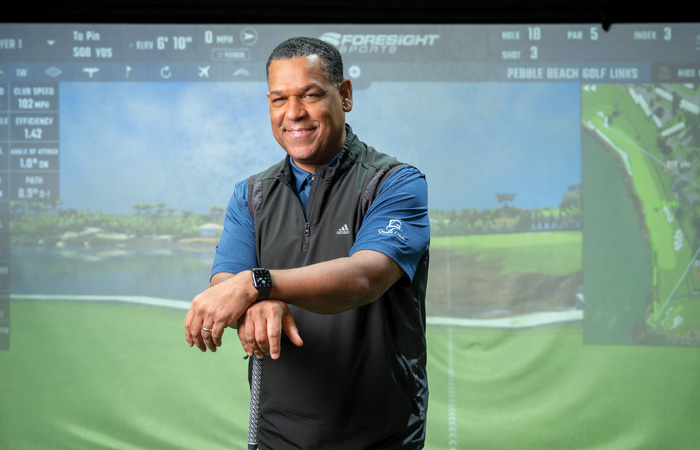 AG: So your love for golf started to grow in college, but did you play much in high school?
JT: Not really, that was a mistake. My dad introduced me to the game, but I was focused on the big three, football, baseball and basketball. I learned my multiplication tables and fractions from my dad quizzing me on players' batting averages.  He said, say, he went two for three last night … he was four for five … what is his average? And I had to figure it out.
AG: Going to South Carolina, which is certainly known for golf, had to be great for your golf career.
JT: I couldn't think of anything better. It was great. I literally arrived one week before the Ryder Cup, the War on the Shore, it was incredible. Then we did a best 18 holes in South Carolina show and I traveled around the state, playing great courses. I wasn't married at the time, so I played a lot.
AG: After a return to New Orleans, you came to WFAA in 2003 to work with Dale, in a place you had never been.  I'm guessing that didn't slow down your love affair with golf?
JT: Are you kidding me? This place is incredible, with all the great players and places to play here.
AG: You've interviewed some of the greatest golfers ever in your time here. Jack Nicklaus, for example, when he was here for Dallas Athletic Club's 100th anniversary. Of course, Jordan Spieth, Justin Leonard, players at the Byron Nelson and Colonial. Is there something that sticks out from talking to the great players in the game?
JT: I think it's that meticulous attention to detail, never overlooking anything, analyzing everything. You break it all down, pay attention and execute at the highest level. That's what they do that others don't.
AG: You've talked about how much you love the game. Does seeing it at the Byron Nelson and Colonial and other pro events here make you think you could have done it for a living if you started earlier?
JT: Are you kidding? My knees start to shake when I have a five-footer at the member-guest.  I can't imagine executing a shot at the highest level, with $50,000 or $100,000 on the line, with thousands of people watching. I like my side of the table just fine. I'm doing what I was called to do, talking about, not playing, golf for a living     
AG: There are always plenty of young golfers on the North Texas scene. Do you get to see some of them, like Bryson DeChambeau?
JT: I think he is fascinating to watch. When I was younger and Tiger Woods was in his heyday, I tried to swing a lot harder like Tiger did, but it never helped my game. It's fascinating to watch Bryson, with his mad science mindset, trying to figure out the game and the courses. I don't know if you can swing that hard all the time and be successful constantly, but it's really interesting to watch.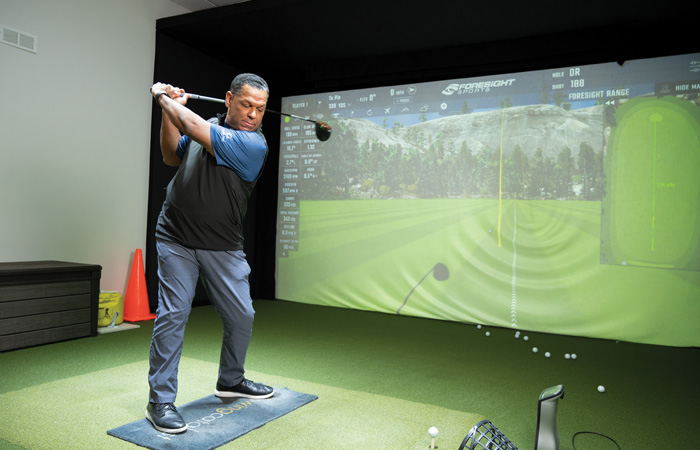 AG: Any there other sports figures in Dallas who you think could give the PGA TOUR a try?
JT: That's a great question. You know, former Cowboys punter Mat McBriar really has a good stick. Cornerback Terence Newman was a good stick. I played with former Stars goaltender Marty Turco and he was really good, and, of course, Tony Romo.
AG: You've interviewed almost every big-name athlete in Dallas-Fort Worth sports, so how do golfers stack up for interviews?
JT: The great thing about interviewing golfers is there is no equivocation. There is no, he missed a block, he didn't throw me the pass, he didn't see I was open. Did you make the shot or didn't you? Did the putt go in or didn't it? Make the shot or not, that's what makes golf great.
AG: Do you have some favorite courses to play in North Texas?
JT: Well, I'm a member at Gentle Creek in Prosper, so I love that place, but Dallas National has got to be way up there for me. I really like Royal Oaks, Colonial in Fort Worth and TPC Craig Ranch. I always play well there and know David Craig. That's always a good spot and it's a great place for the AT&T Byron Nelson.
AG: What about places you would like to visit or play?
JT: I've never been to the Masters, so I have to do that. With it being on CBS, I've never applied for press credentials, but I should give that a try. I want to play Bandon Dunes and the Old Course in St. Andrews, so I've got plenty to go.
AG: What about your own game? Any of those Dallas golfers' games rub off on you?
JT: I've got four holes-in-one, so I'm one lucky dude. I was just telling my daughter the other day the element of luck in this game. My USGA handicap Index is a 4.4, but there is no way I can play up to that.
AG: What's a perfect day on the course for Joe Trahan?
JT: I don't need big money, never have, but I crave competition. Give me a few buddies, a nice day and good course and a little trash talk, and it's heaven. 
AG: You've collected lots of awards, great jobs, nice titles and salaries, but do you have a golf highlight during your career? 
JT: Can I tell you about my greatest day in golf? I was asked to play in the celebrity pro-am for the Byron Nelson a few years ago. It was held at Dallas National, which I love, and you know who I was paired with? The great Lee Trevino. Wow, what a day, listening to Lee tell stories and playing 18 with him, at Dallas National. I still remember everything about that round.
AG: Thanks for the time and congrats on the new job.
JT: Thanks, I never take it for granted. It's a great privilege and honor and, hopefully, I'll have a chance to interact and be with people more often and serve the people in North Texas.
You can see Joe Trahan on WFAA TV here in Dallas/Fort Worth. Thanks to Anthony Broussard and everyone at Pure Swing Golf for allowing us to use their studio for this photo shoot.