Feature – David Pillsbury, The New CEO of ClubCorp
David Pillsbury has officially taken the reins of Dallas based ClubCorp. As of June 1, Pillsbury inherits the largest owner operator of private golf and country clubs in the Country. ClubCorp manages more than 200 golf and country clubs as well as business, sports and alumni clubs across the globe. Located in 26 states, the District of Columbia and two foreign countries, the company and the clubs in its network have more than 430,000 members and employ approximately 20,000 people. Over the years, Pillsbury has held many jobs in and out of the golf industry. Initially beginning his golf career at American Golf Corporation, where he eventually became co-CEO. At AGC, Pillsbury had a hand in the formation of American Golf Country Clubs, the Private Club Member Platinum Program, the Nike Golf Learning Centers, and other critical innovations including centralized tee time reservations.
After American Golf, Pillsbury became General Manager of Nike Golf, responsible for all US operations, marketing and sales.  Following his stint at Nike Golf, Pillsbury was President of PGA TOUR Golf Course Properties Tournament Players Clubs (TPC) and was then promoted to President of PGA TOUR Championship Management, including THE PLAYERS Championship, and EVP of PGA TOUR Tournament Business Affairs.
After being involved with the PGA, Pillsbury held CEO roles outside of golf in both the healthcare and consumer products industries. Including rising to the role of CEO for the Laser Spine Institute, and as the CEO of CANarchy Craft Brewery Collective in Colorado.
Pillsbury received his Master of Business Administration from the University of Southern California and his Bachelor of Arts from the University of California, Berkeley, where he was co-captain of the football team. Additionally, Pillsbury is Co-Chairman of the Jordan & Kyra Memorial Foundation, a non-profit organization that raises funds for pediatric brain tumor research and family care.
AVIDGOLFER had the opportunity to speak to Mr. Pillsbury about several topics, including his career path, his own golf game, and where he plans to take ClubCorp over the next several years.
AVIDGOLFER: How interesting was it to see the development of Nike golf products from the inside?
David Pillsbury: I was at Nike from 2002 to 2004, they launched in 1996, and at the time I was at American Golf, and we partnered with Nike to launch their Golf Learning Centers. They were player development facilities designed to bring people into the sport that otherwise were too intimidated or felt like they didn't have a safe point of entry into the game. Nike Golf was originally part of big Nike, and in 1998 they set up and dedicated product engines to shift gears and make sure they were making more golf centric products.
AG: What were your initial thoughts when you heard in 2016 they were bailing out of the equipment game?
DP: They gave it a good run, and to be honest they maybe should've pulled out of golf a couple years earlier, but hindsight is 20/20. If you're going to be an authentic golf company you have to give it a try, they gave it a great effort, and now they can focus on the things they do well and can maintain a competitive advantage.
AG: While working for the PGA Tour, you helped oversee the TPC properties. When you first heard that the Byron Nelson was moving from TPC to Trinity Forest, what were your thoughts?
DP: It was a great run at Las Colinas and they have a great team there. I think you could argue that the opportunity to have a club of that stature, with AT&T as the sponsor, the new venue is great for the salesmanship club. I think the club performed pretty well for the first year.
AG: What's your handicap?
DP: You know, I've got to reestablish it. I've been out of the business for a couple years, and I'm like most golfers, I just go scrape it around the course a bit here and there, and I haven't entered a score in a while. I think if I was entering scores, I would probably be about a 16 or 17. I love to play, and after my first 100 days here, I plan to start playing some more, and I really look forward to playing with some of our members.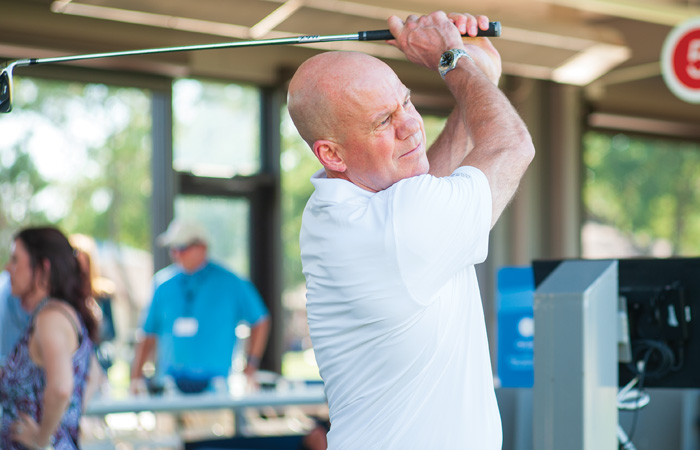 AG: ClubCorp owns and operates about 200 properties in the United States. How many of those would you say you've seen personally, and are there any that you haven't seen that are at the top of your list?
DP: Because of my experience on tour, I used to run the World Golf Championships through Championship Management, so I spent a number of years going to Firestone, but when I look at the aggregate, I have probably visited 25-30 of the ClubCorp portfolio. But I plan to see all of them within the next 12-18 months. We're doing town hall meetings now where we have clusters of clubs bringing teams in to meet and discuss ideas for improvement for all of our markets.
AG: ClubCorp recently went from being a publicly traded company back to private. Do you feel like this is an opportunity you would've been as interested in if it were still being openly traded?
DP: For our evolution as a company, this is the right ownership structure at the right time. That doesn't mean there isn't a season for a company where being public makes sense. I know ClubCorp had a great run as a public company. I prefer this structure because I can focus on our members and ClubCorp versus analysts and Wall Street, which consumes a lot of time and energy. So, for this time in our evolution I think the structure we have today gives us the best chance to create the most value for our members.
AG: There are those out there that would tell you the golf industry is losing momentum. Do you agree? And where do you see the golf industry in say, five or ten years?
DP: Well I think there are two parts to the answer. First, interest in the game has never been higher. Ratings are excellent, we have some young great players who have stimulated young people around the sport like we haven't seen since 1997 when Tiger really burst on the scene after winning The Masters. Our job is to take that incredibly high level of interest in the game and convert it. We need to do a better job at our clubs of welcoming people into the game. Creating a safe runway for people to learn, to play, and enjoy the game through connecting with people, and that's really a segue to the second part of the answer. You know, we're in the golf business, but we're also in the tennis business, the fitness business, the alternative entertainment business, the food and beverage business, and we're in the city club business. So, really when you look at that in totality, we're in the business of membership, which is about connecting people. Tapping into that very basic human need people have to be a part of something, to connect with their friends, to connect with their colleagues. Some people do it on the golf course, some people do it on the tennis court, some people do it in the gym, or over lunch at one of our city clubs. Our job is to expand the experiences we offer. Our strategy moving forward is to continue to broaden and expand the experiences which give people the opportunity to connect with each other in a club setting.
AG: What would your message be to anyone that is considering becoming a member of a ClubCorp owned property? What are the main benefits?
DP: In life today, particularly with technology, people are working more and harder than they ever have. Everyone is seeking a refuge and a safe place to escape the hectic aspects of everyday life and connect with other people. And that's really what a club is all about. It's a place for people to find connectivity with their friends and colleagues and have a little escape and find a little joy and do the things you like to do for recreation whether it's golf, fitness, tennis, you name it, in an environment where you can really have a respite from the chaos of day-to-day life. That's really what a club is all about. We call that the magic of being a member, and our job is to create that environment and that's what we do at ClubCorp clubs. That's our primary job is to create that environment I just described in each of those settings.