Drive Time – 2019 Infiniti QX60 Luxe

­­­­­­­­
Three-row SUV/Crossovers are normally comfortable beasts of burden, albeit huge and somewhat foreboding. However, the tri-row crowd has another option that doesn't take up nearly the same square footage for mooring the land yacht. Meaning, you can easily fit this into the garage—no small feat in this category. 
It been out a while, yet the latest 2019 Infiniti QX60 brings a bunch of delight to those looking for a comfy cargo carrier that isn't mistaken for every other ride in the parking lot. Size-wise, the seven-passenger ride sits comfortably between the mammoth QX80 and the smaller QX50. Some would say its "just right." So, does the sixth year production model QX60 still hold up today? We'd say the QX60 is worth a look – especially in the high-end Luxe model. 
SKIN 
The QX60's Luxe exterior provides some attractive lines when walking up but not so crazy that you have to talk yourself into liking it. Let's call it handsome in Majestic White paint with some worthy chrome trim accents to nicely break up the expansive siding. It possesses the unmistakable Infiniti sporty front fascia and Infiniti's signature "double wave design." I was impressed with the graceful extended character lines along its flanks, giving off a dare I say "svelte" presence. It's robust without looking bulbous. The fit and finish is impressive as well.
The furrowed LED eyebrows over the bright LED headlights and accompanied sporty air vents give the QX60 a slightly sinister personality. Optional uniquely cool 20-inch dark aluminum-alloy rims with black center caps are sensational looking without incurring a bumpy ride. Dual chrome exhausts and substantial roof rails complete the package.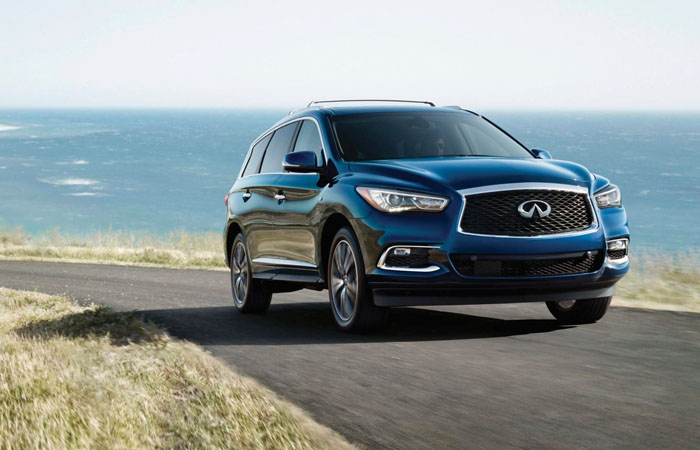 PERFORMANCE
The QX60 houses a capable 3.5 liter V-6 with 295-hp/270 lb-ft. torque. The base offers a CVT front wheel drive transmission. It's fine for most customers but I'd go for the optional AWD ($1,800) for extra grip and handling. Either choice delivers good 0-60 acceleration for a 3-rower at 7.1 seconds.  
Steering is smooth, matching the ride and the suspension soaks up the bumps ably. One reason is rather than being built on a stiffer truck chassis, the QX60 sits on a car frame thereby delivering excellent cruising on long excursions. Gas mileage is good for this category at 20/27. I observed about 22mpg in normal driving. Braking is confident.
The transmission shifts ably at the right kick points. There's no jumpiness when easing onto the gas pedal. There's a confidence driving it with just the right oomph when schlepping around a bunch of folks. Sport and ECO mode are ok, but I preferred tooling around Comfort mode as it seems to better mesh with the overall ride.  
CABIN 
The QX60 dresses out best in the upper-end Luxe edition. You're surrounded in plush quilted-leather seating. The beautiful leather dash includes handsome upscale contrast double-stitching. Wood inlays impart just enough differing textures. 
The front seats are comfy, supportive and provide a higher sitting presence. The leather steering wheel felt good in my mitts. Essentially, the QX60 provides an upscale, quiet cocoon that drivers and passengers alike will appreciate. Lighted Infiniti kick plates are a nice touch as is the remote engine start.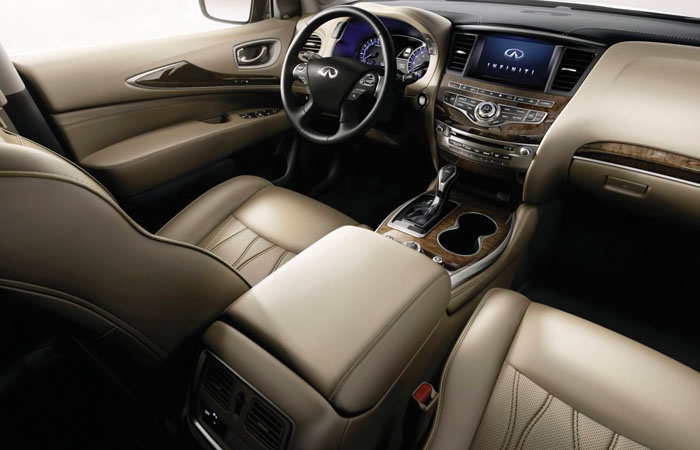 While the standard fare is worthy, the options definitely contribute. Check the $3,500 sensory package and receive a bounty of those quilted leather heated/cooled seats (awesome), Ultrasuede headliner and trim, natural maple wood trim, Bose Performance Series 15 speakers and heated second row seats. They're all worth it. A double-pane panoramic roof adds a spacious feel to the cabin. 
Dual-touch screens fill the center console; a smallish (for this class) 8-inch NAV screen complete with traffic and speed limit notifications on top and an infotainment display for radio etc. underneath. It works well enough but could use a tech refresh at this stage. I'd love a radio tuning knob, Head-Up Display and digital speedometer as well. 
Storage is ample for your various knickknacks. Back seat room is generous in this class and the seats fold down (optional) for extra cargo space. However, the third row leg room is best limited to the kids. 
Cargo space is decent with 16.6 cubic feet behind the back row. Fold the third-row seatbacks, and volume expands to 40.5 cubic feet. With second-row seatbacks down, the total grows to a serviceable 76.5 cubic feet. That houses more than a few golf bags. 
TECH CHECK
Infiniti offers up some worthy safety features. The optional and beneficial ProActive package ($3,400) offers Intelligent Cruise Control, High Beam Assist, Lane Departure Warning/Assist and Backup Collision Intervention (works great!). The NAV, XM Real-Time Weather, 36 radio presets (across all radio formats!), Backup Camera, and Voice Recognition are excellent. The ProAssist option brings more safety features. You can select points of interest (all the golf courses were listed) and restaurants by Zagat ratings. Bluetooth calls and streaming continue to improve.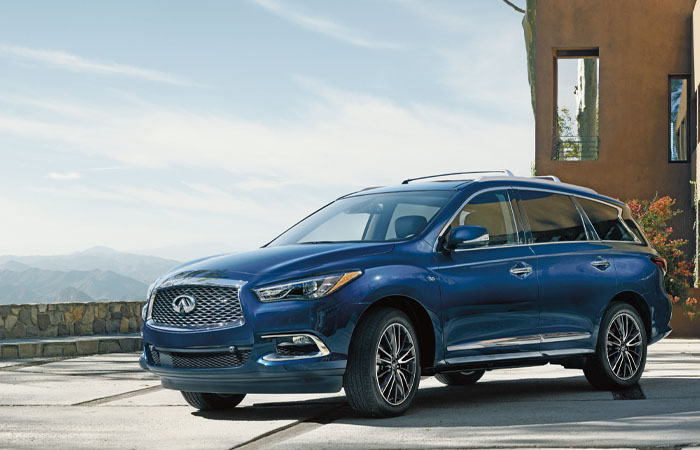 However, its curious that Infiniti doesn't offer the popular AppleCar Play or Android Auto functions in this model. 
Like most in its class, the QX60 offers 360-degree camera/parking sensors, Speed Adaptive Cruise Control, Forward Emergency Braking, and Forward Collision Warnings that peeks ahead 500 yards for impending traffic issues and readies brakes for quick stops. You'd have to be a deplorable driver to wreck this ride.
In addition, you get the 24-hour access Infiniti Personal Assistant that's like conversing with your very own concierge – all at the push of a button. Very luxurious. 
The 2019 Infiniti QX60 is still a handsome, well-appointed, and tech-laden for those desiring 3-row capability. It's a great option rather than the usual gargantuan offerings.  I believe you'll be duly impressed when getting behind the Goldilocks of Infiniti's SUV/Crossover line. 
Test-drive the 2019 Infiniti QX60 at Crest Infiniti in Frisco.