Drive Time – 2022 Infiniti QX55 Sensory AWD

­­­­­­­­Surprise! There's yet another new SUV/Crossover available to help quench a seemingly insatiable consumer market. Yes, it's fairly amazing that manufacturers cannot build and sell these smaller cargo carriers fast enough. Yet, ignore what the public craves and well, good luck. Meaning, you cannot just throw any vehicle chum into the water and expect drivers to bite in a feeding frenzy. There's too much good competition to phone it in.  
Infiniti knows this and has unveiled the 2022 QX55; an eye-catching, tech laden spiritual successor to the recently deceased FX (2017). That said, think of it as a sleeker alternative to the current popular QX50 while sharing the same . The QX55 is a stunner from any angle and delivers a plush interior to boot.  
The bottom line is the QX55 is a worthy candidate in a crowded compact crossover field. How much? Let's take a peek. 
SKIN 
The 2022 QX55's exterior provides a terrific balance of attractive chops to smile at when walking up but not so crazy that you have to talk yourself into liking it. It's part of the extremely popular "Coupe" signature crossover design with sloping roof. Call it handsome (chiseled even) with some worthy trim accents without trying too hard. It looks great in the tester's Mineral Black or Dynamic Sunstone Red paint. It possesses the unmistakable Infiniti sporty front fascia and drew cool responses of "dashing" without screaming, "Look at me!" Our tester casts (for a SUV) a sleek, muscular stance enhanced by Infiniti's signature "double wave design." I was impressed with the graceful extended character lines along its flanks, offering a perfect proportion from stem to stern. It's robust without looking bulbous. The fit and finish is impressive as well.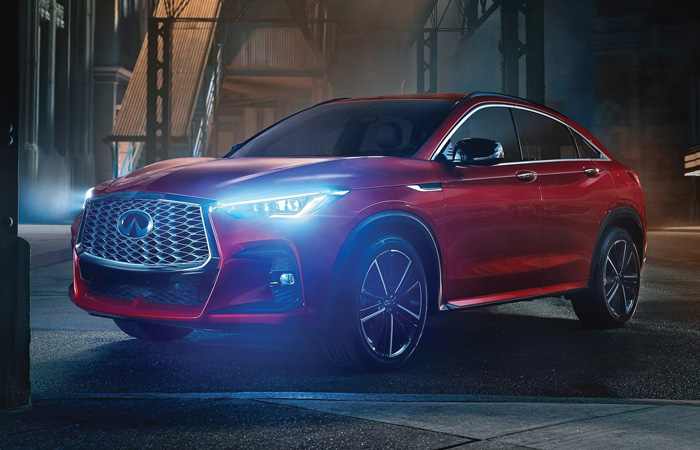 The furrowed LED eyebrows over the bright LED headlights and accompanied sporty air vents give the QX55 a slightly sinister personality. Attractive 20" dark finished aluminum alloy rims are surrounded by run flat rubber. These rims fill the wheel wells nicely without causing an overly bumpy ride. Dual chrome exhausts, cool new taillights and lowered roof rails enhances the appealing package. 
PERFORMANCE
Our tester QX55 possesses the top-of-the-line Sensory package with all the bells and whistles. It includes the 268hp/280 lb.ft. torque variable-compression-ratio-four-cylinder (VC-T for Variable Compression, Turbocharged) engine unveiled in the QX50. Why is this important? Well, the engine can change its compression and even the displacement(!) and took 20-years to design. Simply put, this can maximize efficiency whether you're puttering down a side street or flooring the pedal heading to an onramp. 
All that hoopla makes one believe it will get about 100mpg. Uh, no. But its decent enough at 22/28/25 in standard all-wheel drive (front wheel drive bias). 
The engine feels less "rubber bandy" than other CVT options with zero gear changing. It sounds more like a turbine yet the acceleration is noticeable. Its plenty perky for a four-banger too going 0-60 in 6.4 seconds – quick enough for most family wagons. As one reviewer aptly said, "It's a soft launcher but once underway, wakes up rather quickly." Throw it in Sport mode and it'll jump for you. I'd stay away from ECO mode as it deadens the throttle.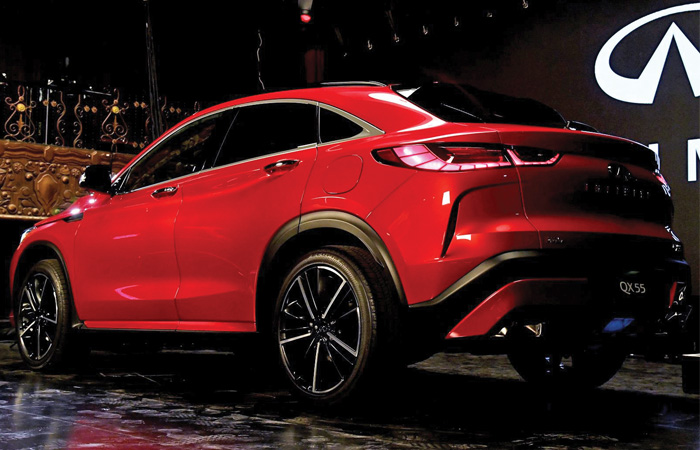 Braking is smooth and confident. The Drive Wire steering works in this model as it feels direct and responsive. The suspension soaked up bumps well without feeling mushy – no small feat and you can take long trips without feeling fatigue.
CABIN 
Infiniti threw all their design ingenuity into the plush interior as it feels more expensive than the sticker. The soft perforated leather is supportive and cushy (some of the best I've experienced). It provides an upscale, quiet cocoon that drivers and passengers alike will appreciate. Exquisite dash and door designs mirror the exterior's graceful flow with contrasting double stitched leather. Lighted Infiniti kick plates are a nice touch. 8-way power heated and cooled front seats allow a higher sit and commanding presence. Remote start is standard. 
While the standard fare is worthy, the options definitely contribute. The Sensory package includes, Natural Maple Wood trim, Bose Performance Series 16 speakers and heated steering wheel. They're all worth it. A single-pane sunroof (versus double-pane panoramic roof in the boxier QX50) illuminates the cabin. 
The sporty leather steering wheel is adorned with volume, menu, voice activation and cruise control buttons. The brushed aluminum trim contrasts nicely with the leather interior. Storage is ample for your various knickknacks. Back seat room is generous in this class and the seats recline six inches and fold down for comfort and extra cargo space.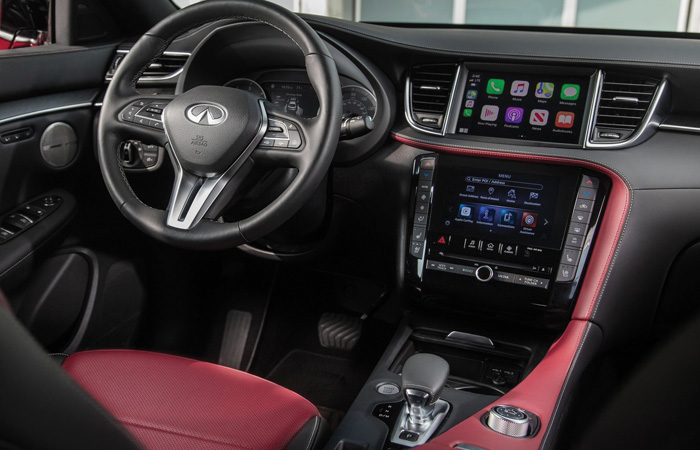 Dual-touch screens fill the center console; a large NAV screen complete with traffic and speed limit notifications on top and an infotainment display for radio etc. underneath. Infiniti sweats the details, as the delightfully organized analog control buttons and knobs are a breeze to navigate, although there's no designated radio-tuning knob. 
Cargo space is worthy at 26.9 cubic feet of available room with a full golf bag fitting horizontally. Drop the rear seats (with convenient levers) and the room expands to 54.1 cubes that'll hold a whole bunch of stuff. A handy motion-activated power lift/close trunk lid, low shelf and handy additional cargo room underneath the trunk make it easy to load and unload cargo. 
TECH CHECK
Infiniti continues to impress the finicky techno-lover. The beneficial ProActive package offers Head-Up Display (but no Speed Limit signs), Intelligent Cruise Control, High Beam Assist, Lane Departure Warning and Assist. The NAV, XM Real-Time Weather, 36 radio presets (across all radio formats!), Backup Camera, and Voice Recognition are excellent. The ProAssist option brings more safety features. You can select points of interest (all the golf courses were listed) and restaurants by Zagat ratings. 
Apple CarPlay and Android Auto are standard. Curiously, wireless charging is not available.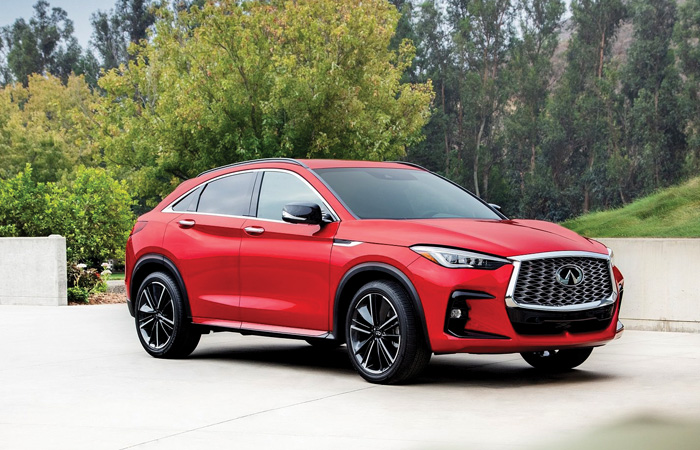 Like most in its class, the QX55 offers optional safety protectors including Blind Spot Intervention, 360-degree parking sensors, Speed Adaptive Cruise Control, Forward Emergency Braking, and Forward Collision Warnings that peeks ahead 500-yards for impending traffic issues and readies brakes for quick stops. You'd have to be a deplorable driver to wreck this ride.
In addition, you get the 24-hour access Infiniti Personal Assistant that's like conversing with your very own concierge – all at the push of a button. Very luxurious. 
The 2022 Infiniti QX55 Sensory AWD is a handsome, well-appointed, sportier step up from its popular QX50 sibling. It will surely lure current Infiniti owners and countless new customers interested in delving into the compact luxury SUV/Crossover market. Believe you'll be duly impressed when getting behind the latest in the Infiniti fleet. 
SCORECARD
Golf Bags: At least 2 with rear seats folded–full bag fits sideways in trunk
Curbside Appeal: Handsome presence inside and out
0-60: 6.4 seconds 
MPG: 22/28. Observed 24mpg in spirited driving
Must Haves: Sensory and ProActive Packages 
Warranty: 4 years/60,000 miles
Base Price: $46,500, Sensory $57,050
Price as Tested: $59,920
Who Buys It? Those who opt for a sleek, sexy Crossover 
Finish Line: An innovative engine and comfy interior will draw plenty of curiosity 
Test-drive the 2022 Infiniti QX55 Sensory AWD at Crest Infiniti in Frisco.