Drive Time – 2022 Volvo XC60 T8 Recharge Polestar Engineered

For years, Volvo's much-deserved claim to fame was its peerless safety features, rather than sexy lines, as the boxy rides resembled rolling security-laden refrigerators. Not the most alluring silhouettes, but at least you had a great chance of arriving in one piece. 
Thankfully, Volvo designers have heard the shouts of customers demanding their safety in beautiful packages. Good on them. And now they've added a performance-laden division named Polestar that enhances the good looks, creature comforts and ultimate safety with some pulse-pounding exhilaration. 
To wit, we feature the all-new 2022 Volvo XC60 T8 Polestar Engineered SUV. It looks fantastic, surrounds you in understated luxury and is lightning quick to boot. I am duly impressed. 
Skin 
The XC60 T8 Polestar Engineered offers some serious good-looking chops up against a highly competitive upscale SUV market. The exterior exudes a clean, elegant appearance with a hint of drama. Outrageously sexy "Thor's Hammer" headlights illuminate the road and rotate when turning. Sightlines offer a fresh SUV appearance from any angle, and a blunt front allows Volvo to satisfy European pedestrian impact regulations. The rear includes dramatic vertical LED brake lights, yet no visible exhausts. The sporty R-Design's large Akebono gold brake calipers are a nice touch, surrounded by 21" machined rims with performance rubber along with the low-profile roof rails. Thus, the overall shape (low-profile roof rails help) and trim deliver some sexy contemporary panache.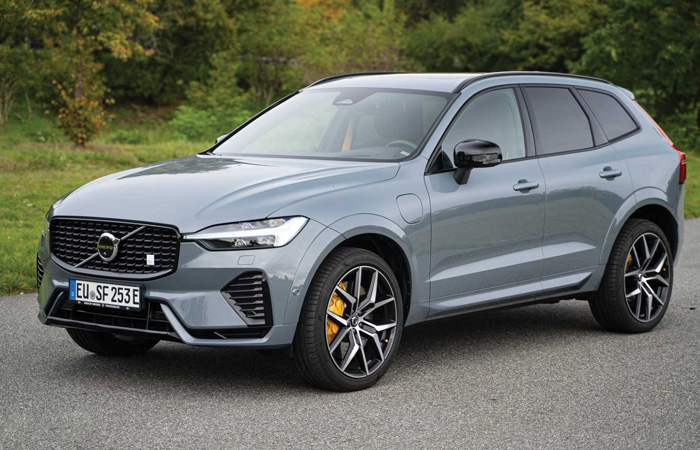 Performance
The T8 Engineered Polestar is at the top of the XC60 food chain, with an ample eight-speed transmission coupled with a twin-charged (Super & Turbo-charged) and 445hp/523 lb-ft. torque!  You may think a 2.0-liter engine wouldn't provide enough oomph moving some 4,883 pounds, but the dual-charged power along with additional 48-volt mild hybrid battery adds 143hp to deliver incredible effortless acceleration for the targeted audience (0-60 in 4.5 seconds), along with an imperceptible auto/stop that's a blessing in stop-and-go traffic. And the impeccable AWD with Instant Traction is a joy when confronted with inclement weather. Four-corner Air Suspension with Adaptive Dampers soak up bumps and potholes – even with low-profile performance rubber. 
With all that power, the ride is surprisingly silent, yet most customers will opt for that versus a neighborhood rattling exhaust note. 
Three driving modes (Comfort, Polestar, Off Road) mostly alter the throttle rather than steering and suspension. Comfort mode is just right, thank you, but the Polestar delivers some giddy oomph with instantaneous acceleration. One note is you need to toggle the gearshift twice to go from park to reverse or drive. I'm guessing that's so you don't accidentally shift to neutral. Also, the manual shifter goes side to side rather than up and down.  
The rechargeable battery provides roughly 30 miles of range without using fuel. 
You'll notice the engine bay is far larger than the engine. As usual, Volvo used safety-first thinking to allow a good distance buffer between engine, bumper and cabin for reducing collision calamities. Genius.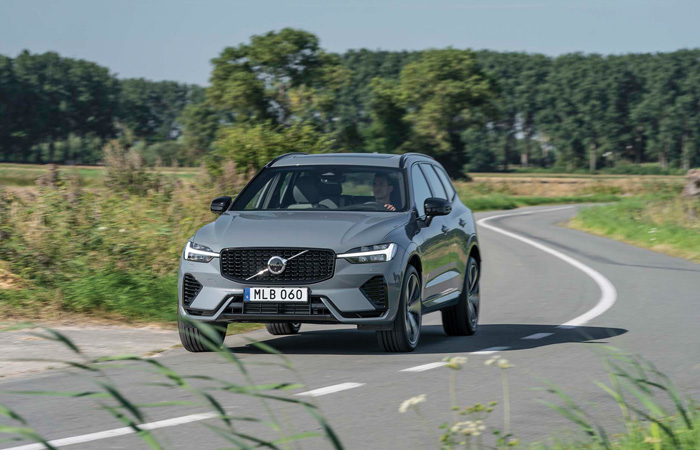 Cabin
Everything about the interior is superb – especially for a two-row human hauler. Creature comforts abound in the spacious cocoon and the already lovely, scented Nappa leather and contrasted stitched appointments improve even further in the upgraded packages. Soft-touch materials, attractive trim and a perfectly formed thicker steering wheel (heated!) will delight the inhabitants as are the R-Design's matching gold seat belts with the painted brake calipers. Think high-end IKEA. 
The TFT Instrumentation is clear and attractive. Several ambient lighting choices will accentuate your every mood. An excellent Head's Up Display shows speed and applicable speed limit signs on the windshield. Plus, the wiper fluid is dispensed through the wipers themselves, thus no more annoying over spray when cleaning the windshield.
Volvo spent seven years redesigning the heated and vented seats with renowned chiropractors,  resulting in near perfection with zero pressure points to endure. In fact, the XC60 automatically braces the passengers if the car goes airborne or detects an imminent crash from behind. Safety plus!
A large double-panoramic moon roof provides oodles of headroom and looms above abundant rear seating. Graduated stadium seating allows all passengers excellent views. Drivers can also fold down all the rear headrests (with one button) when traveling alone, for increased visibility. Finally, a mere sweep of your foot underneath the bumper opens and closes the trunk lid for entry into a spacious cargo area (30 cu.ft with the rear seats up/50.6 cu.ft. when folded down).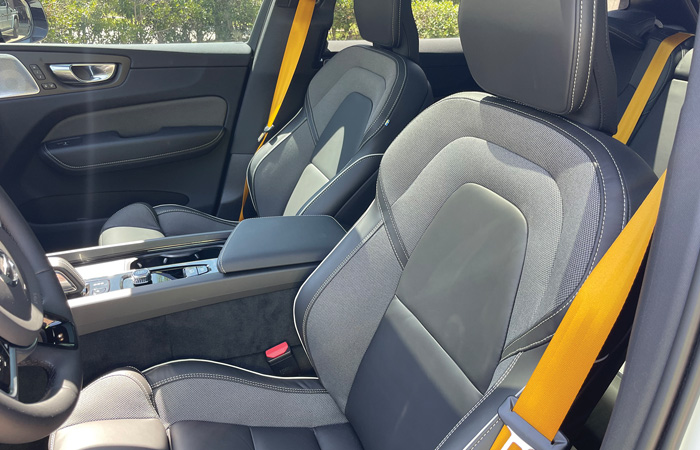 Tech Check
The XC60 continues utilizing the tablet-themed Sensus Technology for its infotainment system. The 9.3" vertical touchscreen is sublime and so intuitively easy to swipe and scroll. It's now linked with Android Auto's Google Assistant (but currently no AM radio or Apple CarPlay) that's voice-activated for directions, information and even provides jokes. A terrific 360-degree camera allows for easy parking. 
Given it's a Volvo, there is a plethora (nearly an entire column) of very worthy safety features. The Lane Departure firmly brings you back when weaving while ignoring the lane signal. For grins, I drove over three miles hands free on the Tollway with nary a concern but plenty of admiration. 
An incredible 1,460 watt, 19-speaker Bowers & Wilkins Surround Sound audio package will literally blow you away with its True Stage tech, including Jazz and Concert Hall settings. It's literally music to your ears. 
The 2022 Volvo XC60 T8 Polestar Engineered is an extraordinary ensemble embodying luxury, stunning driving chops and cutting-edge technology. Thus, it's the epitome of what a customer desires to arrive safely, while coddled in luxurious appointments inside a striking figure. You'd be wise to give it a go when looking for a terrific car that checks all the boxes.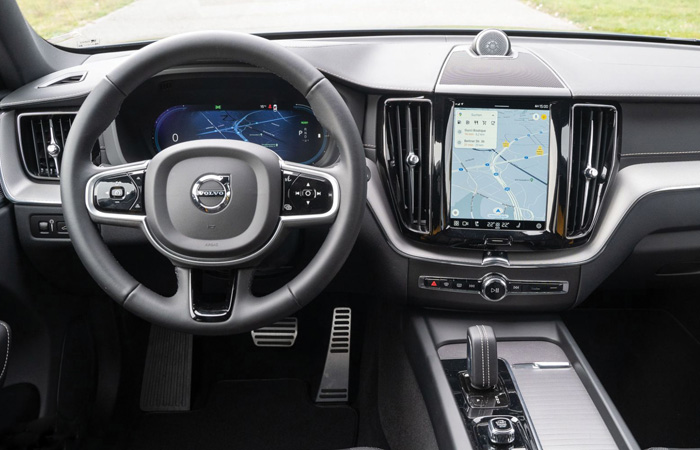 SCORECARD
Golf Bags: More than two
Curb Appeal: That's a Volvo?
0-60: 4.5 sec
Mileage: 28MPG and 63MPG with battery power
Must-Haves: R-Design goodies
Warranty: 4year/50K miles 
Base Price: $70,000
Price as Tested: $75,215
Who Buys It? Families desiring giddy performance, safety and upscale comfort
Finish Line: A terrific vehicle that checks just about the entire wish list
Test-drive the 2022 Volvo XC60 T8 Recharge Polestar Engineered R-Design at Crest Park Place Volvo in Dallas and Crest Volvo in Frisco.