Drive Time – 2023 Cadillac Lyriq

Let's face it; electric-powered vehicles are here to stay. If you're old school like me, it took a while to acknowledge the impending demise of petrol fuel rides. As they say, it's best to adjust and survive rather than stubbornly hold onto dying technology. Every auto manufacturer has done so with varying degrees of success and acclaim.
Cadillac's plug-in entry is the formidable 2023 Lyriq SUV. It doesn't share any components with other Caddy or GM products. Meaning the Lyriq is unique with all new parts and technology. Plus, all GM electric vehicles will soon interface with the ubiquitous Tesla charging stations. Smart. 
The Lyriq is a must-drive for those desiring plug-in powered technology, a beautiful appearance and sumptuous luxury with a price that won't shock the budget. 
Skin 
Cadillac designers did themselves proud, as the Lyriq provides a rakish gorgeous exterior with bold proportions and sweeping lines. A definite head-turner in Satin Steel Metallic paint. The long wheelbase, with big, beautiful 20- or 22-inch wheels pushed out to the corners, stretches out farther than the full-size Escalade. The nose's dancing LED-studded black crystal shield comes alive when the driver powers up the vehicle. A second LED light bar up top surrounds the liftgate's sharply raked glass upper section on three sides and includes cool sequential turn indicators. Also thrown in are a rear lip spoiler and a rooftop airfoil that Cadillac says eliminates the need for a rear window wiper. Genius!
Flush-fit exterior door handles do require an extra step, but you'll quickly learn. To open the door from the outside, you must first touch the handle, wait for it to release, and then pull it open.
The plug-in power eliminates any dual exhausts in the rear.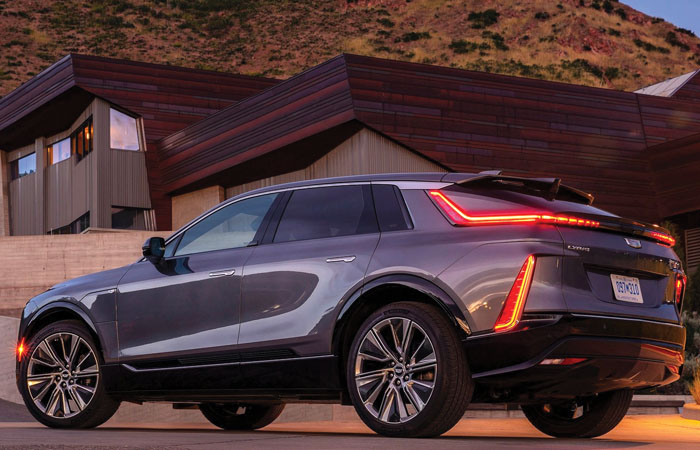 Performance
The current 2023 Lyriq is rear-wheel drive only (the all-wheel arrives in 2024). The Ultium powertrain houses a single-motor, rear-drive model with 340 hp and 325 pound-foot of torque. As with any battery-electric vehicle (BEV), the Lyriq offers smooth starts and instantaneous acceleration (my passengers grinned in surprise). The ride is luxuriously smooth and confident, yet can feel like a high-end sports sedan when the mood strikes. It's the first Cadillac SUV with a 5-link front suspension like the brand's excellent handling sedans. Steering is precise but not jarring. Without a big engine, the weight distribution is nearly a perfect 50-50. Road imperfections are soaked up gracefully. 
I didn't notice a significant difference when scrolling through the four driving modes (Tour, Sport, Snow/Ice and a customizable MyMode). Rest assured, it's very much a smooth operator during long cruises. 
The Lyriq's 102-kilowatt lithium-ion Ultium battery pack can deliver 312 miles of driving range in RWD versions. Severe cold, heat or a heavy pedal will lessen the range. Locating a DC fast charger will add about 75 miles of juice in 10 minutes. A 240-volt, 19.2-kilowatt AC home charger will fully replenish the battery in three hours. Lyriq customers receive $1,500 toward a home charger. 
Three adjustable regenerative braking settings are at your disposal, with the strongest setting bringing the Lyriq to a complete stop and even holding it on a hill for genuine one-pedal driving (I was immediately smitten). Normal braking still halts the nearly three-ton ride in quick fashion. A welcome one-pedal driving benefit is significantly slowing down without illuminating the brake lights to alert police when speeding over the posted limit.
The coolest function is the Super Cruise capability, voted best "Hands-Free" system by Popular Science. Combined with Adaptive Cruise Control, the Lyriq is capable of literal hands-free driving if you're on the highway (no city driving at this time). Currently over 400,000 road miles are available in the U.S. and Canada. Auto lane changes using the turn signal is amazingly capable. Just know Super Cruise won't engage in tunnels, on icy roads, construction zones or freeway offramps. However, the grin-inducing feature is quickly addictive for long stretches. I loved it.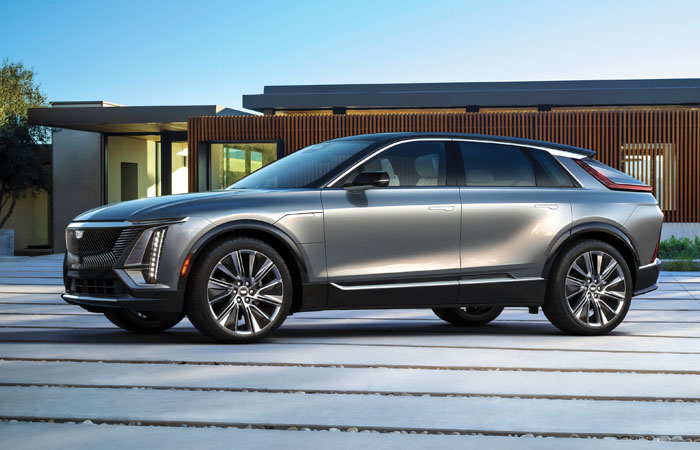 Cabin
The luxurious interior is a delight to the senses. Fit and finish are outstanding. Handsome textured Dark Ash Open Pore Wood trim Lovely Noir vented seats feel just right (heated/cooled front and heated rear). Four-way lumbar with massaging modes are perfect after a long day on the course. The power-tilt heated steering wheel is excellent.
Cadillac evidently "borrowed" the convenient Mercedes-Benz door-mounted seat adjustments and the gear-shifter on the steering stalk. Smart move. 
The modern floating center console allows for extra storage underneath. Programmable ambient lighting provides countless color combinations. The Lyriq seats five comfortably. Storage with the rear seats up is 28 cubic feet and 60 when power-folded down. It appears larger due to the low floor and square shape. There's a handy secret storage area underneath the trunk floor, but no "frunk" storage in front. The liftgate opens handsfree. 
A generous panoramic roof (fixed) illuminates the interior with a power sunshade if a darker environment is desired. Wireless cellphone charging is standard. 
Visibility is decent with the sloping roof, and the rearview camera (via lenses imbedded in the bumper) provides an unencumbered three-lane-wide view.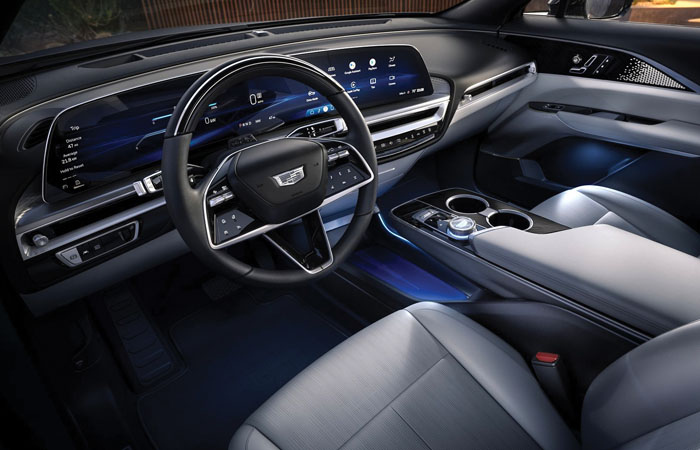 Tech check
Cadillac went all-out in the tech department. The star is a vast 33-inch curved OLED touchscreen housing nearly all controls and functions within easy reach for the driver. I'd recommend familiarizing yourself with your favorite functions before driving, as there are multiple pages to scroll through. 
Wireless AppleCar Play, Android Auto and the responsive Google Assistant are standard. A superb AKG 19-speaker Surround System (also in the headrests) delivers studio-quality audio. Next Generation Active Noise Cancellation included in the AKG audio makes the cocoon soothingly quiet by eliminating higher-pitched sounds.
Safety features abound, with automatic Forward Collision, Lane Departure, Blind Spot, Emergency Braking, Pedestrian Detection and Rear Cross Traffic warnings. 
The 2023 Cadillac Lyriq Luxury is a desirable package of eye-candy, luxury and eye-popping technology (including Cadillac's Premium Care Maintenance three years/36,000 miles). The base price of $61,795 is a steal to comparable models. Bottom line is the Lyriq is worthy of your time when contemplating a cutting-edge plug-in SUV to cruise or eat up miles of asphalt in handsfree bliss.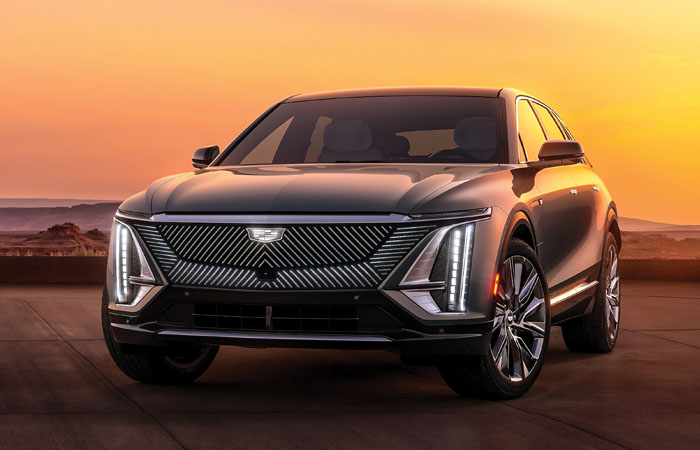 SCORECARD
Golf Bags: At least four
Curb Appeal: A uniquely attractive head-turner
0-60: 6.2 seconds. Feels much quicker
Gas Mileage: 312-mile range 
Must-Haves: Can't imagine needing anything else
Warranty & Free Maintenance: 48 mo/50,000 miles warranty; 3/36K maintenance.
Base Price: $61,795
Price as tested: $62,965
Who Buys It? Those embracing the latest in electric power and capable storage
Finish Line: Patriotic package of style, performance, luxury and technology
Test-drive the 2023 Cadillac Lyriq Luxury at Crest Cars in Frisco.