Drive Time – 2023 GMC Yukon Denali Ultimate

The GMC Yukon Denali has enjoyed terrific domestic SUV success. Their audience is younger, wealthier and better educated, and the choice for athletes, movie stars and just about everyone else desiring their bling in abundance – a tough crowd to impress. 
The fully redesigned 2023 GMC Yukon Denali 4WD Ultimate is a welcome upgrade to satisfy those high-toned buyers wanting some good 'ol American-made magnificence. In fact, if this vessel floats your boat, better order early, as it's already in high demand. 
So, what exactly should the GMC badge-loving buyers anticipate? Smiles. Lots of smiles. The latest three-row edition continues the tradition of tooling around in a gorgeous, powerful, ultra-luxurious and tech-laden land yacht with room for a small army. Caviar for everyone! Thank you to Ewing GMC in Plano for the tester.
It's powerful, practical, full of thoughtful goodies, and drives admirably through inclement conditions. New engine and transmission choices ramp up the allure. After a week, I can easily see why Texans indeed love large, opulent cargo and passenger haulers that checks all the boxes. 
Skin 
Our Ultimate tester arrived in the exquisite Onyx Black paint. A large bold face is nearly as formidable as a semi but nicely fits the overall scheme. In fact, the Ultimate comes fully loaded with only one exceptional package offered. Go large or go home. 
Exceptionally bright LED headlights, C-shaped running lights, unique black "Vader" chrome trim (grille, fender vents, accents and front fascia), thoughtful retractable power-assist skidproof step-up rails, quad chrome exhaust tips and beautiful 22" dark chrome rims finish off the luscious appearance.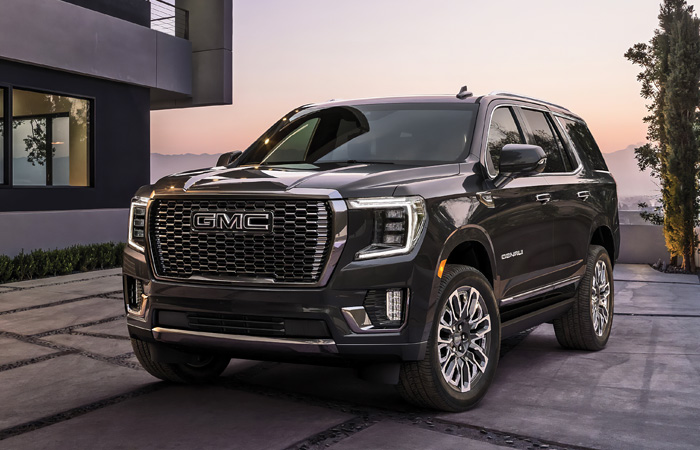 Performance
Yet let's face it; looks are nice but this large SUV needs robust power to get the barge moving. The Denali Ultimate offers either a stout 6.2-liter V8 or 3.0-liter Duramax diesel engine mated to a smooth 10-speed transmission that sometimes skips a couple of gears to maximize gas mileage – along with the unobtrusive Auto/stop. Gas mileage is a decent 16 miles per gallon for the gas and 23 for the diesel version – a 35 percent increase over the petrol version. Oh, there's no gas cap to fiddle with. Genius!
The fully independent suspension and capable switch-on-the-fly 4WD works seamlessly,  deftly handling off-road situations. Braking and handling are excellent for a big rig and even the turning radius is good. Automatic emergency braking is most helpful. The lovely Magnetic Ride Control and Stabilitrak allows for limo-divine driving. My passengers gushed over the cushy ride, even with the oversized rubber. It truly is an ultimate highway cruiser. 
However, even with the helpful 360-degree camera, you are wise to locate generous parking spaces (forget navigating in parking structures), so plan accordingly. That said, the Enhanced Automatic Parking Assist does help. Automatic emergency braking is included. 
Cabin
The lavish interior is to die for. Think the ultimate man cave. I mean it's immense without swallowing you up. The one choice interior includes western-themed Alpine Umber full-grained leather seats, armrests, center console and exclusive contrast stitching. Brushed aluminum and laser-etched open-pore Paldao woodgrain (with a map of Mount Denali) are perfect casting for a Yellowstone episode. The large, comfy and supportive front seats cool, heat and include 16-way massage settings! Fit and finish are outstanding. Leg and headroom are generous, and visibility is maybe the best I've seen in any vehicle tested as you ride high in the saddle.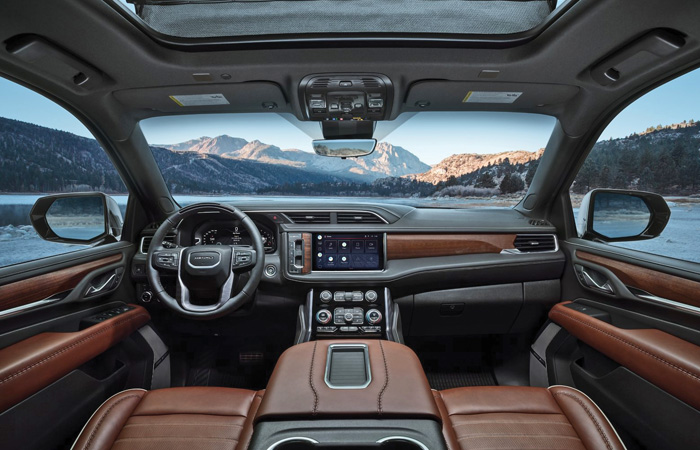 The heated leather-wrapped steering wheel (awesome in frigid weather) is responsive, light and feels just right in your mitts. Several scrollable info menus in the large LCD instrumentation dash deliver just about any piece of intel you wish, and multi-color Head Up display is incredibly handy to show speed limits and navigation instructions. As opposed to many vehicles these days, there are useful large knobs and buttons (a radio station tuner!) to easily make audio selections. 
Heated rear seating will comfortably house anyone, and the seats fold up against the cab's back to allow additional floor storage. Genius. There's plenty of knickknack stowage. The center console can slide via a roof button to open or hide extra storage. There are copious cupholders for all. I could seriously live in this mobile suite if it had a shower and fridge.
Of course, there's ample cargo room in the three-row setup, with 122.9 cu.ft. of storage. The double panoramic roof illuminates the vast interior, and the power sunshade brings desirable relief from the sun. 
Finally, there's a rear camera view mirror allowing for three-lane wide visibility (no matter how tall your rear passengers), delivering excellent sightlines.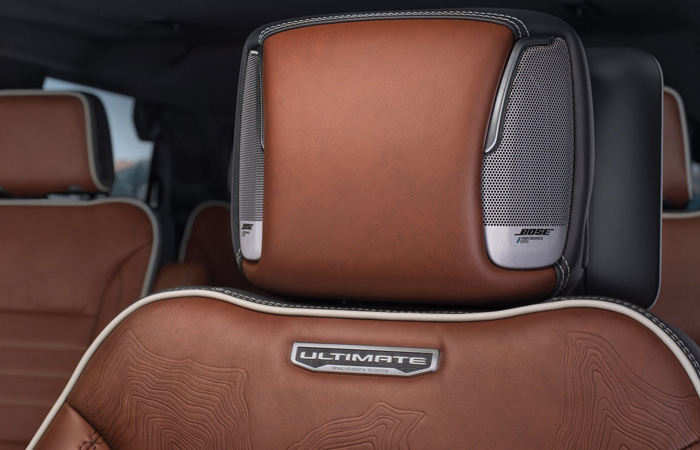 Tech check
The one version Ultimate delivers oodles of tech toys. Top-notch safety features are abundant. Apple CarPlay and Android Auto are standard. An 18-speaker Bose surround system is powerful and clear with chrome speakers in the headrests. 
In addition, safety ratings are excellent and there are enough nanny features to keep you out of harms way. 
The 2023 GMC Denali 4WD Ultimate certainly ramps up nearly every aspect discerning (and plentiful) buying audiences want and expect. The popular American cargo hauler sails in some very competitive waters, while continuing to give its competition fits. Again, the one-version Denali Ultimate checks all the boxes for any SUV-loving customer. Go large. Very large.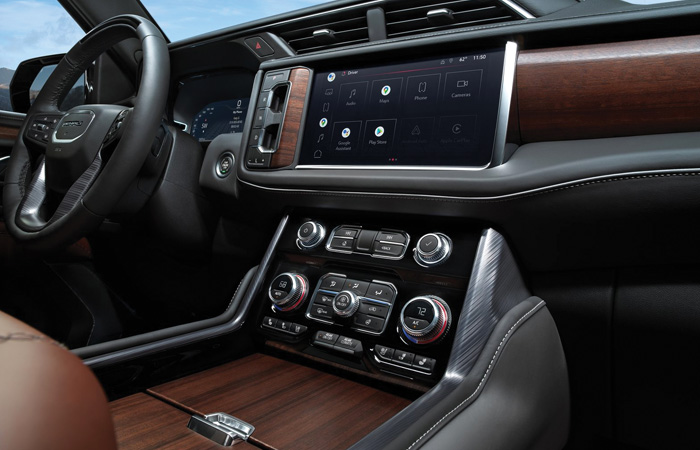 SCORECARD
Golf Bags: A bunch
Curb Appeal: Stylish, bold and incredibly opulent American ride
0-60: Fast enough
Gas Mileage: Gas: 14/18; Diesel is 21/27
Must-Haves: Everything you'd want
is included
Warranty & Free Maintenance: 3yr/36.000 miles, 5Y/60K powertrain
Base Price: $92,350
Price as Tested: $95,545
Who Buys It? Anyone desiring excellent driving, tech and luxury appointments
Finish Line: An All-American package checks all the boxes
Test-drive the 2023 GMC Yukon Denali 4WD Ultimate at Ewing GMC in Plano.