Drive Time – 2023 Volvo C40 Recharge Twin AWD Ultimate

In previous generations Volvo's much-deserved claim to fame was their peerless safety features rather than sexy lines as the boxy rides resembled rolling security-laden refrigerators. Not the most alluring silhouettes, but at least you had a great chance of arriving in one piece. 
Thankfully, Volvo designers have heard the shouts of customers demanding their safety in beautiful packages. Good on them. And now they added an all-electric option to their highly rated brand of good looks, creature comforts and ultimate safety with some major gas savings.
To wit, we feature the all-new 2023 Volvo C40 Recharge Twin AWD Ultimate Crossover EV. It looks fantastic, surrounds you in understated luxury and is lightning quick to boot. I am duly impressed. 
Skin 
The C40 Recharge offers some serious good-looking chops up against a highly competitive sporty Crossover EV category. The Thunder Grey Metal painted exterior exudes a clean, elegant appearance with a hint of drama and a sloping roofline with no annoying roof rails. Outrageously sexy "Thor's Hammer" Pixel headlights illuminate the road and rotate when turning. Sightlines offer a fresh appearance from any angle and a blunt front allows Volvo to satisfy European pedestrian impact regulations. The rear includes dramatic vertical LED brake lights yet no visible exhausts. The sporty Ultimate version includes attractive 20-inch 5 V Spoke Black Diamond Cut Alloy rims. Hence, the entire cohesive exterior delivers some sexy contemporary panache.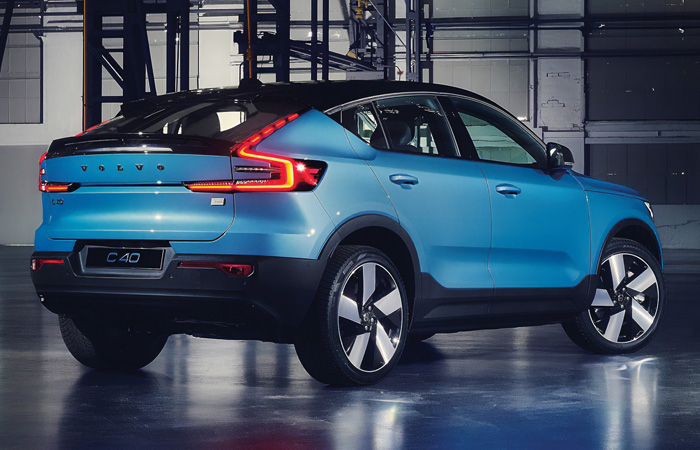 =
Performance
The Twin Pure Electric Drive provides terrific acceleration (0-60 in 4.3 seconds) constantly delighting unaware passengers. The Twin electric motors' 402hp and 486 lb.ft. torque silently starts the moment you open the door. Permanent all-wheel drive provides excellent traction and the sporty, yet comfy ride mirrors the lovely exterior along with an imperceptible auto/stop that's a blessing in stop and go traffic. The able suspension and the C40 Recharge's low center of gravity allows one to gleefully rip into corners when desired.
The vehicle's one-pedal driving mode, which juices up the C40's regenerative braking, allows you to slow to a stop without pressing the brake pedal. There's even an off-road mode that increases ground clearance and triggers low-speed and hill-descent control functions.
The EV mileage is rated at 94 city/80 hwy and a 226-mile range, however I squeezed out nearly 250. The C40 can recharge to 80% when using a 150-kW DC fast charging station. 
Cabin
Everything about the interior is superb in Volvo's popular high-end IKEA motif. Soft-touch materials, attractive back-lighted trim and a perfectly formed thicker steering wheel (heated!) will delight the inhabitants. 
However, leather seats are not available even in the top line Ultimate trim. Volvo states it's their first completely leather-free vehicle, utilizing attractive recycled Microtech microfiber instead. I found it comfy soft and supportive, but you'll probably want to Scotchgard the seats to prevent spill stains. 
Volvo spent seven years redesigning the heated seats with renowned chiropractors resulting in near perfection with zero pressure points to endure. In fact, the C40 automatically braces the passengers if the car goes airborne or detects an imminent crash from behind. Safety plus!
A generous laminated moonroof illuminates the cabin but the rakish roofline does limit rear headroom and visibility in the narrow rear window. You can fold down the headrests to increase sightlines. Finally, a power trunk lid opens to decent cargo room of 14.6 cu.ft., extra cargo underneath the floor and 48.7 with the seats folded down. There's also a "Frunk" under the hood for additional smallish cargo.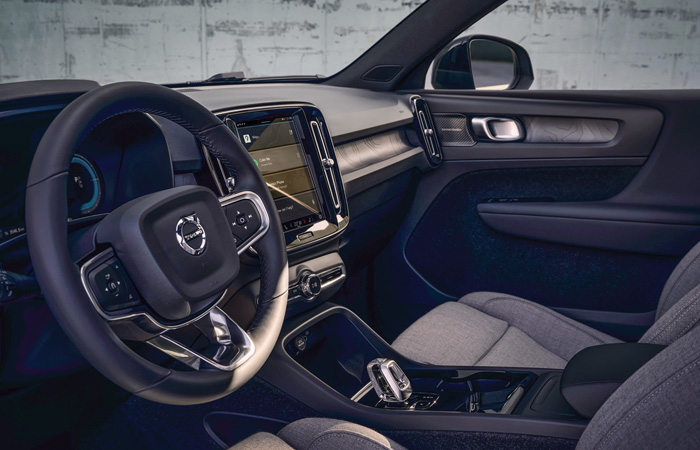 Tech check
The C40 Ultimate includes the new Android Automotive – a much improved infotainment interface versus the previous Sensus Technology. The large 12.3" vertical touchscreen is sublime and so intuitively easy to swipe and scroll. It's now linked with Android Auto's Google Assistant (including Apple CarPlay) but no AM radio format unless you download an app. The voice activation is excellent, and a terrific 360-degree camera allows for easy parking. Wireless cellphone charging is included but Head Up Display is not available. 
Given it's a Volvo, there is a plethora (nearly an entire column) of very worthy safety features including Whiplash Protection (WHIPS) in the front seats, Auto Unlocking after a collision and detection of vehicles, pedestrians, cyclists, and large animals.
A crystal-clear 600 watt, 13-speaker Harmon Kardon Surround Premium Sound audio package will delight most audiophiles. 
The 2023 Volvo C40 Recharge Twin AWD Ultimate is a sporty EV Crossover embodying eye-catching looks, luxury, worthy driving chops, sublime safety and cutting-edge technology. Thus, it's the epitome of what a customer desires to arrive safely inside a striking family hauler. You'd be wise to give it a go when looking for an EV that checks nearly all the boxes. 
SCORECARD
Golf Bags: At least two
Curb Appeal: That's a Volvo?
0-60: 4.3 sec!
Mileage: 94 city/80 hwy
Must-Haves: The Ultimate trim is fully loaded
Warranty: 4 years/50K miles 
Base Price: $60,100
Price as Tested: $62,240
Who Buys It? Families desiring surprising performance, safety and upscale comfort
Finish Line: A terrific EV to consider when going petrol-free
Test-drive the 2023 Volvo C40 Recharge Twin AWD Ultimate at Crest Volvo in Frisco and Park Place Volvo in Dallas.