Drive Time – 2024 Volvo XC60 B5 AWD Plus

For years, Volvo's much-deserved claim to fame was their peerless safety features rather than sexy lines as the boxy rides resembled rolling security-laden refrigerators. Not the most alluring silhouettes, but at least you had a great chance of arriving in one piece. 
Thankfully, Volvo designers have heard the shouts of customers demanding their safety in beautiful packages. Good on them. 
The 2024 XC60 B5 AWD SUV checks all the boxes for those desiring classy luxury, security, wonderful technology and, yes, beauty. The tester's PLUS trim option is the second of three packages (and most popular) and provides plenty of luxurious enjoyment. It honestly exudes excellent luxury value for the price. 
Skin 
The XC60 in Crystal White offers some serious good-looking chops up against a highly competitive upscale SUV market. The exterior exudes a clean, elegant appearance with a hint of drama. Outrageously sexy "Thor's Hammer" headlights (auto high beams!) illuminate the road and rotate when turning. Sightlines offer a fresh SUV appearance from any angle, and a blunt front allows Volvo to satisfy European pedestrian impact regulations. The rear includes dramatic vertical LED brake lights and dual chrome exhausts. 
20" 5-spoke Black Diamond Cut Alloy Wheels and all-season rubber provide a cushy and responsive ride. The low-profile roof rails look great. Thus, the overall shape and trim delivers some sexy panache.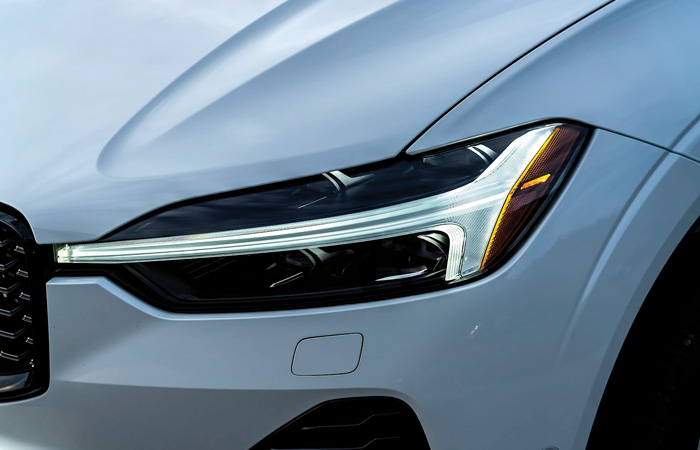 Performance
The 2024 XC60 offers one B5 powertrain, including an eight-speed transmission turbo-charged 2.0 liter 247/ HP/248 lb-ft. torque. You may think that wouldn't provide enough oomph moving some 4,400 pounds, but the dual charged power along with additional 48-volt mild hybrid battery adding 13ph to deliver admirable smoothness and pep for the targeted audience along with an imperceptible auto/stop that's a blessing in stop-and-go traffic. And the impeccable AWD with Traction Control is a joy when confronted with inclement weather. Ride quality is tuned for comfort, soaking up road imperfections. Yet, it handles quite well when getting frisky in turns. 
Thus, the XC60 is a terrific cruiser soaking up the highway miles. It's quiet, confident with plenty of visibility due to the abundant windows. The mild-hybrid battery adds noticeable acceleration boosts when desired. 
You'll notice the engine bay is far larger than the engine. As usual, Volvo used safety-first thinking to allow a good distance buffer between engine, bumper and cabin for reducing collision calamities. Genius. 
Off-road mode for low speeds (up to 25mph) improves the vehicle's traction and handling in difficult terrain, steep gradients and poor roads. The 8.5" clearance is decent enough and speed is dictated by the acceleration pedal without the need for braking. 
Gas mileage is good for this category at 23/28. The range of approximately 550 miles is excellent.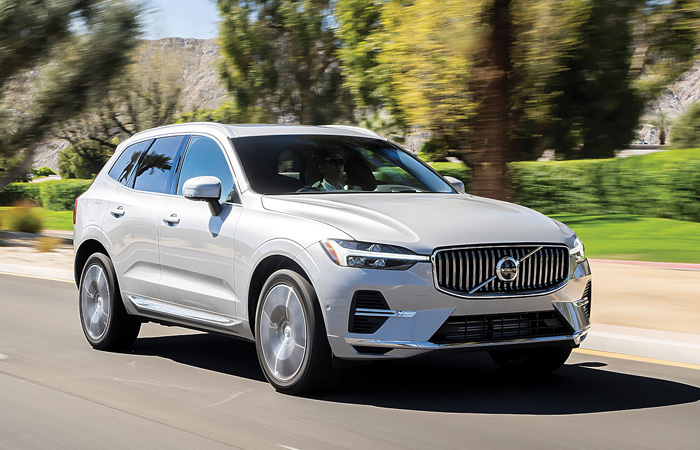 Cabin
Everything about the serene interior is superb – especially for a two-row human hauler. Creature comforts abound in the spacious cocoon with its ultra-clean layout. Soft-touch materials, Driftwood inlays, attractive trim and a perfectly formed (heated!) steering wheel will delight the inhabitants. Think high-end IKEA. 
The 12.3" TFT Instrumentation is clear and attractive. Several ambient lighting choices will accentuate your every mood. Plus, the wiper fluid is dispensed through the wipers themselves, thus no more annoying over-spray when cleaning the windshield. The overhead 360-Surround View Camera view is handy for tight parking. 
Volvo spent seven years redesigning the heated seats with renowned chiropractors, resulting in near perfection with zero pressure points to endure and welcome lumbar support. In fact, the XC60 automatically braces the passengers if the car goes airborne or detects an imminent crash from behind. Safety plus!
A large double-panoramic moon roof provides oodles of headroom and looms above abundant rear seating. Graduated stadium seating allows all passengers excellent views. Drivers can also fold down all the rear headrests when traveling alone with one button for increased visibility. Finally, a mere sweep of your foot underneath the bumper opens and closes the trunk lid for entry into a spacious cargo area (21.6 cu.ft. with the rear seats up/48.8 cu.ft. folded down). 
A refreshing Air Purification System is now included in the Plus trim. Two USB-C ports occupy the front and rear.
The Ultimate trim brings Head Up Display, Nappa Leather vented seats, 21" rims, adaptive air suspension and quieting laminated glass for an additional $5,000.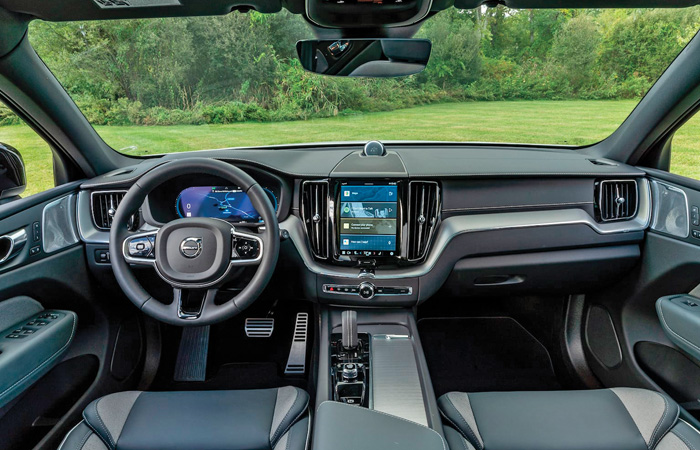 Tech check
The XC60 now uses the much-improved Sensus Technology for its infotainment system. The 9.3" vertical touchscreen tablet is sublime and so intuitively easy to swipe and scroll. In fact, with Apple Car Play, most of your iPhone apps are displayed so there's little to learn. I already miss it. In addition, Volvo incorporates voice-activated Google Assistant that works very well for directions, car commands and even provides jokes. 
Given it's a Volvo, there is a plethora (nearly an entire column) of very worthy safety features. So much that the NHSTA awarded its highest 5-Star rating. The Lane Departure firmly brings you back when weaving while ignoring the lane signal. For grins, I drove over three miles hands free on the Tollway with nary a concern but plenty of admiration. The Plus trim adds front and rear parking sensors. 
Audio availability is either a capable base 10-speaker surround sound system or the optional crystal-clear Surround Sound Harmon Kardon (yes, get it!).
The 2024 Volvo XC60 B5 AWD is an extraordinary ensemble embodying luxury, driving chops, unparalleled safety and cutting-edge technology. Thus, it's the epitome of what a customer desires to arrive safely while coddled in luxurious appointments inside a striking figure. You'd be wise to give it a go when looking for a terrific ride that checks all the boxes.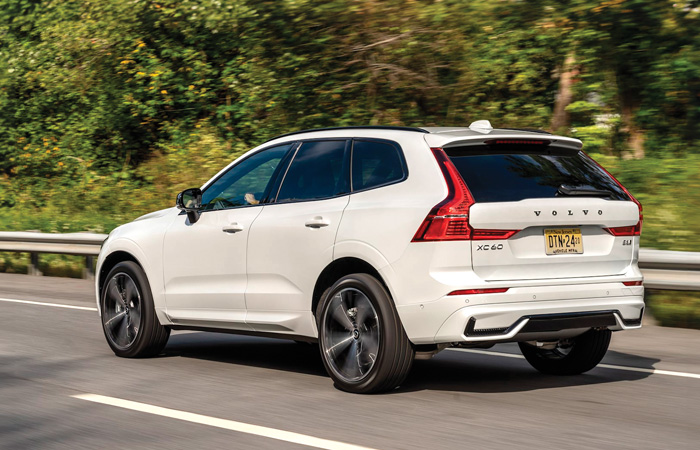 SCORECARD
Golf Bags: More than two
Curb Appeal: Modern and attractive SUV
0-60: 6.5 sec
Mileage: 23/28. Observed 24.5 overall
Must-Haves: PLUS or Ultimate package
Warranty: 4 years/50K miles, Complimentary Factory Maintenance 3yr/36K 
Base Price: $50,950
Price As Tested: $55,455
Who Buys It? Families desiring unparalleled safety and upscale comfort
Finish Line: A terrific vehicle that checks just about the entire wish list
Test-drive the 2024 Volvo XC60 B5 AWD PLUS at Crest Cars in Frisco and Park Place Volvo in Dallas.