Drive Time – The Porsche Macan S

The Porsche brand brings visions of quick, superb handling, engaging sound and downright adrenalin driving cache, delivering on the euphoric promise their rides check the boxes on all sensational counts. And now with three four-door options, Porsche is no longer deemed all fun but light on practicality.
The latest model, originally born in 2015, is the Porsche Macan Crossover (Macan is Indonesian for "Tiger"). It is the brand's No. 1 seller due to its affordability and everyday utility combined with that famous Porsche performance allure.
The 2019 Macan S tester (supplied by Park Place Porsche Grapevine) is an upgrade option from the base model. Starting at $58,600, the price is a good entry for those desiring the peerless badge's offerings and upgraded engine. I can honestly say the Macan S is one crossover that drives like a sports car.
Let us count the ways this ride separates itself from the crowded SUV/Crossover segment. Seriously, who wouldn't entertain cargo sensibility mated with Porsche sportiness? I'm a huge fan.
Skin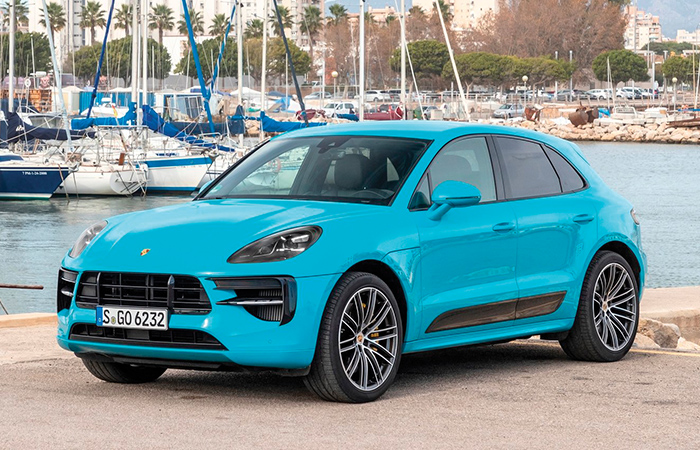 The Macan S's curvaceous body definitely possesses some delicious Porsche DNA—especially with the brand's fabulous four-point LED headlights and new brake light taillight strip. The wide, flat hood is another welcomed design characteristic. My tester looks sinister enough in black paint, but I'd opt for a lighter color to accentuate the cool black trim along the flanks.
Sightlines offer a fresh, appealing appearance from any angle and the rear includes quad chrome exhausts. Truth be told, it appears to be a babe magnet as many a female complimented the Macan S's exterior.
The 21-inch Sport Classic rims ($2,910) and staggered rubber look great, fill the wheel wells nicely and aren't harsh at all when coupled with the optional air suspension.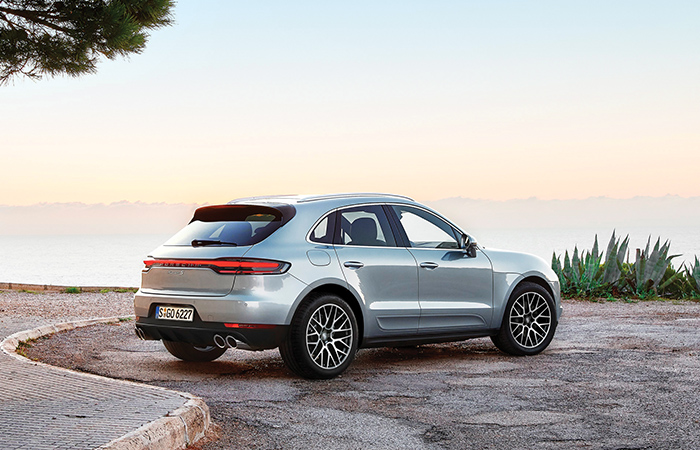 Performance
Porsche is all about performance and handling and the Macan S delivers — as it should. A seven-speed transmission is coupled with the spirited 3.0-liter turbocharged six-cylinder with 348hp/352lb-ft torque and 0-60 in 4.9 seconds (same as in the Panamera and Cayenne). That's plenty of firepower for nearly anyone's liking. It feels quick with little turbo lag, providing the euphoric feedback one expects, including  a worthy optional Sport Exhaust System ($2,930) to raise the goose bump level (you can also turn it off when getting home late).
Capable all-wheel-drive is standard and is rear-wheel bias but leans on the front in slippery conditions. You can also monitor the torque ratios on front and rear axles in the dash. Combined with the stellar suspension, the Macan handles like a dream. And, despite the sporting heritage, the Macan S cruises admirably on long drives. Win-win.
Braking is confident and a handy auto hold feature allows you to lift off the break during idling—a welcome benefit when stopping on a steep grade. Upgrade to the Porsche Active Suspension Management ($1,360) to control the dampers allowing seamless adjustments to varying road conditions (Comfort, SPORT, SPORT PLUS).
You can opt to disengage the auto-stop feature. Sport Mode tightens the steering, suspension and extends the gear shifting. To me, it's when the Porsche genes really shine. Mileage is a decent 18/23. I actually squeezed 27mpg on the highway.
Cabin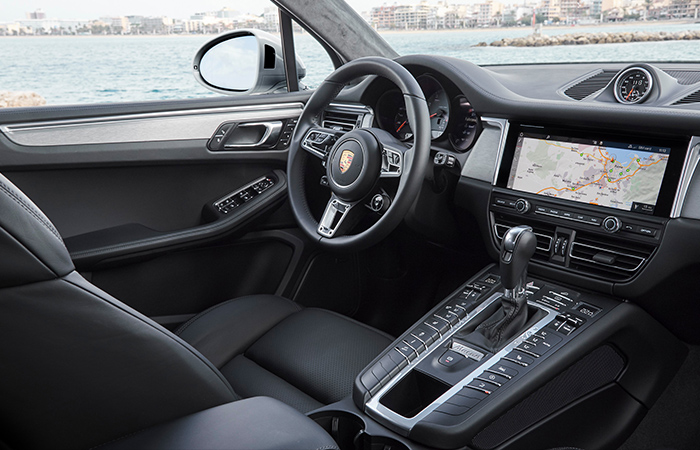 The Macan possesses Porsche's unmistakably upscale, sporty interior. Fit, finish and materials are top notch. Creature comforts abound in the cocoon and the scented cowhide leather appointments add to the allure, including the dash. Attractive trim and a perfectly formed sport steering wheel (heated!) are excellent. I dig the three-analog instrumentation displays that's deliciously old-school as well.
I'd opt for the Premium Package Plus ($6,230) that includes 14-way heated and cooled front seats, Bose Surround Audio System upgrade, those terrific LED headlights, Apple CarPlay and a generous double-pane panoramic roof. The seat climate controls are conveniently on the console thereby not needing to run through several maddening menus on the info screen.
For a crossover, headroom is darn generous — even in the backseat — with plenty of elbowroom. Legroom is ample too with feet fitting comfortably underneath the front seats. Visibility is very good for this category. The rear-view mirror is smallish — as is the  rear window — but ample side mirrors are excellent. However, I do wish it offered a wireless charger option and head up display.
Instantly recognizable is Porsche's customary left-hand ignition key. You can opt for an optional button start but I grew to enjoy the affixed key.
The console is chock full of handy buttons and larger 10.9" HD infotainment touchscreen with a welcome matte finish to reduce fingerprints. I especially appreciated the volume and tuner knobs to find your favorite stations that you can preset regardless of radio format.
Cargo room is good enough for full golf bags to fit diagonally — including the driver. Of course more can go in with the 60/40 split rear seats folded down — enabling total cargo space of 53 cu.ft. The button for the power trunk lid is camouflaged in the rear window wiper hinge, thus no hatch latch is necessary.
Tech check.
Park assist is another worthy option ($1,200) with 360-degree Surround View ($1,200) — a great assist when negotiating tight spaces.
Audio availability option in the Macan S is a terrific 14-speaker Bose Surround System providing plenty of punch. Again, the volume and tuning knobs are a thoughtful touch.
The 2019 Porsche Macan S is what the driving enthusiast needs to contemplate when requiring useful storage along with sublime sporty driving chops. The S model is the most popular version and won't change (except for some added paint colors) in the 2020 model version. If you've always yearned for a Porsche, this is a great place to start. Trust me.
Scorecard
Golf bags: More than two with rear seats down
Curb appeal: A practical Porsche!
0-60: 4.9 seconds
Mileage: 18/23. Observed 27 on the highway
Must-haves: Sport Exhaust System, Premium Package Plus
Warranty: 4yr/50K miles + complimentary maintenance 1yr/10k miles
Base price: $58,600
Price as tested: $74,430
Who buys it? Those desiring Porsche driving performance and cargo capability
Finish line: A Crossover with impeccable fun and room for your stuff
Test-drive the 2019 Porsche Macan S at Park Place Porsche in Grapevine and Dallas