Every Day is Taco Tuesday

In a world increasingly interested in social media, the trendy thing to do on Facebook, Twitter, and Instagram is to hashtag "Taco Tuesday" and let all your followers know you plan to gorge on everyone's south of the border favorite for breakfast, lunch, or dinner. Unless you've been comatose for the last several years, you've undoubtedly witnessed the growth and evolution of these tortilla-wrapped vehicles of rib sticking comfort, with food trucks, stands, and restaurants springing up across the Dallas-Fort Worth area.
Every one of these joints has a unique story about how they went from a meat-and-cheese-inspired brainstorm to brick and mortar reality. Taco Heads in Fort Worth is no different, and owner Sarah Castillo has no problem telling you how she went from a humble food truck to restauranteur in just over seven years.
Castillo, a Fort Worth native, attended the University of Texas, and following her time as a Longhorn made stops in Aspen, New York, and even Spain before returning to her hometown with little idea what the future might hold.
"I came back here with like negative fifty dollars in my bank account, and I had no idea what I was going to do," Castillo said. "I thought about moving back to Austin, but Austin was so oversaturated at the time."
After some soul searching and a pair of other stops in the restaurant biz, Castillo hatched the idea of a taco truck, mainly for feeding her bar-hopping pals who wanted to chow down after a night of cocktails.
"There was a need for late night food." Castillo said. "Seventh Street started taking off, and I came up with a food truck to feed my friends."
It didn't take long before Castillo's friends began telling their friends, and the line in front of the truck began to grow longer and longer as patrons filed out of pubs on rapidly growing West Seventh Street. The business later expanded to catering events, and after six years dishing out tacos through the truck window, Castillo and her business partner Jacob Watson decided it was time to expand and open a permanent location in the Cultural District of Cowtown, just a driver-seven iron away from The Will Rogers Memorial Center.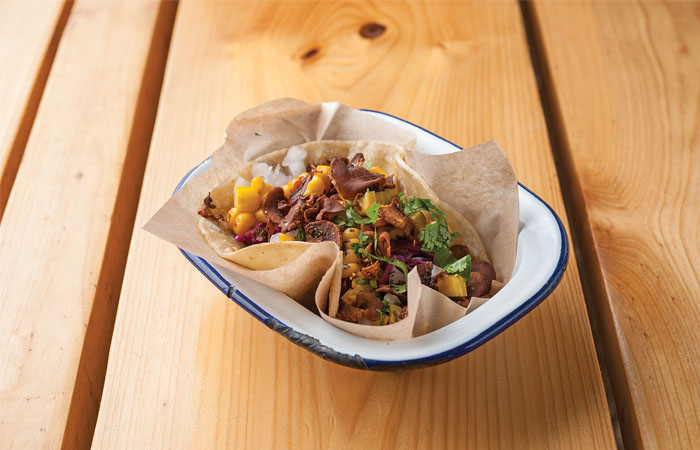 Describing the experience at Taco Heads as fresh and delicious would be accurate, but in truth, those adjectives would be doing these flavor-packed handhelds a disservice. From their breakfast tacos, to their street-style carnitas and plump Gulf shrimp, what began as a small operation has evolved into a business that rivals or surpasses any taco spread in Fort Worth. Castillo gives credit to her mother for inspiring her use of only the freshest locally grown ingredients.
"Her style of cooking is very fresh. We never had anything frozen growing up and since opening I've never bought premade anything. Everything here is wholesome, because that's the only thing I knew as a kid. A lot of our technique here is inspired by my mom and her use of fresh ingredients."
For starters, I was set up with some fresh tortilla chips that are made in-house. These were anything but your standard flavorless vessels for high volume salsa consumption. Thick, seasoned, and zero breakage even while dipping into some outrageously fresh and vibrant guacamole.
Despite my early afternoon visit, Castillo was insistent I try one of their Wright Bacon and Egg breakfast tacos (breakfast served all day). What arrived was a warm, soft flour tortilla with a mound of refried bourbon black beans, fluffy scrambled eggs, a thick slice of delectable bacon, topped with grated cheddar cheese and fresh pico de gallo.
If breakfast isn't your thing, don't worry; the remainder of the menu is just as fresh and titillating. The Garlic Cilantro Gulf Shrimp taco was presented encased in a corn tortilla, more akin to the style of tacos one might find on the streets of Mexico. Topped with purple pickled slaw, onion, cilantro, lime zest and queso fresco, this taco was as pleasing visually as it was on the palate. To round out my visit, I wolfed down Taco Heads bestseller, the Roasted Chipotle brisket. Available on corn or flour (I went with flour), the tender, shredded brisket is topped with thinly sliced green cabbage for crunch, fresh onion, queso fresco, fresh cilantro, and thinly sliced fresh jalapeno for some added pizazz. Add a squeeze of homemade tomatillo – or if you like spice, chile de árbol salsa – and you may never want a taco from anywhere else.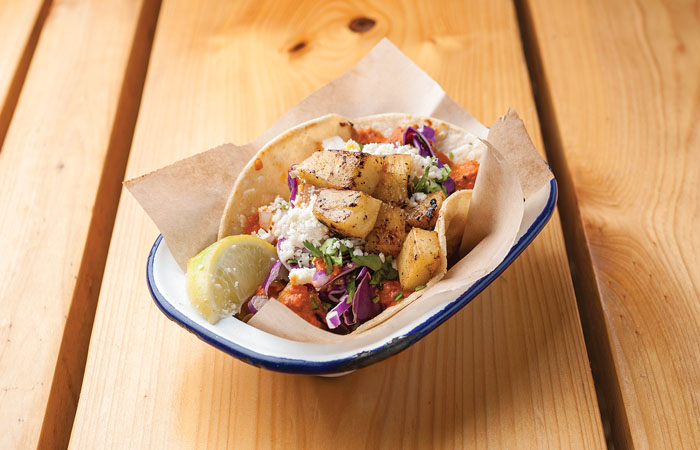 If you're a repeat customer (I can almost guarantee you will be) and want something new, Castillo gives her employees creative freedom with a "craving of the month taco." Chefs and even servers have free rein to experiment with combinations of ingredients that could eventually end up on your plate.
I didn't get a chance to wash my meal down with one of Taco Heads many local craft beers or signature cocktails, but the few day drinkers I did see seemed to be enjoying their adult beverages just as much as I enjoyed the tacos. And if you want something sweet before you head out, Taco Heads also has several locally made, locally sourced desserts to quiet that sweet tooth. From their simple fresh cut pineapple with chile and lime, to the Mexican hot chocolate cookie, made by local bakery Stir Crazy. Both are a perfect way to end your visit.
With all their success, Castillo and Watson are now thinking expansion, even scouting potential spots for a second location in Dallas, but for now, whether you're teeing it up with the country club crowd at Colonial, or you're knocking it around at a hacker's paradise like Rockwood, Taco Heads is a convenient place to settle in for some fresh, delicious post-round food and drink. From food truck to successful restauranteur, Castillo still has an appreciation for her roots.
"I love Fort Worth. This is home. I saw growth and I wanted to be a part of it. It's been fun. It's been a wild ride, but it's all good."
For taco lovers, the end result was definitely worth the ride.