Tech Talk – Moving the Party Outside

What a difference a year makes. This time last year, the Texas real estate market was still blazing, interest rates were two to three points lower, and a large percentage of DFW was still thinking about moving. That mindset has changed dramatically.
According to a recent Forbes article, "the so-called lock-in effect [those staying in their homes to avoid giving up their super low mortgage rate] is putting pressure on both sides of the market. There aren't as many buyers looking for new digs and not as many sellers looking to move up or downsize if they get stuck with a mortgage rate more than twice as high as their old one." Rather than give up a mortgage rate in the threes, homeowners are choosing to invest in the homes where they live, in many cases creating new living spaces like the ones they saw when they were looking for a different home. That means new kitchens, new home theaters, new man caves, and for a growing number of Starpower clients, spectacular new outdoor entertaining areas.
Evolution Meets Revolution
Where once pools were the one real highlight for outdoor entertaining, that is no longer the case. Pools are great. But today, thanks to the audio, video and appliance options at Starpower paired with the talent of our design and installation teams, we're creating outdoor kitchens, outdoor viewing areas, outdoor gyms and personal outdoor retreats that are revolutionizing the way homeowners think about the outdoor parts of their home.
"There is no question Texans are looking for ways to spend more time outside," said Starpower Director of Sales, Ryan Raven. "For most homeowners, patios used to be a bit of an afterthought. They were a place you could put a table and a few chairs to relax with family or friends for an hour or two on a nice day or night. But more and more, we're completely transforming outdoor living spaces to be a place where homeowners can spend large parts of their days and nights. Due to the events of the last few years, we're all spending more time at home than we used to. When you have a 65" or 75" flat screen, state-of-the-art audio, an outdoor kitchen framing a beautifully designed space with Smart Home technology, comfortable furniture, fans and heaters, there's no reason you can't enjoy the outdoor areas of your home almost year around."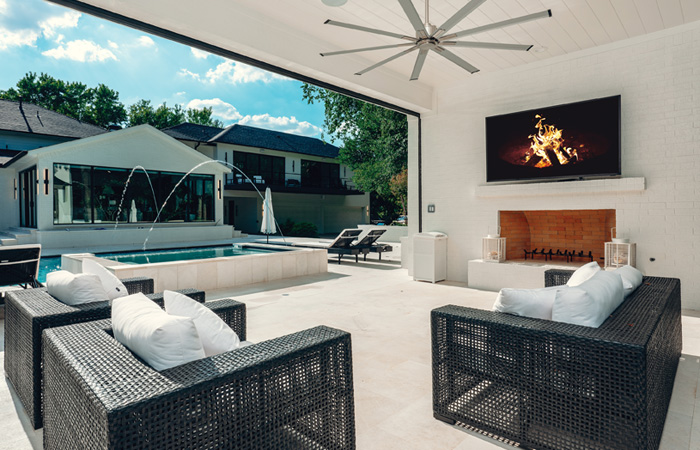 The key to building an extraordinary outdoor living space is first imagining the space you'd most like to have. That starts with meeting Starpower's award-winning design team. Our designers have an intimate knowledge of both interior and exterior design, as well as our audio and video technology and state-of-the-art appliances. Our team will meet you at your home, walk the outdoor space with you to learn what it is you're wanting, discuss any budget or design parameters with you, and then work their magic to create a plan for complete transformation. 
Almost Anything is Possible
When you look at your patio and backyard, what luxury would you most like to add? An outdoor kitchen? A cozy viewing area with a fireplace? A relaxing, automated space with fully integrated tech where you can enjoy being outside while working from home? At Starpower, we're creating those spaces for our clients year-round, and we can do the same for you. Just imagine …
An open entertainment area with a fireplace, a 75" 4K QLED TV, state-of-the-art sound, a stainless-steel wine fridge, and comfy, durable seating. 
An outdoor dream kitchen with a Viking gas grill, stainless-steel burners, custom countertops, and an outdoor pizza oven that would be the envy of Sicily.
An outdoor workout space with a giant weatherproof TV, calibrated speakers and both heaters and fans to facilitate year-round workouts.
A custom-built firepit area with an adjustable flame, cozy seating, custom audio and designer, heavy-duty furniture perfect for happy hours, dinners, parties, or simply sitting by the fire.
"When our clients dream about transforming their outdoor areas, I don't think they realize how much time they will end up spending outside, loving their new space," Raven said. "I never get tired of people stopping me to tell me how much they love the outdoor living spaces we built for them. That's one of the greatest things about living in Texas – we can enjoy our outdoor spaces nine to 10 months out of the year. We can work outside, eat outside, cook and entertain outside. All it takes is having the vision to build the right space to support those activities. 
"At Starpower, we didn't set out to become outdoor living specialists, but after serving thousands of clients, it's an expertise we've developed. Whether we're working with a space that's 300 square feet or 3,000, I'm always amazed at what our design and install teams can do that helps improve the lifestyles of our clients."
Gone are the days of having to carry a TV out to the patio, hanging a few Bluetooth speakers and wheeling over your grill. Starpower's state-of-the-art audio, video and Smart Home technology is transforming the outside of the home, as much as it is the inside. 
Picture your back yard. Your patio. Your deck. The space you have to live and entertain. Now imagine how that space could be brought to life with new audio and video. At Starpower, we have every sized flat screen you can think of to fit any wall. Add to that a fully integrated, crystal-clear audio system that's robust enough to rock an outdoor dinner party, or subtle enough for a quiet day by the pool, and you can start to feel what's possible. Imagine an outdoor chef's kitchen, ideal for any meal, or just having friends over for the game. The best part is, with the expertise of our installation team, we always tailor your system to match the décor of your home so your audio, video and appliances all but disappear into the design. And since everything is wired with Smart Home technology, you can control everything from the touch of a single keypad or smart phone.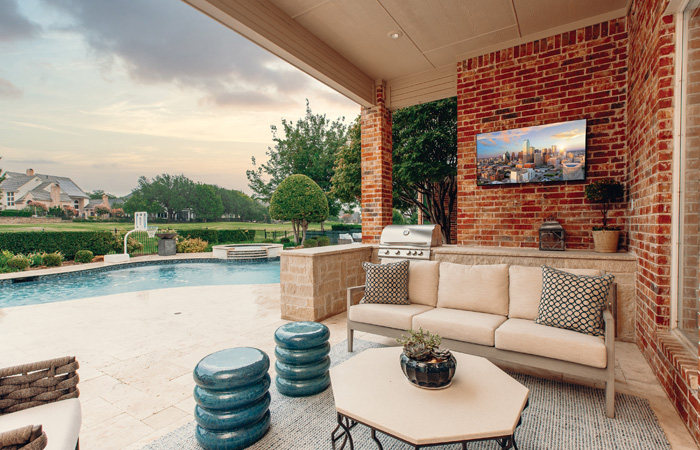 Real Luxury is Closer Than You Think
Whether it was a visit to other homes you considered buying, a peek at amazing outdoor spaces in magazines, or time with friends and family who may have just transformed their patio, back yard or pool deck, you've probably seen an outdoor living space you'd love to have and wondered, what if? Well at Starpower, we're in the business of turning what-if dreams into reality. And there's no reason to hold back. 
Often, people hesitate because they can't do everything they want to do with their outdoor space all at the same time, but with Starpower that's not a problem. We are as accustomed to doing full buildouts in phases as we are to tackling the entire project at one time. The key is getting started. 
"There is nothing we value more in this company than the relationships we build and maintain with our clients," said Starpower CEO, David Pidgeon. "That's what Starpower was built on and what will always drive everything we do. Our team is about transforming homes, adding well-earned luxury to our clients' lives and elevating customer service to a level people will seek out again and again. Whether we're working on the first project for a new client, or one for a friend we've worked with for decades, we're about helping people live comfortably in the space they've always wanted. And with Starpower, they can."
Summer is right around the corner. If you've ever entertained the thought of upgrading your outdoor living spaces, now is the perfect time to start. Join the thousands of Texans making the move outdoors and let Starpower bring your outdoor living dreams to life.