Cover Story – Nelson, Colonial, Senior PGA Previews

The 2023 AT&T Byron Nelson 
The AT&T Byron Nelson is back for 2023 with an exciting commitment list, new hospitality options and a great venue to host it all! Since 1968, the Byron Nelson has been one of the premiere events on the PGA TOUR. Over the years, the tournament was held at Preston Trail in Dallas, TPC Las Colinas and Trinity Forest. Then in 2021, the tournament found a new host site in TPC Craig Ranch in McKinney. The tournament has seen overwhelming success the first two years at its new home, setting a record by generating $7.6 million for the Momentous Institute and also becoming the first ticket sell-out since 2008.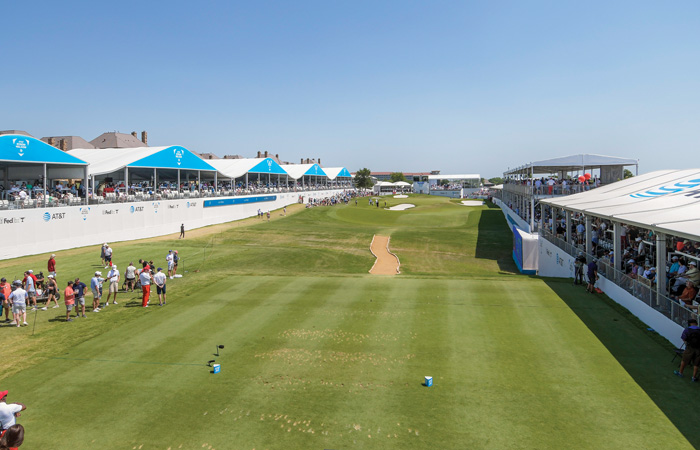 In addition, throughout the 2022 tournament, the AT&T Byron Nelson observed May as Mental Health Awareness month with a new fundraising campaign, Birdies for Mental Health. The campaign was designed to raise awareness around mental health and give fans an opportunity to contribute directly to Momentous Institute. This initiative raised $200,000, including more than $20,000 donated by PGA TOUR players who competed in the tournament.
Tournament Director Jon Drago told AG he is pumped about the AT&T Byron Nelson's third year at TPC Craig Ranch
"We are really excited about our third year at TPC Craig Ranch," Drago said. "We have continued to build on that momentum, and we think this year is going to be extremely special. We have added and fully enclosed the 17th hole and will have a mix of hospitality, upgraded tickets and general public that will create a real excitement in that area. That, coupled with a great field, live music after play on Friday and Saturday, and more amenities for all attendees, will make it the place to be." 
Tournament officials also announced the results of an economic impact study highlighting $55.4 million economic impact in North Texas. In McKinney alone, the AT&T Byron Nelson provided $28.8 million in direct economic impact, $17.9 in direct spending and supported more than 270 jobs in the city.
K.H. Lee successfully defended his title at the 2022 AT&T Byron Nelson, becoming the tournament's first back-to-back champion since Tom Watson won three in a row from 1978-1980. Lee started Sunday's round four shots off the lead but fired a final round 63, one stroke ahead of Jordan Spieth, to top a star-studded field and earn his second PGA TOUR win.
Who is committed to play in 2023?
The field at the AT&T Byron Nelson is rock solid again in 2023. Of course, K.H. Lee will return as the back-to-back champion. Lee looks to become the first PGA TOUR player to win the same tournament three consecutive years since Steve Stricker did it at the John Deere Classic from 2009-2011. Major champions and local residents Scottie Scheffler and Jordan Spieth will also be in the field again in 2023. In addition, Japanese superstar Hideki Matsuyama will be at this year's Nelson. 
Other notable commitments include Adam Scott, Lucas Glover, Stewart Cink, Seamus Power, Jason Dufner, Jimmy Walker, Doug Ghim, Akshay Bhatia, Sung Kang and Ryan Moore. 
There are also plenty of local residents in the field. In addition to Scheffler and Spieth, Tom Hoge, Ryan Palmer, Tom Kim, Austin Smotherman, Harry Higgs, as well as twins Parker and Pierceson Coody, are also in this year's Nelson field. 
Where are the best places to watch the action unfold?
There are plenty of great hospitality spots to take in the action in 2023. There is the Ultra Athletic Club, which offers spectators an up-close view of players teeing it up on the signature par 3-17th hole. This spot is fantastic for entertaining clients or friends. The Champions Club offers 360 views on No. 18, and the Choctaw Club provides a look at the No. 16 green and No. 13 tee. 
If you are just looking for general admission and plan to walk around a bit, the area around the No. 3 green and No. 4 tee is a solid opportunity to take in some approach shots and watch the pros sling irons into the par-3 fourth. 
Another great experience is the Garrison Brothers Distillery Bunker, which is located near the No. 7 tee and just behind the ninth green. From here, it is an easy walk to see players approach the No. 6 green, tee off on the par-3 seventh, approach the No. 9 green, or even tee off on No. 10. This is sure to be a spot buzzing with activity throughout the week.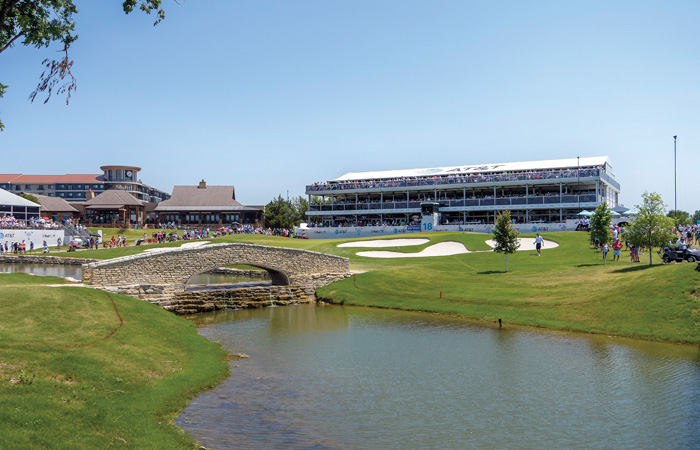 Another fantastic area to watch is the 14th green and No. 15 tee. No. 14 is a short par 4 that challenges players to try to drive the green, and some of them pull it off. You can then direct your attention just behind the No. 14 green and watch players fire long irons into the par-3 15th hole. This is a shot that is a carry over water, so it will get the blood flowing. 
No matter where you decide to post up, TPC Craig Ranch is generally pretty walkable. There are some inclines up to the No. 1 green, as well as up to the No. 11 and No. 13 greens. So, if you are looking to head to those spots, wear comfy shoes. 
One additional quick course note: The TOUR is going to play hole 12 as a par 4 in 2023. Since TPC Craig Ranch opened in 2004, Tom Weiskopf's intention was for No. 12 to play as a par 4 for the TOUR professionals and as a par 5 for the club's membership.
 In 2021 and 2022 it was played as a 547-yard par 5.  This year it will be played as a 493-yard par 4 (par 71, 7,414 yards). 
Speaking of tickets, how much are they and how do I get them?
There are several ticket options for the 2023 AT&T Byron Nelson. General admission tickets are available by the day and run $75 each. For a more up-close experience, try the Ultra Athletic Club tickets. These are $250 for Thursday or Sunday and $300 for Saturday. Unfortunately, Friday tickets for the Ultra Club are already sold out. So don't dawdle if you want this experience on the other days. This club overlooks the 17th green and includes food and beverages. 
The Champions Club is another option, offering 360 views of No 18. This option also includes food and beverage and runs $425 for Thursday or Sunday and $450 for Friday and Saturday. The ultimate experience is the Choctaw Club. From here, spectators are offered up-close views of the 16th green and 13th tee box. Beverages are included, and III Forks Steakhouse caters this venue, so the included food options are second to none. This experience will run $525 for Thursday or Sunday and $550 for Friday or Saturday. 
2022 Champion K.H. Lee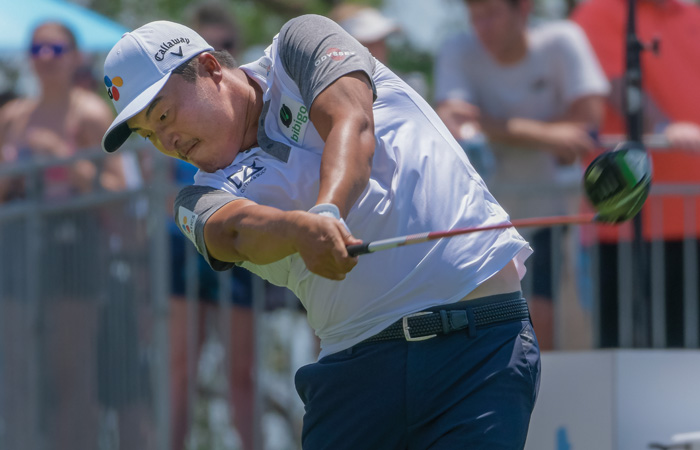 South Korean K.H. Lee (Kyoung-hoon Lee) entered some elite company last May when he won the AT&T Byron Nelson Championship for the second straight year, shooting a career-low 63 on Sunday's sunny final round to hold off hometown hero Jordan Spieth for his narrow victory.
Only Tom Watson, Jack Nicklaus and Sam Snead, before the tournament was associated with Nelson, have achieved this local back-to-back feat. While Lee has won consecutive Korean Open titles in the past, the Nelson remains his only two PGA TOUR victories.
Before he goes for a historic three-peat in May at TPC-Craig Ranch, he talked with AVIDGOLFER about the Nelson wins, why he is so successful in North Texas, and the President's Cup team he played on last fall after his Nelson win.
AVIDGOLFER: Let's cut to the chase, why have you been so successful at the Byron Nelson over the last couple of years and not won anywhere else?
K.H. LEE: I think it's the tee shot and the approach irons.  I hit a really good iron shot, and then I think the key here is iron shot, because a lot of guys make a birdie. So, when I hear par 3 or when I had my tee shot on any holes, it's very, very comfortable. Then, that gives me more confidence and then it helped me focus. I really think here it's my iron game. You need good play but also putting, because a lot of guys get a lot of birdies and eagles, so you need to be low under par.
AG: Did anything about your win in 2022 bring back good memories about your win in 2021?
KHL: Yes, having won here before it's a very comfortable feeling, even with my tee shot or when I'm putting. It's very welcoming, because last year felt like there was more rain and rain delays, different conditions. But I remember walking over the bridge at the 18th hole last year so, hopefully, I wanted to have the same feeling, walking over the bridge this year, because it feels like so amazing when I walk over there.
AG: I don't know how much you know about golf history, but the last golfer to go back-to-back at the Byron Nelson was Tom Watson, in the World Golf Hall of Fame. Also, Jack Nicklaus, who many consider the greatest golfer of all time. How does it feel to have achieved the same feat they did?
LHL: I heard that. It's amazing, I can't believe it. Just, hopefully, people remember my name, but, yeah, I'll try to play well, so hopefully more will remember my name.
AG: Last year. you talked about the trademark red pants all the Salesmanship Club members wear and how that might fit into the singing you enjoy in Korea. After you won in 2022, you got a custom Stetson cowboy hat.  Would that fit into your home country singing days, as well?
KHL: Oh, if I wasn't married, then maybe I'm using it. But now I'm married and have a baby, so maybe just one night for one time with a mirror, just by myself, I'll use it.
AG: How Important has family been to your success?
KHL: It's so amazing because, last year, my wife was pregnant. This year, my 10-month-old daughter is here. And with my mother and father, the whole family is here, so I'm happy to be with my family and share winning moments. It's nice. I think we'll go to a Korean restaurant or another good restaurant here, and then with some good beer and good meat we'll make some happy moments.
AG: The back-to-back wins at the Nelson helped you qualify for your first President's Cup last fall. What was that like?
KHL: Yeah, I really wanted to play Presidents Cup. It was a big honor.
AG: What did you learn, playing on an international team?
KHL: I probably ate the most food of anybody. Probably me or Tom Kim.
The 2023 Charles Schwab Challenge at Colonial 
The 2023 Charles Schwab Challenge at Colonial Country Club will be the final event before a planned total renovation of the golf course. Gil Hanse and his team will begin moving dirt almost immediately after the 2023 Charles Schwab Challenge, in order to complete the renovation before the 2024 tournament. So, if you are looking to see Colonial one final time in its current form, then this is your last chance.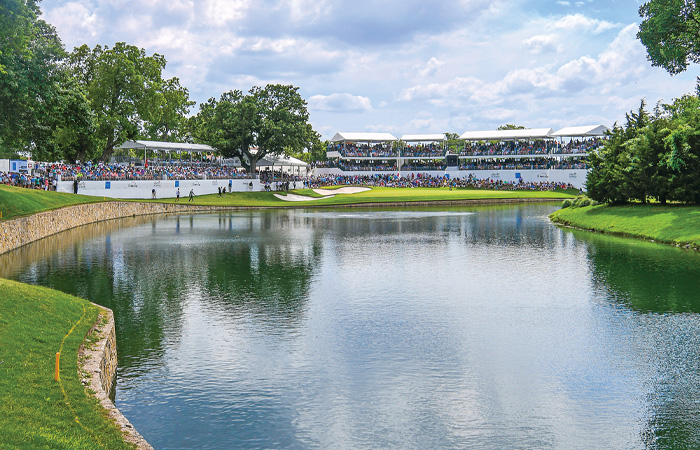 In 2023, the tournament continues its support of the Birdies for Charity program, which is an opportunity for charitable organizations to utilize the awareness and magnitude of a PGA TOUR event to further their fundraising initiatives. In addition, the tournament also supports Military Home Donation, which provides mortgage-free homes to combat-wounded warriors. The Charles Schwab Challenge also benefits Executive Women's Day, the First Tee of Fort Worth and the Ben Hogan Award. More information on all of their charitable partnerships can be found on their website. 
Fan attractions this year will include the Schwab Performance Center, D&M Leasing Autograph Zones, and the Baylor Scott & White Suncreen Stations, where fans can enter to win a dream golf package worth up to $750.
Who's going to be in the field?
For starters, defending champion Sam Burns will return to Colonial to try to defend his title. In addition to the reigning champ, past champions Rory Sabbatini (2007), Zach Johnson (2010, 2012), Chris Kirk (2015) and Kevin Kisner (2017) are all expected to appear. 
Local favorites Tom Hoge and Ryan Palmer are also in the field, with Palmer searching for his first win at Colonial and Hoge looking for his second PGA TOUR win.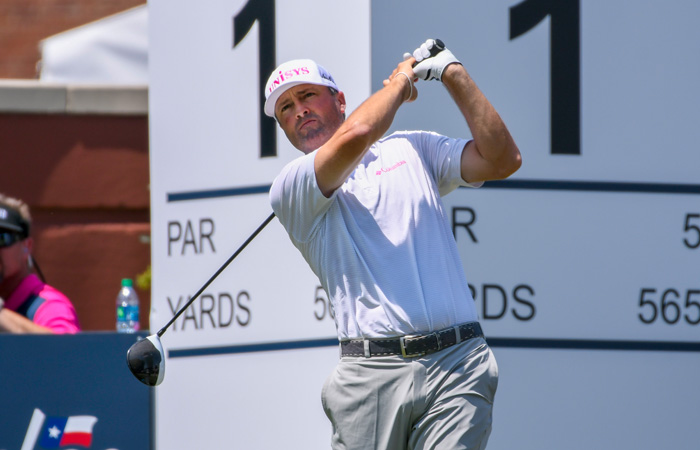 There are a handful of major champions in the field, including Lucas Glover, the aforementioned Zach Johnson, and Danny Willett. 
Other notables in the field include Joel Dahmen, Tommy Fleetwood, Cole Hammer, Max Homa, Beau Hossler, Si Woo Kim, K.H. Lee, and Davis Riley. See the updated list as more players commit on the tournament website. 
If I get tickets, where should I take in the golf action?
Colonial is one of the best spectator courses on the PGA TOUR. The parkland design and gentle vistas make this an easy walk, and patrons can get from one side of the property to the other with relative quickness.  
No. 13 is still a fun spot to take in some golf, although the increased corporate hospitality areas have decreased some of the energy that was there in the past. 
The notorious "Horrible Horseshoe" is another quality place to watch. Head to the third tee to watch the pros begin the Horseshoe, which is the stretch of Nos. 3, 4 and 5. This leads you back toward the final stretch of the outward nine, where you can walk up the hill to the No. 8 green and then watch players take on the par-4 ninth. If you want to watch the longer hitters let loose, then the No. 11 tee is a great place to post up, as it is the only par 5 on the final nine holes. 
Of course, the large gathering area near the clubhouse is a nice place to see multiple shots, as spectators aren't more than a couple minutes stroll from watching shots coming in at the No. 16 green, tee shots on No. 17, approach shots on No. 18, tee shots on No. 1 or No. 10. 
What's the ticket situation?
Tickets are available for the Wednesday Pro-Am at $50. They are limited, so you will need to act quickly if you want to check out that round. There are a pair of releases for the tournament rounds. Individual round "flex" tickets go for $85 and are available for Thursday through Sunday. You can buy in advance and then simply choose the day you want to attend. There is also a Sunday-only ticket available for $50. This daily ticket provides fans with the ability to walk the entire course, including the practice facilities, and gain access to all public venues. 
A Villages Ticket runs $325 per day and offers full access for viewing, dining and drinks in the Palmer Village at No. 13 green, Crenshaw Village overlooking No. 16 green and the Burns Ultra Athletic Club at No. 8 green, with views of the No. 9 and No. 12 tees. This also includes Colonial Signature Service from wait staff in the Villages. Complimentary full bar and food service in villages and pool house are included in the Village Ticket price.
The Patio Club, inside the Colonial Clubhouse, is the tournament's premier VIP ticket offering. Ticket holders are treated to an exquisite culinary experience by Colonial's Executive Chef, while watching golf from commanding views of the No. 16 green and No. 17 tee from the private patio. Patio Club tickets are $575 per day, Thursday-Sunday (Friday is already sold out), with all food and beverages included in the ticket price. 
In addition, two complimentary tickets are available to military members. See the website for all the details. 
2022 Champion Sam Burns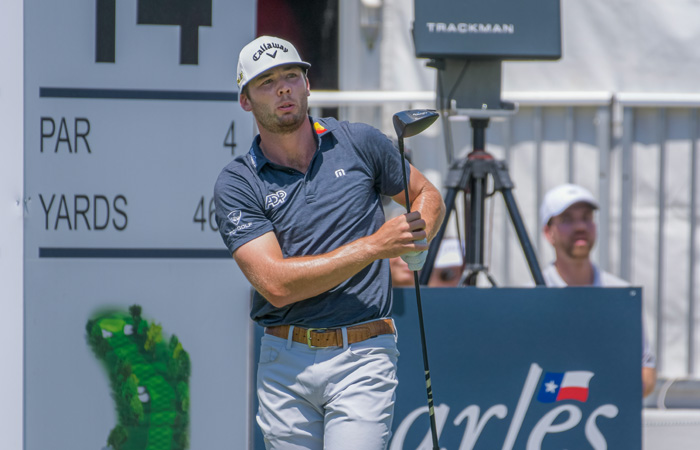 Sam Burns, the 2022 Charles Schwab Challenge champion, authored a comeback for the ages as he roared back from a seven-shot deficit on Sunday to defeat good friend Scottie Scheffler in a dramatic one-hole playoff. Burns rolled in a 38-foot, left-to-right birdie putt to deny Scheffler and claim his first title at Colonial Country Club.
It was Burns' third PGA TOUR win of the new season and came at the expense of World No. 1 Scheffler, who had already won four times in 2022, including the Masters Tournament and the World Golf Championships-Dell Technologies Match Play.
Only Nick Price in 1994 had come from seven shots behind to win at the storied Fort Worth course, but Burns got it done with a final-round 65 when the field stroke average was 72.3 on a windy and challenging day.
Earlier this month, Burns was happy to talk about his comeback win over his good friend, what winning near his hometown of Shreveport, Louisiana, meant to him and how the traditional Colonial plaid jacket would fit in at his home school LSU tailgate.
AVIDGOLFER: When is the last time you came from that far back to win a golf tournament?
SAM BURNS: It's been a while. It was just a crazy weekend at Colonial with the weather and the cross winds we had. I figured if I just posted a good number Sunday and see what happens, I would go from there. You never know what could transpire when you finish first and post a low number.
AG: When did you start to think a Sunday comeback could really be possible?
SB: I think I was 6-under after 11 holes, or at least I birdied 11 to go to 6-under. I knew the rest of the holes are really tough with a lot of cross winds. I knew at that point I was up there (leaderboard), and I just needed some help from the leaders. I knew I had a pretty good chance, and that's all you can ask for. 
AG:  Growing up in Shreveport, did you ever come over to watch the Colonial in high school or college?
SB: In north Louisiana, the Colonial and the Byron Nelson in Dallas and the New Orleans tournament, those were the closet we came to pro golf. I remember coming over in 2011 (at age 14) to see my good friend and mentor, David Toms, win at Colonial. It was an incredible experience. I remember that week like it was yesterday. Now it's mine.
AG: What was it like playing a good friend, such as Scottie Scheffler, in the playoff vs. somebody you don't know or know very well? 
SB: Everybody knows Scottie is one of my best buds out here. Somebody had to lose in the playoff, and I got the better of him that time. But it's always fun against somebody you compete against a lot, especially somebody you have a lot of respect for, who is one of the best players in the world or makes it at least back-and-forth fun. It was a lot of fun and memorable, for sure.
AG: How would the Colonial plaid jacket look at an LSU Tailgate or some other big social occasion?
SB: Well, it's not purple and gold, LSU colors, but it I think it would be fun to wear it in that scene. I'm sure it would fit in. I may be able to try it out soon.
AG: You won tournaments at a lot of different places. What was it like to win at a famed course like Colonial and now have your name on the marble Wall of Honor on the first tee.
SB: It feels like a major championship course and conditions, for sure. It's a really hard course, but to have won there, with the Hogan influence, is really great.
The 2023 KitchenAid Senior PGA Championship
For the first time, the public will have an opportunity to see the new PGA development in Frisco. The new home of the PGA of America, the Northern Texas PGA, the Omni Hotel and Resort and, of course, Fields Ranch East, the Gil Hanse-designed course that will not only host the KitchenAid Senior PGA, but a slew of other championships, including the 2025 KPMG Women's PGA Championship, the 2027 PGA Championship and – fingers crossed – a future Ryder Cup.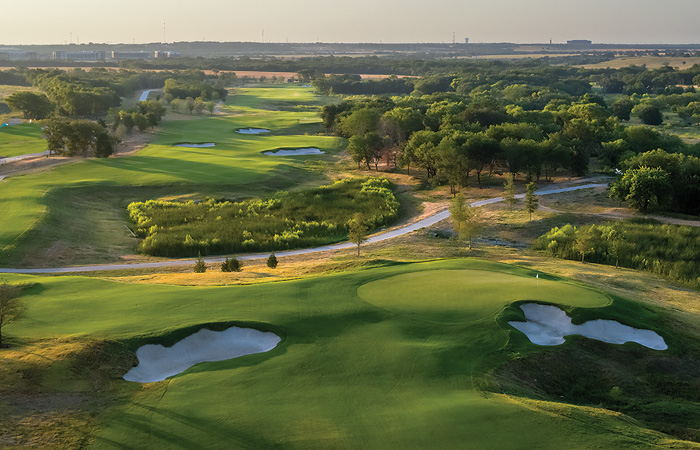 The East Course is unlike anything we have in DFW, with its rolling, undulating terrain, serpentine tee boxes that allow for maximum adjustment of yardages, dramatic bunkering, and Panther Creek meandering throughout, this course will test even the most experienced ball strikers.
This event presents a unique opportunity to not only see come of the all-time greats competing at a high level, but also the chance to see all the amazing work that has been done on this massive property over the last half decade.
Who's Going to be in the field?
The 156-player field in 2023 includes 11 past KitchenAid Senior PGA champions, including defending champion Steven Alker. Others who have won the championship and are competing in 2023 include Michael Allen (2009), Paul Broadhurst (2018), Alex Cejka (2021), Roger Chapman (2012), Jay Haas (2006, 2008), Bernhard Langer (2017), Tom Lehman (2010), Rocco Mediate (2016), Colin Montgomery (2014, 2015) and Ken Tanigawa (2019). 
The field also includes 25 major champions, 13 former Ryder Cup captains and nine World Golf Hall of Fame members.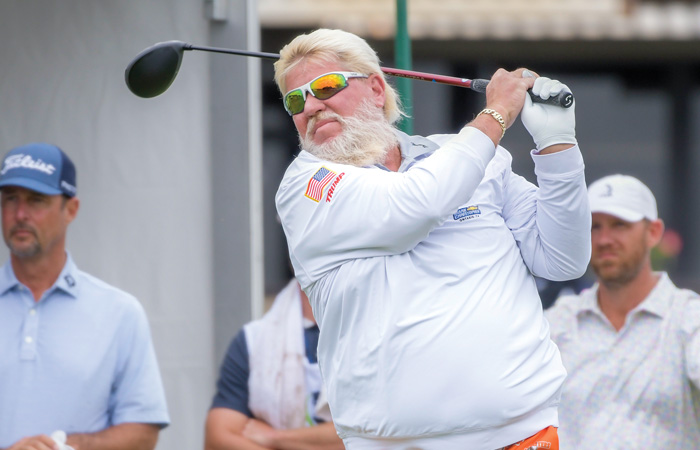 Other notables include Woody Austin, Michael Campbell, KJ Choi, Darren Clarke, John Daly, Chris DiMarco, David Duval, Ernie Els, Nick Faldo, Jim Furyk, Retief Goosen, Lee Janzen, Miguel Angel Jimenez, Jerry Kelly, Justin Leonard, Davis Love III, Kenny Perry, Vijay Singh, David Toms and Mike Weir. 
Local residents Paul Stankowski, Corey Pavin, Clark Dennis, Cameron Doan and Todd Hamilton are also in this year's field. 
Where are the best spots for spectators?
So, this is a fluid situation. We know just about as much as you do about what this initial event will look like. So, there is some guesswork here. That being said, the AG team has been to the property several times and played the course in question, so here are some of the spots we think will be best to take in the action. 
For starters, the No. 1 tee will be appointment viewing. This massive par 5 will invite ripping the driver, so expect some fireworks there, and the ninth and 18th greens and 10th tee aren't too far from that spot, so you can walk back and forth and see plenty of action if you don't feel like straying too far from the main hub. 
One of the spots we feel like will really be great is around the No. 2 green and No. 3 tee box. The No. 2 green is perched atop a large hill, so you will be able to see several holes around you, as well as watch players hitting irons into the green. From there, you can take the short walk to the third tee and watch players hit tee shots on this par 5 into the fairway well below the tee. This spot will provide a great vantage point.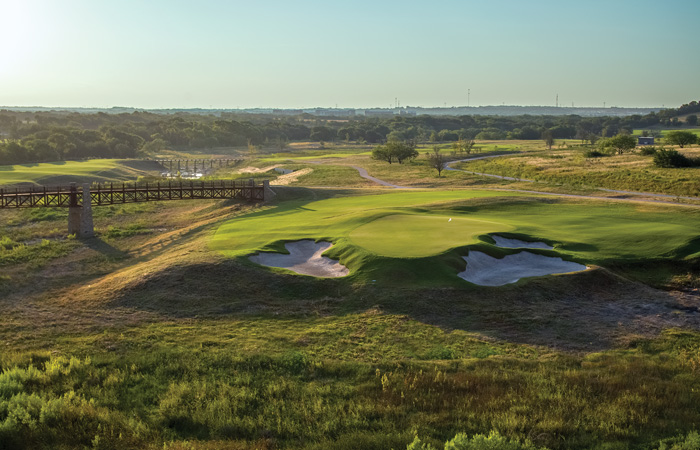 Another spot that will likely make for great theatre is the 13th hole. This long uphill par 3 can be a real beast, especially if the wind is blowing from the south. There is severe bunkering around the putting surface, making this one of the toughest holes on the course. You could really see some changes on the leaderboard as the final groups come through this hole on Sunday. 
The elevated 15th green is also a fantastic spot to watch players hit approach shots into the green. This is one of the most dramatic elevation changes on the whole property, so get there and enjoy the view. From this spot, you can also watch players tee off on the par-4 16th hole. 
To be honest, since this is likely going to be your first time seeing the property, we recommend walking the whole course! You won't be disappointed. 
What about tickets?
Daily grounds tickets are available for each day. Wednesday individual grounds tickets are $30, Thursday is $45, Friday is $50, and Saturday and Sunday are $55. 
Daily tickers include access to the 2023 KitchenAid Senior PGA Championship and grounds of Fields Ranch East at PGA Frisco for the chosen day(s), as well as access to public grandstand seating, the PGA Shop, and other spectator services. All Grounds Tickets are inclusive of water at concession venues throughout the grounds. 
Championship Grounds Ticket packages are $205 and include a ticket to each round, Wednesday through Sunday. Access to the 2023 KitchenAid Senior PGA Championship and grounds of Fields Ranch East at PGA Frisco for each day, Wednesday-Sunday. This includes access to public grandstand seating, the PGA Shop and other spectator services. All Grounds Tickets are inclusive of water at concession venues throughout the grounds.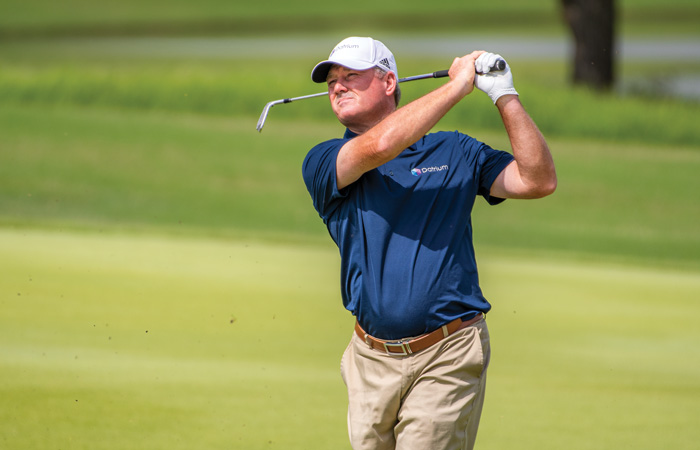 Field of Flags Ticket packages are $160 for one Saturday and one Sunday ticket or $270 for two Saturday and two Sunday tickets. This also includes one 3'x5' American Flag displayed in a prominent location on Fields Ranch East at PGA Frisco the entire week of the KitchenAid Senior PGA Championship, and one personalized name plaque to honor a fallen service member or veteran. 
The final option is the Club PGA ticket. This elevated experience is $550 for Thursday, $600 for Friday and $650 for Saturday and Sunday. The whole week can also be purchased for $2,350. Club PGA provides access to a multi-experience hospitality venue, providing world-class entertainment. This area is located adjacent to the 16th fairway and 17th green and inclusive of premium food and beverage. This package includes tickets providing access to Club PGA and the Championship grounds, well-appointed, open-air entertainment space and an outdoor viewing deck overlooking both the 16th and 17th holes, a chef-inspired, all-inclusive culinary experience and open bar featuring hand-crafted cocktails, premium wines and beer, private WiFi, executive restrooms and televisions for keeping up with the on-course action and preferred corporate parking and access to the Championship's dual-logo merchandise program.
In addition, two complimentary tickets are available to military members. See the website for all the details.