Would you rather tee it up in temperatures reaching the mid-90s or between 75 and 80 degrees?  We all know the answer to this question. 
The average daily temperatures in Dallas – soaring to 96 degrees in July and August, according to weatherspark.com – sound downright painful compared to those blissful 75- to 80-degree summer days in Traverse City, the heartbeat of northern Michigan. Beating the heat on and off the course in northern Michigan never felt so good, especially for Texans.
Traverse City, home of the National Cherry Festival every July, has blossomed into one of America's premier summer escapes. Golf just happens to be one piece of the puzzle that paints a picture of the ultimate summer vacation. Between the breweries, wineries, distilleries, trendy restaurants, shopping, boating, beaches, lakes and tee times, you'll run out of time before you run out of things to do.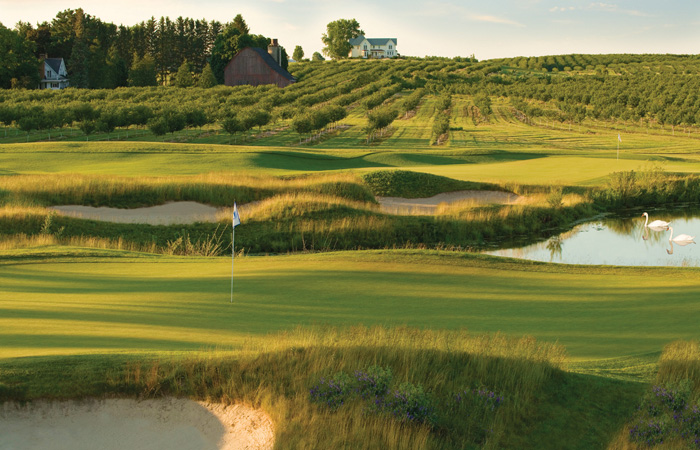 Summer Surrounding Traverse City 
Traverse City was once a drive-in destination only for Midwesterners and Michiganders. As more visitors from around the country got a taste of the luxurious lake life on Grand Traverse Bay, they started telling their friends. Now Traverse City's Cherry Capital Airport accepts non-stop flights on five airlines from 17 cities, including Dallas and Dallas-Fort Worth, Atlanta, Charlotte and multiple Florida airports. 
What's Traverse City's secret? The destination can be whatever you want it to be. Tourists can play wine connoisseurs, tasting up and down the Old Mission and Leelanau Peninsulas; wander the charming lakeside town of Charlevoix or hike the inspiring Sleeping Bear Dunes on expansive Lake Michigan. Gaming at the Turtle Creek Casino & Hotel, sipping whiskey at Mammoth Distilling Cocktail Lounge or downing craft brews at the Jolly Pumpkin provide the nightlife revelers seek, just as dining at restaurants like Amical downtown and Aerie on the 16th floor of the Grand Traverse Resort & Spa in Acme will tantalize the tastebuds. Just don't stay up too late or drink too much. World-class golf is calling.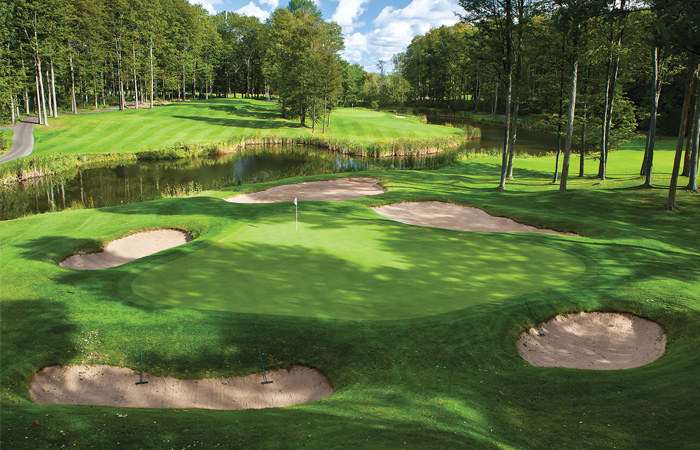 Golf Around Traverse City
The hardest part of your trip will be deciding where to stay and where to play. Three area golf resorts, all with their own unique vibes, feature at least 36 holes within 45 minutes of downtown. 
Closest to Traverse City, the 54-hole Grand Traverse Resort and Spa sports The Bear, The Wolverine and Spruce Run. Jack Nicklaus designed The Bear, a layout loaded with teeth in the form of terraced fairways, water hazards and bunkers. It's a thrilling challenge. The Wolverine by Gary Player might be just as good, winding through forest and vineyard. Grand Traverse just completed a $10-million renovation of all 242 rooms and suites in its hotel tower. Not that you'll be inside much. There are two indoor pools, five restaurants and lounges, tennis courts, a spa, a beach club with an outdoor pool near the bay and the casino (which is under the same ownership). Resort condos offer kitchens and more privacy.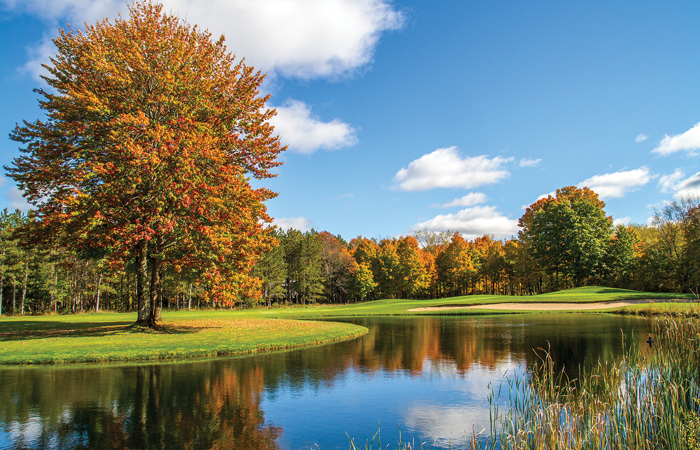 Hidden Gems North and South
Less than an hour north of Traverse City resides the sprawling A-Ga-Ming Resort in Kewadin. The traditional parkland-style Charlevoix Country Club; the hilly Antrim Dells; the treelined Torch Course; and the heavily bunkered Sundance Course provide a diverse foursome for golfers. The resort's condo accommodations are convenient to the area's two biggest draws – Torch Lake and Charlevoix. 
Sandwiched between Lake Charlevoix and Little Traverse Bay, Charlevoix features an idyllic downtown of restaurants, shops and mushroom houses. This small town has earned major clout as one of the most beautiful in the Midwest because of the expansive water views, unique architecture and art scene. Stay in one of the downtown hotels and walk to sandy beaches or the marina to catch the sunset via a sailing charter. A town jam-packed with activity and events during the summer months, golf remains one of the favored. Charlevoix's historic Belvedere Golf Club, a host of the Michigan Open more than 40 times, remains a revered classic with Scottish links-style layout.  Major champion Tom Watson grew up playing Belvedere while visiting with his family.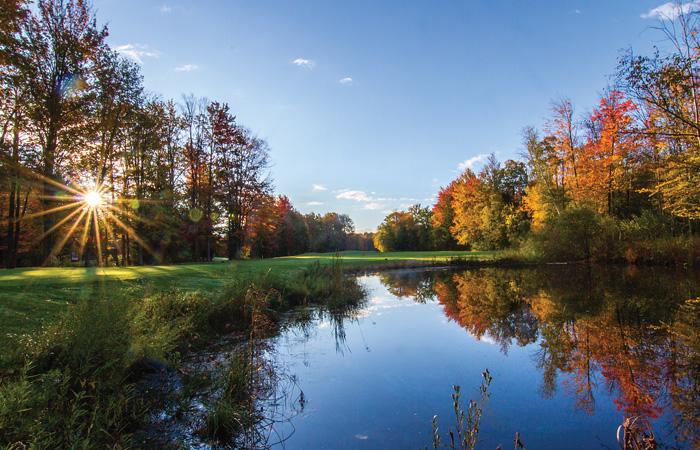 Roughly 45 minutes south of Traverse City, the 36-hole Crystal Mountain in Thompsonville entertains with an entire village of fun at the base of the mountain. Guests can ride the chairlift to the top in summer, a journey similar to the cart ride on the scenic Mountain Ridge Course, which climbs skyward before tumbling back down on a dynamite finishing par 5 that has decided many Michigan Women's Opens. Feel the need for speed? The Crystal Coaster Alpine Slide provides side-by-side bobsled-like tracks that race down the hill, or you can zoom down new trails on a mountain bike. Lake Michigan and Crystal Lake are also just minutes away. 
Consider, the irony of all this: Water and sand might be the enemies of golfers, but the bays, lakes and beaches are your biggest allies surrounding Traverse City. 
Oh, yeah, and that glorious summer forecast.