Feature Story – The World Long Drive Tour: Past and Present

The 44th edition of the World Long Drive Championship was contested last month in Thackerville, Oklahoma and when all was said and done a new king and queen were left standing on the men's and women's sides. 
It was the first time since 2013 that both events produced a first-time winner with Kyle Berkshire and Chloe Garner donning the respective championship belts.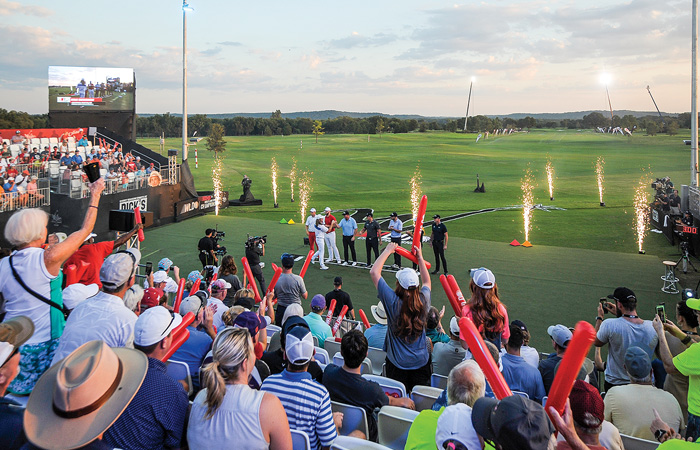 Eli Jordan and I were in Thackerville to take in all the festivities, and in addition to a profile of new men's champ and now cover-boy Berkshire, AVIDGOLFER wanted to glance back at some of the pioneers of World Long Drive in addition to looking at the current stage of the tour and what could be in store down the road for a sport that is rapidly growing in popularity.
THE TRAILBLAZERS
As noted, September marked the 44th installment of the World Long Drive Championship on the men's side with Evan Williams winning the inaugural tournament way back in 1976. The women, meanwhile, joined the party in 2000 — just four years after the first Masters Division (55 and older) Championship was contested. 
Quite a lot has changed since Williams first claimed the title, when he bested the rest of the field with a winning drive of 307 yards. 
Williams would return to repeat as champion a year later, increasing his distance to 353 yards. However, no champion would eclipse 350 yards again (in fact, the 1980 championship saw Scott DeCandia win the event with a drive of a mere 295 yards) until … 
Sean "The Beast" Fister 
Fister sent one 362 yards deep into the night in 1995 to earn his first championship and would prove to have plenty of staying power on the tour, returning to win titles in 2001 (376 yards) and 2005 (377 yards).
His three championships are out-numberd by only one man … 
Jason Zuback 
Given one of the all-time great nicknames in sports, "Golfzilla", is a six-time winner (five Open Division and one Masters Division) and current Golf Channel long drive analyst. The Canadian has perhaps had as great an impact on the rise in popularity of the Long Drive Championship as any individual. 
Zuback earned the first of four consecutive titles in 1996 with a 351-yard blast and also won championships in 1997 (412 yards), 1998 (361 yards), 1999 (376 yards) and 2006 (368 yards). 
In addition to helping increase the sport's visibility, Zuback – as a result of his continued role within the sport – knows as well as anyone the transformations long driving has undergone over the previous 20-plus years.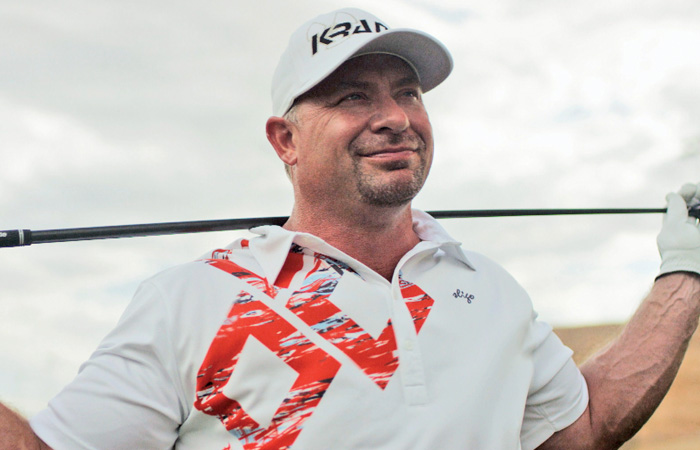 "It's awesome to see the quality of competitors coming out," he said. "Back in the RE/MAX days, it was a little different dynamic where had competitions all over the world that utilized the RE/MAX agents. So, at times, we had over 15,000 people trying to vie for the title. We actually had a lot of participation. Now, it's a little more exclusive. There aren't as many qualifiers, but there are some great athletes coming out and the Golf Channel does a great job of providing a good television product with the five stops they televise."
Zuback, who also does work for the Titleist Performance Institute (speed and power training) added that social media has had a large impact in broadening the reach of the tour, and acknowledges that technology has played a major role in just how long these guys can hit it these days.
Current stars, meanwhile, are quick to point out Zuback would have no problem competing in the current long drive climate were he still in his heyday.   
"It's been cool to hear these guys now say they remember me when they were a junior golfer or younger," Zuback said. "It's pretty cool to hear a lot of guys say that I'm a reason they got into it. I keep up on the training and swing side and still give a little advice and mental advice on the grid. That's one of the biggest challenges is taking it from the range and practice out onto the competition tee. You have to handle that pressure."
Zuback validated those sentiments and showed he still has plenty in his bag when he added a Masters Championship to resume in 2015. 
While Zuback and Fister lead the way with five and three titles, respectively, in the Open Division, numerous other competitors have earned multiple victories, including …
Art Sellinger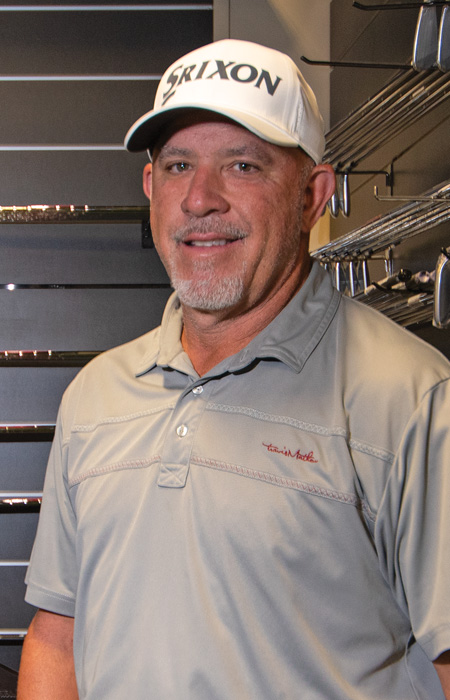 Sellinger picked up wins in 1986 (311 yards) and 1991 (326 yards) before founding Long Drivers of America — which produced the Long Drive Championship for better than 10 years — in 1994.
In addition to duties as the lead long drive analyst for the Golf Channel, Sellinger owns and manages Sellinger's Power Golf and has worked with many of the current long drive stars, including Berkshire. 
Like Zuback, Sellinger is largely responsible for the rise in popularity of long drive and the transitions the sport has undergone since he dominated the tee box in the late 80s and early 90s. 
Sellinger is joined on the list of two-time champions by …
Jamie Sadlowski
At 5-foot-10 inches and just 168 pounds, Sadlowski gives hope to any young golfer with aspirations of hitting a ball farther than anyone in the world, or to long drivers with dreams of making the tour. 
The two-time champion (2008-09) made his PGA TOUR debut in 2017 at the Dean & DeLuca Invitational and also qualified for the PGA TOUR in 2018. 
"My personal evolution to try and become a player versus a long driver has been quite difficult," Sadlowski said. "Making cuts and actually competing to win golf tournaments requires an incredible skill set. I have shot numerous sub-par rounds and feel I can make enough birdies, but playing four days of competitive golf with very few mistakes requires an incredible physical and mental game. I look back at numerous tournaments and it can be one shot and one putt per round that make an enormous difference. The learning curve from being a pure power hitter to player is a challenge and the talent pool in the professional game is quite deep."
While Sadlowski and Sellinger are two of eight men with multiple championships, four women have claimed more than one championship, with the initial pace being set by … 
Stacey Shinnick 
Shinnick won the first women's tournament with a drive of 249 yards in 2000 and would go on to win championships in 2002 and 2005. She is one of just eight women to earn a belt since her debut victory, but her record wouldn't stand for long thanks to a new regime of phenoms on the tour, including …  
CURRENT STARS 
Sandra Carlborg 
Birthdate: Nov. 18, 1983 
Hometown: Alingsas, Sweden
Driver: Callaway Epic Flash
Loft: 5-7 degrees
Longest distance: 401 yards
The Swede claimed five World Long Drive Championships in a seven-year span with her latest triumph coming in 2017.
After posting a distance of 285 yards to claim her first victory in 2011, Carlborg upped the anty a year later with a winning drive of 339 yards in 2012. That distance would stand as the longest winning finals drive on the women's tour until last month when it was bested by a 347-yard bomb in the finals by …
Chloe Garner 
Birthdate: October 21, 1990
Hometown: Somerset West, South Africa   
Driver: Callaway
Loft: 5-6 degrees  
Longest distance: 400 yards
After finishing as the runner-up at the world championships in Oklahoma in two of the past three years, the South African finally broke through last month for her first championship. 
"My mindset (coming in was) to get back the belt after coming so close to getting it before," Garner said. "The key for me is having confidence in how I have prepared for the tournament, knowing I am ready and just letting my subconscious take over so I can just swing."
Like so many other long drivers, Garner was a collegiate golfer, but took time off from the clubs to compete competitively in cross-fit before getting back into the "swing of things".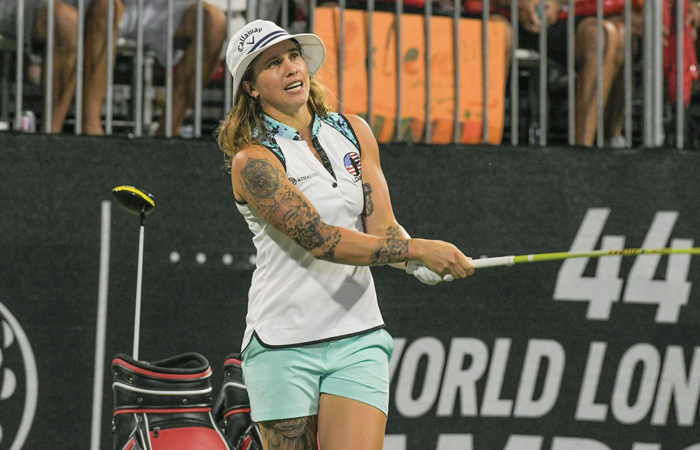 "This is my fourth year on the tour," she said. "I played golf in college (at Eastern Tennessee State and Texas A&M) and I was always a pretty long hitter. But I took three years off to do cross-fit training. I added a lot of muscle during that time, and actually talked to somebody else doing cross-fit that was competing in long drive. I decided to test my speed and distance, saw where I was at and went for it. And now here I am." 
Garner earned her 2019 victory by winning in the finals over multi-time champion …
Phillis Meti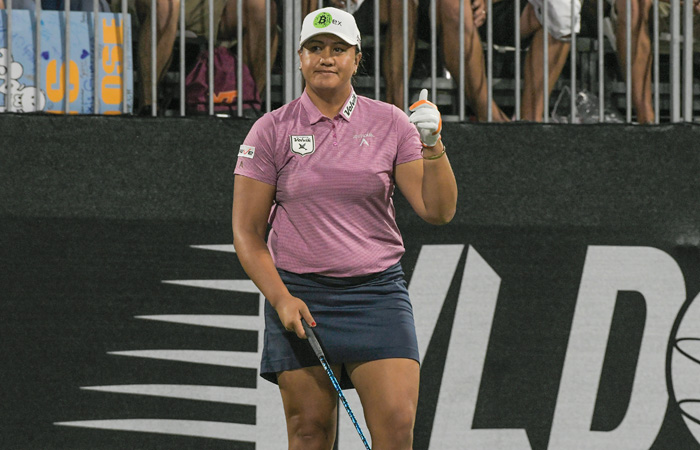 Birthdate: July 11, 1987
Hometown: Auckland, New Zealand  
Driver: Tour Edge Exotics
Loft: 8-10 degrees  
Longest distance: 414 yards
An international superstar and native of New Zealand, Meti has demonstrated the potential for staying power on the tour as she earned her first world championship at the age of 19 in 2006 only to return to the top of the podium 10 years later before adding a third title in 2018. In the interim, Meti took time off from long drive competitions to pursue a professional golf career. 
Meti has been an inspiration to many of her current competitors, many of which are hoping to use long drive as a tool to propel their professional careers, including …
Troy Mullins 
Birthdate: March 28, 1987
Hometown: Los Angeles, California    
Driver: PXG
Loft: 9 degrees
Longest distance: 402 yards
The No. 5-ranked woman on the World Long Drive tour, Mullins has made a name for herself not only with her distance off the tee, but with her social media presence and work as an on-air talent.  
In Oklahoma, the "Trojan Goddess" advanced to the semifinals, and also has a victory on her resume after blasting a 407-yard drive en route to first at the 2017 Mile High Showdown. 
Mullins, who speaks fluent Mandarin and majored in China-Asia Pacific Studies and International Relations, began her athletic career as a track and field competitor, eventually competing at Cornell. 
"I started playing golf with my godfather after college," Mullins said. "I knew a little about the sport and would just go and hit balls. I fell in love with the game, but I could not hit a driver to save my life. It was weakest club, but it was because every time I would go to try it, I would hit women's clubs or a senior club."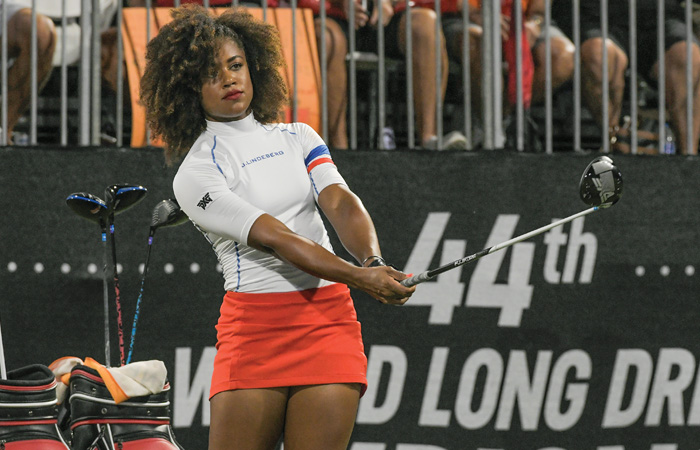 But a few chance rounds with friends would alter her life forever. 
"It took a guy friend letting me hit his driver, and he said you know you hit that over 300 yards," Mullins said. "I didn't know what that meant, but I was told it was good and another one of my friends suggested on a whim to go try long drive and I fell in love with it."
Now a force in long drive, Mullins is hoping to make the transition to professional golf. 
"My dream is to make the tour," she said. "My game is good. My irons are actually better than my driver. The funny thing is I go out playing long drive when I play golf. Honestly, the toughest part is dialing down the driver for an actual round, but my putter is on and I'm excited to go play next season. I'm going to do the mini-tours and hopefully I qualify." 
Mullins isn't the only long drive superstar lacking collegiate golf experience. The same can be said for multi-time men's champion … 
Tim Burke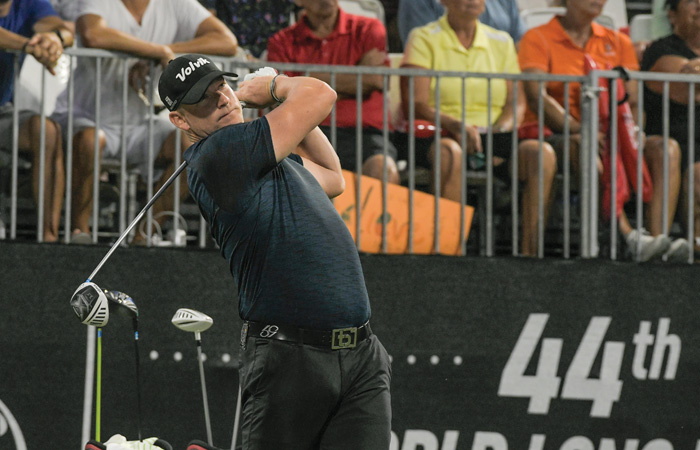 Birthdate: Oct. 13, 1986 
Hometown: Orlando, Florida 
Driver: Krank FX TB 
Loft: 3 degrees
Longest distance: 474 yards
Burke finished second to Berkshire in September, but the former University of Miami pitcher already has a pair of world title belts claimed in 2013 and 2015. 
With a personal-best of 474 yards, Burke is a candidate to win any event he enters, and he advanced to the quarterfinals of all five of the tour's televised events this season while reaching the final eight in six of the past eight years at the world championships. 
While Burke finished second in 2019, last year's runner-up to champion Maurice Allen was …
Justin Moose 
Birthdate: Jan. 6, 1986 
Hometown: Columbia, South Carolina  
Driver: Callaway 
Loft: 3 degrees 
Longest distance: 468 yards
Ranked No. 6 in the world, Moose played collegiately at Clarion University in Pennsylvania before breaking onto the long drive scene. 
Known for his lively celebrations, one of which earned him an appearance on SportsCenter's Top 10, Moose is not only hoping to claim the title of world's longest driver, but still has aspirations of competing on the pro tour and has qualified for multiple U.S. Open sectionals in the past.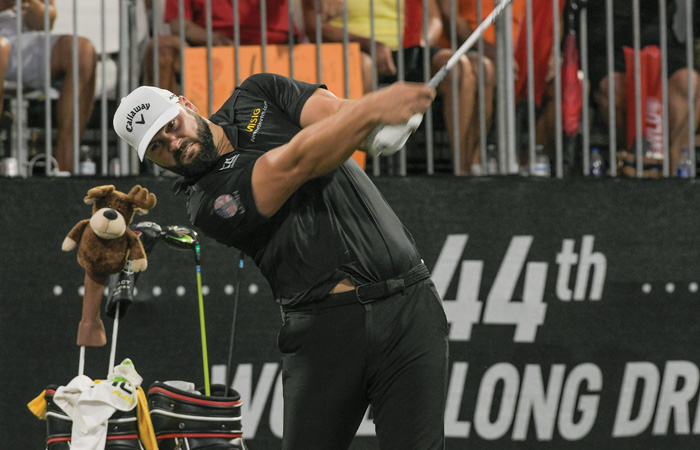 Those goals in themselves present difficulties for Moose when it comes to long driving.
"For me, the biggest challenge is not finding the grid, but the distance," he said. "I play a good amount of golf and hit a lot of fairways. I'm confident I can hit it straight, but some of these big boys are swinging 150-mph plus, so it's keeping up with them that's tough."
THE FUTURE 
So, what then does the future have in store for the World Long Drive Championships and its competitors? 
While both Sellinger and Bobby Peterson – who currently works with Berkshire – recognize technological advancements will eventually hit a wall (if it hasn't happened already), there are no limits to the heights the popularity of the tour can reach, especially with a budding young superstar like Berkshire joining the fray. 
Viewership numbers for the Tuesday and Wednesday night broadcasts were up 27 and 21 percent, respectively, from 2018 and the prize pools for the five televised events continue to be on the rise. 
"I have seen a couple of the events and I'm glad the sport is evolving," Sadlowski said. "The best part is the amount of time and resources the Golf Channel has put forth to make it more mainstream. Having a legitimate tour with at least 10-12 stops with prize money increases would be nice for the players."
Success on the long drive tour has also led to an increase in appearance and sponsorship opportunities for competitors. 
And with gambling potentially entering the fold in the near future and players like Mullins and Berkshire already boasting immense social media followings, the popularity and interest in long driving figures to go nowhere but up from here.