The Girls Are Back in Town — LPGA Preview

The greatest four weeks for golf in Dallas-Fort Worth are upon us once again, and the ladies of the LPGA are here to kick things off at the Volunteers of America Texas Shootout. For the fifth consecutive year, the event will be held at Las Colinas Country Club during the last week of April. Although this star-studded spectacular hasn't been around for long, it has become a crowd favorite as it draws over 100 of the world's best female golfers to our backyard. This is a can't-miss event for LPGA fans as the field is as strong as ever, boasting most of the Top 25 on the Rolex World Rankings List and many who can now include "Olympian" on their resume.
The field and format make this event one of the more unique ones on the LPGA Tour: the top 70 ladies will remain in contention after the second round, and Top 50 will fight to the finish in Sunday's final round. Last year's Shootout was especially exciting as Jenny Shin shot a bogey-free 67 in Sunday's final round to top local resident Gerina Piller, who led throughout the tournament. Can Piller come roaring back this year to finally pick up that elusive W? You'll have to tune in starting April 26 to find out.
Where is it, and how do I get tickets?
The tournament will be hosted for the fifth year in a row at Las Colinas Country Club from April 24-30. Gates won't be open to the public on Monday and Tuesday, but feel free to stop by on Wednesday to see the official Pro-Am event. The first round of plays begins Thursday morning.
Tickets at various price points are available for purchase on the Shootout's website (www.lpgatexasshootout.com), or can be purchased in person at the Will Call Office at the tournament entrance. Spectators can watch the official Pro-Am event on Wednesday free of charge, but will need to purchase a ticket for the other days of play. Starting Thursday, Single-Day tickets are $25 and Weekly Badges are $50. Want the VIP Experience? The Mustang Club tickets allow you access to the air-conditioned hospitality suite behind the 18th green as well as included food and beverage provided by Cool River Café. Mustang Club tickets for the first round (Thursday) are $125, and tickets for subsequent rounds (Friday-Sunday) are $175 per day.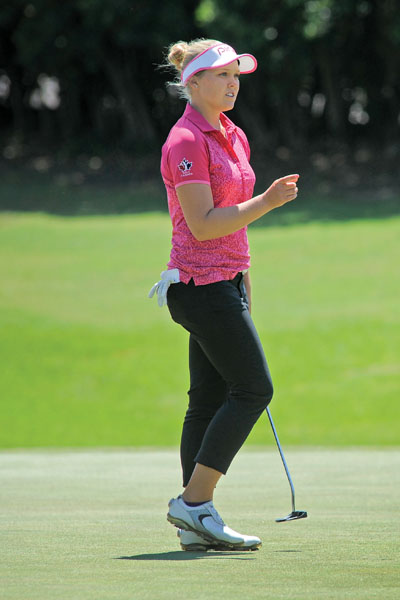 Kids will get in for free with a ticketed parent; each parent is allowed to bring up to four children in with them. Members of the military, including Active Duty, retirees, National Guard, Active Reserve and DoD civilians, may receive complimentary tickets for them and their accompanying spouse at the Will Call Office upon presentation of military ID.
Who's in the field?
Jenny Shin is back to defend her 2016 title from a slew of other players headlining the Rolex Top 25. Stars such as World No. 1 Lydia Ko, Gerina Piller, Stacy Lewis, Brittany Lang, Michelle Wie, Inbee Park, I.K. Kim, Brooke Henderson and Lexi Thompson are scheduled to be in the field this April. We also expect to see some of the other top players in the Rolex World Rankings join the field as well as the tournament gets closer. This event has had one of the strongest non-major fields on the LPGA the last couple of years, and we don't anticipate that changing any time soon.
The winners of the high school and college shootout event are going to be teeing it up with pros as well: Eun Jeong Seong (17, South Korea), Gina Kim (16, Chapel Hill, N.C.), Anne Chen (15, Sugar Land, Texas) and Wylie's Maddie McCrary (21, Oklahoma State University).
Any big story lines coming into the tournament?
Two players we are going to have our eyes on are Michelle Wie and local fan favorite Gerina Piller. The last year or two have been really tough for Wie (really, she has struggled mightily ever since winning the Women's U.S. Open in 2014), and she has fallen out of the Top 100 in the world for the first time in a long, long time. But, this year she has had a bit of a resurgence, and is playing better golf. She has switched to Callaway equipment, abandoned that strange, table-top style putting stroke, and, from all accounts, appears to be as healthy as she has been since 2014. While she still hasn't sniffed the winner's circle in a while, Wie has had some nice finishes on the LPGA Tour this year, including a T4 at the HSBC Women's Champions.
At this event last year, Gerina Piller had a chokehold on the field after three rounds and was on the cusp of her first LPGA Tour win, but faltered on the final day, finishing two strokes behind Jenny Shin. Piller's year hasn't started off as well as she would have liked (although she did finish fourth at the Pure Silk Bahamas LPGA Classic in January), but we are eager to watch her come back to her neighborhood and play in front of the hometown fans. Playing at home (and sleeping in your own bed) can do wonders for your game, and we know Piller will be itching to get that first win in front of all her friends and family.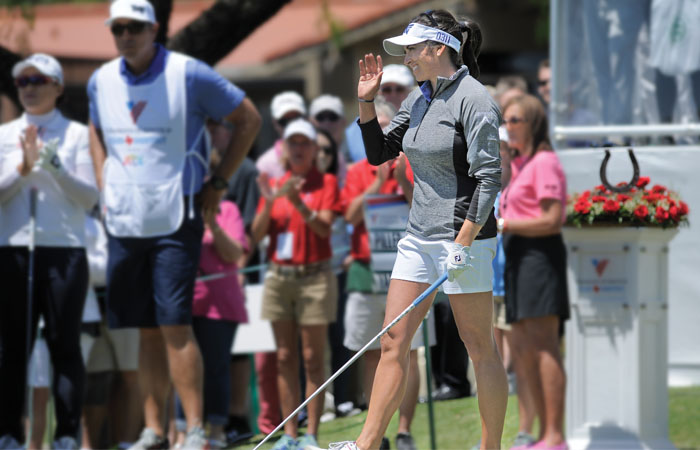 How can I get involved?
The Volunteers of America is still looking for volunteers to make this event a success once again. Committees range from on-course specialties, such as marshals, walking scorers, leaderboard staff, etc., to social committees and tournament services (think player services, caddie services, transportation, ambassadors, etc.). The fee to volunteer is $60, but the package includes a polo, hat or visor, six daily tickets and a light meal on the day of your shift. Volunteers who work a minimum of three shifts will also receive a free round at Las Colinas Country Club.
Where are some good spots on the golf course to watch the action?
Las Colinas Country Club is a great course for spectators, as it isn't overly long and spread out, so there are places you can stand and see multiple holes at once. On the front nine, the third tee box is a great place to post up. The tee at No. 3 shares an area with the tee box on No. 8, so you can stand there and watch players hit tee shots on both holes. You can also see the seventh green, which is nearby, if you want to watch some chipping and putting.
On the back nine, there are three prime spots to sit/stand to see some great golf shots. We recommend standing near the tee box on either No. 13 or No. 17, both of which are par 3s where water can come into play. You should see some electric iron shots on both holes, as well as a water ball or two. After that, walk down the fairway on the par-5 18th. From the fairway, you can see players land their drives and, for the longer hitters, watch them go for the green, which is protected by bunkers and a water hazard in front and to the right of the green. It is a great risk-reward hole, and could provide for some pressure-packed drama Sunday afternoon.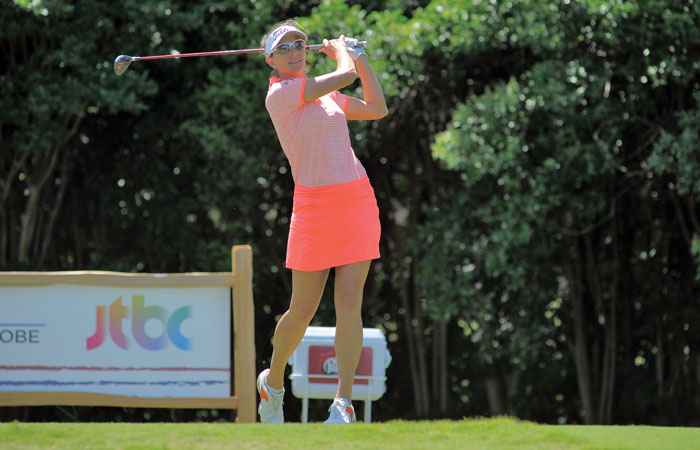 Volunteers of America Texas Shootout
Date: April 24-30, 2017
Title Sponsor: Volunteers of America
Location: Las Colinas Country Club
Purse: $1.3 million
Defending Champion: Jenny Shin
Television Schedule: Thursday-Friday 11 a.m.-1:30 p.m. Saturday-Sunday 2-5 p.m. All rounds televised on The Golf Channel. Times subject to change.
Calendar of Events (Subject to change)
Monday, April 24 (Gates closed)
CREW Dallas LPGA Pro-Am. Monday qualifier for professionals @ Hackberry Creek Country Club.
Tuesday, April 25 (Gates closed)
Volunteers of America Awards Dinner at AT&T Stadium (5:45 – 8:30 p.m.; Tickets may be purchased for $250/each or $2,500 for a table of 10 on the Volunteers of America website)
Wednesday, April 26
Official Pro-Am begins at 7 a.m. off Nos. 1 and 10 tees. (Tee times are approximately 7–9 a.m. and 12–1:50 p.m.) Expo Row open (8 a.m.–5 p.m.)
Thursday, April 27
First Round (Tee Times off Nos. 1 & 10 tees are approximately 7:15–9:16 a.m. and 12:05 – 2:06 p.m.)
Expo Row open (8 a.m.–6 p.m.)
Friday, April 28
Second Round (Tee Times off Nos. 1 & 10 tees are approximately 7:15 – 9:16 a.m. and 12:05 – 2:06 p.m.)
Expo Row open (8 a.m.–6 p.m.)
Saturday, April 29
Third Round (Tee times off No. 1 tee begin at 7:10 a.m.)
Expo Row open (8 a.m.–6 p.m.)
Sunday, April 30
Final Round (Tee times off No. 1 tee begin at 8:50 a.m.)
Expo Row open (8 a.m.–6 p.m.)
Champions Presentation immediately following play on 18th green.
Parking: Free public parking is available at 3402 N. Walton Walker Rd. Complimentary shuttle rides are available to and from the parking lot at the tournament entrance.
Tickets: Single-Day tickets are $25 and good any day Wednesday-Sunday; Weekly Badge that provides access every day Wednesday-Sunday is $50; Single-Day tickets to the Mustang Club range from $125 (Thursday only) to $175 (Friday-Sunday). Mustang Club tickets include access to hospitality suite behind the 18th green and food and beverage provided by Cool River Café. Members of the armed forces (Active Duty, Retirees, Active Reserve, National Guard and DoD civilians) and their accompanying spouse may receive complimentary single-day tickets at will call upon presentation of military ID.
Child Policy: Children 18 years old and younger may accompany their ticketed parent to the tournament free of charge. Parents can receive up to four children's tickets at the Will Call Office at the entrance of the tournament.
Website: www.lpgatexasshootout.com