Golf Science – A Beautiful Mind

Once upon a time there was a young boy who was born in rural California and grew up around a golf pro and his kids. He thus started playing golf at age eight, shagging balls at age 11, being a bag boy a bit later, playing college golf, and finally deciding to become a golf instructor and club fitter. One of those old-fashioned folks who said, "kids pay $99 per month for five days a week of golf", to help youngsters afford golf. This could be the life story of any golf professional across the U.S. in the late 1900s, but into this typical golf coach's existence whizzed in a super-charged "comet". The comet was a young boy who hung around with the slightly older juniors the coach taught and, at age 11 or 12 told the instructor, "I want you to be my coach".
The golf coach is, of course, Mike Schy, who at one stage was the youngest head pro in the country. The 'comet' is his now famous/notorious/ever-fascinating student, Bryson DeChambeau (BDC). Once the comet collided with the coach, they were both in for the joy ride of a lifetime – fascinating years, during which Schy was the young boy's mentor, club fitter, and even caddie. 
Schy was the best mentor a kid could have because his philosophy has always been to be a coach rather than a teacher. Early on he started a program called "Forty Days to Better Golf" during which students improved up to 10 shots in scoring, by signing up for a three- or four-month journey rather than a single lesson. As a follower of Homer Kelley, the developer of The Golfing Machine, Schy loved Kelley's saying, "There are 13 trillion swings, pick one", and has thus always believed that every student of his should, through a tour of guided self-discovery, find out what works best for him or her. He tells his students, "You tell me what you're discovering and then we can talk about it (or not) when you like". This helps all students to feel good about themselves, have confidence in their own processes, and thus get to whatever level they wish to, and have the skills to, get to. This philosophy helped BDC become an independent thinker early on and might give some credence to his oft-repeated statement of "Mike made me the way I am".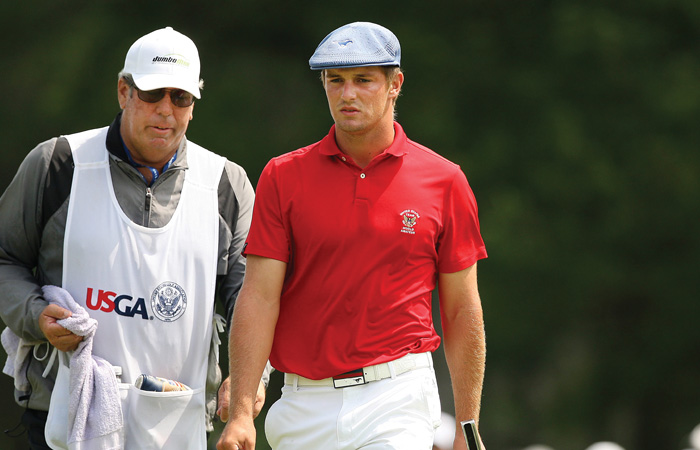 As BDC's main coach over many years, there are still aspects of the game as explained to him by Schy that he loves and will always adhere to. It was Schy who inculcated in BDC the idea of "hard work pays off" – little realizing, perhaps, the extent to which those words would be taken to heart. Concepts from Homer Kelley's ideas still live on. Once Schy gave him a copy of The Golfing Machine, and two days later he had read it all and said, "How come you're not teaching me this", to which Schy replied that he had been, right from the beginning, without applying any overt labels to the concepts. Thus grew BDC's fascination with a single plane swing, as his main goal had always been to simplify his movement. The high hands, palms grip, and short-game circle (being able to precisely know how far a ball would go with any wedge from a backswing length ranging from 6:45 to 11 o' clock), all arose from the Schy era. Schy also came up with the idea of MS1, MS2 and MS3. MS1 being a swing made mainly around the right hip as pivot, with what Kelley described as 'zero shift'; MS2 being a more centered swing; and MS3 being a swing shifting back then through. For the longest time BDC was mostly an MS1 player, once again in his quest to simplify the golf swing. For the same reason BDC avoided cocking the wrists in the backswing for many years. However, since his fascination with hitting the ball further began, he now shifts hard right and then back left again (MS3-esque) and has considerable backswing wrist cock too.
Another concept that Schy says he is old-school about and always drummed in to the BDC of old is the "fairways and greens" idea. Before each tournament he would text that very message to BDC, who would reply back, "absolutely". In more recent times the message changed to "fairways and greens. And a few bombs", as BDC's fascination with hitting the ball as far as possible grew, something that happened the moment he turned pro. 
Both Schy and DeChambeau had a common interest in, and fascination for, fact finding and data collection. That is why perhaps, words like "maybe" and "about" annoy the golfer, and he would prefer knowing everything before making a shot such as: distance to pin; wind speed and direction and number of yards that would change ball distance by; and air density and its effect on ball flight. Could this excessive amount of detail be clouding and complicating the issues, given that after all the information gathered, BDC does not have a good strokes-gained statistic for his short game? Similar, perhaps to a 14-year-old high-school golfer range-finding that a flag is 83.5 yds away while having an approach shot consistency ranging from 60 to 100 yards?
In the past couple of years, as BDC's fascination for long drive has increased, his excessive independence combined with his obsessive-compulsive behavior have led to his trying for hours on end, day or night, to keep hitting balls until satisfied. Schy excuses the tantrums for which BDC is famous, when he lets loose some M…F…s and throws clubs, as being a part of his trying to figure things out and being frustrated when it does not, at the moment, make sense. 
Given his supreme athletic talent (he always had a 'crank ball' he could hit 40 yards past his normal drive), his amazing distance off the tee, and his phenomenal putting skills, why does BDC not win far more often on the PGA Tour? Perhaps it is his very independence and complete belief in his ability to find all the answers that has resulted in many less-than-stellar performances. A bachelor's degree in Physics does not make him a scientist and he has, in recent times, collected many half-baked ideas from several unreliable sources. And the highly stable, simple and reliable swing that the comet and the coach developed? That has morphed into a clutter of too-many-moving-parts that must all be brought together in correct sequence in 1/4th of a second during the downswing, and thus considerable inconsistency.
It is known that each time a comet passes close to the sun it loses some of its material. So while this particular comet is lost to obsessive fitness regimes, quantities of protein shakes and the pursuit of hitting bombs, the coach is right where he began, more popular than ever, with his Toys R Us teaching facility filled with every imaginable gadget, and his wonderful old fashioned beliefs in helping every person whose life he touches "be a good person".