Golf Science – Goal Oriented

The LA Open at the beautiful Wilshire Country Club in the heart of Hollywood is always an event to look forward to. With perfect weather, the amazing color involved in a women's golf event, and most of the top female players in the world in contention, what's not to love about the event, this year played as the Dio Implant LA Open?
It is often said that female players do not have the ability to spend as much on their "team," including the swing coach, fitness coach and physical therapist/chiropractor, so it seemed Important to ask how these players plan their goals for the current season based on the previous season's finish, and which aspects of their games they work on the most – swing technique, short game, course management, mental preparation or fitness.
The responses were many and varied. Many players work more on full-swing technique and their short game/putting, while others focus on their mental health. Most believe they basically know course management, but work on the specifics of the course they are presented with on any given week. They all work on fitness to some extent.
Atthaya Thitikul, in her rookie season on the LPGA as a professional, has already won an event recently and she is just 19 years old. What she practices most is her swing, chipping, putting. Course management, she believes, "Depends on the course when you get there and play it, and you want to know where you want to go." She works on her fitness when she has time, 4 -5 times a week, and can do it by herself – weight training and bands – and does not need a gym.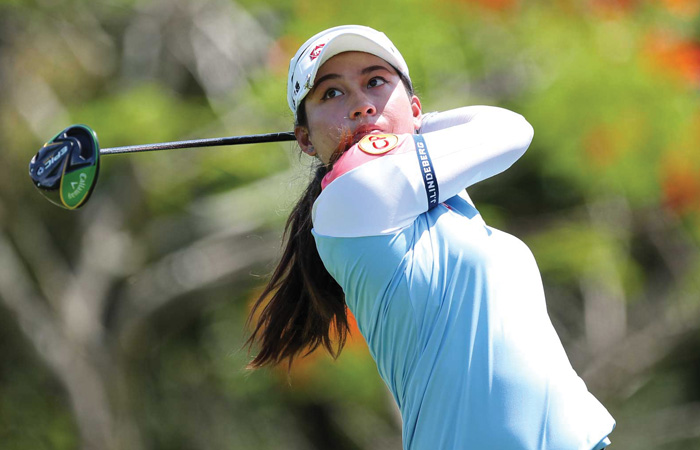 Atthaya Thitikul
Amanda Doherty was on the Epson Tour last year, so in this first season on the LPGA Tour, she just does her best week to week, to see how the chips fall. She works most on her mental game and course management. Two other rookies are Brooke Meadows and Lauren Hartlage.
They both just graduated from college. They both want to have a good season this year. Brooke by being nice to herself and just figuring out what works best for her, and Lauren by working mostly on her short game and putting, especially lag putting.  
Muni He was very happy just to have kept her card last season so she does not have to go back to Q school. Her goal is to be good enough to go on the Tour's Asian swing, not just with a sponsor's exemption. What is she doing to get there? Learning from her experience, from competing every week, more so in terms of course management, not so much technique. Mainly, she says, "I really think I need more time."
Two players who had good seasons last year are Amy Olson and Hannah Greene. Amy would like to finish in the top 20 this season and says that "my biggest thing right now is just my swing, I've been putting really well; I think I made big strides at the end of last year towards that. Traditionally my ball-striking has been my strength, so I feel if I can get that back to the consistency that I expect …" She has lost a little bit of distance and is working on figuring that out currently. Hannah believes she has to play really well in the majors to improve on last year's performance. If she can stay consistent, as she did the previous week, she believes she can achieve that. She works on a little bit of everything, "I think everyone does that," but it's just getting the putt in the hole – it's hard with changing courses, changing grass types, and green complexes are different. "Once I have the putter going, I can be in contention," she says.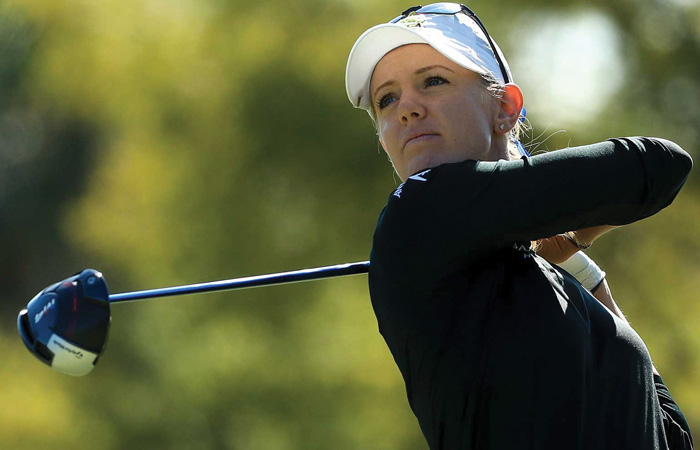 Amy Olson
Jennifer Kupcho also had a great finish in 2021. She believes it is all about just going out and trying to do your best each week. She does not think there's a specific thing to work on. She works on putting a lot, but other than that it's week to week; she's just trying to work on everything. Stephanie Meadow also believes that it's pretty much the same each week, "Just trying to dial down the green speeds, they're all different – last week in Hawaii they were pretty slow. Also, just like any other week, practice the wedges, practice every part of it and be ready to go and have the body right, as well. I think for me this week it's probably course management." She adds that "I know how to play the golf course, but just learning the routes, around the green, chipping." Meadow's team has a routine set up for her that she does after the round, and she also communicates with them whatever she's feeling.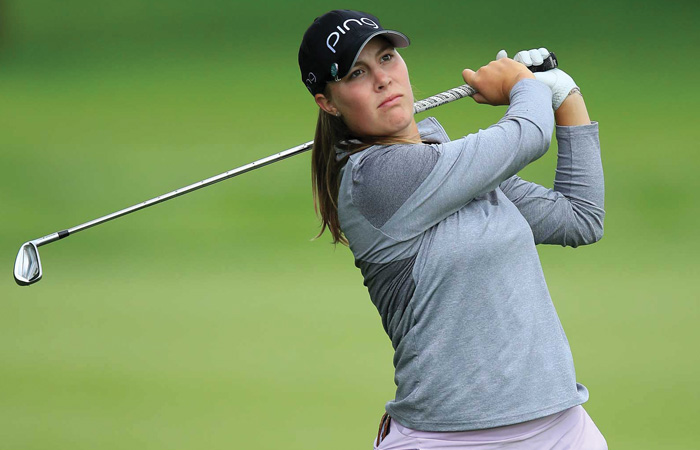 Jennifer Kupcho
Jennifer Chang, with her considerable knowledge of the course (she played on the University of Southern California's team for two years before turning pro) says, "I feel like I should have an advantage, I know this course pretty well. I just have to be super patient, this golf course can be sneaky hard, especially with the bunkers that surround the greens and the wind, so I have to play really smart, put myself in good position off the tees and on the greens." This year she has worked more on her mental game, and just trying not to be too emotional on the golf course. "I try to think too far ahead, so I just want to stay in the moment, and I know that if I can, that will put me in a really good spot."
Some very differing points of view came from Wichanee Meechai, Paula Reto and Julia Molinaro. They all believe it's some aspect of their full swing and/or short game that needs more work. But while Wichanee said she focuses a lot on her short game to get it up and down and her swing to gain more distance, Paula wants to get more greens in regulation and is trying to eliminate her bad habit of "rushing my swing." Molinaro works on the technique of both her swing (to improve direction) and her short game and has course management "pretty dialed in."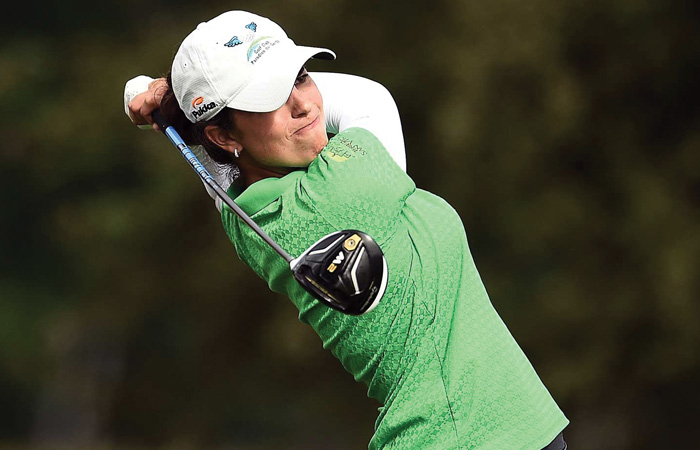 Julia Molinaro
Three LPGA Tour veterans are Christina Kim, local star Lizette Salas and Katherine Kirk, who has great insights into what good golf really requires through her many years of experience.
Kim is "Working on every aspect of my game to sharpen everything up – everything needs to constantly improve." If anything, she has focused more on her mental health recently.
For Salas it is about trying to, "just play happy. It's so cliché and so simple but if you get caught up in, or try to make, the perfect shot or try to make the best score every time, it's gonna be maybe a little difficult." This year she wants to try to finish better than runner-up at a major and try to build up some confidence. She works on all aspects of her game, but right now it is more about fitness, mental health and course management. Kirk believes she needs to work on every aspect of her game to get in contention again and just needs more quality practice during the off weeks. "For me, I try to make full swing and short game equal parts, but I've always struggled a bit more with the full swing, so sometimes that's where I spend a bit more time on." What's wrong with her full swing? "Old habits." Is her miss distance or direction? "Everyone has a two-way miss, there's no such thing as a one way miss – you can either pull it or fade it. It's about tightening your dispersion and getting better ball contact." She adds," Speed doesn't hurt, too, I need to make sure I'm swinging with adequate speed."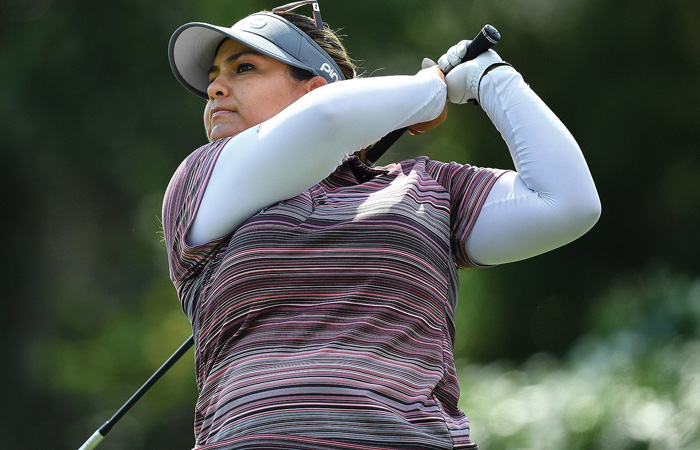 Lizettte Salas
What all these golfers need, basically, given the state of the professional game these days, is more birdies. If that is the case, what all golfers should work on is full swing and putting technique. If swing technique is correct, it should not be difficult to hit most fairways and then most greens for regulation (presuming they have the basic distance a Tour professional requires). Putting technique is essential, too, because the putt is the last opportunity on every hole to either live or die! People are often told to get the speed correct (more important than distance), but without a solid stroke, no amount of practicing for speed-control will help, and inconsistency will prevail. If technique is fine, what would one need course management for? Or any mental strategies to avoid nerves? 
Good results breed confidence. And, perhaps, some basic fitness is adequate without going overboard as some on the PGA Tour tend to do with varying results. It is, folks, all about technique, every time.