Golf Science – Physical Therapy and Golf

To the regular golfer, a Tour player seems like someone from another universe, way beyond their own ability to ever hope to play like. However, it takes an entire team to keep these elite "engines" finely tuned and in shape to play their best golf, week after week.
Tour players each have a big team that may or may not include a swing coach, often a separate short game coach, even a putting coach, a fitness trainer, a sports psychologist, a nutritionist and sometimes even a chef who might travel with them. And, of course, a physical therapist (PT), a chiropractor or a massage therapist. Some of these latter healthcare providers might be directly hired by players, but often they use the very high-level staff provided by the PGA TOUR.
According to Daniel Chelette (PT, DPT, OCS, CSCS, FAAOMPT), the therapy performance center of the PGA TOUR consists of a therapy trailer and a fitness trailer. Jason (Stodelle) and I are PTs and we have three other PTs and a team of chiropractors who work with us. They work for a company that is contracted to the PGA TOUR.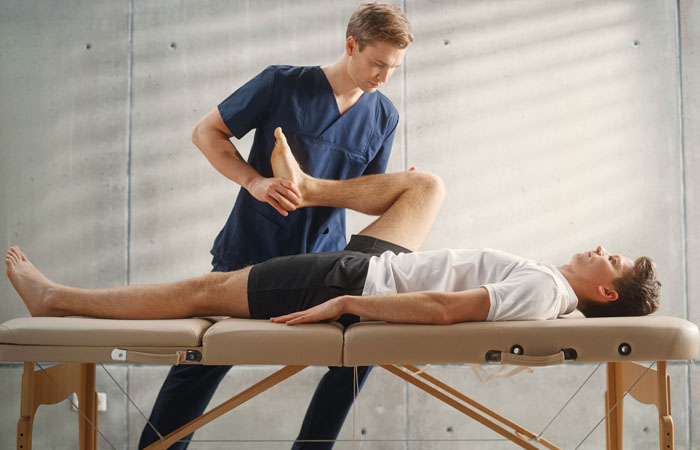 When might a player come into the trailer? They might visit at any point in time, because the trailer is open from sunup to sundown. "Players will come in before a round for us to help them get ready to play; they'll come in after the round to help with recovery," Chelette said. "We'll treat any and all issues that players deal with – things that happen or things they're doing long term, we'll help them manage."
The trailer has all the needed equipment, be it therapy equipment, resistance training, strength and conditioning or recovery equipment. 
To the question of, "Do the players have favorites amongst you?" Chelette laughed and said, in complete seriousness, "The good thing is we're all high-level practitioners. We all have some of the highest qualifications in orthopedic and sports physical therapy and chiropractic training and specific training within golf. So, players have high level trust in all of us."
Jason Stodelle, MSPT, ATC, OCS, added that on any given week there are two PTs, two athletic trainers and one chiropractor present. 
As to how players decide between a chiro and a PT, Chelette explained, "It's really player preference and who's available. We're open to any and all in the field, so we can be busy at times in here. So that's a good thing about us all being high level and highly trained practitioners – players can get top-notch care."
When asked whether they have an evaluation form and go over every joint, Stodelle said that rather than a form, they have a computer system that they use to enter player information into and what they evaluate depends on what a player comes in with. For instance, "If they have a specific problem, we kind of focus on that, but if a player comes in with back pain, for example, we're definitely going to take a look at the hips, thoracic spine, shoulders. The back pain could be the result of restrictions elsewhere or some other issue."
Mike Bhatt, D.C., Cert. MDT, TPI-MP2, is a chiropractor and, moreover, has his practice in Austin, Texas, where many of his patients are golfers. He is, incidentally, the developer of a unique foam roller and author of a book to help children improve posture and breathing. "My duties in the trailer include manual therapy, manipulation, soft tissue mobilization, as well as providing players with corrective exercises and injury-prevention tools," he said.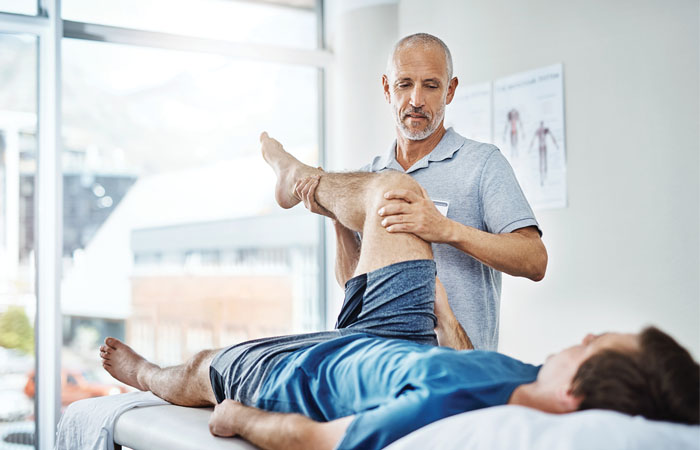 Bhatt uses symmetry screens and information gleaned from his advanced medical practitioner certification from the Titleist Performance Institute. "A large part of my interventions are for acute and chronic pain, as well as prevention of future injuries," he added. 
When asked whether they know the golf swing really well so that they can know how best to help their patients, Stodelle said, "Yes, it's an ongoing learning process," and Bhatt said he has a 9-handicap and plays at the University of Texas Golf Club. 
Do these healthcare experts make swing recommendations to the pros? Said Stodelle, "We try to avoid that mostly because they have their own swing coaches. Sometimes we'll sit down with the player and coach and kind of talk shop that way, but as PTs we generally try to avoid making swing recommendations." 
What movements would these experts suggest to a player with, say, two blown lumbar discs? "Things that are more ergonomically sound for the back." When a player arrives at the trailer, he goes through an evaluation process. We'll figure out what's weak, what's tight, what's short and what's too long, and then build a program for them around that," added Stodelle. 
So, what are the most common injuries seen in the therapy trailer? According to Chelette, the most common injury to golf in general, as well as the one they see the most, is low back discomfort, "We manage that a lot. These guys being professional golfers, they swing a golf club a lot, so we deal with a lot of fatigue, overuse type issues," he said. 
What is the most commonly used treatment modality for all the injury and fitness issues they see? While it is really player dependent, they offer a comprehensive treatment approach, not just massage or adjustments/joint manipulations or just exercise. They would, as Chelette added, do whatever the player needed in order to feel better. Different players respond better to different approaches. "We meet the player where they're at and provide the best treatment – between what they player needs and what the healthcare professional believes is required," he explained. 
Bhatt, who has been with the PGA and PGA Champions TOUR, as well as on the University of Texas Sports Medicine staff for 10 years, believes that the therapy trailer provides an excellent service for the PGA TOUR. 
So the next time you're watching a PGA TOUR event from the comfort of your home, you'll know who some of the people behind the scenes are who help keep the players the "well-oiled machines" they appear, on TV, to be.
Dr. Kiran Kanwar, golf science consultant, is the developer of The Minimalist Golf Swing System – 100% scientific, simple, and specific. She has M.S. in sports science and nutrition, a Ph.D. in biomechanics, an anatomy a degree in Kinesiology and is an LPGA Master Professional. Visit her websites www.YourGolfGuru.com and www.mgs.golf .