Golf Science – The Secret to Longevity

What with all the partitions happening in the world of men's professional golf, aficionados are perhaps left with less motivation to follow any of the tours, as fan loyalty has to be divided across all the platforms. On any given Sunday, a relatively unknown player might heft the trophy that has engraved on it the hallowed names of winners from the past.
The one tour that continually expands on its number of elite participants is the PGA TOUR Champions. Who would not get chills down their spine when hearing the names of iconic golfers like Ernie Els, Jim Furyk, Fred Couples, Padraig Harrington, Bernhard Langer, John Daly and Colin Montgomerie, to name just a few?
This tour made a new stop in March '23 at the historic Mission Hills Country Club in the desert of Southern California. The Galleri Classic had its inaugural event just after heavy rains had made the golf course a verdant green and covered the surrounding mountains with exceptional snow. This halcyon setting was the perfect opportunity to approach some of the participants with a single question – what is the main factor that accounts for your longevity in golf? – by delving into what has made them so successful for years.
David Toms, 56, was the eventual winner of the event. "We've all had issues with backs and knees and elbows, but I think in the end we've all been lucky that we've been able to stay fairly healthy. Whether it's your workout routine, your stretching routine, watching what you eat, drink, I think if you ask the guys out here now I think that's very important to all of us to try to stay fairly healthy and active." He added that none of them would lay around inside on a couch. In fact, he added, "You see us all out here on a rainy day … trying to get some work in." 
While Toms himself has had spinal disc issues, hand surgeries and knee procedures, he laughingly referred to them as, "Nothing major, I haven't had to replace anything." His tip for anyone wanting to stay in golf forever, till the day they drop dead? "Just stay active. Whether it's in golf or any other kind of physical activity. Try to keep your body moving. Stay active when you can." Did he have any swing-related tip that might help golfers have less pain? "Flexibility is the biggest thing at our age – swings get shorter and quicker." He believes older golfers are always trying to get their swings longer, but the body cannot, "It's like a rubber band that won't stretch."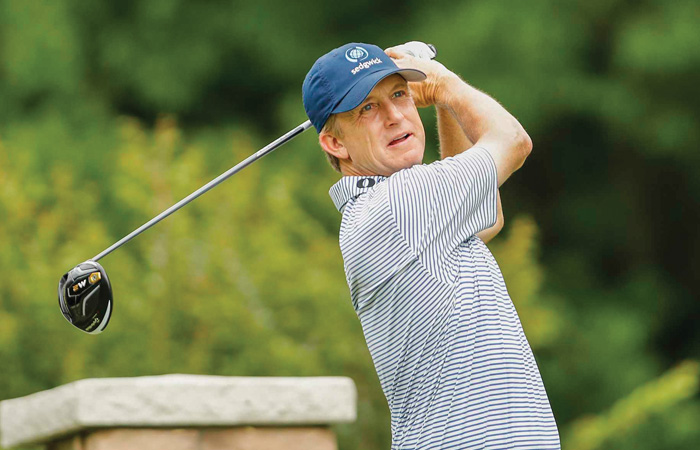 José María Olazábal, who has won two Masters tournaments said, "Not many secrets. Have to keep the level of your game really high, lot of work involved in that, no short-cuts in this game. I have my injuries but, luckily, I have overcome those and have been able to keep on playing. Obviously having a very early good career has helped me to keep playing in the Champions TOUR by just being in the Hall of Fame." With respect to injury, he mentioned the arthritis in his joints and added that medication has helped him to continue to play.
Steve Stricker has won 12 times on the PGA TOUR, and most recently was the hugely successful U.S. captain for the 2021 Ryder Cup. Despite a serious post-Ryder Cup illness, he feels great and is now playing some excellent golf. How is he faring now? "All good. I feel better, I'm about 10 pounds lighter, but that's kind of in a good spot." Was the weight loss harming his game? He replied that it was not and that he was back to full golf form. What accounted for his longevity in golf? "Good question. Just trying to stay healthy – eat healthy, be active, you know we work out a lot. Just trying to keep Father Time away. When I go home, I work out three times a week, just try to stretch a lot. And then on the road, it's kind of all about golf and then stretching." He has had back surgery in 2014, and his tip for an amateur golfer to reduce the risk of back injury is to work out and get stronger. "If I'd known that earlier in my career, I'd probably have done that, just paid more attention to getting stronger – core, lower back, glutes."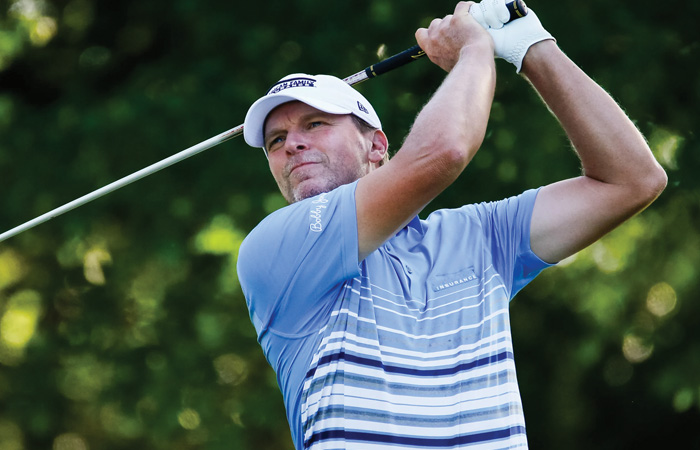 Another famous name from the past is that of Rod Pampling. He believes that his longevity in golf is, "Realistically hereditary, the body's good – fortunate with genetics." He added, "Just taking care of yourself, and it's a lot of stretching. For us in my era, there was not a lot of big weights. There were still weights, but more stretching – it is kind of coming back again to that now. Working hard and making sure of quality not quantity, about a couple of hours each day." 
Sixty-six-year-old Fred Funk is an eight-time PGA TOUR winner. Having heard of his knee replacement some years ago, the appropriate question to start the conversation with seemed, "How has your Stryker knee been?" He replied, "Knee is great actually, I just have other issues." His lower back is his current problem area. "Every day is different, trying to adjust for how tight it is. I've had two operations on it, laminectomy and discectomy. They wanted to fuse the bottom three levels and said you'll never play golf again, and I said I'm not doing it."
 Doug Barron, who had a great performance at the previous week's Hoag Classic, said, "Just work out a lot and eat right and do all the right things to stay healthy." What does he work out on? "Everything. I was in that trailer for an hour and a half this morning. It's a daily routine and it's weights, cardio, flexibility. All. I got stretched, I worked out and I did some cardio. I've been doing the same thing for the five years I've been here." Does he have any aches and pains from golf? "All the time." From which joints? "All of them. Something different hurts every week."
 Someone who has won once on the PGA TOUR and is a popular member of the TOUR Champions is Ken Duke. "For me, you got to eat right and stay healthy and get your rest is the key. If you don't have your health, you can't have a game, you don't have your strength." His tip for golfers hoping to sustain their game for years to come, "Just have fun. There's too much stress in this world as it is, and if you put stress on yourself trying to play golf, it's even more. Have fun, have a good time – that's what I tell every amateur I play with."
Someone who found the longevity question to be an interesting one is Brett Quigley. "For me, it's diet, it's exercise, way of life and the human body is pretty amazing. It can tolerate a lot of abuse, but I try not to abuse mine too much. I'd say my entire life – it's always been important to me. I want to live to 100 and have good health all the way along there so, yes, it's important." Has he had any aches and pains from golf? "I think we all have, if you went up and down the range … I've had two left knee surgeries, one right knee surgery, but I think that's just wear and tear. Some back issues. As far as knees, they're just scopes, nothing dramatic. No replacement, nothing like that." He would suggest to other golfers that they should, "Just keep playing every day. Or get out and walk. You know it's a great game – you and I can go play golf, I can play golf with the best players in the world, and I can play with a 36-handicapper and still have a good time." 
A 2022 TOUR Champions Qualifying School grad, Brian Cooper, when asked what had enabled him to play for as many years, replied, "So far this year has been a little struggle, a little different than I'd expected, but I also feel like early on this year I put a little undue pressure on myself to perform. I had a long talk with myself last week. So that's going to be my process going forward, be a little bit more patient." His self-talk involved telling himself, "Don't try to rush to get the success that you feel you can get. Can't push the issue too hard, coming back from shoulder injury." Having had surgery on both shoulders over the past few years, Cooper is in more of a "one day at a time" situation currently, not focused so much on his many past successes. 
Finally, Kirk Triplett, with three wins on the PGA TOUR, when asked what one thing he believed accounts for his longevity with the game, laughed and asked, "Could it be two things?" He then went on to make some very thoughtful remarks. "The first is curiosity – as the skills decrease, how do I continue to compete, an alternate way, a different path? All the guys I'm playing against – their skills are decreasing, too. We're all in the same boat. We cannot rely on what we relied on 25 years ago. That's one thing. For me personally, I feel like I understood the key parts of what allowed me to be competitive in the first place, which is knowing which shots are important for me. That I have to drive the ball in the fairway, I have to be good from 100 yards in and I have to not waste a stroke. So, a continued commitment to practicing the execution of those three skills has allowed my game to remain consistent. I'm not always looking for a new technique or a new way of doing it." 
It can thus be said that many TOUR Champions players believe in staying healthy – with a good diet and staying active and practicing and playing golf – is the formula to many y