Golf Science – The Ultimate Mind Game

It has often been said that a student is only as good as his teacher. However, it is rare for anyone to actually study how good the teacher truly is. So, it might be of interest to learn more about the man behind much of the success of the current 19th-ranked player on the Official World Golf Rankings. The player is Collin Morikawa, and his instructor is Rick Sessinghaus,  PsyD, PGA.
Sessinghaus grew up in Burbank, California, in a very sports-minded family. Having been introduced to golf at age 12, he quit all his five other sports and began to focus on golf by the age of 16, in some part due to having been injured while a quarterback for his Cal State Northridge college team. His love of golf led him to play professionally for a while after graduating, before deciding to focus on a career as a golf coach. He became a member of the PGA and began his coaching career at Scholl Canyon Golf Course in Glendale, CA., where he worked with all levels of golfers from ages 4 to 70, five days a week.
This is where coach integrity comes in. Not being happy with the results he was getting as a golf coach, with many students not being able to take the skills they learned from him on the driving range to the golf course, he went back to school to acquire an MS and then a PsyD in Applied Sports Psychology. Even from his own days in competitive golf, he had realized there was a missing performance piece that he needed to study further. At the end of his doctoral degree, Sessinghaus realized that focus and emotional regulation affect performance and that there are concrete strategies and interventions that can be used to improve those skills.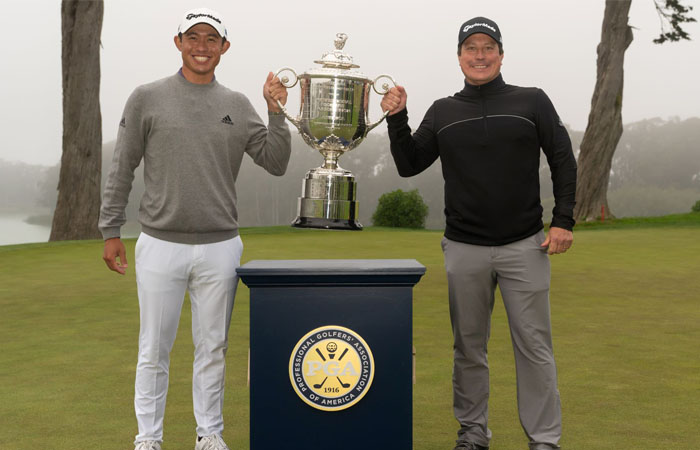 One of his final projects from the doctoral course was the book Golf: The Ultimate Mind Game, which is about the fundamentals of mental performance for all golfers. Subsequently, he has researched and studied how "flow states" are triggered in golfers. These days it is possible to study the brainwaves, neurochemicals and physiological responses that occur during play, and hence, Sessinghaus is now at the leading edge of helping golfers generate performance improvement, through his company called Flow Code Golf Academy. He is able to reverse engineer what it is that leads to optimal performance in a golfer, and what interferes with it in a more accurate manner.
When and how did this expert golf instructor, one of Golf Digest's 50 Best Teachers of America, first meet his star pupil and when could he tell that this junior was headed for greatness? He says, "Collin Morikawa's father walked up to me at Scholl Canyon Golf Course. At the time, Collin was eight years old and already had a very sound swing. I really enjoyed his attitude in lessons and how coachable he was at such an early age. He had very good hand/eye coordination, and I knew when he was 12 years old that he was going to be a special player.
"There are so many physically talented juniors now, but not all can play at a high level," continued Sessinghaus. "The excellent ones have developed the ability to adapt to many different types of courses, have learned to be creative, make the correct decisions, manage their emotions, and focus when the pressure is on. The physical skills of distance control with approach shots are the differential at the highest level. However, many juniors are just chasing distance."
Sessinghaus believes that what set Morikawa apart from other juniors early on was his curiosity to learn and his emotional regulation. He would rarely get frustrated or down on himself.  He coached Morikawa once per week from the age of eight until he left for Cal Berkeley, and the majority of their lessons were done on the golf course learning to think, make decisions and play different shots. He always wanted to get better, and Sessinghaus never had to ask him to practice – he was always disciplined and keen to do the work required to get better. 
As Morikawa got older, he became stronger, and this allowed the two of them to change his ball flight from a draw to his now famous fade. "When he was about 17 and stronger in his glute muscles, we worked on (him) rotating better through the ball instead of his default of sliding the hips. This helped turn his path to the left and he was able to hit fades. His natural pattern has remained intact since college with very minor refinements," says Sessinghaus.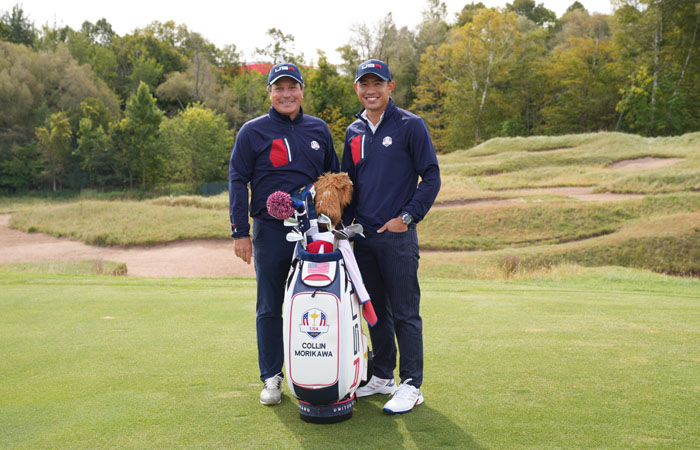 While, for Morikawa, the goals are probably set in stone by now, what's next for his famous and long-time coach? He still coaches and provides playing lessons but has shifted some of his business to an online platform through his website www.FlowCode.golf. There, he is able to take a golfer from a state of fear to a state of flow, in no small part through the use of an electroencephalogram (EEG) device that measures brainwaves and helps Sessinghaus assess mental skills and improve the ones that can help a golfer focus in a calm state. All the information provided is based on the latest neuroscientific evidence, so that what happens in the brain and the body when someone experiences a flow state can be explained in explicit terms.
Don't be surprised if the coach and his famous student both achieve their goals in the very near future.