If you had just one wish, what would you hope your golf swing might allow you to do better? Most PGA Tour pros, of course, would wish for better consistency because they have plenty of everything else – good full-swing distance and trajectory, good short game and good putting. What is consistency? Consistency can be at the shot level in terms of the repeatability, or it can be at the round level, with respect to numbers of fairways or greens in regulation made, on a regular basis.
So, this was the question asked to some of the participants during the 2017 AT&T Byron Nelson: "How consistent are you over a round, or over an entire event?" Brian Stuard, a single-time winner on the PGA Tour, said, "I think it's hard. A round maybe, but a tournament – too hard to do." For him the main keys to consistency are to practice good mechanics and think only of rhythm while playing. As regards to the mechanics, he feels mainly a golfer should have things such as good grip, alignment and posture. For him, personally, the one he thinks about most is having good alignment.
When I asked Graham DeLaet, "How long does your consistency last?" he said, "I'm consistently inconsistent –  that's what's beautiful about my game." He added, "Sometimes you have it, sometimes you don't. That's golf, that's all there is to it."  He also never watches his swing on video nor works with a swing coach.
Sean Kelly was at the Byron Nelson event because he won the Monday Qualifier. When asked what he did to play so well and to qualify he said, "I didn't make a ton of putts but I hit it pretty well and didn't make three putts. I made no mistakes, got a couple of good bounces, and got no bogeys, lots of fairways, lots of greens and also "got up and down" a couple of times. I hit it really straight." On any typical day, he says, "I just focus on fundamentals, try to stay balanced and make little adjustments here and there on the range before a round. Balance for me is just staying grounded and getting ground pressure. I also have a game plan – mapping it out beforehand and sticking with the plan."
Tony Finau, also a one-time PGA Tour winner, is another good golfer. He said, "Consistency varies sometimes with your thoughts. I play really well and consistently when I'm thinking the same thing, meaning I have one thought on my swing and one thought on my chipping and one thought on my putting." He then added, "When thoughts can be consistent, the game can be consistent." When asked, "What stops you from having that same thought every time?" he replied, "Sometimes that one thought won't work so one starts changing it up thinking one needs something else, and a couple of weeks down the road one is back to that same thought."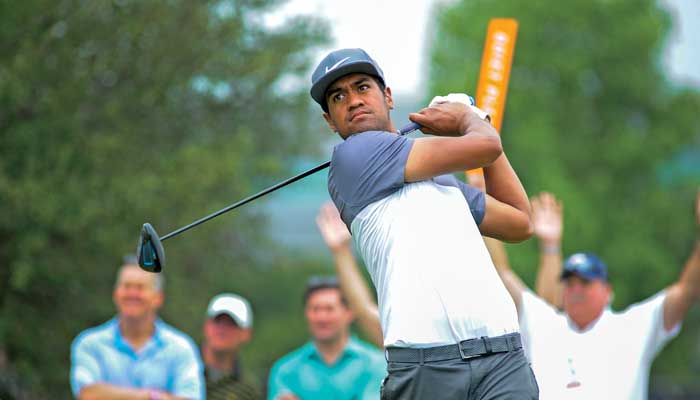 Stuart Deane is the golf coach at the University of Texas at Arlington, and playing in the Byron Nelson and other PGA Tour events is something he's managed to do over the years while still being a college coach. He said, "Having played and taught, I should be able to keep it going – set up, grip, alignment fundamentals, those affect the golf swing greatly. Make sure all your bits and pieces are in the right place and away you go."
It was disappointing to note that of all those interviewed, only Tony Finau made the cut. So much for all these players' beliefs in their consistency. What scientific principles might these golfers use to be more consistent, and basically hit more fairways and greens in regulation? A great deal of golf research recently has focused on how the brain controls movement. With enough practice the brain can "self organize" so as to allow a skilled golfer to play any given shot well, despite the conditions ("constraints") of any particular shot. Research shows that skilled golfers have very variable backswings, but still manage to reduce movement variability as the club approaches the ball, so that every impact is very similar to all others.
Regardless of what laboratory-based research might say, we know that even the best golfers in the world are unable to sustain performance over any length of time, and, as many of them said when interviewed, they are really not consistent at all. The issue is that the golf swing consists of a moving body trying to present moving arms to a tiny stationary ball way down on the ground. The situation is similar to a polo player sitting on a wildly bucking bronco and expecting to contact a stationary polo ball, AND doing it well every time. Too many moving parts will always result in consistency issues, and golfers of all skill levels should be looking for a golf swing movement which stabilizes the body while letting the arms do whatever they will – to an extent!