Through nine decades of his incredible golfing life, Houston's Jack Burke, Jr., has lived and embraced almost every instance of the amateur and professional golf experience: from a hard-working caddy at Houston's River Oaks Country Club, who shot dice and hauled clubs with the other caddies while his dad served as head pro, to a golf professional himself at the age of 17 in Galveston, to a 16-time PGA Tour winner, two-time major golf championship winner, Ryder Cup player, captain and assistant. Not to mention, he's a Texas golf architect, club founder and builder, teacher, administrator, promoter and titan.
Now, at age 94, he has entered one of his final golfing stations of life – that of one of golf's remaining living legends. Along with Dallas' Lee Trevino, Burke is one of the Lone Star state's last remaining links to when you played the game with substandard equipment and meager transportation because you loved it, you were good at it or you just didn't know anything else to do.
Or as Burke would say, all three in his case.
A Fort Worth native who has lived in Houston almost his entire life, Burke grew up around the dinner table at River Oaks Country Club. The elder Burke taught and entertained an always-changing cast of Lone Star golfing greats, from Byron Nelson and Harvey Penick to Ben Hogan and Texas golf founder John Bredemus, with the younger Burke an eager witness.
In 1956, he withstood 50 mile-per-hour winds at Augusta National Golf Club to rally from eight shots back in the final day and capture the Masters title over Ken Venturi. It was his first major championship, and he validated it by also winning the PGA Championship later that year over Ted Knoll at Blue Hill Golf Club in Boston.
His Houston course, Champions Golf Club, soon lived up to its name, becoming the only course in Texas to have hosted a U.S. Open (1969), Ryder Cup (1967), U.S. Amateur (1994), PGA Tour Houston Open (1966-71), a Tour Championship (five times) and will host the U.S. Women's Open in 2020.
Its members, which still must have approval by Burke before getting in, have more than 200 single-figure handicappers and he doesn't consider anyone with a handicap higher than 15.
Never one to hide his feelings about the game he loves and has spent his life in, Burke recently spent more than an hour talking with AVIDGOLFER's Art Stricklin in his memento-covered office at Champions.
Enjoy hearing from one of golf's last living legends.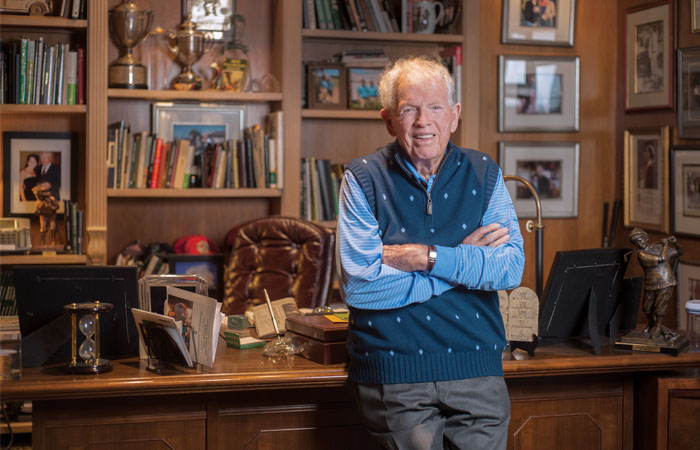 AVIDGOLFER: Mr. Burke, you're in your ninth decade of golf. Why do you think your love for the game and the game itself has continued to grow over the years?
JACK BURKE, Jr: I don't know anything but golf. That's what I've done my entire life. But I think sometimes people forget when you're a golf pro that's just short for promoter; we are here to promote the game. That's all I wanted to do.
AG: People love to talk about a secret to golf. Have you found any secrets to the game in your decades around it?
JB: Golf has always been governed by rules and people want rules in their life. God gave us 10, and the USGA gave us 34; that's all the rules you need. If you break the rules in golf, it's just a different kind of game.
AG: It's been said that most people are a product of their environment. How did growing up with your father, a golf pro at prestigious River Oaks Country Club in Houston, affect you?
JB: My dad came down here to River Oaks as a golf pro from Philadelphia, and we were facing first and second generation golf clubs and golfers in Texas. They knew banking and oil and manufacturing, but not golf. My dad got Donald Ross to go down to River Oaks to design a course.
AG: Did being around your dad and all the famous golfers in the 1920s and '30s make you want to be part of the game yourself?
JB: My dad was a golf teacher primarily and taught all kinds of players. I was shooting dice with the caddies and had to work with all kinds of people; those who threw their clubs and I had to go pick them up, and those who knew the game.
AG: When did you start to think about playing golf for a living?
JB: I was in the Marines during World War II in 1942 and then I left in 1946 to come back to Houston. I worked there and thought I might have a chance to play on the Tour, but didn't have any money. There was a man at River Oaks, Oscar Collins, who offered to back me. He handed me a blank check which I just made out for $2,500 to get started on the Tour. I wasn't having any success to start with and one night I went to Craig Wood's room in Harwood, NJ. He worked on my putting there and really helped me with my game.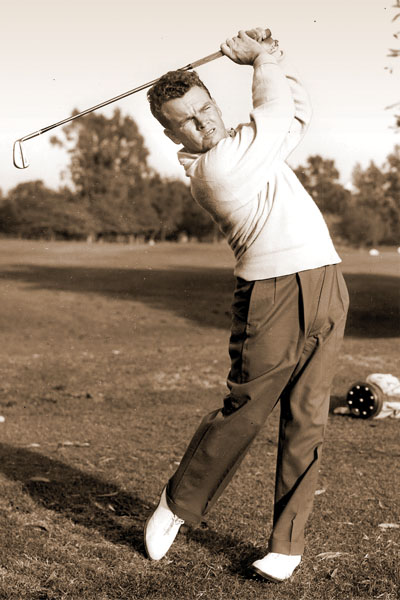 AG: When did you feel you could be a success professionally?
JB: I had to get a job on the East Coast where I was playing and I worked at Winged Foot Golf Club and Metropolis Golf Club. My first tournament when I went up there was the Metropolitan Open and then I came down here and won in (1950) Harlington, TX which was considered an official PGA Tour event. I won four times in a row in what we called the Winter Tour in 1952 and that's the first time I really felt I could play this game for a living.
AG: What about your success at the Masters Golf Tournament and later the PGA Championship?
JB: I finished second in the Masters in 1952 and that was a big thrill to me because my dad knew (co-founders) Bobby Jones and Clifford Roberts and they were nice to me because of him. You know the Masters went bankrupt three times when it started in the Depression and during the War, and Clifford bailed them out every time. Back then, the Masters was like a pro-am because of Bobby Jones, and people just wanted to come to see him. I won $6,000 for the (1956) Masters Victory and $9,000 for the PGA in 1956 and that (PGA) check bounced. They wrote me a damn hot check and had to make it up to me.
AG: I think most people know the money golfers made back then is tiny compared to today. Is that why you went into teaching?
JB: I had to work for a living when I wasn't playing golf because of the money. I taught players there is a certain recklessness to be good, but don't bet your whole wallet on every shot; leave a little something behind. When I was in the Marines, I became a combat instructor in Camp Pendleton in California and taught marines how to throw grenades. You had to be careful, but aggressive. The same is true for golf.
AG: Your most lasting legacy to golf will always be Champions Golf Club in Houston. How did that come about?
JB: In the late 1950s, Jimmy Demaret, who worked for my dad, and I were going to buy land to build a new golf course. We looked at some land on the Katy Freeway and we were going to do it, but the lady who owned the land went crazy insane and that never worked out, so we bought it here (FM 1960 area) instead. When you have your own course, you're paying all the bills and that will keep you active for sure. When you're running the check book, it will keep you awake no matter what age you are. We have never assessed the members here. Not one cent. Some clubs here in town are in debt up to their eyeballs, but we are not. You're crazy if you carry debt.
AG: What makes Champions GC different?
JB: At most places, they're marketing the game to death. They're concentrating on other things that are not nearly as important as the game itself. If you've got a club, but the main focus is food and a fancy fitness center and swimming and tennis, you're losing your mind. I don't get one inch from the game myself. We want golfers who are serious about the game and families who come with them. If you've got a stag club, I think you're losing your mind.
AG: You are probably most tied to the Ryder Cup having played in them, been the Ryder Cup Captain, the assistant to your good friend Hal Sutton and have hosted the only Ryder Cup every played in Texas. What are your thoughts on our relative lack of success over the last 20 years?
JB: Now, I don't think it's fun being a captain. They're worrying about the captain way too far ahead of time and they're announcing the captain way too soon. You shouldn't bother him with clothes or insignificant things like that other than the play. The PGA should deal with the clothes and the ceremonies. Give them a sweater and two pairs of pants and let's go. They allowed my wife a $10,000 credit for a dress for a dinner when I was captain, so I said, this is certainly a different PGA now. I tried to tell Hal Sutton not to pair Tiger Woods and Phil Mickelson together (at Oakland Hills), but it was like talking to General Patton. It didn't work.
AG: How was the Ryder Cup when it came to Champions in 1967?
JB: The opening dinner at the Shamrock Hilton downtown was the most expensive thing, and the sponsors helped pay for that. The Houston Golf Association was with us on the Ryder Cup, but it wasn't really a big deal back then. I just did it because it was good for Texas golf. Well, we just left the gates open and hoped people would show up; that tells you something. Saturday was right in the middle of college football season here and I think Texas was playing Rice or Arkansas, so we didn't have many people at the matches.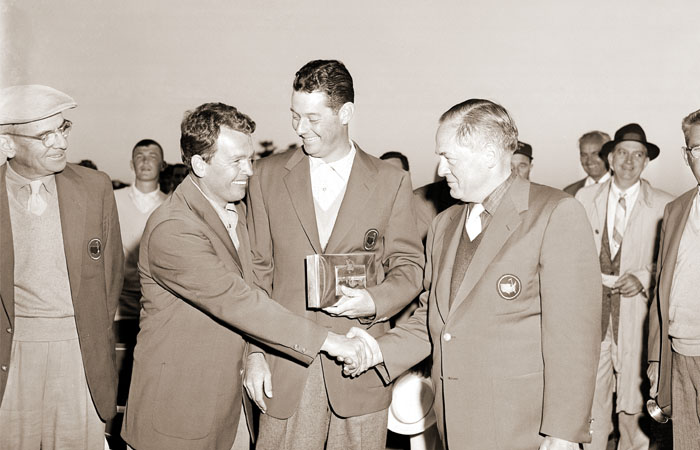 AG: I want to ask you about some of the great golfers you have known. What about Ben Hogan?
JB: He came from the caddy ranks, so you knew he was a hard worker. He dressed impeccably and was always precise. If he said 6:15 p.m. for dinner, he didn't mean 6:18.
AG: What about Byron Nelson?
JB: He liked farming as much as he liked golf, and he used that to motivate him on the golf course.
AG: Your great friend Jimmy Demaret?
JB: He loved people and he loved to be around them and he might have a drink or two.
AG: Arnold Palmer?
JB: He had a good background with his father as the superintendent and he was a great amateur and a great pro. He always would do what he said he would do with everybody.
AG: Jack Nicklaus?
JB: I played with Jack at Cypress Creek one time in the 1960s and I told him he was raising his right heel too much when he swung. Jack said thank you very much and always credited me for advancing his career. I don't know if I really did, but he was nice to say that.
AG: Finally, what about Tiger Woods?
JB: I never saw him play until he came to Champions for the Tour Championship one year, and I had no idea he was that good. Still, I saw Tiger was taking lessons, not giving lessons. It's hard to stay at the top of the mountain. Jordan Spieth got halfway up the mountain, but then fell back; it's got to be really lonely at the top.
AG: You have been at the top for a very long time. Thanks for your time and help.