Mercedes-Benz E400 4MATIC Cabriolet — Wonder Wheels

There's something about ripping around town in a ragtop. It's liberating, exhilarating and beams you to refreshing locales without the necessary travel. I mind-melded immediately from North Texas to sunny SoCal as the sun warmed my face and the energizing breeze gently caressed around the open cabin. And new wonderful technology allows you needn't suffer a windblown frigid shiver—even with temps south of 50 degrees.
The 2018 Mercedes-Benz E400 4MATIC Cabriolet is a wonder of sexiness, sportiness, technology, luxury, attention to detail and, yes, even practicality! It looks simply marvelous and the retractable cloth roof is a wonder of library-quiet sound insulation and ease of use. It's the splendid kind of convertible that's always in season. I indeed wept some silent tears when returning the keys.
SKIN
The exterior is an eye-catching combo of sporty gracefulness. The tester's gorgeous Lunar Blue Metallic paint (I'd love a suit in that color) and Dark Blue Soft Top drew compliments everywhere I went. The hood is long and formidable with pronounced ridges to break up the smooth metal. Twin arched brow running lights adorn the front and crystal LED taillights look magnificent at night. In fact, those headlights perform a cool ritual when turned on that you must see to appreciate. I considered the light show my reward for driving to the gym in the early morning darkness.
I recommend the $2,500 AMG Line cosmetic package including the aggressive grille, pronounced front air scoop vents, sports fascia and optional $500 19-inch AMG Twin 5-Spoke rims to complete the bolder appearance. Amazingly, the E400 Cab looks equally divine whether the top is up or down—not an easy design feat.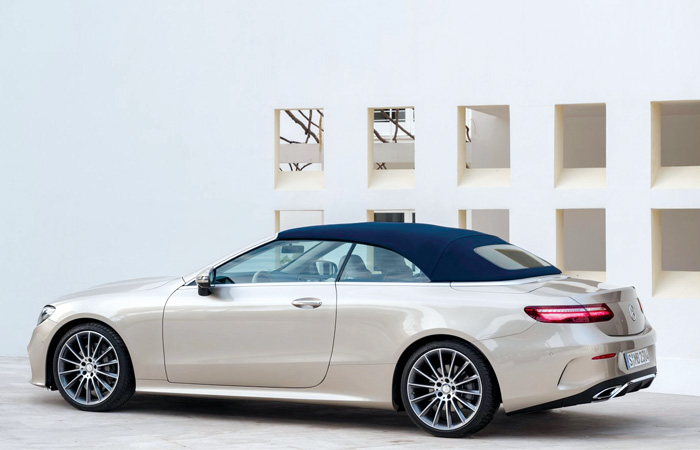 PERFORMANCE
Convertibles should insinuate and deliver an escape from reality with sportiness and freedom. The E400 4MATIC Cabriolet fits the bill oozing sensuality, worthy pickup and emitting a lovely sports exhaust. Throw it in Sport Mode for plenty of pep via the 3.0 L Biturbo 6-cylinder (329 hp and 354 lb-ft of torque). It goes 0-60 in 5.3 seconds, but it feels much quicker. A superb new nine-speed transmission shifts flawlessly and in Sport and Sport + modes downshifts admirably to further reward the senses.
You can individually select adjustments for the air suspension, steering, powertrain and throttle response via the five driving modes (ECO, Individual, Comfort, Sport and Sport +). Cruise in luxury or unleash the fun utilizing the sport paddles in full manual shift mode. Of course, I opted to remain in Sport for the custom settings and excellent handling. Air Body Control automatically adjusts to absorb imperfect road issues and lifts or lowers the car depending on the circumstances. The 4MATIC all-wheel drive adds confidence in inclement weather.
Active Brake Assist technology superbly stops in short order. Gas mileage reaches a decent 20/26/22 during mostly spirited driving and I squeezed 28 mpg on the highway.
CABIN
This is a cocoon surrounding you in sumptuous splendor. There are so many thoughtful details to enjoy. High-end materials are abundant throughout and the layout is superb.
The Saddle Brown/Black heated and cooled contrast-stitched seats are to die for (how about sun-reflective leather!). Side bolsters automatically squeeze and support when you hit a tight curve. And, rear passenger room is actually fairly generous. The doors (like any upscale two-door coupe) are heavy and long so use careful attention when opening on windy days.
The typical Mercedes-Benz gearshift stalk is on the steering column. Some find that annoying but I find its genius as it frees up console space and most use paddle shifters these days anyway.
An appealing $1,300 option is the designo Magnolia Flowing Lines Wood dash trim giving off a cool nautical look. Unique turbine air vents quickly heat or cool the cabin. Visibility is obviously incredible with the top down but also decent when not going topless. Soft close doors add to the extravagant experience in addition to a variety of fragrances like Wood or Pink Pepper notes emitting from the air vents. Programmable ambient lighting allows you to set virtually any mood.
A terrific flat-bottom multifunction sport steering wheel is tactile perfect in thickness and grip. You can opt to control the 12.3-inch Infotainment screen via COMAND knob or touchpad (I chose the knob nearly all the time). My tester had the superlative Burmester Surround System that worked effortlessly barreling down the highway with the top down. You can also program three cool instrumentation displays. The crystal clear Heads Up display might be one of best on the market.
The real hero is the AIRSCARF heating vent behind your neck that warms while you drive with the top down in cooler weather. Tooling around in sub-50 degrees was hardly a chilling experience. It's one of those thoughtful touches that remind you how terrific the E400 is.
And, going topless takes merely 20 seconds—even at 30 mph. A handy AIRCAP power deflector adeptly decreases the wind buffeting so you can chat comfortably and even take calls! The soft top has 10 layers of supreme insulation that keeps the cabin very quiet. Plus, there's enough cargo space in the trunk to horizontally house a full golf bag (unheard of for most convertibles with the top down) and more with the rear seats folded down.
Don't forget the attentive Magic Vision Control System where the wipers emit cleaning fluid only on the downward swipe movement to prevent overspray into the open cabin. Said wipers also heat in low temps. Excellent.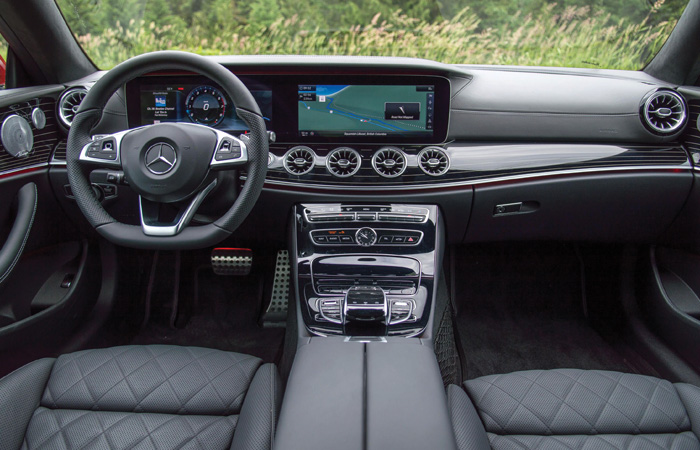 TECH TOYS
Of course, mind-boggling technology and safety measures are at your disposal. A plethora of presets across satellite and terrestrial radio formats are available but you cannot mix formats on one preset page. Bluetooth voice transmission is impressive as well.
You'll appreciate the latest reassuring safety features. The E400 4MATIC will gently remind you to stay in your lane, constantly scans traffic up to 1,600 feet sensing traffic patterns to help prevent front collisions, brace you for a rear-ender, and PRE-SAFE brake with Pedestrian Recognition. The radar-enabled Active Distance Assist DISTRONIC keeps you safely behind cars ahead.
The 2018 Mercedes-Benz E400 4MATIC Cabriolet is a superb combo of performance, luxury and thoughtful appointments targeting those who desire the liberating feel of gentle breezes in their hair while barreling down the highway or cruising down Main Street. It's another winner for a brand that continues to successfully push the envelope.
Test-drive the 2018 Mercedes-Benz E400 4MATIC Cabriolet at Park Place Motorcars in Dallas, Grapevine, Fort Worth, and Arlington, Mercedes-Benz of Plano and Mercedes-Benz of McKinney.
SCORECARD
Golf bags: 2 with one in the trunk
Curbside appeal: Attracts constant approving glances
0-60: 5.3 seconds
Gas mileage: 20/22/22; Observed 28 on highway
Must-haves: AMG line, Air Body Control suspension
Warranty: 4 years/50,000 miles
Base price: $68,800
Price as tested: $87,415
Who buys it? Those who desire sporty, luxury ride while enjoying sun Finish line: Another winner from a brand that continues delivering quality and pizazz