Scene and Be Seen – Fish & Fizz

ROYAL FARE
A taste of England's most iconic dish deep in the heart of Texas
BY LOGAN HOCUTT
Nestled into Promenade Center in Richardson, a block away from Richardson High School comes Nick Barclay's newest restaurant, Fish & Fizz. Nick Barclay originally moved to the metroplex in 1983 from his hometown of Leicester, located in the midlands of England. Nick worked in the metroplex, owning the well-known Barclay's restaurant, a namesake spot that most of you may remember with their modern Euro-British menu. In 2000 Nick closed the doors of his Barclay's restaurant and moved back to England. With his wife Kelli and three children, they settled in Cornwall, a coastal city located in the southwestern region of England. It is in Cornwall where they owned and operated a boutique hotel for 15 years before deciding to move back to the states, much to his wife's pleasure, and for their three kids to be able to attend high school in the United States.
Fish & Fizz is born out of Nick's love for his homeland and his English heritage. From the moment you walk through the doors, it feels like you are enjoying a holiday on the coast in Cornwall. Fish & Fizz serves as the only true English eatery in the area. Yes, you can get fish and chips at your local sports bar or pub, but the quality of Fish & Fizz's menu is unrivaled when it comes to English dining.
Fish & Fizz places emphasis on responsibly sourced Atlantic Seafood, as well as local food and beverage companies to supply the ingredients for his restaurant. Dallas businesses such as Deep Cuts Butchers, Proper British Baking Company, and Oak Cliff Beverage Company provide their services for Fish & Fizz. While Richardson's own Sweet Firefly Ice Cream Makers, and Four Bullets Brewery also contribute to the restaurant's menu.
When you first walk in the doors of Fish & Fizz it is as if you have travelled across the pond to the coastal getaways in southwest England. There is a bar as you walk in, if you would rather grab a table, then you take a left and follow a line to the counter where you can place your order. The walls are adorned with English, and seaside keepsakes to give it that beach house feel. The best seats in the house are the three beach hut booths they had built for the restaurant. These cozy booths make it feel as if you have just walked in from the seashores of Cornwall.
With a name like Fish & Fizz, there are two parts to the equation with the fizz being equally as important as the fish. There are six bubblies to choose from: two from Italy, two from France, and lastly two from England. The English bubblies are from Camel Valley, a vineyard located in Cornwall, England. Camel Valley is the only English vineyard with a royal warrant (meaning that the Royal family endorses the product) and was the champagne of choice for the Royal Wedding. A bottle of the Brut will cost you $80, but is also available by the glass.
There are also plenty of white, rose, and red wines to choose from if you would rather go that route. The most Impressive beverages are the draught beers from Four Bullets brewery located in Richardson. They feature two English style ales, a west coast pale ale, and a blonde ale. If you aren't in the mood for craft brews, then Fish & Fizz also offers bottled beers and ciders from England, such as Newcastle, Boddingtons, Bass Ale and Strongbow Cider. Guinness, Stella Artois, and Austin East Dry Cider from Austin are also available.
For those of you who are not in the mood for an alcoholic beverage, or if you are with your kids, there is Cornish tea, as well as sodas from Richardson's own Oak Cliff Beverage Company that feature natural cane sugar, as opposed to artificial sweeteners that are present in mainstream sodas.
The heart of Fish & Fizz is obviously the fish. There are plenty of traditional English food options to choose from, but Fish & Fizz says that about 90% of their orders are a variation of fish.
For starters you can choose from 6 appetizers ranging from a salad, to a chicken liver parfait. All are highly recommended, and you cannot go wrong with any of these appetizer choices.
When I first go to a new restaurant, like most people I am always drawn to their staple dish. For Fish & Fizz that dish would be the House Favorite Fish & Chips. This is their best-selling item on the menu, and it is for good reason. The house favorite fish and chips runs you $14 for the dinner portion, and $10 for lunch. make sure you add a glass of fizz to compliment the entree.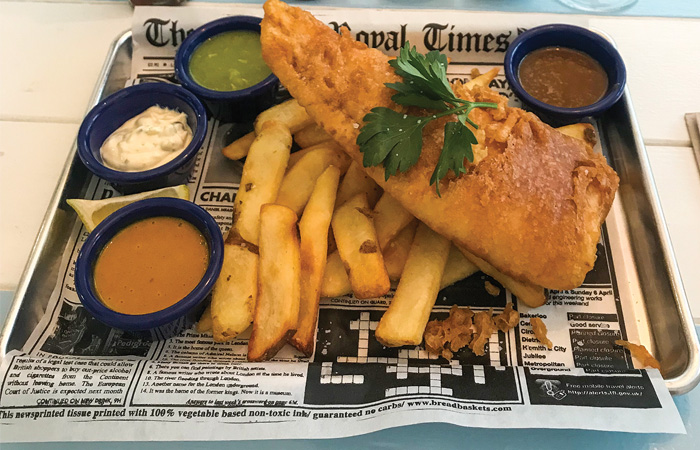 The fish and chips did not disappoint at all.  The breading has great flavor that is unique to Fish & Fizz, a secret recipe that Nick says "If I told you what was in it, I'd have to kill ya". The Atlantic Cod is as fresh as it is here, as if you were just coming in from the English Channel. At first bite you instantly fall in love with your meal, but to ensure that you get that authentic fish & chips feel you have to make sure to squeeze a little lemon juice, some Cornish sea salt, and of course some Sarson's malt vinegar. Dip that combination in tartar sauce to allow for a full flavor experience that enhances your dining experience.
If you're looking to add some more flavor to your fish & chips, be sure to order a couple of the English sides to make it even more authentic. I ordered the mushy peas, gravy, and chip shop curry sauce. Nick claims that due to the large Indian population in the midland cities of his native Leicester, and Birmingham that the curry is as good as it gets. Fish & Fizz definitely has mastered the curry recipe as well as the English delicacies on the menu. Much like the curry, the English gravy is great for dipping your chips in to add a robust flavor to the meal. The mushy peas are first-class, as they have a very distinct taste that compliments the fish & chips extremely well. Overall the fish & chips is a first-class meal that not only is reasonably priced, but also tastes great, and leaves you the perfect fullness, with room of course for dessert.
If you are able to save room for dessert, be sure to order the Cornish Cream Tea ice cream bowl. Available in one, two, or three scoops this is a perfect way to top off your dining experience at Fish & Fizz. This ice cream is a staple of the Cornwall region of England, and features Dallas' own Sweet Firefly ice cream.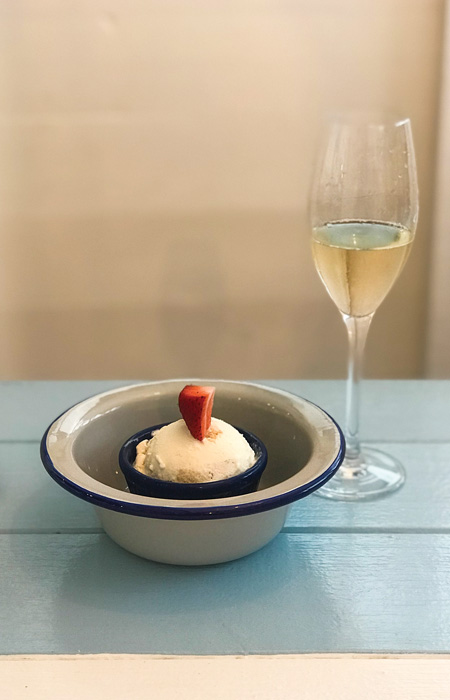 Overall Fish & Fizz is a fun and unique experience that is suitable for all ages. As the only real authentic fish & chips restaurant in the area, it is refreshing to walk in and feel like you are in the south of England. Great drink selections, and impeccable cuisine makes Fish & Fizz a place that customers will return to time and time again and always leave satisfied.