Scene and Be Seen – Mamasan House of Poké

Uptown Dallas is always at the forefront for trendy dining, and with the recent emphasis being placed on clean fresh eating, multiple spots have opened up in the last several years for just that. Along a stretch of Fitzhugh, just a short drive from SMU, Klyde Warren Park, and Lower Greenville, sits Mamasan House of Poké, which is one of the latest spots for quick, clean eating in the big city.
The structure itself is one of the most unique in the area. A once drive-thru bank, the building sat empty for a number of years before a group of investors hatched the idea of a poké house. The interior is modern and clean. A large patio outside (which is also dog friendly) makes this a great spot to have a few drinks and some lunch or dinner. A fire pit and large misting fans will help keep the temperature comfortable no matter the weather.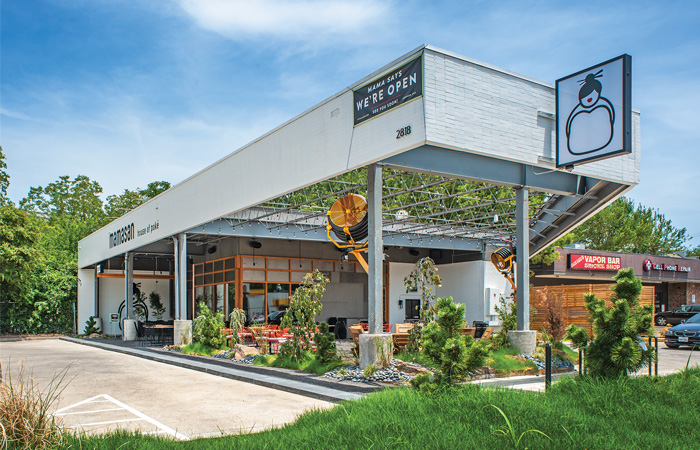 If you're not familiar with poké, it means "to slice or cut" in Hawaiian and refers to chunks of raw, marinated fish — often tuna — which is then placed over rice, topped with vegetables and a variety of sauces. However, there is a slight difference at Mamasan. At most of the other poké restaurants that have popped up in the area, the patrons select additional toppings that go with the fish, at Mamasan, they have taken the guess work out of the equation and have given the customer a set menu, which is hand crafted by a team of chefs that take your traditional poké to another stratosphere.
More often than not, the spotlight with our reviews is placed squarely on the food itself, but at Mamasan, their drink selection warrants mentioning. If you're part of the power lunch crowd, then you're probably not looking to have three beers or any sake at lunch, so in this case, you have several flavored teas to select from. Traditional Asian Jasmine green tea, cherry infused tea, a Hibiscus berry version, and even a sweet tea, because hey… this is still Texas. In addition, there is a Yuzu lemonade that is downright spectacular. Bright and refreshing. If you're looking to really take your tea to the next level, mix some of the Texas sweet tea with some of the Yuzu lemonade and create the most delicious Arnold Palmer you've ever had.
If you're at Mamasan for a nice dinner, or possibly a weekend lunch, then some adult beverages may be in the cards. If it's a libation you crave, then they have you covered there as well. A selection of local craft beers, Joto One Cup Sake, and wines are available. But the real star of the show is the house special frozen cocktail. This yet-to-be-named drink (head to Mamasan's social media to drop them a line and help them name it) is a summertime must. Akin to a Pina Colada, this cocktail features rum, vodka, ginger, pineapple juice, coconut milk, Pina Colada mix and Orgeat syrup to make a one of a kind drink that will give you the best kind of brain freeze. And believe me, these bad-boys have some freight, so don't say I didn't warn you.
It's very cliché to use the term fresh when describing food these days, but sometimes it's the simplest adjective to use. In this case, the food is not only fresh, it's downright delicious. If you're looking for something to split before your meal arrives, try the tempura battered green beans or the Ahi Poké Nachos. The nachos use crispy wonton chips, avocado, a green onion cilantro pesto, Shishito peppers, and watermelon radish for some crunch. Ahi tuna is then loaded on top and the dish is drizzled with a rich spicy mayo. A perfect appetizer to split, or order one to yourself and make it an entrée. The tuna and velvety avocado work great together, and the wonton chips won't get soggy like a traditional tex-mex chip. Great crunch, and the spicy mayo adds another layer of flavor. Get a little bit of everything on a chip and be prepared for a fireworks display of flavors to awaken your palate. For your entrée, Mamasan offers you a pair of options for everything they feature on the menu. You can either select the roll option, which comes with nori and white rice, or the bowl option. Each bowl comes with brown rice, adzuki beans, Asian style greens, quinoa, black sesame seeds, and a drizzle of ginger dressing.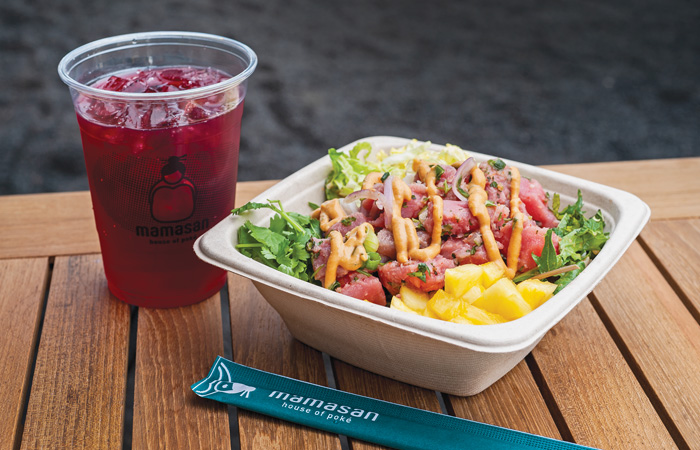 There are 5 seafood options, three of which are raw. The Ahi Tuna, the Salmon, and the Yellowfin. We sampled the Yellow Fin, which comes with pineapple, Napa Cabbage, peanut sauce, and mint and cilantro for some additional earthy freshness. The Yellow Fin was beautifully prepared, chilled, very fresh. If you don't do the raw stuff, then try the Shrimp Tempura or the California crab version. The crab is just as bright and delicious without the raw component.
The second item we were presented with was the Kula Pork. This one was brought to us in roll form. The shredded pork was tender and moist, rolled in nori and white rice with Shiitakes, Arugula, Watermelon Radish, Pineapple, Green Onion Cilantro Pesto, Cashews. The underrated hero of this roll were the cashews. The additional crunch made the roll texturally interesting, and the pineapple added some additional sweet that superbly complimented the pork. There are also a pair of chicken options, the Karaage and the Katsu, and two beef options as well, a Teppanyaki short rib and a BBQ skirt steak.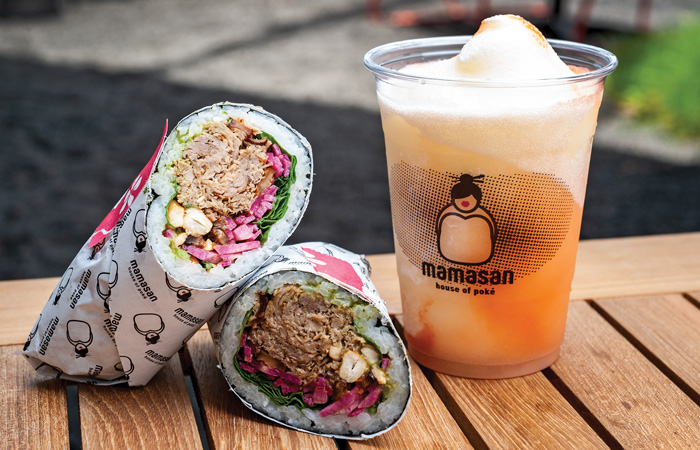 If you're not a meat eater, don't fret, there are a couple of vegetarian options as well. The Ginger Miso, Yam and Eggplant, or the Vindaloo Jackfruit options will keep you coming back for more.
Many may think that Poké Bowls and restaurants are just another hip trend that fill fizzle and become obsolete as the marketplace becomes flooded with options. However, Mamasan House of Poké has something that you can't find anywhere else. It's a unique dining experience, at a price point that should earn them repeat customers. Great, fresh food, great signature drinks, and a fabulous Uptown atmosphere. Sounds like a winner to me.