Scene and Be Seen – Marty B's

Just a stone's throw away from Lantana Golf Club & Tour 18 Golf course comes Marty Bryan's original restaurant and concert hall: Marty B's Place. Marty has been cooking up masterpieces in the kitchen since he was a teenager, but his greatest dish is Marty B's Place in Bartonville, which he opened in November of 2017. Marty crafted each detail of his kitchen to best serve delicious meals crafted with care and creativity. Aesthetically pleasing, Marty made an emphasis to make his restaurant feel as if you are out on a ranch in the Texas Hill Country from the moment you arrive in the parking lot. From the Texas Country playing through the building to the Austin stone, Cedar beams, and steel exterior it has the feeling that you are dining at a ranch in the Hill Country. Marty B's is about as Texan as you can get when looking for a place to dine in, enjoy drinks, or see a concert. The restaurant has an emphasis on the 4 main food groups: steak, BBQ, Tex-Mex, & Craft Beer. With such a diverse menu of excellent food it is hard to make a decision, but the following are 5 items I highly recommend but I guarantee you can't go wrong with whichever item you choose.
The first item that was brought to me was the Brisket Queso. This dish is absolutely incredible, and I will go as far as to say it is some of the best queso I have had anywhere, period. It combines the best of both worlds in BBQ and Mexican, this signature item is loaded with smoked brisket and topped with pico de gallo and a drizzle of their house made sweet BBQ sauce. This is a must have for anyone looking for a shareable dish at Marty B's.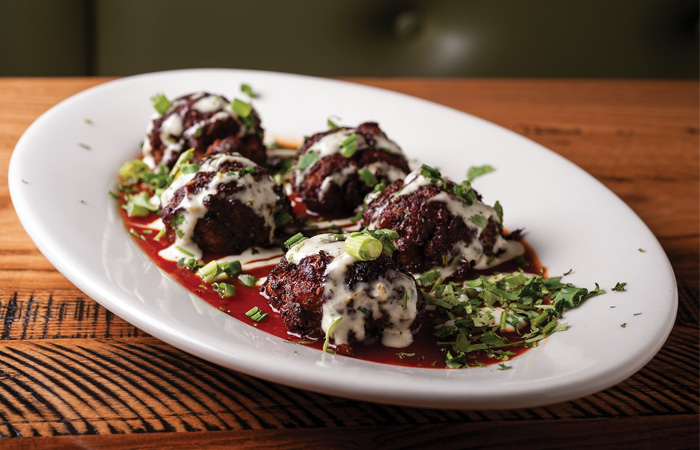 The second dish that was brought out was Jerry's Smoked Meatballs, and explosion of flavor that Marty and Jerry say are their best-selling appetizer on the menu. They say that their smoked meatballs are so popular they prepare on average over 1,400 of them per week. The meatballs are made from brisket and pork stuffed with homemade croutons, shredded cheese, garlic and onions. From there they are smoked then topped with the sweet BBQ sauce, jalapeño ranch, chives and cilantro. These meatballs are calling your name the second you catch their smell and it gets even better from there. I would say that this appetizer is a great shareable dish but honestly I had a tough time sharing these with anyone.
Next up is the Texican Tamale Cakes, think tamales but sweeter and even more delicious. These tamale cakes are made from sweet corn griddle cakes topped with brisket, and a house made slaw. This is about as Texican as it gets combining smoked BBQ and Tamales. A match made in heaven that you could get as an entrée or as an appetizer for the table. Either way it is a winner in my book.
The smoked meats are a staple of Marty B's and I can say that they take pride on the quality of their BBQ and it shows in every facet of their meats. All of Marty B's meats are cooked slow and low over Texas post oak wood. The ribs are some of the finest you can find, the meat just falls off of the bone as you are biting in. Cooked to perfection, the ribs are covered in a house made dry rub that doesn't require much else. If you are looking to add more flavor then be sure to add their house made BBQ sauce to the ribs to satisfy your taste buds. The smoked brisket, although featured in previous dishes is just as good as a stand alone product as it is combined with other menu items. It is cooked to perfection with a taste that melts in your mouth.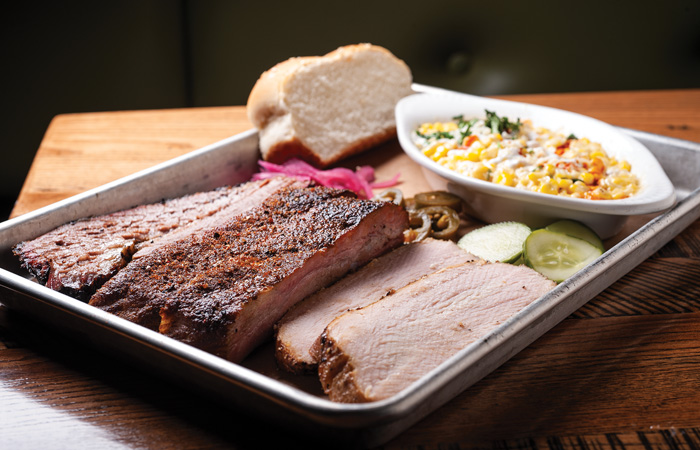 Given that it is the holiday season, the smoked turkey is another must have on the menu. Prepared in classic Texas BBQ fashion this turkey is great but to get that extra WOW factor I recommend putting the house BBQ sauce on it to really make this stand out. Be sure to add the street corn as a side dish, it will separate itself from the pack as a premiere side item at Marty B's.
The final dish that was brought to me was the Ribeye with Grilled Asparagus and Au Gratin Potatoes. Marty B's prides themselves on their suppliers for their meats and produce. In particular the steaks are high-quality, all-natural beef that come from 44 Farms in Cameron, Texas. All steaks are well seasoned, char-grilled and cooked to your preference. The ribeye was some of the best steak I have ever had and was perfectly seasoned as well. The grilled asparagus had that smoky taste that gave it an extra bit of flavor that separated it from the pack. The Au Gratin Potatoes are plated well and make every steak lovers dreams come true with the Steak, Asparagus, and Potatoes combination. It truly doesn't get better than this.
Whether you are wanting to grab lunch, hit the town for a date, or even grab the friends to hangout and enjoy music Marty B's is the place to be for entertainment in the area. Enjoy the outdoor seating, the communal fire pits, the live music, the atmosphere, but most importantly enjoy the company, food and spirits at Marty B's Place. It is a sure fire hit that will always leave you wanting to come back for more.
Marty B's
2664 FM 407
Bartonville, TX 76226
940-241-3500
www.martybsplace.com