Scene & Be Seen — Springtime Eats

Along an active stretch of the Trinity Trail in Fort Worth lies a mecca for fresh and clean eating with pure ingredients. The Press Café combines a clean, beautiful dining experience with vibrant food to create a dining experience that won't make you feel like you need a 20-mile bike ride on the adjacent trail to burn off your meal.

Before we get to the food itself, we must discuss Press Café's setup. Of course, there is plenty of inside dining with a bar staged in the middle, but the real star of this property is the patio area. The crushed granite downstairs patio has plenty of tables and even a fire pit for those chilly fall evenings.

There is also an upstairs outdoor seating area that is currently open on weekends, that gives you a great view of all the action on the Trinity Trail nearby. If you're looking for a brunch, lunch or dinner spot on one of those sun-soaked 70-degree spring or fall days, this is as good a spot as there is in the 8-1-7.

I'll be honest, with the great setup, the food could be average, and it would probably still be an awesome spot to hang out, but the cuisine is just as incredible. In fact, every item we sampled was immaculate. Everything was presented beautifully and it was you would hope for with such a gorgeous location.

Our visit took place in the afternoon mid-week, so we didn't get a chance to sample any of the brunch fare, but with burritos like The Roadrunner (a tortilla stuffed with scrambled egg whites, roasted chicken, avocado, and cheddar) as well as favorites like the banana walnut waffles, you better believe this is one of Fort Worth's finest weekend brunch locations.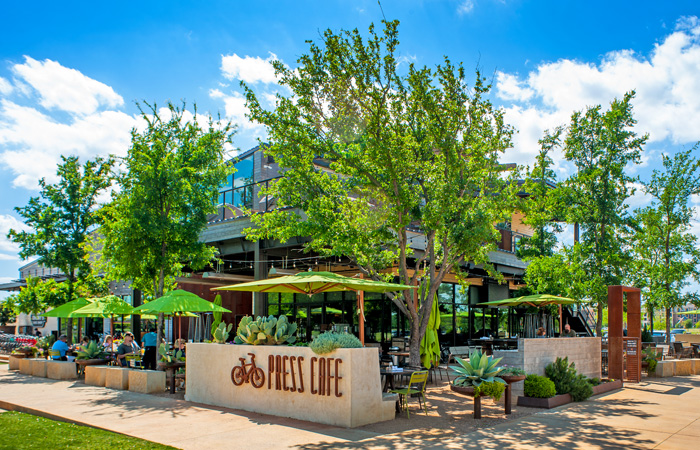 As for us, we were treated to more traditional lunch/dinner fare. To begin, we were treated to a traditional charcuterie & cheese board featuring house-made fresh mozzarella, salami, prosciutto, some pickled veggies known as jardinière, some marinated olives and Marcona almonds. This is a perfect starter to split among friends before a meal or enjoy with a glass of wine during happy hour.

One of the true surprises during our visit was the tremendous tuna salad. It comes presented as a deconstructed sandwich with some toast, some Bibb lettuce, a thick slice of heirloom tomato and some fresh fruit. This is a perfect light meal for an afternoon on the patio. The subtle addition of some lemon zest on the finished tuna salad really helped brighten up the dish. Go ahead and add a little of the salad on top of the fresh cantaloupe. It sounds strange, but the flavor profiles fit. The sweetness of the fruit with some of the salty/savory from the tuna is a killer combo.

As a second course, we were presented with another dish that would be great to split as an appetizer, or to enjoy as a light lunch or dinner. Warm, toasted ciabatta bread is covered in melty burrata cheese and then topped with some arugula and some charred tomatoes. Burrata is mozzarella that is stretched and then has cream introduced to give it a velvety creamier texture. This one featured multiple textures and flavor profiles: the creaminess of the cheese with the crunch of the bread, followed by a peppery note from the arugula and some acid from the tomato. As simple as it is, this one gets every note in the flavor spectrum.

Our main event for the day was the pesto pasta with fresh veggies and scallops. The pesto was packed with flavor and the slightly al dente pasta really held up well. Some zucchini, squash and sun-dried tomatoes added freshness and a little touch of sweetness to the dish. Atop the pasta were three seared scallops. When it comes to scallops, there is a very fine line between too rare, which I find off putting when it comes to scallops (it's a texture thing), and rubbery overdone. These were perfect. Still a little rare in the center, but a nice crust on the outside. A textural delight.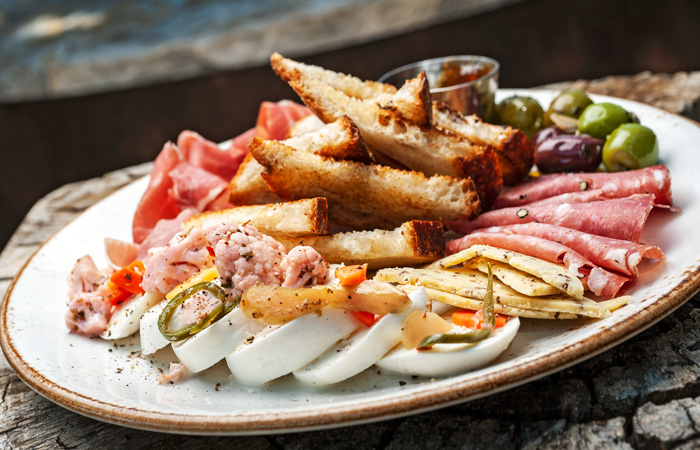 Even though Press Café is geared toward those who enjoy predominantly clean eating, there are a few items that will pair well with a nice cold local brew. A pair of burgers adorn the menu, including the café burger, which comes with watercress, caramelized onion, Huntsman cheese and pickles.

As we wrapped our meal, we were presented with the Press Café signature dessert: Jenny's Cake. Named for one of the co-owners, this strawberry lemon cake is layered with Jenny's own homemade strawberry mademoiselle jam, as well as strawberry cheesecake icing, and is sprinkled with milk crumbs. Holy wow. If it's not the best slice of cake I've ever had, it's most certainly toward the top of the list. The piece is gigantic, so this dessert is best shared, unless you want to take some home with you and eat it later.

A full array of cocktails are also available, from a nice local Rahr and Son's draft beer to the Guava Gimlet or the Cucumber Hibiscus Lemonade. Any of which are refreshing and perfect for outdoor patio sipping.

With Mayfest and the Fort Worth Invitational at Colonial, May is a huge month for those in the town of the cow and the Press Café is a perfect place to pre or post-game for any of the above. The patio alone is worth the trip, but the food and beverage fare escalates this spot to one of the top dining destinations in Fort Worth.