The Volunteers of America Texas Shootout is the annual Dallas-Fort Worth area event of the LPGA Tour. One amazing observation was the difference between the field playing in the Monday Local Open Qualifier and in the main event – while there were only seven non-USA players of 60 (about 12 percent) in the Monday Qualifier, the main event had almost 60 percent of players from other countries. What does that signify?  It would be interesting to discover what U.S. women do, with respect to preparation, in order to get an edge over their competition, and also to understand how golfers on the LPGA Tour prepare differently from those on the PGA TOUR. Talking to many always-friendly LPGA players was very informative.
Gerina Piller is a North Texas resident, and when asked whether she has a team that she works with like the one Jordan Spieth has, she said: "For me I don't have a team – I know I would not work well if I had bunch of people on my team." She also stated that she is a big feel player and goes by what feels good and can tell when she's coming from the inside or the outside, for instance. When does she get a "feel?" Is it after one particular shot, or hole or a round? "Maybe a whole round," she replied. For her it definitely changes from day to day, and could be based on how she slept the night before or from being nervous. In one event it might "feel" like "I've got it" and the next event it might not work.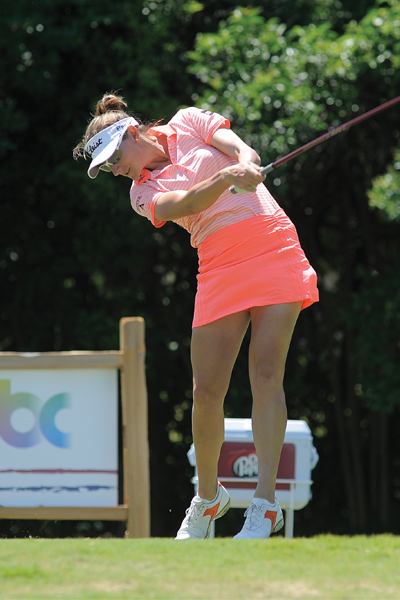 Brittany Lang is also a North Texas resident. She relies mostly on her family for support – husband, parents and brother. Her brother is her caddy and also helps with her swing and putting. As far as fitness goes, she knows what to do and does not need any help, nor anyone traveling with her every week, especially as she has what she terms a "home grown" swing. The only "coaching" she currently receives is from Lynn Marriott and Pia Nilsson of Vision 54, with whom she has reconnected after a long time, and who help her with the mental aspects of her game. Is science important to her game?
"I am a very simple feel athlete, I try to eat right, do my core workout, practice and play." For Brittany good "feel" is the athletic feel and ability to hit a draw or a high chip based on the touch and feel in the hands. Does "feel" change? "It's more up here," Lang said, pointing to her head, "The feel is always there, but the mind does not let it happen."
Christina Kim is a "California girl" with a sunny personality to match. When asked what she'd do this season to bump her game up to the next level she said that she is working on all aspects of her game – full swing, short-game, putting as well as mental. She has a short-game coach for the 100 yard and in shots, but otherwise her full-swing coach is her dad and she works with the LPGA fitness trailer guys on her fitness. She reads a lot about nutrition and has tried many diets such as the paleo to see which one might work best for her body type.
One of the 13 or so players from Thailand is Thidapa Suwannapura. She has no coach except her dad, and said, "I just love this game. I play a lot of golf, and enough to have muscle memory. I'm more a "feel" player, not like a robot hitting balls. I do some body weights by myself. My dad is a single handicap golfer and the only one who's taught me." What are the many golfers from Thailand doing that's special enough to get them entry into the world's largest Tour for professional women golfers? "Once you got a player on LPGA tour, others start to believe they can be on Tour too. They feel more confident, as they can know where they stand."
So, it would appear that across the board, many LPGA Tour players use family and friends as their main golf "team." Most say they are "feel" players and do not need excessive coaching. Which side is right? The players on the PGA Tour with entire entourages or the LPGA women with their mainly family-support network? It all depends. An entourage is not particularly useful if each member of the team brings only his/her own specialization to the table. What is needed is a coach who can act as an "air traffic controller," and knows enough about every aspect of a player's game to understand what the "specialists" wish to incorporate.
In other words, a scientist who understands not just the golf swing, but also the fitness, nutrition, injury and mental aspects to actually make a difference. If not, how are today's players any different from the totally team-free greats of days gone by? Conversely, to have no meaningful team is to imply that no inputs are better than some. How can it be that will all the research going into golf over the last few decades, no coaching in any field is beneficial? Upon weighing the balance, some team is better than none, and a well-coordinated team is ideal.
Kiran Kanwar is the developer of The Minimalist Golf Swing System -100% scientific, simple and specific. She has BS degrees in physics and math); MS degrees in sports science and nutrition; and is pursuing a PhD in biomechanics. She is a Class A Member: the LPGA, The NGA of India, The PGA of India. Visit her website: www.mgs.golf