Tales From the Back Nine: Part III

Golf came to Oklahoma in 1900, when Scottish immigrant Alex Findlay designed Guthrie Country Club just north of Oklahoma City. Renowned architects have been following Findlay's bootprints ever since.
So, I figured, if some dude on a pony could usher golf into the Sooner state and leave a hero, then I could at least drive to Oklahoma instead of through it for once to find out why.
Considering the rolling terrain, penchant for growing killer turfgrass, and a plethora of state parks, Oklahoma embodies the essential qualities for producing wild golf adventures of epic proportions. Surely, I thought while searching maps for courses off the beaten path, tall tales from the back nine would be flourishing in the red dirt.
Oklahoma is one of the most geographically diverse states; it boasts the most ecological regions (11) per square mile, and four mountain ranges. The state lists more than 500 named creeks and rivers, and 200 lakes created by dams, more than any other state. And after treks to the Texas Panhandle and Big Bend, I longed for a shorter trip. In about an hour, a north Dallas suburbanite can be in front of a slot machine at a Durant convenience store.
As I loaded the old F-150 with the usual assortment of golf clubs, fishing rods, camping gear and firewood, I had no idea that so many places in Oklahoma have my name written all over it. Or that one of those places would snare me in a speed trap and write my name on a traffic ticket. So, yeah, this journey was personal.
Three years after Guthrie Golf Club opened its doors as Oklahoma's first official course, the Muskogee Town and Country Club was organized in 1903 and then four years later, hired Leslie Brownlee, one of the Scots who followed Findlay to Oklahoma, to design a nine-hole course. Brownlee went home to Scotland and then returned with a young golfer from Edinburgh with the same name as me. Bill Nichols took over as the club's first head pro in 1908, and he had the course ready to play by May of that year. It's worth noting, to me at least, that Oklahoma's first course opened on May 10, 1900, and that my birthday is May 9. Crazy, I know.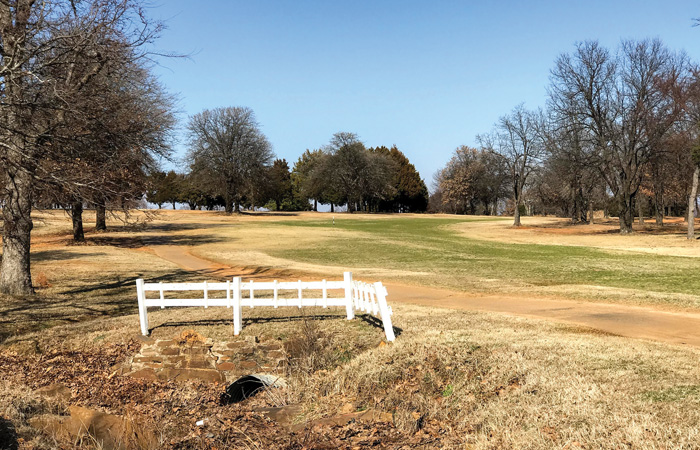 Anyway, Muskogee CC bought 30 acres of land, enlarging to 18 holes in 1911. The entire course was redesigned in 1924 by the late Perry Maxwell, one of golf's most renowned architects. Maxwell, an Ardmore banker, laid out his first course, Dornick Hills CC, in 1913. He went on to produce gems all over Oklahoma _ Shawnee, Indian Hills, Hillcrest, Twin Hills, Ponca City, Duncan Elks, Oklahoma City, and his career-defining 1935 design of Tulsa's Southern Hills CC.
Having struggled with road trip logistics _ particularly matching state parks to remote golf courses _ on my two west Texas trips, I did not even attempt to reach a campground before dark. I still had firewood and other stuff in the back of my truck from my trip to Big Bend, so maybe I was a little over-confident. I blatantly taunted the park gods, figuring I would get there when I got there, and my tent would pitch itself. As usual I made no reservations, choosing an aisle seat for this flight by the seat of my pants.
I left far north Dallas about 8:30 p.m., got a sandwich and coffee, and listened to the Stars game on the radio as I cruised US-75 north. I crossed the Red River about 10:00, which meant my ETA for the Arrowhead Area at Lake Eufaula State Park was about midnight. When I stopped to stretch and get a few supplies, the wind was howling, and the temperature had plummeted about 14 degrees below the forecast. I decided to change plans. Me to iPhone: "What state park is closest to me." I-phone to me: "OK, here's what I found." Ugh! So I pulled over to make my choice. I could be at McGee Creek State Park, an excellent bass fishing venue on the southwest edge of the Ouachita mountains, in 24 minutes.
But about halfway there, I realized this new route would take me too far east and delay my golf visits the next day. A tad frazzled and more than a little worried about the changing weather, I nixed the idea, turned around and got back on US-75/69 north. I took comfort in knowing that Arrowhead would welcome me whenever I arrived. The park, located near Canadian, allows late entry to campers, who are free to find a site without bothering with paper work. A ranger simply stops by your spot in the morning to settle up. Oh, how I wish every park did this – it simplifies the process for campers and rangers – and you will soon know why.
Familiar with the park from previous visits, I stopped at the one spot near a street lamp. Nobody else was in the park. I hurriedly got the fire going despite the wind, and then pitched my tattered tent. It was 1:45 a.m. I was freezing. I added another layer of clothing, walked around, and threw a can of soup in the fire just to stay busy. It was 3 a.m. I was still freezing. And exhausted. Why, I wondered, am I doing this? I decided to stay awake and then get off to an early start at daybreak.
I woke up in my truck at 5:30. I was freezing, so I turned on the ignition and cranked the heater full blast. I woke up at 7:45, packed some loose belongings, and then headed to the comfort station, where I splashed water on my face. The mirror told a scary story. No worries. I applied a cap to hide my gnarly hair, grabbed some orange juice and breakfast bars for my drive to Henryetta, and was good to go. In dire need of coffee, I took the Eufaula exit. Driving around the charming old town, I smelled bacon, so I pulled into the restaurant, "I Smell Bacon: Home of the Big Pig," which not surprisingly serves breakfast all day. As I took pictures with my phone, a guy walking out with his young family, flashed me the Heisman pose while holding one of his kids. He got my vote. So did the restaurant, which presented me thick strips of smoked bacon, an egg and cheese in a Texas toast sandwich.
Following the backroads for the 40-minute drive to Henryetta, I saw lots of pigs and other animals grazing on the rolling farmland. I enjoyed my sandwich. The temperature continued to defy the forecast. It was 38 and overcast when I pulled into Henryetta and then followed a few miles of winding roads through pastures to the golf course. I recalled that my last trip here was in 1989. I did a story on the Cowboys' first-round draft pick, Troy Aikman, or "Henryetta's Hero" as the Dallas Times Herald headline said. My lead went something like this: "Legend has it that Troy Aikman once hit a baseball so far, it landed in the Walmart parking lot."
Henryetta's hero was not at the golf course. The place was practically deserted because of the cold. As I walked the pastural nine-layout, I wondered if there was a ski lift for the large hills, which slope gradually, if not majestically down toward the clubhouse. The course, established in the 1920s, is typical of the era in which it was built with mature trees guarding some fairways, lots of ups and downs, a few sharp doglegs and small greens. The two par-5s, Nos. 4 and 7, measure 500 and 475 yards, respectively, and the two par-3s are 185 and 190 yards.
Back on the road, I saw a sign that said, "Nichols Park," so of course I explored the place, took a few selfies, and wondered if the other Bill Nichols, the young Scot who immigrated here to be head pro at Muskogee GC, had ever been here. Or if he had tried the chicken fried steak or pecan pie at Nichols Café in Kiowa. Or if he ever shopped at the Nichols grocery store in Eufaula.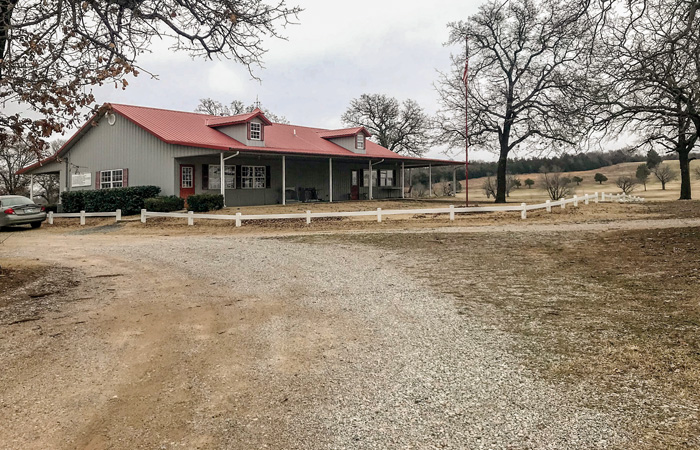 A 50-minute drive put me in Wewoka, 17 miles south of I-40 just off Hwy 56. When I pulled into Dr. Gil Morgan Municipal Golf Course, fog blanketed the landscape. Originally named Wewoka Golf Club when it opened in 1949, the facility's name was changed to honor Morgan, the longtime PGA Tour player and Wewoka native. The course was funded from money acquired from a $45,000 city bond issue. Much of the labor, equipment and materials used were donated by the residents of the town.
The 3,330-yard nine-hole layout was designed by Floyd Farley, whose resume featured more course designs than Maxwell. The Wewoka course features tree-lined doglegs with sharp turns. Water comes into play on five holes. Some of the greens are small with tricky slopes. A second nine is played using different tees. Morgan shares the 18-hole course record of 64. In a 1997 interview with the Daily Oklahoman, Farley described the intricate design thusly:
"There was a guy who worked for the county named Dean Snider. He was from Texas and he came and talked to me about it. We stayed up all one night and laid that golf course out, put it right on paper just like we wanted it, and that's the way we built it. I stayed down there a week and got $1,500 bucks for it. They didn't have much money, but the sheriff was in on the deal and one day two truckloads of guys were delivered there. They'd arrest 'em, feed 'em and put 'em to work. They just arrested those guys to work on that golf course. And the county commissioner sent all the bulldozers they had, people pitched in and they got it done."
When I finished touring Wewoka, the sun had already set at 6 p.m., and the temperature was 34. Frozen fog was on its way. So, instead of doing the right thing, which was driving 120 miles south back to the Arrowhead campground, I headed east toward Norman. I figured if everything worked right, I could check out two extra courses – Ol' Hippie Country Club near Tulsa and a pasture course in Blanchard, east of Norman.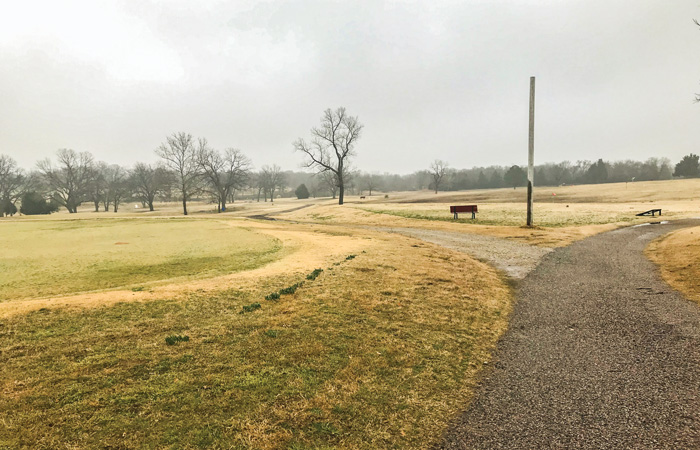 This was a stupid move, even for me. I ended up driving 90 minutes to Norman, ate dinner, and then tried to find a state park. I thought I was in luck when I stumbled into Lake Thunderbird State Park, just outside Norman. But the campground was locked. I explored the twisting turns of the park looking for another entry. Nothing. So I started searching on my phone for another park when a ranger approached. He told me of another campground on the other side of Thunderbird Lake, providing detailed instructions. Although I found the place he was talking about, I could not locate a camping spot. Again I sat in my truck consulting the internet, and again the ranger pulled up beside me. We chatted for 15 minutes. I told him that I was searching for wilderness golf adventures. He smiled, nodding his head in approval. "Heckuva way to make a living, huh?" he said. I responded, "You too."
It was past midnight when I got back on the two-line highway to retrace my steps to the Arrowhead campground, a two-hour drive. After another cold and wet night with little sleep, I loaded my camping gear into the truck the next morning and went to Arrowhead State Park Golf Course, about a 7-iron shot from my campsite. The sun was out, and golfers were enjoying a round of golf on the hills overlooking Lake Eufaula.
The 6,761-yard course, which opened in 1965, is another Floyd Farley design. Mature trees, excellent bent greens, and postcard views of the lake highlight the experience. The bunkers were recently upgraded. Perhaps the best attribute of Arrowhead's design is that each hole offered something different. The small white fences and stone bridges add nice touches and help to define the fairway shapes.
I waved goodbye to Arrowhead and then grabbed a coffee from nearby Ya' Mom's Restaurant – just beside Ya' Mom's RV Park – and got on 75/69 south for the hour drive to my last stop. After my long stint at Arrowhead, my goal was to reach Atoka Trails Golf Club, an hour away, well before sunset. But it was Sunday, or speed-trap day, in Oklahoma, and as I approached McAlester, I saw the lights flashing in my rear-view mirror.
When I reached Atoka Trails, the light was fading fast. Unable to use a cart – not sure why – I practically ran around the course taking photos. The quaint nine-hole layout exceeded my expectations. The community course is well maintained. The rolling terrain, highlighted by towering pine trees, features a fishing lake that comes into play on the final hole. Atoka Trails proved to be the gem I was looking for.
As I sat in the picnic area near the lake, a spectacular sunset unfolded on the heavily wooded horizon. Vivid orange-and-blue hues peeked through the trees and reflections shimmered on the calm water bordering the golf course. I couldn't help but think that the ranger was right. Heckuva way to make a living, huh?