Tech Talk — Television Wall Art

TV technology continues to get better and better every year. TVs which were once big plastic boxes are now wallpaper thin. There are even TVs such as the Sony OLED which produces sound from the screen itself. There are TVs with super rich color and some with 4K resolution. HDR TVs. Smart TVs. TVs with displays over 100 inches!
But what happens when you are done watching TV and the display is off? How does that look in your living room or bedroom? Do you see it as a big black rectangle taking up space? While we love them, sometimes our televisions can bring the overall look and feel of a room down. But what if you can keep the immersive, 4K picture quality and have your TV blend in with the furniture and interior design of any room?
Samsung has worked with Swiss designer Yves Behar to create a completely new category of television. It is called The Frame – the first piece of wall art that doubles as a TV. Make no mistake, this is first and foremost a lifestyle product designed to enhance any living space.
Imagine your TV is mounted above your fireplace; you happily watch a movie or your favorite show, and then you turn it off. Now, you have a blank dark screen above your fireplace. The Frame allows you to bring this blank space to life.
When powered off, The Frame will automatically enter into Art Mode that allows the TV's screen to display exclusive works of art ranging from paintings to images from personal photo libraries. The Frame allows you to change the art on your wall in an instant – anytime the mood strikes.
Having a family get together? The TV allows you the ability to display personal pictures so you can put up that picture of Grandma and the kids on the display just in time for her summer visit. Maybe you want a painting or print? Samsung's collection of curated art and mattes give instant access to more than 100 pieces of art to choose from with several categories including landscape, drawing, wildlife, architecture and more. Behar has stated that many more art works will be sourced.
No matter what piece you select, your art will look real thanks to the display's brightness sensor which intelligently detects ambient light. It adjusts the color and brightness settings so your art always looks real regardless of where it is or what the time of day.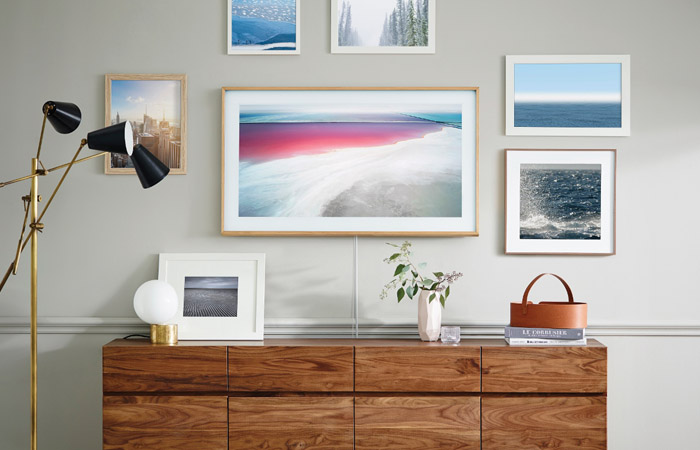 The overall design of the frame is Samsung has three customizable frame options you can add. Walnut, Oak and White frames easily attach to the outsize bezel to perfectly complement the décor of any room.
When power on, The Frame delivers a superior range of brilliant color and rich contrast over Full HD thanks to 4K HDR Pro technology. It displays a wider range of light and dark in the same scene, adding detail to every picture. Samsung's 4K Color Drive Extreme technology gives you exceptional color. With over one billion colors more than standard 4K UHD, you see a more vivid, realistic picture.
In order to keep the electricity bill down, The Frame has a built-in motion sensor that detects people's movement. The TV will automatically activate power-saving mode when there is no one in the room and turn back on when someone enters.
Nothing ruins a room's design more than lengthy wires. Samsung's No Gap Wall-mount and Invisible Connection allows The Frame to be mounted on the wall just like a picture frame or painting without messy cables, making it a complete package for the living space.
The Frame by Samsung is a completely new category of TV that elegantly enables you to make any space more welcoming, more entertaining, and more inspiring.
David Pidgeon is the CEO at Starpower. There are three Starpower locations in the Dallas/Fort Worth area (Knox and Cole, Southlake and North Dallas) and one location in Scottsdale, Ariz.