The Carolinas — Carolina's Finest

By David Theoret
The Carolinas are an amazing Mecca of beautiful golf courses, with dozens located in just a few hundred square miles of each other up and down the Atlantic coast. At the southern tip of South Carolina is probably the most well-known golfing metropolis in the area: Hilton Head Island. Hilton Head's most famed track is Harbor Town, home of a yearly PGA Tour event, but there are dozens of other world-class golf courses and resorts on the island, and up the coast into North Carolina, that surely deserve some consideration on your next golf outing.
I had the opportunity recently to tour some of the lesser-known – but just as fantastic – golf facilities in North and South Carolina, and I came away amazed at how playable and affordable their area courses are, and how good of shape they are in considering all the area has been through in the past 12 months. Here are my recommendations when visiting the Carolinas (and not wanting to break the bank!):
Palmetto Hall Plantation
Hilton Head Island, SC
The Palmetto Hall Plantation property, a 36-hole facility with courses designed by Robert Cupp and Arthur Hills, was hit pretty hard by Hurricane Matthew in 2016. The courses lost over 1000 trees during the storm; nevertheless, the grounds crew had both courses cleaned up and playable within 60 days. Grant Backus, Superintendent at Dolphin Head Country Club – a once private, now public facility – moved over to Palmetto Hall Plantation and set his crew about restoring the courses to their former glory, just like he had done with Dolphin Head. The remnants of Matthew are still evident as you make your way around the course, but do not infringe on play in the least.
Island West Golf Club
Bluffton, SC
Another PGA stalwart has also left his mark on the Hilton Head area golf scene. Fuzzy Zoeller's Island West course features fairways with a lot of roll and undulation. Island West winds its way through naturally preserved marshlands and strands of live oak trees, creating a beautiful setting. Water comes in to play in one form or another on 10 holes, creating many risk-reward opportunities. Bunkers have been strategically placed along the edges of the fairways and all around the greens. This is a course that makes you think and requires accuracy to score well, especially on the narrow, tree-lined holes. New golfers won't be overwhelmed and skilled players will be challenged.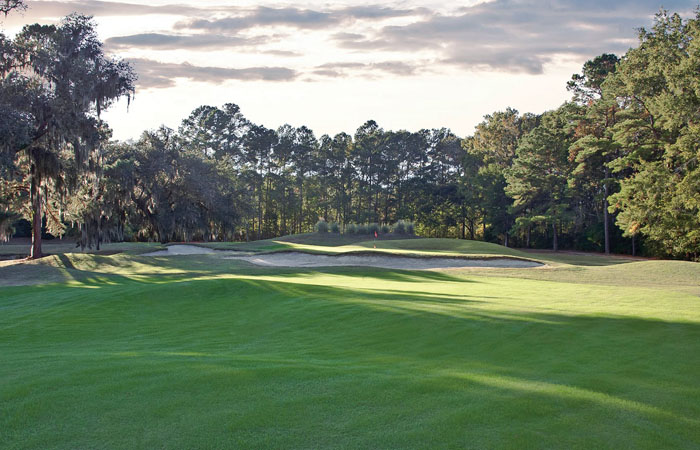 Dolphin Head Golf Club
Hilton Head Island, SC
Speaking of Dolphin Head, this once member-only course now flourishes as a semi-private golf gem. It's the only course in the area to be designed by Gary Player, who wanted to leave as much of the existing terrain intact as he could. Since it opened, Clyde Johnson has redone the tees, fairways and greens, installing the much quicker Mini-Verde Bermuda grass on the greens. Dolphin Head is really two courses in one – the front nine plays through trees and forests, while the back nine brings marshes and wetlands into play. Both nines are rife with Player's signature bunkering, creating a course that is as aesthetically pleasing as it is fun to play.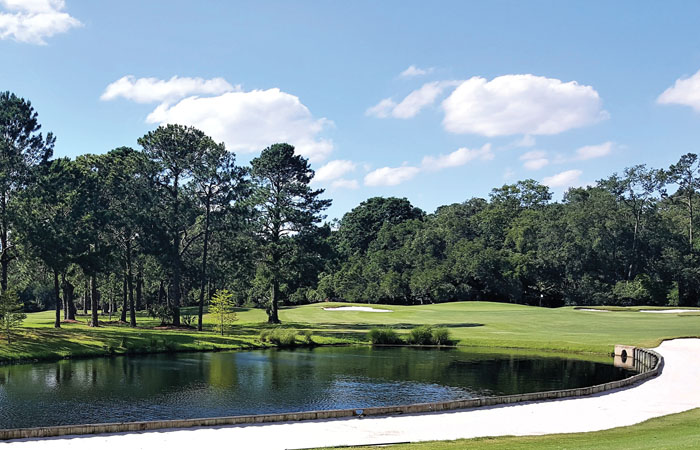 Eagle's Point Golf Club
Bluffton, SC
Eagle's Pointe is a Davis Love III design and has been lauded as one of the most environmentally friendly courses in the area. The course winds its way through strands of moss-draped live oaks and pine trees, freshwater lagoons and makes use of the natural beauty and variety of the existing terrain in the area. Native coastal wetlands come into play on several holes and, in addition to adding a challenge to your game, they also provide some wonderful scenery. For the most part, the greens are large and roll true at a moderate pace.
Crescent Pointe Golf Club
Bluffton, SC
Crescent Pointe is an Arnold Palmer design and like most Palmer tracks, offers generous fairways and challenging approaches to elevated, undulating greens. Water is present but not necessarily in play on all but the par-4 18th. In addition to the water that dots the landscape, you'll find a lot of sand; in fact, in areas where grass was hard to grow, they simply replaced it with sand. You'll find several massive waste bunkers and beach bunkers, which butt up against the water and while they create great aesthetics, they can wreak havoc on your scorecard.
Pinecrest Golf Club
Bluffton, SC
Pinecrest Golf Club in Bluffton, SC was designed by Rocky Roquemore, best known for his designs at Cannongate Golf Club in Georgia and several of the Disney courses in Orlando. The course has a stunning and scenic layout and plays its way through strands of tall pines and around several beautiful lakes. Although water comes into play on about 15 holes, most players will find the sand more of a threat, especially off the tee. Greens are also well protected, with many of them being elevated. Speaking of greens, Pinecrest's are large and roll true; if you want to score well, best to not leave yourself a lot of long putts.
Foxfire Golf and Resort
Foxfire Village, NC
Foxfire Golf and Resort's Grey Fox Course was built by Gene Hamm and has been awarded 3.5 stars in Golf Digest's Places to Play Guide. The course follows the natural contours of the land and plays through natural rolling hills, sandy soil and multiple lakes. Players must avoid numerous strategically placed bunkers and natural hazards as they make their way up – or many times down – to large, elevated greens. Grey Fox is considered the tougher of the two Foxfire courses, although the slope says otherwise. It emphasizes the need for shot placement rather than length although from time to time, a long drive doesn't hurt. It is certainly the hillier of the two courses, as can be seen standing on the first tee, a long sweeping dogleg right around a lake with pine trees waiting to hinder anything errant. This is arguable one of the most aesthetic holes in the Pinehurst area.
The other course at Foxfire Resort is also a Gene Hamm design, and the Red Fox Course and it is clearly the members' favorite. The Red Fox course offers five sets of tees with a distance to suit any player. Wide open, well-manicured fairways and large, elevated greens that roll fast and true await golfers of all ages and abilities. Fairway bunkers abound throughout the course and lie in wait in many landing areas as well as around the greens. You'll find water on about 6 holes, but only one forced carry off the tee of any significant length is required. In designing Red Fox, Hamm put in plenty of "bail out" areas so you're not constantly facing severe drop offs or deep bunkers if you don't hit the green.
The Country Club of Whispering Pines
Whispering Pines, NC
The Country Club of Whispering Pines in Whispering Pines, NC is a 36-hole facility. Both the River Course and the Pines Course were designed by Donald Ross protégé Ellis Maples back in 1959 and 1965 respectively and share one thing in common – variety. One example of this is the types of grass used on the greens – The Pines features Champion Bermuda and The River, Bentgrass.
The Pines Course has been referred to by some as an "inland links" style course, because of the absence of water. Donald Ross' influence is evident in the way this Maples design hugs the natural contour of the land, as well as in the use of open, hardpan areas in the rough that are sparsely covered with pine straw and native grasses. You'll also see his touch in the shaping of the greens and positioning of the sand traps. With all of the elevation changes you're in for an interesting round. You'll be hitting from uphill, downhill and side hill lies. Let me leave you this piece of advice: if you tend to slice your tee shots, use a white ball. It will make it that much easier to find on the range!
The River Course features towering oak trees that line the fairways and overhang several greens. The River course is not as demanding as the Pines Course (a slope of 130 on the River versus 134 on the Pines); however, you're still going to have to play the role of shotmaker if you want to score well out here. Especially on the back nine, where water is present on every hole. The greens are smaller and the rough is thicker, so it's best to be hitting out of the short grass on a regular basis. There's more emphasis on accuracy than on distance.
Your round on the River Course concludes with the toughest hole on the back nine. No. 18 plays 394 yards from the White Tees. It's another hole where left is best and takes the pond on the right out of play. Avoid the bunker that guards the left side of the green and the one short right and you're well on your way to a successful completion.
The two courses at The Country Club of Whispering Pines offer peace and relaxation. Out here, you far removed from the hustle and bustle of everyday life, all that's left to do is put that little white ball in the hole. Eighteen times!
Many of these golf courses can be packaged together into great stay-and-play options through their golf course management company, Brown Golf. For more information visit their website at www.browngolfpackages.com.