Travel – Cabo's Chileno Bay Resort

In a simpler, sleepier much more sedate travel lifetime, Cabo San Lucas, Mexico and its nearby geographical cousin San Jose del Cabo, was basically known for only two things, deep sea fishing and Tequila plus other alcoholic liquid creations.
In fact, back then, one of the most popular souvenirs from your trip here was a T-shirt which proclaimed Cabo as, "A small fishing village with a large drinking problem."
But while the deep sea fishing and the drinks endure to this day, the days as a sleepy fishing village are long since in the past.
The combo of great views, great public access golf, great resorts and laid back good times have been enough to draw Cabo fans here by the tens of thousands for decades. Hurricanes may try to pound it, gangs may try to scare it and there may even be a dang wall one day between the U.S. and Mexico, but nothing can dim the enduring appeal of the area. The constant home and resort construction along the main four-lane highway which leads through town and lineup of luxury jets wing to wing at the newly remodeled international airport is proof to that.
In fact, one of the most promising trends in this sun-splashed, wave-crashing region is the number of luxury resorts which are popping up in the area to provide high class service and lodging with the high class views which come free.
Of course, upscale resorts like Esperanza which kicked off the luxury boom a decade ago and its sister resort, Chileno Bay, an Auberge property which opened in 2017, has turned into a refuge for the traveler looking for a respite from the more rowdy spring break crowd.
Chileno Bay, which has 60 rooms and 32 suites, features three large pools running down the middle of the resort. Each of equal size, they include a kids pool, a family swimming area and an adults only pool. Each has shaded lounging chairs along with a plastic lodging oasis which lay in the water, and there are shaded lodging tents available on a first come, first serve basis along with more furnished facilities you can rent by the day.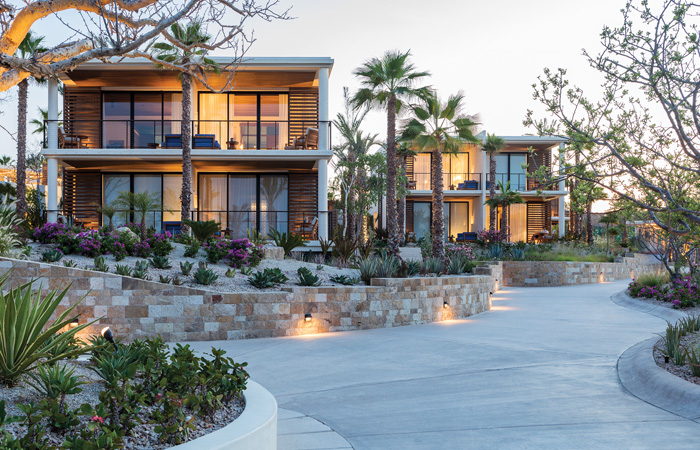 For those who want to earn a degree of the most liquid or tasty variety, there is membership in the Blue Agave Society. Established by the master tequilero at the hidden luxury enclave in Cabo, Esperanza, and now available at Chilano Bay as well, this award signifies you have been able to personally experience some of the finest and most premium of the white semi-aged & aged Tequilas from the region and the Agave plant which made this area famous to start with.
For something more golf-related, hotel guests have access to golf at the Chileno Bay golf course across the highway from the resort. The course was designed by noted architect Tom Fazio. The course is run by luxury golf operator Discovery Land Company (the developer of Vaquero Golf Club in Westlake) which does everything first class and is a great par 72 experience with stunning, elevated views of the ocean and the overall Cabo beach scenery. Of course, since this is Cabo, they do things a little differently as a tribute to the native drink.
"Here in Cabo, we believe your first shot is always the most important," said head golf pro Ryan Silverstein.
In that manner, every golfer is given a solid ice frozen shot glass and offered a shot of tequila before they tee off.
"The second most important thing is that everybody wants a hole in one," he adds.
So the golfer then throws the chunk of shot glass ice into a nearby bucket to achieve their golfing ace before the round even starts.
Other nearby golf options are the newest Jack Nicklaus golf design, the spectacular Quivira Golf Course design which hugs the Pacific coastline close to the airport. Next door is the Tiger Woods and Davis Love III designed Diamante Golf Club along with the original Nicklaus Design, Cabo Del Sol which is annually ranked the best in the region.
Other options include the 27-hole Palmilla Golf Course also designed by Nicklaus, Cabo Real and Cabo San Lucas Country Club. Outstanding private outlets are El Dorado Golf Club, and Querencia, which can be accessed by potential fractional real estate buyers or by guests staying at the right property. Tom Weiskopf did the Cabo Del Sao Desert course next to the original Nicklaus which is another good golfing choice. Of course, when you get tired of the on-course Cabo heat, but still want to enjoy the views, there is a large indoor facility back at Chileno Bay, which overlooks the water with large big screen televisions, air-conditioning and plenty of cool drinks. The poolside servers never pass up a chance to bring another round of refreshments and the infinity edge pool allows you to peer at the ever pounding Sea of Cortez without actually getting into the salty water.
Of course, when it's time for a larger snack or a full meal, the nearby TNT (Taco and Tequila) stand has you covered with all kinds of light Mexican fare and more of the signature drinks, all while gazing into the ocean.
If all that ocean watching has you compelled to try the real thing, then the Chileno Bay Resort has that covered as well. Walk through a discreet wooden door and you will find the resort beach headquarters, H20 Cove. It will allow you access to surf boards, kayaks and other water adventures, plus private loungers on the sandy beach, showers and, of course, more inside air conditioning, books and TVs if just seeing the beach and ocean is better for you than actually experiencing it.
One of the real benefits of the new Chileno Bay Resort, which opened last spring, is that just about everything at the resort is included in the overall price. It's not cheap, ranging into the four- figure range in the prime winter season, but discerning travelers will appreciate paying one price for everything rather than constantly being hit up for an extra charge.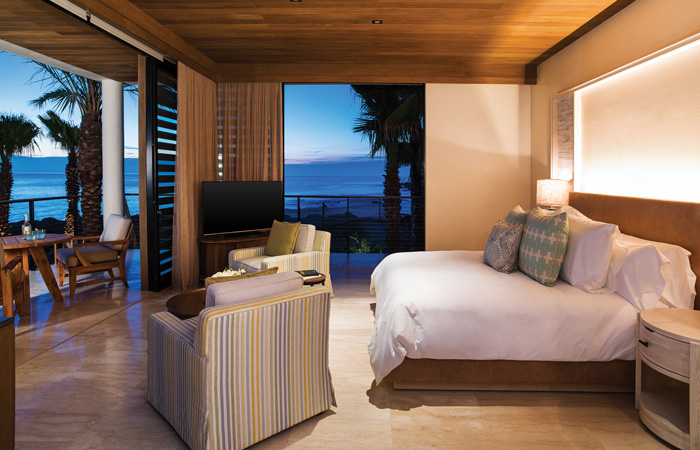 While the TNT is lunch only, you can enjoy breakfast and a spectacular dinner at the COMAL signature restaurant which occupies a very scenic and undisturbed corner of the boutique resort. There is an impressive wine list ranging from Champagne to the finest wines along with plenty of tequila.
The menu is seafood based, as you would expect, but has a non-traditional flair featuring plenty of fresh and raw fish as an appetizer or main course. Of course, if the sun, the surf, the food and drinks totally stresses you out, there is the Auberge Spa for that. The facility has 10 treatment rooms along with separate relaxing facilities for men and women, and a salt purification room along with private outdoor showers. You can spend as much time before and after your treatment here completing your good fortune of finding this Cabo luxury hangout.
If the more adventuresome night party scene still calls to you after a full day of golfing fun and beach sun, you can still get strung up by your ankle per your request and several drinks later at the Giggling Marlin, located in Cabo San Lucas. You also have the chance to meet former owner Sammy Hagar at the ever popular Cabo Wabo restaurant and bar nearby and cap the night with hangover 101 at Senor Frogs. All in the same general boozy location.
Back at the resort, it's more luxury lodgings, more outdoor showers, an outdoor patio overlooking the pools and the ocean along with a sitting area, coffee and refrigerator service.
For those who aren't part of the high school-college forever Spring Break crowd, then the one more tangible prize to bring home from your trip to the very Southwestern tip of Baja Mexico, is the Blue Agave Society and great golf nirvana all at the same place. Your personal butler has been trained to exceed any request here at Chileno Bay, but it's doubtful they will hang you from your ankle no matter how much you request. There are limits even in luxury.
Yet, The Blue Agave Society is still accepting memberships here and your trip is a constant reminder that the good, sunny and warm times can be had here close to home. Luxury, liquid treasures and lots of fun. It's a Cabo combination which has proven successful for decades and with these new luxury outlets emerging in the area it should continue for many years to come.
For more information visit chilenobay.aubergeresorts.com