2018 Ford F-150 King Ranch 4×4 SuperCrew

After eight years and over 100 vehicles featured, the opportunity finally arose for me to tool around in an iconic American pickup truck. Not just any truck, but the No. 1 selling pickup brand for the last 35 years—a Tiger Woods-like domination. In fact, it's numero uno for all vehicle sales in Texas and the entire United States. And that's saying something given how many vehicles are sold on an annual basis.
The 2018 Ford F-150 truck provides an extraordinary mountain of reasons on its 40th birthday to plop behind the wheel and give it serious consideration. It's powerful, practical, full of thoughtful goodies and drives like the most luxurious sedan or SUV. New engine and transmission choices ramp up the allure. After a Dallas to Austin round-tripper, it became obvious why this needs to be on most everyone's short list of next purchases.
Skin
There are literally hundreds of available configurations to the F-150. Our tester is the high-level 2018 Ford F-150 4×4 King Ranch SuperCrew. It looks mighty handsome in White Platinum Metallic paint and unique Java leather inside. A bolder face adorns the front without looking too gimmicky (some other brands resemble Transformers cast members). The pleasing angles and balanced proportions combine with the optional Chrome Package ($1,995) to provide just enough eye candy. Aluminum body panels and an aluminum bed (rather than traditional steel) help make it the lightest truck in its class.
Exceptionally bright Auto-Beam LED headlights, thoughtful automatic step-up rails, chrome exhaust tip, a tidy rear and optional 20-inch bright Chrome-Like PVD rims finish off the stellar look.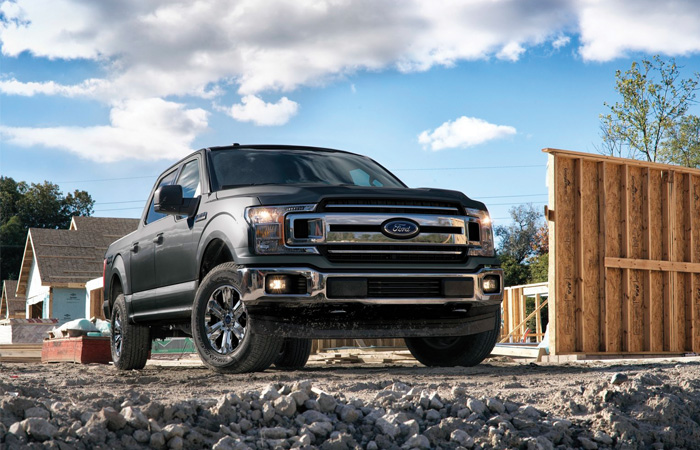 Performance
Yet let's face it; looks aside, trucks are all about power and utility. Ford carried over the popular substantial 3.5 Liter V6 EcoBoost Twin-Turbo engine providing 375 horsepower, 470 lb-ft torque. That's plenty burly and proves you don't need a V8 these days. A new 10-speed transmission deftly runs through the gears, sometimes skipping a couple to maximize gas mileage—along with the unobtrusive Auto/stop. Gas mileage is a commendable 17/23 and a 560-mile range with the extended 36-gallon tank. A diesel version will be available in late spring. And, there's no gas cap to fiddle with.
The capable switch-on-the-fly 4×4 switchable and good clearance allows the F-150 to deftly handle off-road situations (the more rugged Raptor sibling ramps it up to 11—see sidebar). Braking and handling are excellent for a big rig and even the turning radius is good. However, even with the helpful 360-degree camera, you are limited to generous parking spaces (forget navigating in parking structures) so plan accordingly.
The suspension allows for limo-divine driving. My bride immediately complimented the smooth ride as the shocks soak up even the worst blemished roads.
Cabin
The King Cab is like the ultimate mobile man cave. I mean it's immense without swallowing you up. The exceptional Java Kingville (reddish brown) leather looks and feels luxurious. Large comfy and supportive seats cool, heat and massage! Tasteful contrast stitching, chrome and real wood accents will impress anyone. Fit and finish are outstanding. Leg and headroom are generous and visibility is maybe the best I've seen in any vehicle tested as you ride high in the saddle.
The heated leather wrapped steering wheel (awesome in frigid weather) is responsive, light and feels just right in your mitts. Several scrollable info menus in the large LCD instrumentation dash deliver just about any piece of intel you wish although I'd recommend a digital speedometer and speed limit postings for quick viewing.
As opposed to many cars these days, there are useful large knobs and buttons (a radio station tuner!) to easily make choices while wearing work gloves—although the humongous gearshift is probably larger than necessary.
Heated rear seating will comfortably house anyone and the seats fold up against the cab's back to allow additional floor storage. Genius. There's plenty of knickknack stowage and you can even install a safe in the cavernous middle console. A helpful welcoming step bar greets you when opening doors that ladies will definitely appreciate. I could seriously live in this mobile suite.
Of course there's ample cargo room even in the short bed model. Plus, the Dynamic Hitch Assist and Pro Trailer Backup Assist make for easy tow maneuvering.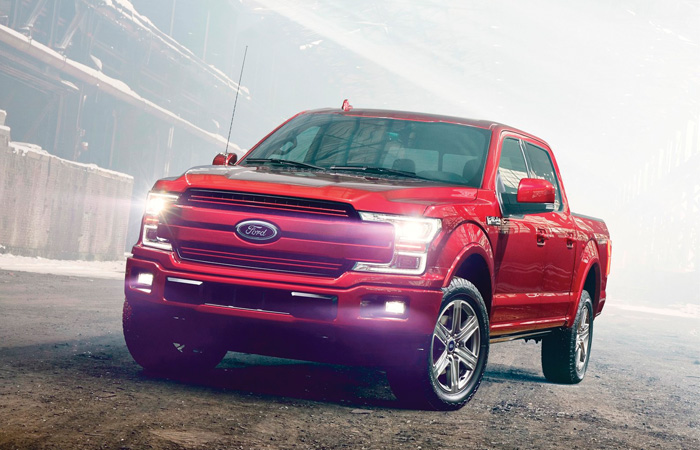 Tech Check
This certainly isn't the bare-bones truck of yesteryear as there's plenty of technology to woo you. Safety features are abundant and top-notch. The Sync 3 Infotainment responds quickly with voice activation, touchscreen ability and popular amenities like Apple CarPlay and Android Auto. It's paired well with a Bang & Olufsen (B&O Play) sound system to provide crystal clear sound. The Bluetooth for phone and music is excellent.
In addition, safety ratings are excellent and there are enough nanny features to keep you out of harms way.
The 2018 2018 Ford F-150 4×4 King Ranch SuperCrew certainly ramps up nearly every aspect its discerning (and plentiful) buying audience wants and expects. The quintessential American cargo hauler sails in some very competitive waters while continuing to leave the rest in its substantial wake. My SUV-loving bride even gave it big thumbs up. Obviously, many already agree.
Test-drive the 2018 Ford F-150 4×4 King Ranch SuperCrew and F-150 Raptor at Sam Pack's Five-Star Ford in Plano.
Scorecard
Golf bags: As many as you can pile in
Curb appeal: Stylish and practical iconic American ride
0-60: EcoBoost: 6.6 seconds
Gas mileage: 17/23. Observed 18.4 overall
Must-haves: Everything
Warranty & Free Maintenance: 3yr/36.000 miles, 5Y/60K powertrain
Base price: $55,260
Price as tested: $66,990
Who buys it? Anyone desiring excellent driving, towing and luxury appointments
Finish line: An All-American package of brawn and luxury
The F-150 Raptor
The F-150's Raptor is that off-road beast you pine for in your 20s but wait until maybe that 40s-type income stream fattens the wallet. It's the tamer F-150's bolder, rambunctious and likes-to-get-covered-in-mud sibling. Inside, there are similar creature comforts to the F-150 including leather appointments and more storage cubbyholes to hold your gear.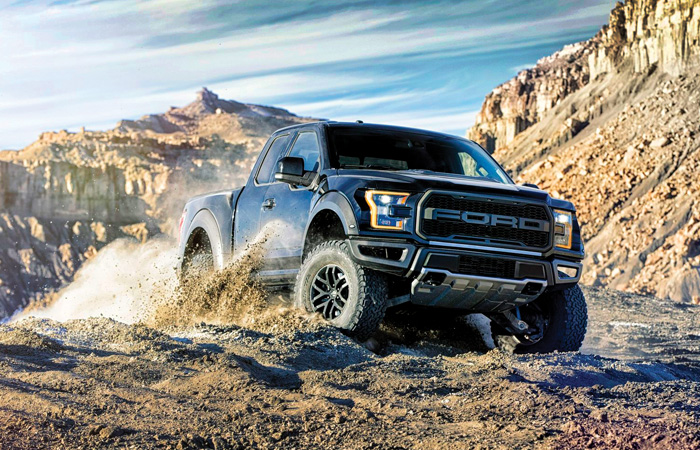 There's plenty of firepower from the Twin-Turbo EcoBoost V6; 450 horses/510 lb.-ft. of torque sending you 0-60 in a blazing 5.1 seconds. The Raptor partners its peerless FX4 transmission with a higher clearance and more robust suspension and shocks. Quite simply, it exudes badass. Just ask my 20-something neighbors who ogled at the tester and begged for rides.
You get special paint, a wider body with sporty fascia, cool vents erupting from the hood, big ol' knobby rubber and some carbon fiber to whet the appetite. Steering is excellent whether in Normal, Sport or Comfort mode. The engine exhaust is a grin-inducing growl. Sure it's fast—especially with the oversized tires—but don't waste time punching it at a stoplight and instead head for the nearest mountain or creek, throw it in Mud and Sand, Baja and Rock Crawl mode, and try not to laugh maniacally while rumbling wherever your mood strikes. Its suspension and shocks will tame even the wildest of terrains—seemingly floating over any obstruction. Meaning, the F-150 Raptor is the King of any off-road locale while ably returning you back to civilization.
Scorecard:
Base price: $52,770
Price tested: $68,260
Curb appeal: I want that
Must haves: Only limited by your imagination and wallet
Who buys it: Anyone with a pulse
Test drive the 2018 Ford F-150 4X4 King Ranch SuperCrew and F-150 Raptor at Sam Pack's Five-Star Ford in Plano.