Scene & Be Seen — Local Neighborhood 'Cue

Barbecue joints are a dime a dozen in the state of Texas. From chain restaurants, to family-owned joints, smokehouses and pits everywhere are churning out fare for the carnivorous masses. There are magazines that devote entire issues to barbecue in Texas, and even publications that solely focus on the delicious smoky category. One thing is for certain, the Big D sure does love its 'cue.
Dylan's Barbeque Saloon on Northwest Highway is just one of over 100 barbecue restaurants in Dallas alone. Each one tries on a daily basis to earn new customers and keep existing ones coming by in an increasingly hyper competitive barbecue industry. And often times, we find that the ones with less flair, bells and whistles and over-the-top production house the best barbecue tastes. Dylan's fits this mold perfectly.
Dylan's is just what you would expect from a locally owned operation. Uncluttered, the restaurant simply features a large bar, multiple tables and booths, and one special seating area unlike any booth you've ever seen. The table itself is a large gun safe, laid down on its side to be dined upon. It really screams Texan. If you want to see what's going on as your food is prepared, that is certainly an option as you get a great vantage point of your meat being portioned as you wait in line to get your feast. There is also a large viewing window in the dining area where you can peer into the kitchen.
As it is in almost every Texas barbecue restaurant, Dylan's shines the spotlight on their brisket. Certified Texas Angus is rubbed simply with salt and high quality cracked black pepper and then smoked slow over oak. Although if you consult the 10 commandments of smoking meat, chiseled right there on one of the tablets is 250: the long considered best temperature to cook a brisket. Of course, it all depends on who you talk to, as now you will see pit masters and barbecue connoisseurs run a variety of temperatures, starting as low as 190 degrees.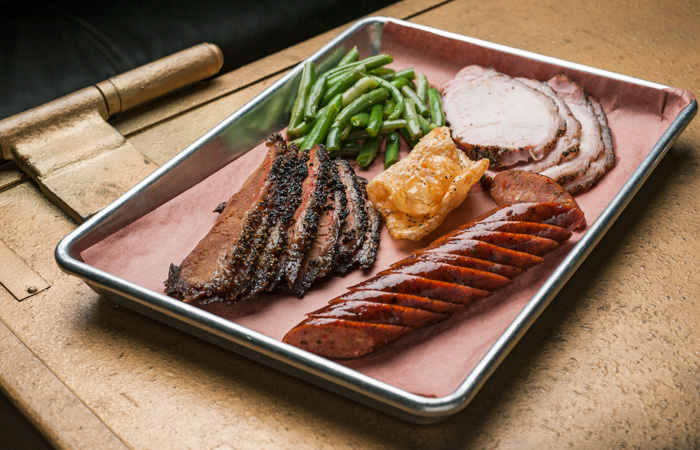 Dylan's General Manager Bryan Mahoney admittedly commits smoking sacrilege with his method.
"We go the new school way," Mahoney said. "Used to be that 250 degrees was the bible. Doesn't really have to be that way anymore. So, we're a little higher. I run about 300, 325. I start a little lower. I run about 250 for the first few hours, and then I warm it up. Of course, everybody has their way, but this way, we can cut the 16 hours down to about 10."
Despite the hotter cooking temp, the brisket still comes out moist and juicy. The heavy black pepper rub down gives the meat a gorgeous crust, and the oak cooking process means there isn't an overwhelming amount of smoke flavor. It's a great brisket for those whose palate may be a little sensitive to smoke.
In addition to the brisket, Dylan's has a wide variety of other meats. The sausage was juicy and spiced perfectly, the pork loin (which is one of the newer items on the menu) was tender and great with a little dab of Dylan's spicy sauce. Then there's the chicken which rivals any smoked chicken in the Dallas-Fort Worth area. It's very flavorful, and multi-napkin juicy. It's a favorite around the AG office.
If you're more of the handheld type, then you can of course make any of Dylan's meats into a sandwich. The soft buttered bun adds some richness to these already flavorful proteins. Add some pickles, jalapenos, or in-house pickled onions with one of three sauces (regular, spicy, Carolina vinegarbased) to elevate your 'wich to the next level. Add some fries or always addicting fried okra to make it a meal.
Dylan's also runs daily specials, and the Thursday selection is choice. Most don't think too highly of meatloaf. It often reminds us of the meat log that mom used to slap in front of us as a kid that was often drier than the heart of a haystack. Dylan's version is available Thursdays only, and is run through their smoker to add flavor and keep the loaf juicy. It's not your mom's meatloaf.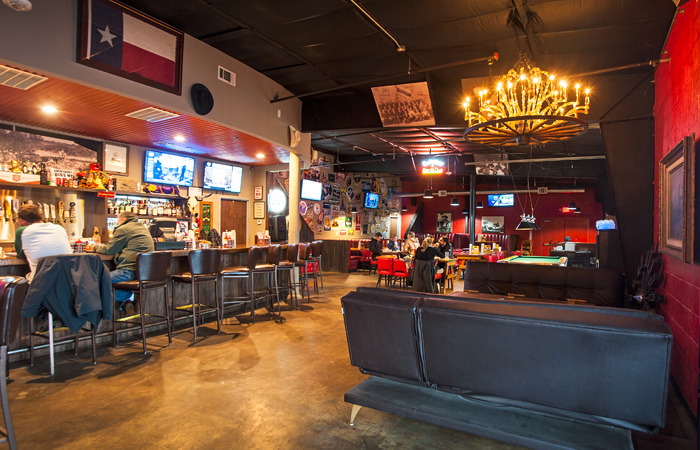 In addition to your sides, every meal at Dylan's comes along with a pork cracklin'. It adds another textural delight to your meal. Do yourself a favor and ask for one with your sandwich, add it to the top of your chosen meat and then compact the bun down on top to add some crunch to your experience.
As far as something to satisfy the sweet tooth, Dylan's has a steady rotation of all the barbecue joint classics: cobblers and the occasional banana pudding. But at all times, they do have a homemade Rice Krispies treat, which is perfect to eat immediately post meal, or take with you to scarf down at the office for that afternoon sugar rush.
Dylan's is exactly what you would expect from good, Texas style barbecue: simple, not over spiced, not too much smoke. Clean flavors and well executed sides mean a good dining experience. Come for the food and stay for the icy cold beer and neighborhood atmosphere. The barbecue arms race is heating up across the Metroplex, and Dylan's is ready for battle with their variety and flawless execution.