After the Round – Andrew's Pizza Kitchen

Everyone loves pizza. I don't care where you came from or what your background is, it's likely you order pizza pretty regularly. It's a comfort food we can all get behind, and sometimes, it's too easy to pick up the phone and have some hot, cheesy goodness delivered to your door. Well, there are also a boatload of great pizza options, should you want to step out for lunch or dinner, and there is one that I feel should be on your radar. Andrew's American Pizza Kitchen is Plano's exciting newest spot for a great meal, whether you are looking for some za or some great other options. 
The vibe at Andrew's is solid. There is a bar with plenty of TVs, should you want to have a beer or cocktail while you watch your favorite local team and wait for your meal. Other TVs throughout the restaurant offer the same views, should you not want to sit at the bar or want a more family friendly experience. There are also a lot of comfy booths, tables and even a nice patio if you have a group that wants to enjoy the upcoming nice spring weather. The whole place is clean and tidy, with a welcoming staff that will take care of your party and keep the drinks filled and your table clean. 
Every restaurant needs some great appetizers to get things started. Andrew's has a laundry list to tickle your taste buds as you wait on your pie or entrée. The Spicy Shrimp Orleans are a unique take on a NOLA classic. These shrimps are covered in a spicy, buffalo-based sauce with plenty of garlic kick and then spooned over some crispy ciabatta crostini, which soaks in the sauce and softens up the toasted bread. The shrimps are packed with flavor and delicate. It's a fun little app if you are a sucker for seafood. 
If you are all in on meatballs, Andrew's has some great ones. Meatballs can tend to dry out a bit, but not the ones here. They are packed with flavor and served with melted mozzarella, marinara and some bread for dipping. They aren't your typical meatball. 
As is standard with a lot of appetizer menus, wings are a staple at Andrew's, as well. Seasoned up and deep fried, these wings are crisp while maintaining a juicy consistency throughout. Original buffalo, honey BBQ, Teriyaki, mango habanero, Nashville hot and a blazing Ghost pepper are all on the menu if you prefer a wet wing, while lemon pepper, ranch-seasoned or Cajun are available if a dry rub is your thing. They are a great sharable for the table or as a meal for your own.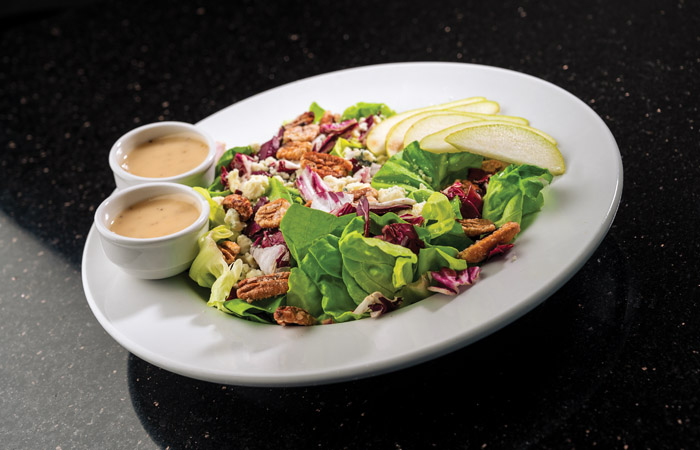 If you are in the mood for something that is a little more friendly to the waistline, then there is a great selection of salads. We sampled the Pear and Blue, which is one of the more flavorful, unconventional salads I have ever tried. Butter lettuce and radicchio are paired with some sliced pears, Gorgonzola and candied pecans and then topped with a sweet Vidalia onion dressing. The butter lettuce and peppery radicchio are cool and vibrant, while the Gorgonzola adds a bit of a pungent pop that balances out the sweet crunch of the pecans. And the Vidalia onion dressing is one of the most unique and flavor-packed I have ever tried. The whole thing just works, with each individual ingredient working in harmonious unison to create a phenomenal salad. Starter salads also include a house, Caesar and Mediterranean, and there are also several entrée salads on the menu, like the Cobb, Italian Chopped and a Honey Lime Chicken. 
Pasta is a rib-sticking great meal at any time of year, and Andrew's executes plenty of pasta dishes to perfection, including a great spaghetti, alfredo and even a chicken parmesan. But there is one pasta on this menu that I highly recommend you sample, and that is the Salsicce E Pappardelle. This sauce is a trio of Italian-style sausages served Ragù style over pappardelle pasta, which is a wider, ribbon-shaped noodle that holds the thick sauce to perfection. This dish screams Italy, with the hearty sauce and pasta served in a portion size which will leave you with a smile on your face and a satisfaction in your stomach. It is one of the best pasta dishes I have had in some time, and one that I highly recommend.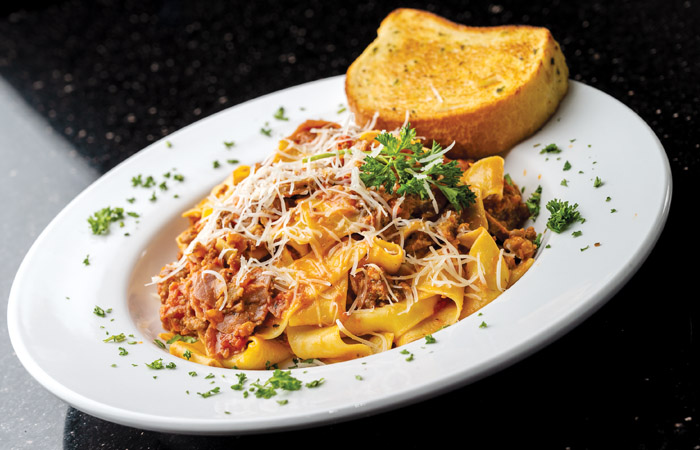 A great sandwich is a staple of any spot that does Italian well. And, of course, Andrew's has plenty. An American-style cheeseburger is on the menu for those looking for something a little more traditional American. A hickory burger is also available, with sautéed white onion, American cheese and a great hickory-style sauce. If chicken is more your thing, then the crispy chicken sandwich might be the way to go. 
But there is one sandwich on this menu that really stood out, and that is the Picasso. This mega-meaty trip around Italy is ham, salami, pepperoni, Italian sausage, mozzarella and provolone served hot on Ciabatta bread. It is packed with flavor, as the different meats release just a little bit of fat and oil from the heat, which then soaks into the bread and makes this sandwich as intense as it sounds. The melted cheese combination adds some additional salty flavor and velvety texture, but the real star of this show are those Italian sausage crumbles. I had never had a sandwich with sausage crumbles like this one, and it really adds a great textural component and a depth of flavor you won't soon forget.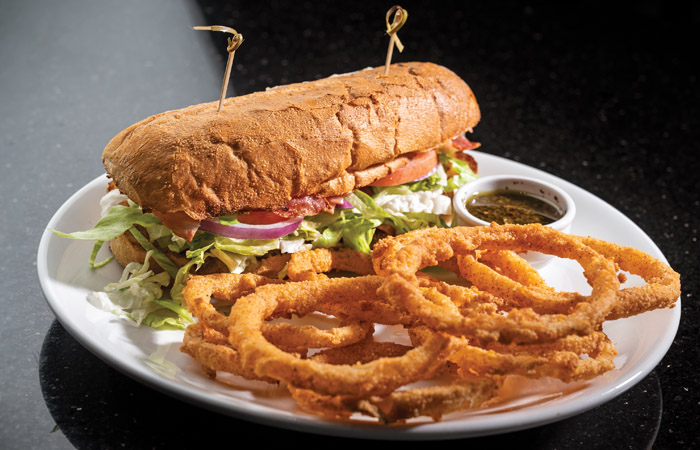 If you hadn't yet noticed, we have yet to talk about the pizza at Andrew's, and believe me, it requires some discussion. To begin with, Andrew's serves five different styles of pizza. That's right, if you are a fan of a certain type of pie, then chances are Andrew's will have it. Chicago style? Check. Are you more of a fan of the foldable New York style? Well, they have that, too. Chicago, New York, Detroit, Philly Tavern, and Dallas-style pies are all on the menu, so now you don't have to argue about where to go for pizza if you and someone in your family disagree about which pizza reigns supreme.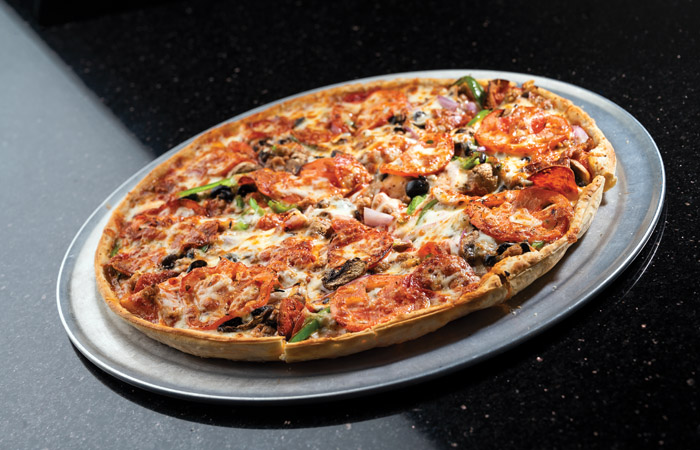 Andrew's Dallas-style pizza is the one I chose to sample, and I am so glad I did. I have had the chance to eat plenty of Chicago and New York-style pies before, so I was curious what Dallas style was all about. This is a thinner pie, with a bottom crust that is more akin to a New York style, with a great foldability, all while still being rigid enough to handle a healthy number of toppings. The outer crust is what really sets the Dallas style apart, as it crisps up wonderfully and almost had a firm, crumbly, bubble-filled texture, which really gives another element of texture to the whole ensemble. I went with the Picasso's Masterpiece pie, which has all the usual suspects. Pepperoni, beef, sausage, mushrooms, red onion, green peppers, tomato and black olive. It comes as advertised, as this is truly a masterpiece of pizza astonishment. Each ingredient shines through, with plenty of flavor from the meats, with some fresh crunch from the peppers and onions and a great briny element thanks to those olives. 
If you prefer a simpler pizza, then of course you can create your own or go with something like the Triple 'Roni, which has house pepperoni, grande pepperoni, and old-world style pepperoni cups for maximum pepperoni madness. Looking for something a little different? Go for the Florentine di Pollo, which has alfredo sauce, chicken breast, tomato, fresh spinach and artichoke hearts, topped with ricotta. It's off the beaten path, but it's every bit as delicious as some of the more conservative pies. 
The pizza combinations are truly limitless at Andrew's. If you factor in five different styles, five sauce types, stuffed crust options, and close to 60 different toppings, you could spend a lifetime trying different combinations and wouldn't come away disappointed with any of them. I can't wait to go back and come up with some of my own creations and give them a try. And if you are a gluten-free customer or like the Keto-friendly cauliflower crust, they are also on the menu. 
Every good meal ends with dessert, and I would be remiss if I didn't mention one we sampled at Andrew's. If you have followed my adventures in the past, then you have likely noticed I am somewhat of a Key Lime pie connoisseur. On my many travels across this great land, if I happen to be at a restaurant which serves Key Lime pie, I am going to try a piece. Some are better than others (although there are really no BAD ones), but I must say I was very impressed with the Key Lime tart at Andrew's. The filling was exactly what you would hope for with a great Key Lime dessert: the whipped cream piped on top was smooth and silky, the crust was moist and flavorful and the addition of some lime zest on the top really added some great pop and freshness. It is a rock-solid end to any meal at Andrew's.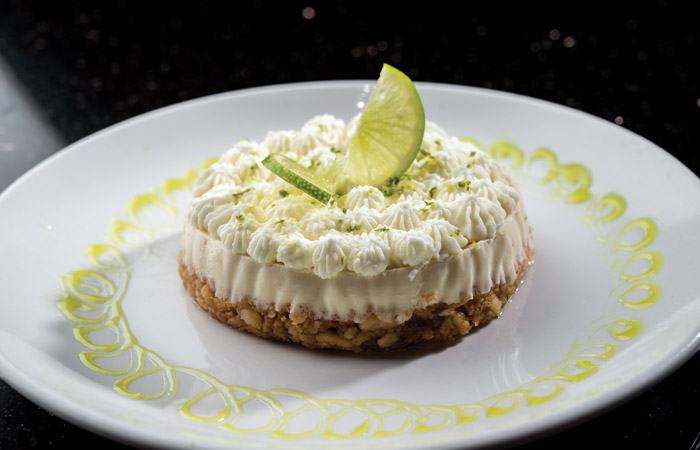 Andrew's American Pizza Kitchen was a pleasant surprise, as you never know what you may be walking into with a new establishment. Everything we tried was well executed and tasty. The atmosphere is great, and the staff was extremely polite and helpful. Of course, as it should be, the pizza was the real rockstar of this production, with so many options, it's hard to imagine anyone not being able to find a pie they will love, and the other salad, sandwich and grill options mean if you happen to be in the mood for something else, there are plenty of things to dazzle your palate. Overall, this is a wonderful new spot for those who are up in the Plano area, and if you happen to be in that neck of the woods, it's a must-try.