Cover Story – DeMarcus Ware

When the Dallas Cowboys made DeMarcus Ware their first-round draft pick back in 2005, little did anyone know, including DeMarcus himself, what a ride he was about to embark on. Ware was a multi-sport athlete at Auburn High School in Auburn, Alabama, before continuing his athletic endeavors while on scholarship at Troy University. As a senior for the Trojans, Ware was named Sun Belt Conference Defensive Player of the Year and was one of the finalists for the Hendricks Award, which is given to the top defensive end in college football. 
After becoming the number 11 overall pick in the 2005 draft, Ware was a wrecking machine for the Cowboys' defense, racking up 177 sacks, 32 forced fumbles, 145 tackles for loss and 185 quarterback hits, all of which are Cowboys' franchise records. After his time in Dallas, Ware moved on to play three seasons with the Denver Broncos, where he captured a Super Bowl championship for the 2015 season.
Since his retirement in 2016, Ware has embraced being a family man, as well as teaching the finer points of pass-rushing to young NFL defensive talent. He has even taken up the game of golf, which he has put on public display in several celebrity events, including the Invited Celebrity Classic, which he played in 2022 and is committed to once again this year. 
Now, at 40 years old and having last suited up in the NFL back in 2016, the nine-time Pro-Bowler and Super Bowl 50 champion is getting prepared for his biggest honor, induction into the Pro Football Hall of Fame in Canton, Ohio. 
AVIDGOLFER had a conversation with Ware about his upcoming Hall of Fame induction, his golf game, and how he spends his free time now that he's no longer terrorizing quarterbacks.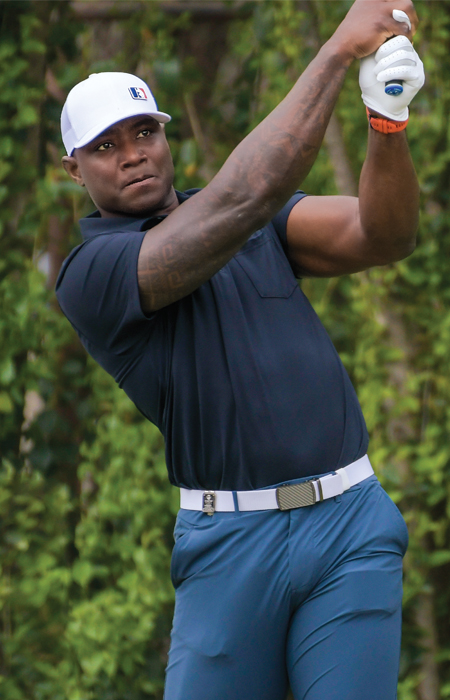 AVIDGOLFER: Congrats on the Hall of Fame. How exactly did you find out you had been selected?
DeMarcus Ware: Actually, I went into Jerry Jones' office. Usually when I go to the facility, I will go to Jerry's office and we will chat or whatever, and this time was normal. I knocked on his office door, and when I opened it up, Jerry was wearing his gold Hall of Fame jacket. At that point, he said "Welcome to the 2023 Hall of Fame class." It took a few seconds to hit me, and then I noticed all of the cameras in there with us and I figured out what was happening. It was really cool. 
AG: How honored are you to be in a class with so many other defensive greats, like Zach Thomas, Darrelle Revis, Ronde Barber, and even former Cowboy Chuck Howley?
DW: It's great, because usually you see more offensive-minded Hall of Fame classes. This one is unique because it does feature a lot of defensive guys. I played with Zach, I always watched Darrelle Revis from the sidelines, and I even played against Joe Thomas. And I also have a Dallas Cowboy in Chuck Howley, so it's really cool and a huge honor to be a part of such a great class. 
AG: Have you started your speech yet? 
DW: I have a few notes down about what I want to say, but it will be a long process. I will probably be changing it the day before. It's very challenging to make sure you include all the people who have influenced you, challenged you and impacted you over the years, as well as telling your story.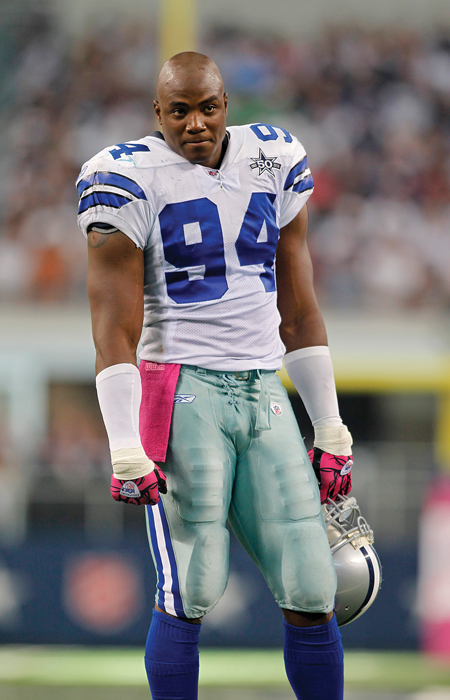 AG: What about your Hall of Fame bust? Have you sat down and been measured and all that yet?
DW: Yes. We did that at the Super Bowl this year. And it was cool because they used some of the same equipment on me as they did for John Madden. Also, getting to go to Canton and see all the busts there and knowing yours will be right there bedside those others, is such a great feeling. 
AG: Are you planning to play Firestone while you're up for the week of the ceremony?
DW: Listen, I am already trying to work on that. I am planning to go up a little early to play some golf. 
AG: Do you still keep up with the NFL and watch a lot of football?
DW: I do. I still watch a lot. I watch a lot of NFL, and even though it has changed quite a bit, I am really enjoying it from the sidelines as a fan. 
AG: Speaking of the changing landscape of the NFL, you were a bit of a tweener in college and when you were drafted, you seemed to help pioneer the current edge rush position. Do you feel a sense of pride that you helped revolutionize that position for some of the more modern edge rushers like Micah Parsons or TJ Watt?
DW: First, I go back and look at the guys who paved the way for me, and then myself being a guy who paved that road for the next generation. I got some of it from guys like Michael Strahan or Bruce Smith, and then I was the guy to help develop that next generation. So, I love being that guy that helped the next generation.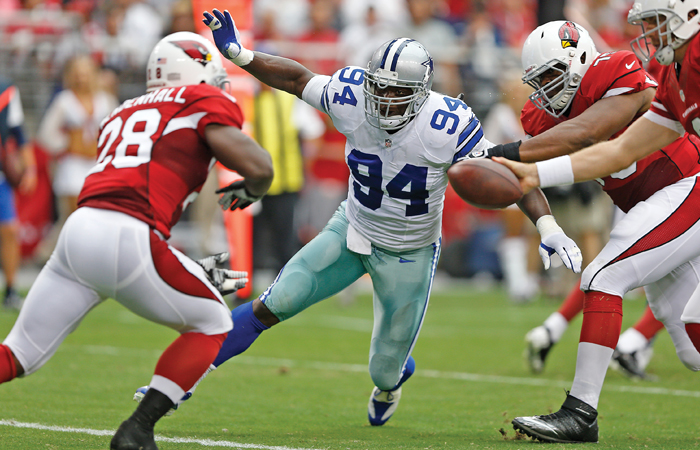 AG: Who is the most impressive edge rusher in the league today?
DW: Good question. There are so many guys. I would have to say Joey Bosa. He can play inside. He reminds me of JJ Watt a little bit, but smaller and faster, but then you put him on the edge, and you have to double team him. I also like Chandler Jones. He's always up there in the 14 or 15 sack range and he's really quiet about it. 
AG: You're just now 40 and you're already retired. Most people work until they're about 65, I'm sure you have some charity work and other commitments, but what do you do to stay busy and active and keep grinding, even though you don't have the responsibility of being a professional athlete anymore? 
DW: The grind is my family. That's my new locker room now and they're my new team. When you have to wake up in the morning and get in that carpool line, and then right after school they have a tournament, which is three or four games, and then you're going to soccer practice or volleyball. Now I get to pour all that energy into my family, which is so cool. 
AG: Have you ever considered getting into coaching at some level?
DW: It has crossed my mind. I mentor a lot of guys in the offseason, where we will watch film, give them some techniques, and teach them some things about the mentality of being a pro. I have a private facility here in Southlake where I will train some guys. And other times I will pop in the facility, whether it be the Cowboys or the Broncos, I like to help mentor those younger players as much as I can.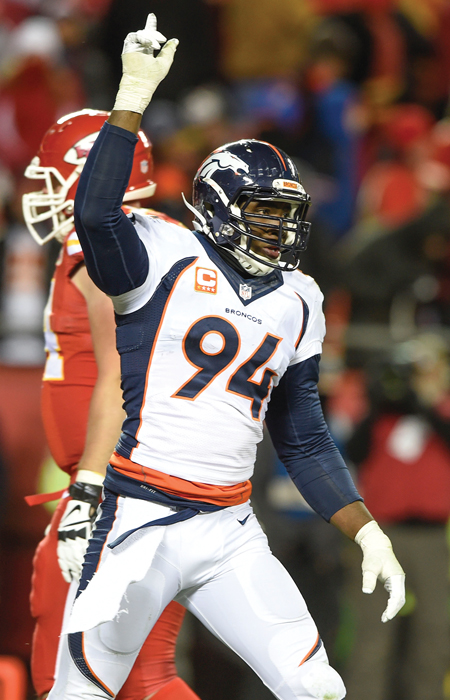 AG: When did you decide to take up golf? 
DW: It's an individual thing and, for me, pass rushing is the same way. Rushing a passer, I had to think about all the technique, tendencies of the offensive line, the formation, the quarterback, and I had only three of four seconds to make those determinations. The only other sport I get that from is golf. With golf, you have to think about the lie, the distance, the wind, and you need to think about whether you want the ball to check or roll. All those things remind me of that mental stimulation I got with football. Golf seems to be the only other sport I get that from. 
AG: Is there an element of competitive flame there, too?
DW: If you can be your best self that day, but it's not about what the other man is doing. Every stroke is like a field goal or a touchdown. Just because your tee shot doesn't find the fairway, that doesn't mean it' over. There is another opportunity right after that. That's what makes golf special and fun for me. 
AG: How often do you play?
DW: If I could play every day, I would. I built a simulator in my house so I can practice as much as I can. 
AG: What are some of your favorite courses in DFW?
DW: Trophy Club, Las Colinas Country Club, Timmaron, Cowboys, Trinity Forest, Dallas National. Pretty much anywhere I can get a good tee time, I'm there. I have all the golf  apps, Invited Clubs, you name it. If I can get on, I'm there. 
AG: Have you ridden in the cart with your name on it at Cowboys Golf Club yet?
DW: Of course! They gave it to me on purpose once. It had my name and number on it. They treat me really well there. 
AG: What about some bucket list courses?
DW: I want to play Maridoe, but there are so many courses around here I want to play. Honestly, I would like to play as many courses as I can in the state.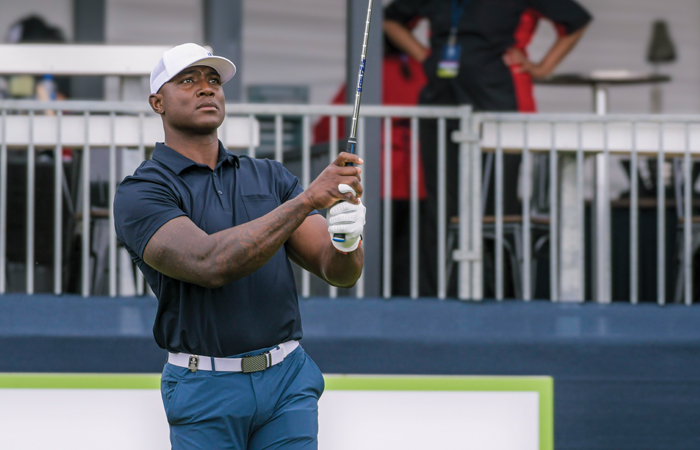 AG: If you could have any tour professional's swing, who would it be?
DW: Prime Tiger. I have to go with young Tiger. He could just manipulate the ball so well. His swing was so powerful, and he was always able to finish, and I just loved his consistency.
AG: What is more difficult? Rushing a mobile quarterback? Or flushing a long iron?
DW: Flushing a long iron, for sure. I can get to a quarterback and, when I do, I'm not going to miss. There are so many elements that can impact your golf ball, so hitting a long iron is tougher for me. 
AG: The Invited Celebrity Classic is coming up. How cool is it to get the invite to the event and get to play alongside all these celebrities and pros?
DW: It's almost like I am preparing for a game. It's so cool because I get to play against everybody. Football isn't for everyone. It's a different kind of game. In golf, you can be any age, you can get beat by anybody, and you never know who is going to be on the course. It's something I look forward to and something I prepare for. I am super excited to get back out there with all the competitors. 
The DeMarcus Ware File
Age: 40
Hometown: Auburn, Alabama
College: Troy 
NFL Draft: 2005/ Round 1 / Pick 11
NFL Career: Dallas Cowboys 2005-2013, Denver Broncos 2014-2016, Super Bowl Champion (Super Bowl 50)
Sacks: 138.5 (9th all time)
9x Pro Bowl
4x First-team All Pro
2x NFL sacks leader
NFL 2000's All-Decade Team