After the Round – Bubba's 33

Atmosphere is everything when choosing a spot to take in a few drinks or some dynamite food. If you are an avid reader of our magazine, then you are aware we have been tracking the amazing progress and expansion of The Colony. As the Metroplex continues to expand northward, The Colony has seen major benefits, including the addition of Nebraska Furniture Mart, Scheels, The Puttery and even Andretti Indoor Karting & Games. In addition, The Colony is the host city of the Ascension Charity Classic, which is played at Old American and is the LPGA's only stop in DFW. 
Not far away, just off 121 sits Bubba's 33. A concept launched in 2013 by Kent Taylor, who is the brains behind Texas Roadhouse, Bubba's is a scratch-dining concept, with a little sports bar attitude sprinkled on top. When you first enter The Colony location, you can choose the tamer family side or choose the bar area to the left if you are looking for a little more gametime atmosphere. Either are comfortable and fun, with plenty of sports memorabilia on the walls and garage doors that open on the bar side for open-air dining when the weather permits. This is a great place to take in some NCAA football on a Saturday afternoon or a Cowboys game on a Sunday.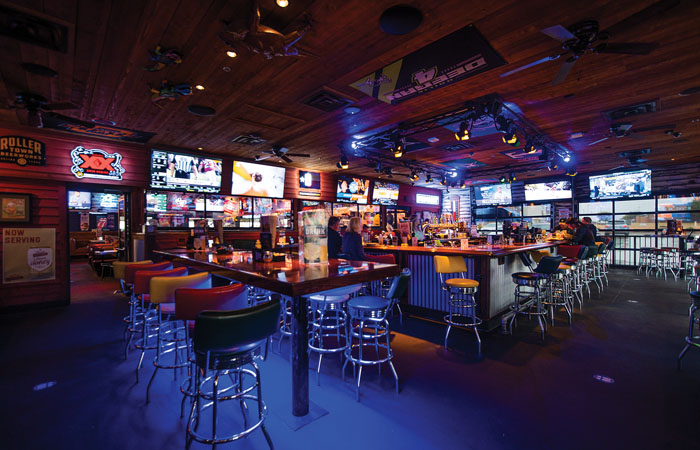 As far as libations go, Bubba's has a bounty of choices, from their 18 beers on tap to one of their hand-crafted cocktails, like the Cucumber Mint Sour or their Midnight Train. There is something to satisfy everyone who might want an adult beverage. 
Sharables are always popular, whether you are looking for something snackable or to split as you take in some football action before you bring on the entrees. For a starter, I recommend the layered cheese fries, which are topped with queso, melted cheese, bacon and sprinkled with some cool, crisp green onions. They're savory and rib-sticking, as an appetizer or to split among your group. Fried pickles, onion rings and everybody's favorite, queso, are also on the app menu. The queso is topped with chorizo for some extra spicy, meaty punch. 
If you are on a health kick or just want something on the lighter side, then opt for one of Bubba's unique salads. Try the grilled or fried chicken salad, or even a grilled salmon salad if you want to max out the lean protein. We were given the kale quinoa version and, let me tell you, for a meal that goes just under 400 calories, this will fill you up without hurting your waistline. Baby kale, arugula and quinoa are tossed with candied pecans, tomatoes, strawberries, dried cranberries and goat cheese, coated in a delicious house balsamic vinaigrette. Everything works wonderfully together … the peppery arugula, the creamy goat cheese, the acidity of the tomatoes and the little sweet bite from the candied pecans and strawberries all work in unison to stimulate your palate without deep-sixing your diet. It's a must-try and one of the best salads I have ever had.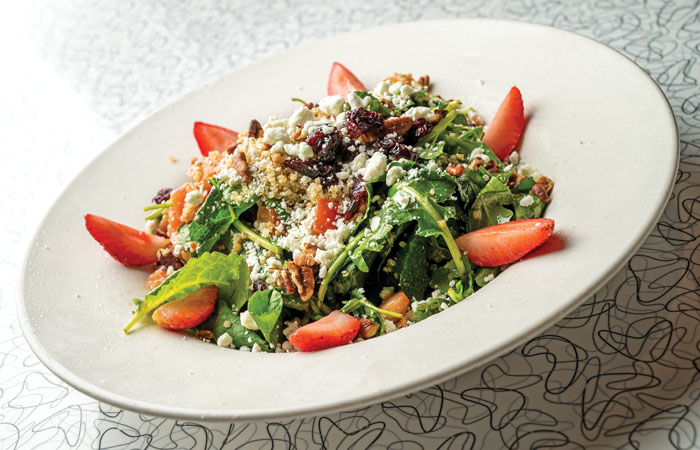 For those looking for something a bit more substantial, plenty of hand-tossed pizza options are ready for consumption. Cheese, pepperoni and veggie are on the menu, and if you want something a little more exotic, then go for the buffalo chicken or the Dickie V, which is a mouthwatering combo of Italian sausage, cherry peppers, fresh basil and grated parmesan. The crust even comes brushed with some extra garlic butter, which adds some pizazz to the chewy outer edge of this pie. As Dick Vitale would say, "It's awesome, baby!"
If you are a wing lover, then Bubba's is a great stop. Bone-in or boneless varieties are available, with plenty of great sauces to slather them up. We sampled the buffalo hot, which came equipped with your traditional combination of buffalo heat and twang, as well as the sticky sweet raspberry chipotle. The raspberry chipotle was particularly interesting, as you got the immediate hit of sweet from the raspberry, followed by a smoky spice note at the back of your throat from the chipotle peppers. They are as flavorful as they are unique, and a flavor I can't wait to get back and try again. As a quick aside, when it comes to wings, everyone loves a good dip, and the ranch dressing at Bubba's is some of the best I have ever had. The thick, cool dip adheres to the wing without dripping down your chin or in your lap as you chew the meat off the bone. BBQ, garlic parmesan, habanero heat, teriyaki and Cajun flavors are also available.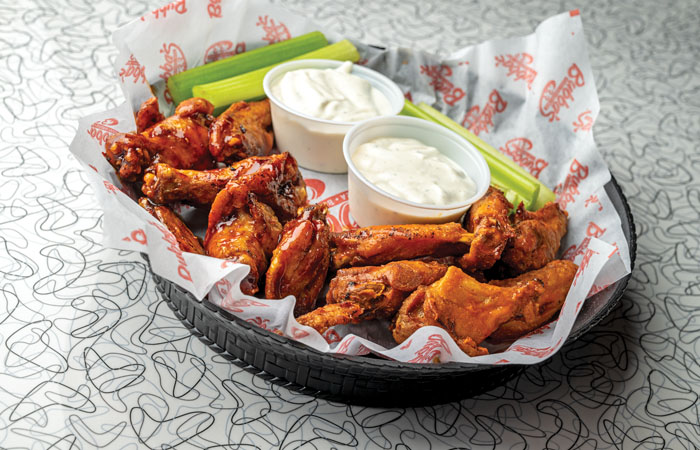 Everyone loves a big juicy burger, and Bubba's slings some great ones. To begin with, the burgers are "bacon grind," which means there is bacon actually mixed in with the ground beef. The bacon not only adds a little extra fat content to keep the burgers moist, but also another bit of texture and another flavor profile. If you want the traditional cheeseburger, they have those to accommodate, but if you are wanting something with some additional flair, then you might check out the spicy habanero burger, which is not for the spice intolerant. A south of the border burger, which is topped with house-made queso, chorizo and the standard LT&O. We tried the bacon guacamole burger, which has two four-ounce patties for double the meaty deliciousness, and comes stacked to the ceiling with bacon, guacamole, pepper jack cheese, lettuce, tomato, and onion. Those burger patties are to die for, with the bacon incorporated in the mix. The guac adds a cool component, and the pepper jack cheese has just enough spice to flush the forehead a little. It's a quality burger by any standards, but get the napkins ready, as consumption is a messy process.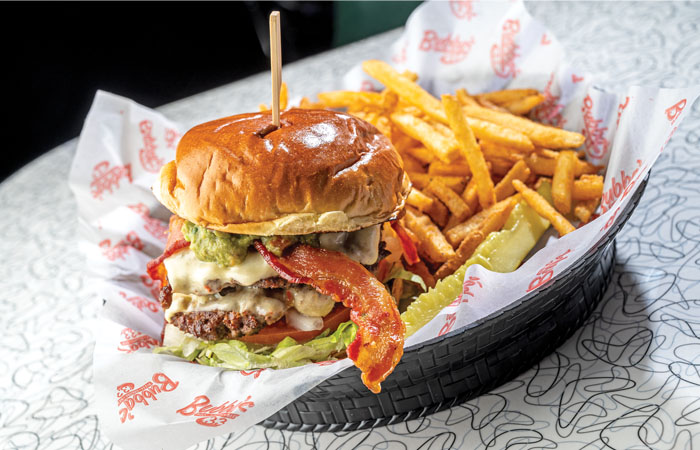 In addition to burgers, there are a multitude of other handhelds at your beck and call, including a buffalo chicken sandwich (which I began to wonder if it could be tossed in that outrageous raspberry chipotle sauce), a chicken parmesan sandwich, a shrimp po-boy and even a Philly cheesesteak. We saw a few making their way around the dining area on our visit, and they all looked great. All burgers and sandwiches are served with a side of crispy fries. 
Dinner time is always a time of confusion in some households. The question of "what's for dinner?" has caused more minor quarrels than we likely understand. Don't waste time going through the motions only to submit and order a pizza; let Bubba's feed the family with some great larger portion options. Southern-fried chicken and bacon mac n' cheese, fried shrimp or one of their signature ribeye steaks might do the trick. Each one comes with two sides. If you're looking for something a little outside the box, we hear the lasagna is worthy of your order, as well. We tried the California chicken, which is a chicken breast smothered in melty cheese, avocado and topped with pico. It was a nice, lighter option that didn't disappoint.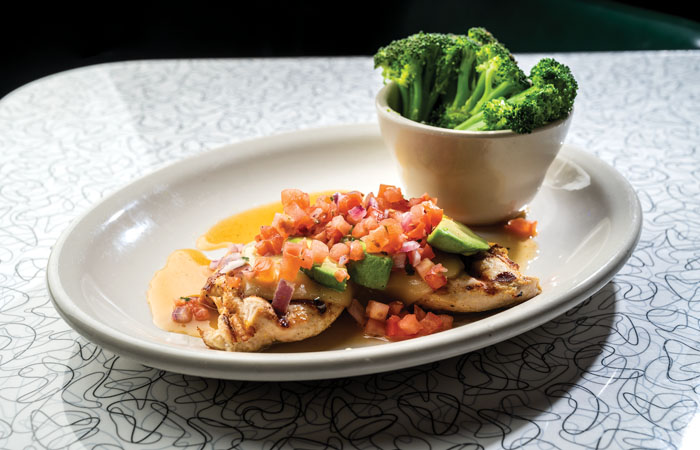 There are some dessert options, as well, including the turtle mud pie, which we saw headed to a table nearby and looked delightful. Might have to make a return trip to check one out. 
Bubba's is a fun concept. I would imagine it's a super fun atmosphere to take in a ballgame and have some drinks. The food is rock-solid and delicious. Everything is just done right, from the burgers to the pizzas, it's all good. One thing I highly recommend are those raspberry chipotle wings, as they are truly unique from any wing I have had previously. Food, drink, fun. Bubba's 33 checks all the boxes. I hope to see more popping up in the Metroplex in years to come.