Tech Talk – The Ultimate Home Theatre

Like those drawn to sports, cars, music, or presidents, for those of us who really love movies, there's an endless debate about which one is the GOAT. Is it "Casablanca,"or "Citizen Kane?" Wait a minute. What about "The Godfather," or "Vertigo," or that vocal cohort that always votes for "Caddyshack?" (You know who you are.) Dependingon what list you believe, the greatest movie of all time could be "Roman Holiday," "Titanic," "Vertigo," "Tokyo Story," "Battleship Potemkin," "Seven Samurai," "It's A Wonderful Life" or "Pinocchio."
Subdivide the conversation into genres to debate the best Action, Animation, Christmas, Comedy, Documentary, Fantasy, Horror, Musical, Romance, Sci Fi, Sports, Superhero, War, and Western movies of all time and bartender, we need another round. We could talk movies for days. And when that conversation wanes, we'll most certainly shift to what's the best television series of all time. "The Sopranos?" "The Wire?" How about "The Simpsons," "I Love Lucy," "Cheers," or "Seinfeld." Earlier this year, a YouTube TV poll put "Friends" at the top of Americans' all-time TV list. Considering the show has been viewed more than 100 billion times across all streaming platforms since it's finale in 2004, could our favorite TV show BE any clearer?
Discussing – debating – jawing about which movies and TV shows are the alltime greats is nothing short of an American pastime. What's not, is which company to hire to build a spectacular home theater where you can watch them. Without question, that title goes to Starpower. As home values exploded in the last 18 months and now as interest rates have started to climb, more and more people are forgoing buying a new home and deciding instead to make smaller investments in the home they love to add the luxuries they want. Outdoor entertainment areas, man caves, and renovated kitchens are hot. But nothing has captured people's imaginations like building state-of-the-art home theaters.
"There are few things our clients get more long-term joy out of than building a custom home theater," notes Starpower CEO David Pidgeon. "There's something very special about designing and crafting a one-of-a-kind space that showcases both the finest advances in audio and video technology and the personality of the owners.
What sets Starpower apart is that we understand a home theater is more than a bigger screen and a couple extra speakers. When done well, each home theater is a unique environment and the perfect nexus of technology and design. Once you combine the collaborative talent of our home theater design team, our audio and video experts, our leather furniture designers, our flooring specialists, and our construction team, there's no one in our business that delivers the extraordinary results we do. And we're very proud of that."
Welcome To Your Theater
In every great home theatre, the whole is most definitely greater than the sum of the parts. The magic comes in working with a team that knows how to balance those parts perfectly.
The Space
Every home theater starts with the space you have to create it. More and more, current home designs are including dedicated spaces to build out home theaters. But even if you don't have that kind of room, our design team can take other spaces like bedrooms, dens, or even living rooms and use them to create an extraordinary theater space for your home. To build the perfect movie watching environment, our design team will first create a plan that makes the best use of the space you have available.
Our smart shading system brings an elegant movie theater ambiance to the space while also hiding the surround sound speakers when not in use. When needed, we can also add electronic shades to any window. Once your home theater is completed, you'll be able to control everything from dimming the lights and drawing the shades, to starting the movie and even controlling your seating with a custom Crestron smart home system guaranteed to take your home theater to the next level.
The Screen
The ultimate Starpower movie experience features the top Sony 4K HDR home theater laser projector with a motorized Screen Innovations projector screen. Between the size of the screen, the brightness of the picture, and the intensity of the color, you'll swear you're in a small theater, at the concert, or sitting in the bleachers watching the game. And if you don't have a dedicated space with a wall for a home theater screen, not to worry. At Starpower, we have stateof-the-art TV screens to fit whatever size theater you want created.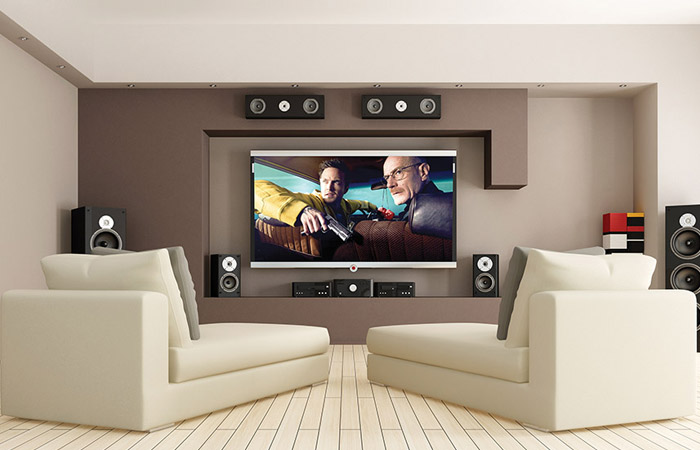 The Audio
The incredible images you see on today's TV screens and from the latest laser projectors are stunning, but it's the sound that really brings them to life. And at Starpower, our home theater engineers are more than just installers. They are masters at creating optimal sound. Our full 18.2 Channel sound system featuring JBL Synthesis loudspeakers delivers heart pounding surround sound and instantly turns your home theater into a jungle, a space station, an old west saloon, or an out-of-control stadium.
The Seating
For most companies that do what we do, theater seating is an afterthought. At Starpower, we have an entire division to make sure our seating was extraordinary. Whether you want to build out your home theater with leather love seats and recliners, or full sofas and riser seating, our expert craftsmen can create custom seating right down to your choice of style, color, and choice of leather. In addition to that, Starpower also features the innovative D-Box motion system that allows you to literally feel all the twists and turns of your favorite movies as your seats precisely move with the action happening on the screen.
The Future of Entertainment
If you've been to the movies recently, you know it's no longer an inexpensive affair. At a regular theater, tickets, popcorn, and drinks for a couple are easily $50 or more. Go to a dine-in theater with meals and adult beverages and a night at the movies can cost well over $100. And that doesn't include the babysitter. Over the past decade, as the price of going to the movies continued to soar, more and more people started opting instead to stay home and wait for their favorite movies to stream. Most movie lovers were impatient with that strategy, but when COVID hit and we were all forced to abandon movie theaters for a year, watching from home reached a critical mass. As a result, more and more people have committed to upgrading their home entertainment spaces and often, in spectacular fashion.
"We are living in a very fun time for home entertainment," noted Starpower CEO David Pidgeon. "From the projectors to the sound to the seating, technology is quickly driving us to a place where the quality and ambience of home theater environments is quickly exceeding the experience in most movie theaters. Clearly, the screens at movie theaters will always be bigger. But with the right sized screen, the scale of a home theater and the ability to place the viewer in the perfectly optimal spot for surround sound provides an extraordinary viewing experience with an intimacy you simply can't get at a theater. Add in the incredible number of streaming options, sporting events, and concerts available to watch at home and the immersive watching experience shifts from a once in a while trip to a theater, or stadium to an everyday enjoyment."
It's no wonder home theaters are on every holiday wish list this year. If you've entertained the thought of upgrading your home theater, or simply creating one from scratch, now is the perfect time to get started. At Starpower, we are committed to transforming homes and adding well earned luxury to our clients' lives and we'd love to do that for you. What's the best movie ever? Hard to say. But at least now, with Starpower, you can have the best possible place to watch it.