After the Round – Dive Coastal Cuisine

Franchesca Nor is a California girl at heart. Over the last 13 years, her passion for food and her fresh, organic take on coastal fare has been a Highland Park staple. Nor and her staff care about clean eating, using only the best ingredients that are flown in daily, brought in from local sources, and prepared using gluten-free rice bran oil, coconut oil and ghee. Fillers and flour are a no-go, and 20 sauces are made in-house, making this one of the most waistline-friendly spots in all of Big D. Dive Coastal Cuisine has all the makings of a spot for that great power lunch, happy hour, or night out for dinner. The cuisine is expertly prepared using California influence with some international flair.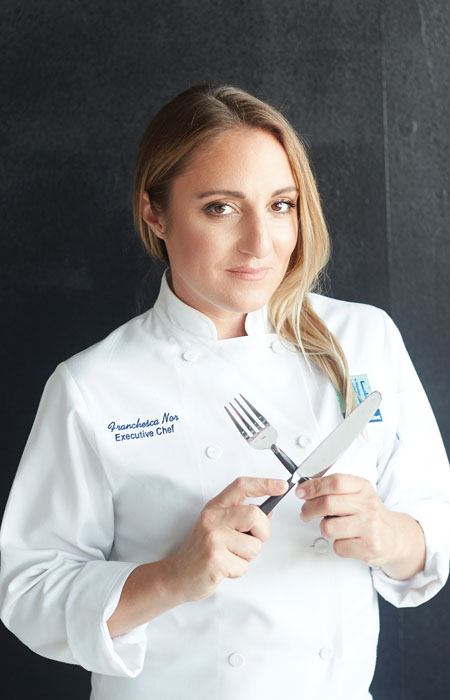 To wet your whistle as you dine, Dive has a refreshing selection of teas, including a mojito mint, peach hibiscus, coconut, tropical green, mango and raspberry that are all simply delightful. Plenty of lemon, sweeteners and even simple syrup are available if you want to add a sweet component, or you can enjoy them as they are offered over ice. There are also cocktails, and a nice selection of beer and wine if you are enjoying a sharable bite with friends for happy hour. Featured cocktails like the hibiscus margarita, paloma or the classic margarita are a refreshing way to beat the heat during the upcoming summer months. 
There is a stupendous sharables menu, featuring simple items that won't weigh you down, like the crispy cauliflower bites, which are prepared simply on some semolina flour and served with a refreshing lemon aioli. Fried calamari is also a great choice, with a spicy bite of some sriracha aioli drizzled on top. We sampled the ceviche, which was as bright and tasty as any you will find in DFW. This combination of lime-marinated bass is mixed with some mango, cilantro, red onion, tomato, and some jalapeño for a spicy bite. The ceviche is served with some plantain chips and some hot sauce, if you want to dip and add a little more heat to the equation.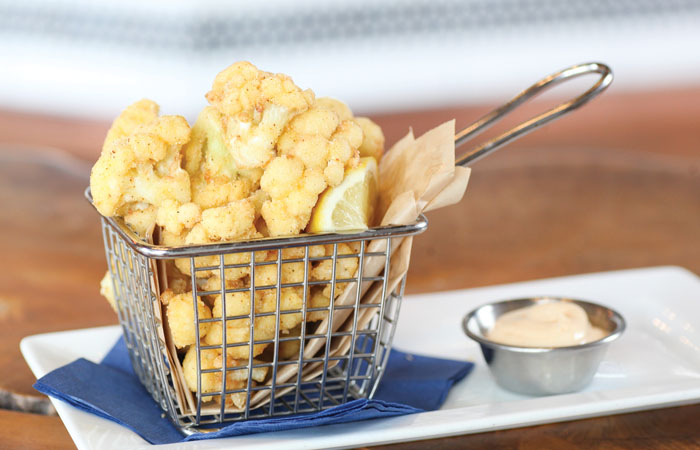 Clean eating often means choosing a salad for your meals. At Dive, they take salads to new heights, with ingredients that complement each other for maximum nutritional value as well as flavor profiles. The Dive greens salad is as simple as it is fresh. A mouth-watering mix of mixed greens, broccoli sprouts, carrots, beets, tomato and avocado, this salad is perfect for those hot summer days as the clean ingredients will leave you satisfied without bogging you down for those hot days in the Texas heat. Another salad superstar at Dive is the red quinoa and goat cheese. This salad is a little more substantial, but the light quinoa, grape tomatoes, green onions, roasted corn, goat cheese and fresh herbs are a match made in salad heaven. Cobb, crunchy Asian, heart of palm, and roasted dill varieties are also available for a quick, light lunch or dinner. 
Dive has plenty of great choices for your meal, but a couple of their specialties are their delightful and flavorful wraps and sandwiches. There are multiple wraps for your enjoyment, from a chicken with cilantro rice, grilled onion, tomato and jack cheese, to the churrasco steak, which comes with onions, peppers, organic corn, avocado cilantro rice and jack cheese. Both are well prepared and delicious. 
But, if you are looking for something more sea-worthy, there are a couple wraps you need to sample. The curry shrimp wrap is so unique and satisfying, it should be illegal. This combo of fresh shrimp, coconut rice, celery, mixed greens, granny smith apple, cucumber and creamy curry dressing is perfection. The shrimp are perfectly cooked and come directly from the Sea of Cortez off the coast of Mexico, meaning they are not only super succulent, but have a touch or natural sweetness, making them some of the best you can buy. The celery and cucumber in this wrap add some crunch, and the apple gives just a hint of tart sweetness. It's one of the best wraps you will ever try. 
Another wrap superstar (and one of their most popular) is the seared ahi tuna version. This wrap comes complete with ahi tuna, ginger slaw, cucumber, avocado, coconut rice, with a sweet chili and ponzu sauce. You won't want to miss this one if you are in the mood for fresh and flavorful. All wraps are served with some of those crispy plantain chips, which Chef Nor described as a nod to her time spent in Miami. And should you be one who wants to keep things low-carb and skip the tortilla, all wraps can come "unwrapped," as well, to keep away from those extra calories and carbs.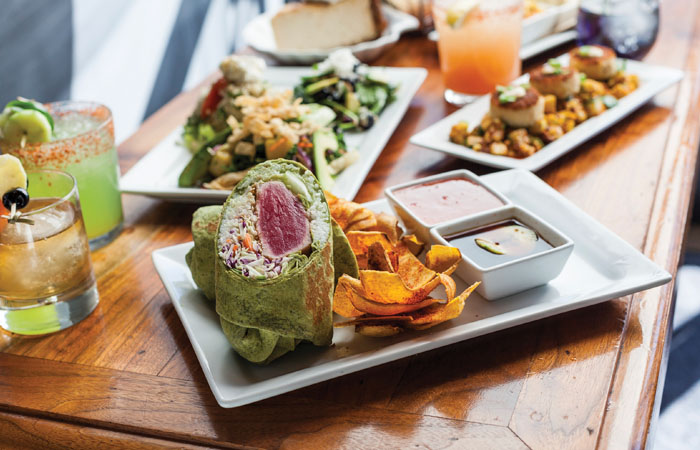 There are also a couple handhelds you should consider if you stop by Dive. The South Beach turkey burger is a hit, with sriracha aioli, avocado, grilled onion and jack cheese. It's a great burger that isn't a gut buster. The tuna melt is also rock-solid, with house-made horseradish pickle relish, organic broccoli sprouts, fresh tomato and jack cheese. It's as mouth-watering as it sounds.
Some of the most intriguing entrees on the Dive menu include the dive surf and turf, with churrasco steak, grilled shrimp, cilantro rice and black beans. It's perfect if you want plenty of protein after a hard lift and can't decide on beef or seafood. The Del Mar taco trio is another great option for those who can't get enough tacos. I mean, we are in Texas after all, and tacos around here are king. This entrée allows you to choose three tacos, from crispy cod, spicy shrimp, grilled mahi or blackened salmon. They come wrapped in some fresh tortillas and are served with a trio of sauces, including a vibrant salsa to add for some extra kick. 
Chef Nor is on the cutting edge, not only because of her enthusiasm for fresh fare, but her commitment to the community. Dive and Chef Nor are currently in the process of building a partnership with 4DWN, which is a local skate park that also values a sense of community. 4DWN and Dive are combining their core values of education, responsibility, conservation and nutrition transparency and merging them with state-of-the-art technology to create a new high-tech indoor urban micro garden. This new micro garden will allow participants to sustainably source produce for Dive and other partners, while aligning with strong community allies like 4DWN and providing new ways to educate, cultivate and conserve.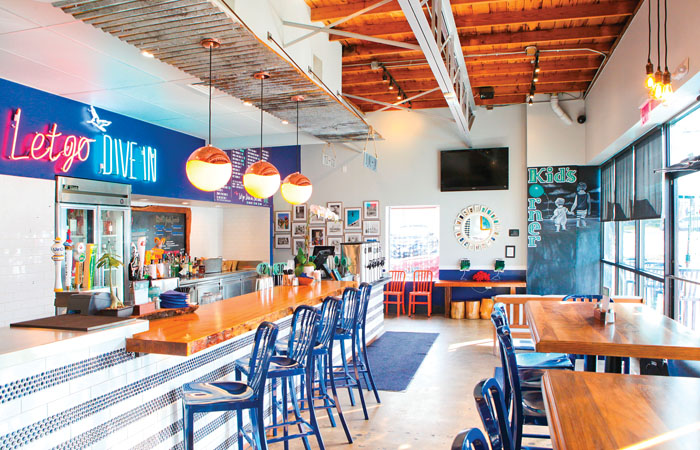 Nothing at Dive is pre-made. Everything is made to order, meaning those with food allergies or dietary restrictions can be confident in finding something that fits their need with no issue. It's a great way to do business and keep the customers coming back. In fact, Nor says they have customers who are so committed to her food, they dine with her multiple times per week. 
"Getting to know these families and their kids over the years has been incredible," she said. "I have seen families come in here and now their kids are heading off to college, so that's totally cool to have been in the community long enough to see that happen."
Dive Coastal Cuisine is not only one of the most affordable spots for clean eating, but it is also one of the most flavorful. So often when we consider eating healthy, we automatically assume it will be expensive and boring. Dive is anything but. Not only are the options budget-friendly, but they are packed with flavor and components that complement one another on multiple levels. It's one of the best spots for a great lunch I have found in a while, and it's easy to see why Dive has become a favorite among those living in the area. Dive has a great vibe, great staff and, most importantly, great food.