Course Review – The Golf Club at Champions Circle

The Golf Club at Champions Circle has a long and interesting history here in DFW. Sitting just south of the Texas Motor Speedway, this course is one that you may not be as familiar with as some of the municipal and daily fee courses closer to Fort Worth proper. When this property first debuted back in 2000, it was known as The Creeks at Beechwood. Met with mixed reviews, this Greg Norman design was known to be very difficult for the amateur player. Thus, after just a few years, the course was reconfigured and rethought in 2002 by Jay Morrish. The course then took on a new name for the hotel project that was constructed near the course. Doral Tesoro was born and stuck around for several years until Marriott took over hotel management, at which time, the course was again renamed with its current Champions Circle moniker. 
Being in such close proximity to the speedway, this course is buzzing with activity and race fans when NASCAR or Indycar are across the road for the weekend. The amenities at Champions Circle are solid, with a clean and tidy clubhouse, friendly staff, and the Smokin' Oak Bar + Grill. The Smokin' Oak features several Texas barbecue staples, including smoked chicken wings, brisket and even Chicago-style hot dogs. Breakfast is available, as well, if you are looking for something to fuel up before that morning tee time. The bagel sandwich is a homerun, with egg, bacon, cheese and avocado. It's the perfect size, so you won't be bogged down as you hit the course. Post-round, we recommend the smoked brisket sandwich, with onion jam and a smoked tomato aioli on a brioche bun. If you are a fan of the hot dog, then that may be your pleasure, as Smokin' Oak has some of the most unique of any course in DFW. The combo dog will satisfy, with sweet peppers, hot giardiniera all on a French roll. This flavorful dog will ruin you on the roller grill dog you find at some courses. 
Champions Circle has a putting green and a driving range to warm up a little before your round, so if you want to arrive early, you can swat a few to loosen up before you tackle a tough opening stretch of holes.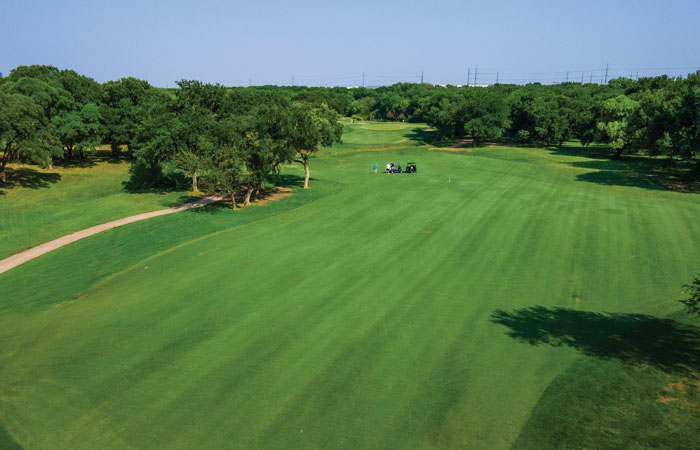 The opening two holes at Champions Circle are a pair of white knucklers. No. 1 is a tight, slight dogleg right that features a tight tee shot that rewards those who can play a tight little cut off the tee. From there, a short iron or wedge is all that will remain to open the round with an easy par or better. 
No. 2 is one of the tougher driving holes in DFW. Another tree-lined beauty, this par 5 not only requires a pinpoint tee shot, but also some distance off the tee. From the tips, this is a 616-yard behemoth, where only the strong survive. Even with a tee shot that finds the hallway-esque fairway, a very long second shot awaits to lay up, and another accurate shot will leave a short-iron or wedge to a green guarded by an overhanging tree on the left. A par here is a great score, but beware, as this tough customer can potentially derail your round before it ever really gets going. It is one of the few holes on property that still flexes its original Creeks at Beechwood muscle. 
After the tight opening pair of holes, Champions Circle opens up into a mid-length par 3, playing 185 from the tips. Club selection is paramount here, as the hole is fairly open with nothing to protect from the breezes. A pair of greenside bunkers both left and right can collect errant iron shots, leading to a tough up-and-down. 
No. 4 is one of my personal favorite holes at Champions Circle. This 415-yard par 4 features Harriet Creek down the left off the tee, and the creek winds around and in front of the green for your approach shot. Something down the right center of the fairway is perfect and will leave a mid- or short-iron approach. A back pin placement can be tough, as anything over the green will make for a difficult pitch shot.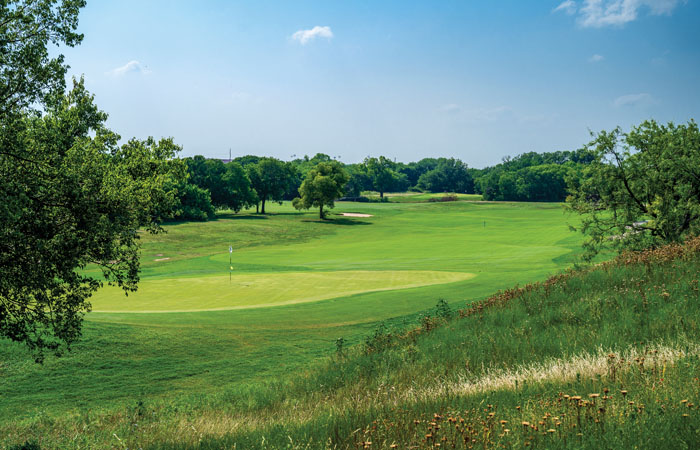 The par-4 fifth hole is short, with a fairly liberal fairway. At just 353 from the back tees, a position play with an iron or hybrid is a good idea off this tee, and will leave just a wedge or short iron in. A lone bunker right of the green can be a tough spot to play your third, so be aware that a miss slightly right is a better position to miss. Any back left pin is guarded by that very bunker, so with the flag in this spot, a play to the middle of the green might be a better play on the approach. 
The second of five par 3s comes at the sixth. This is the toughest of the par 3s on this layout, and also serves as the signature hole. Playing just shy of 200 yards from the tips, the tee box here is elevated, making for a tough club selection. A narrow chute of trees means this long-iron shot needs to be on a solid line, and a huge bunker guards the left side of the green. Find the green off the tee, and a par can be had. But this is a tough hole, and one where a 3 is a great score. 
After back-to-back challenging par 4s, one measuring 454 and one 433, comes the final par 5 of the outward nine. This one is the anti-No. 2, at just 483 from the back tees, a good tee shot leaves players with a decision to try to get home in two and add a birdie to the card before hitting the turn.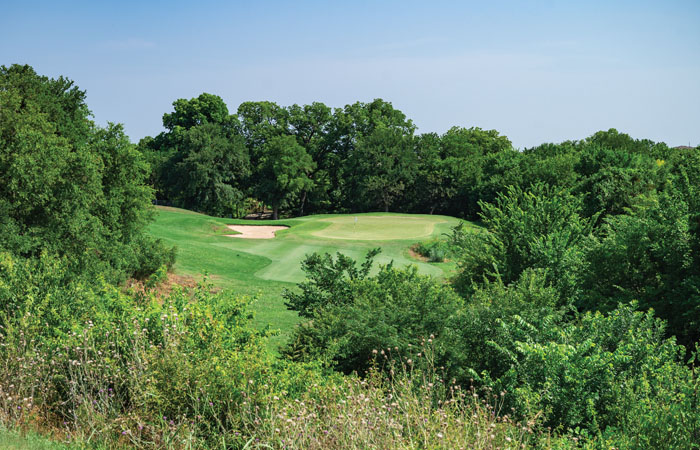 No. 10 is where the course takes a bit of an interesting turn. The next four holes at Champions Circle is one of the most interesting stretches of holes in DFW. No. 10 and No. 11 are both short par 4s, and 11 was reconfigured in the wake of the addition of Big Shots Golf to the property. No. 10 plays at just 334, with a small pond on the right up near the green. Long hitters can try to make a run at the green, but a more conservative play off the tee might be wise, as the pond on the right and Elizabeth Creek on the left make this a challenging hole off the tee. No. 11 is again a very short par 4, playing at just 305 off the tee. Although the hole plays basically straight away, picking a line off the tee is tough due to the underbrush growing out of the creek bed in front of the tee. Virtually no fairway is visible until you get to your tee shot. This is a hole where some local knowledge about your line is paramount. 
After the two short par 4s, come back-to-back par 3s. The first is 188, and the following is 166, respectively. No. 13 can be a particularly tough club selection, as this tee sits up on a small hill, where the winds can really swirl and play tricks on your ball flight. This is a hole where finding the fat part of the green and scoring a tidy two-putt is definitely your friend.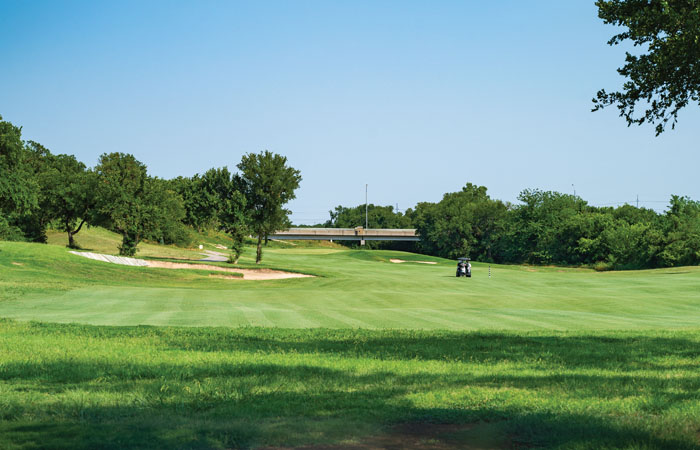 Two par 5s remain on this par-71 layout, the first of which comes at No. 14. This hole can be a little tricky picking a target off the tee but know there is plenty of room right to miss. Of course, this leaves a much longer second shot with a small creek bed to the left, but it's the smarter play off the tee. Those who choose to test the left side off the tee have a chance to go for the green in two, but the smaller green here can make laying up a better course management choice. 
The final trio of holes at Champions present an opportunity for scoring. No. 16 is a short par 4, playing just 343; a solid drive will leave a scoring club into the green, and a great chance for a three or a tap-in four. 
No. 17 is the final of the five par 3s and is pretty straightforward. A bunker on the right is all you need to avoid to have another chance for a simple par or better. If you successfully navigate 16 and 17 without incident, one final chance at a birdie awaits at the last. 
No. 18 is a par 5 that is just over 500 yards from the tips and a more manageable 466 from one in. There is a speed-slot in the downhill fairway that takes balls working left to right and slingshots them down the fairway to a spot where only a mid-iron remains to a slightly elevated putting surface. Holding this narrow green can be tough, and there are three bunkers to avoid near the green. But leave your second shot in a good spot or find the green in two, and a simple final four can be penciled on the card. It's a good finishing hole that can leave you wanting to come back as soon as you can. 
Overall, Champions Circle is in solid shape. The tee boxes and fairways are good, with plenty of nice lies if you can find the short grass off the tee. Bunkers aren't terribly penal when found, and the sand doesn't present too many foul lies. Greens roll smooth without being too overly frisky for the amateur player. The overall layout is a far cry from the old Creeks at Beechwood days, making it more user-friendly with plenty of scorable holes that also feature some interesting course-management decisions. It's a great total package of hospitality, food and consistently reliable course conditions. Plus, at just $62 for a premium weekend tee time, it makes Champions one of the better course values as prices continue to rise across the Metroplex.