After the Round – Five Sixty

If playing 18 holes while making your way through the endless oak trees and drastic elevation changes at Stevens or Tenison Park Golf Courses in Dallas didn't fulfill your craving for the outdoor beauty that North Texas has to offer, then perhaps wetting your appetite in a variety of ways at Five Sixty would be the perfect cap to your day.
Situated atop the iconic Reunion Tower in downtown Dallas, legendary chef Wolfgang Puck's Five Sixty combines creative, contemporary interpretations of Asian cuisine with views from a revolving dining room that are unrivaled in the Metroplex. Just makes sure you bring a pair of pants after your round as Five Sixty does enforce a business casual dress code.
Upon arrival, patrons are offered exclusive valet parking on Hotel Street, and after dropping down a floor to check in, enjoy a ride in a see-through elevator 50 floors up (560 feet) to Five Sixty's majestic dining room and bar areas.
After stepping out of the elevator, guests are greeted by floor-to-ceiling windows offering 360-degree views of downtown Dallas (to the north), the Trinity River (east), South Dallas (south) and Fair Park (west).
Though the revolution rate of Five Sixty's dining room can be increased or decreased depending on time of day, a standard rotation lasts slightly more than 60 minutes meaning diners can expect to take in all of the breathtaking views Five Sixty has to offer in one sitting.
Typical dinner time (7 p.m.) during the summer months offer the best views, however, with patrons able to take in a spectacular sunset while ordering and enjoying cocktails and appetizers, with the colorful splendor of Dallas' skyline coming to the forefront by the time entrees and desserts arrive (and quickly disappear).
For those just wanting to take in the views with a casual drink or appetizer, Five Sixty has two bars for more casual options and offers an extensive wine list, Asian beers and sake by the bottle or glass, and page after page of handcrafted cocktails; in addition to a sushi bar.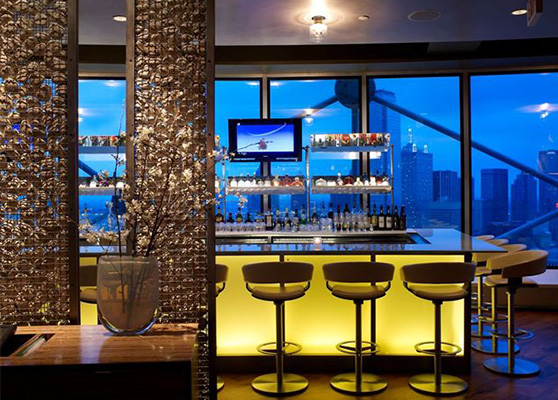 One thing you will surely leave noticing after dining 560 feet above ground is just how flat Texas is. While Dallas' skyline prohibits the eye from wandering as far as it can see to the north, views to the east and south are endless and setting the stage for the aforementioned gorgeous sunsets.
But perhaps just as breathtaking as the views Five Sixty offers are the food and drink options executive chef Jacob Williamson is throwing down.
While the names of entrees and appetizers may seem standard to those found at typical Asian American establishments, the proteins and vegetables at Five Sixty are far from routine.
Tired of the same old pork and vegetable egg rolls and dumplings?
Well have no fear, because Five Sixty is here complete with varying options, including Crispy Shrimp & Lobster Spring Rolls fried to perfection and served with a side of honey ten-spice sauce for dipping. Soft and delicate Wagyu Brisket Bao Buns are also an idea while weighing entrée options, and Five Sixty doesn't lack for noodle options either, including Pork Belly Pot Stickers, Crystal Chive Dumplings (stuffed with shrimp and king crab), XO Shrimp Dumplings, Organic Chicken Dumplings (with a kick from a Szechuan chili chicken "Dan Dan" sauce) or my personal favorite, the Texas Wagyu Wontons — perfectly cooked and folded dumplings filled with bar n ranch brisket, blood orange and Chinese red vinegar. Lighter or noodle-free appetizer options are also available at Five Sixty, including Salt & Pepper (calamari), Spicy Tuna Tartare, Sauteed "Maryland Style" Crabcakes and Tamarind Glazed Baby Back Ribs.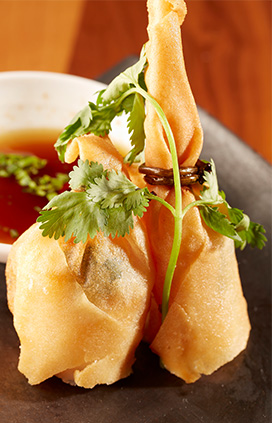 Want to get started (or continue throughout) with a sushi roll or sashimi instead? Well, Five Sixty's platter (choice of three or six) features nine possibilities, including Big Eye Tuna, Black Tiger Shrimp, Hamachi, Octopus, Barbecued Eel, N.Z. King Salmon, Sea Scallops and Snapper (my personal favorite), and more than 15 Maki "Cut" Rolls, Specialty Dishes and Charcoal Robata Grill items are also on the menu.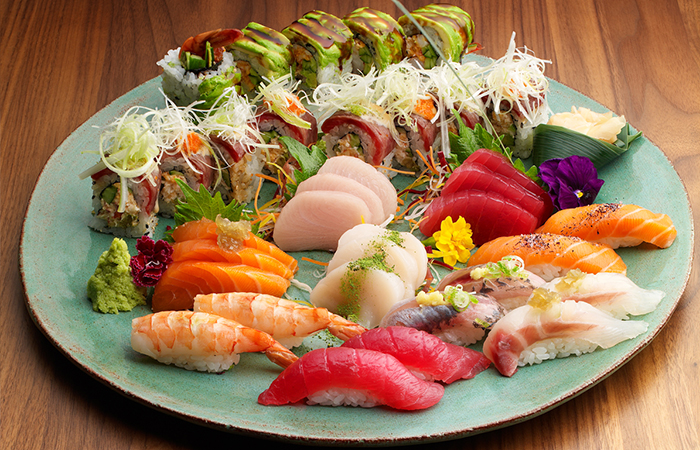 And Puck's takes on traditional dishes only continue with the entrees.
A staple of any local Asian cuisine is General Tso's, but don't expect to find chicken or beef at Five Sixty, instead the Crispy Texas Quail takes center stage in a wing form and chili soy sauce I deemed drinkable.
Lo-Mein noodles are paired with another unaccustomed protein for the Lacquered Chinese Duckling, while the finest cuts of meat are available for the Bone-In Niman Ranch Pork Chop, Szechuan Beef Filet "Au Poivre" and Grilled 12-oz. Prime NY Strip.
For seafood, diners will enjoy the melt-in-your-mouth feeling that comes with devouring the Pan Seared Diver Scallops, while Pan Seared Texas Red Fish, Wok Fried Whole Red Snapper and Steamed "Hong Kong Style" Atlantic Salmon hit the mark for fish connoisseurs.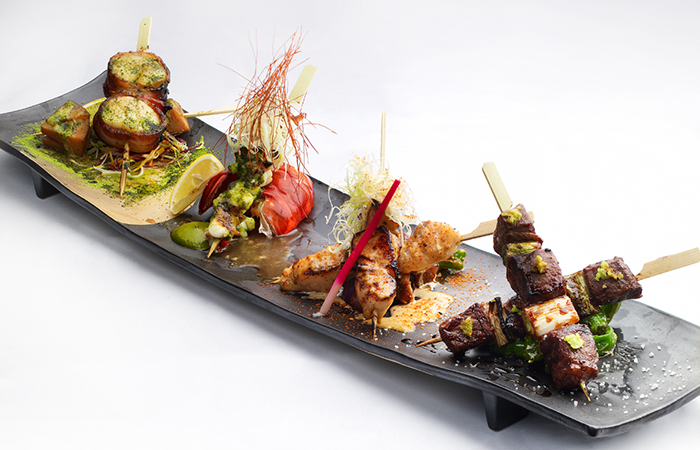 Of course, no Asian cuisine is complete without fried rice, and Five Sixty again checks all the boxes here. In addition to traditional beef (wagyu) and shrimp options, a crab fried rice really paired well with Five Sixty's seafood options. House Lo Mein, Crispy CO Fingerling Potato "Papas Bravas" and Roasted Brussels Sprouts are also some of the most desired shared side dishes.
Lastly, Five Sixty offers up its dessert options, many complete with house made ice cream or sorbets, including Strawberry Cheesecake Pops, Toasted Coconut Baked Alaska and Bittersweet Chocolate Souffle, and paired with matching dessert wines.
It is the perfect finish to a dining experience few establishments can match when it comes to culinary creativity, ambiance and atmosphere.